What New Spa Treatments are the Right Fit for Your Hotel?
By Ann Brown, Founder, Saltability
As a former spa director of one of the largest resort spas in the Midwest, I know how important it is to evaluate new products and services in order to determine which ones offer true potential for wellness for the client and profitability for the business. As a property manager or owner, your phone rings constantly with vendors who want you to consider their products and services.
How does the trend create an improvement over how we are currently working and providing service to our clientele?
As an entrepreneur in the spa industry, I created my business because I saw the need to create a more eco-friendly delivery of stone massage and an opportunity to provide more health benefits for clients through Himalayan salt. When you see depth in the benefits provided by a trend, it is likely to be longer lasting and more positively impactful upon your business.
How long has the trend really been around?
Rarely will you find something that is truly new. Part of the beauty of the spa industry is spa therapy's roots in centuries-old healing treatments and natural remedies. Delve into the science and history of the treatment or products being offered as part of the trend. Take confidence where you see ties to proven or longstanding history.
Does this trend fill a void in the marketplace?
Does it fill a void in your day to day business? Anyone who has worked in the spa industry for more than a few years likely has a running list of products or ideas they wish would come to market. Often, these arise from frustrations you've faced in your day-to-day operations. "If only these massage stones would heat faster" or "I wish there were a more sustainable product for facial treatments" might feel like throwaway comments in the moment, but it's well worth your time to take note of those issues (see "A note about brainstorming" below). You never know when a vendor might call you with the answer you were looking for.
Is the trend sustainable?
What is the impact on the environment in general and at your spa property in particular? You should always evaluate any new product or service with an eye on environmental impact. Sustainability is more than a passing trend - it's essential if we want to responsibly move our industry forward while providing the best possible products for our clients. For each and every product that enters your spa, you should be aware of where it comes from, how it's made and whether it's responsibly sourced.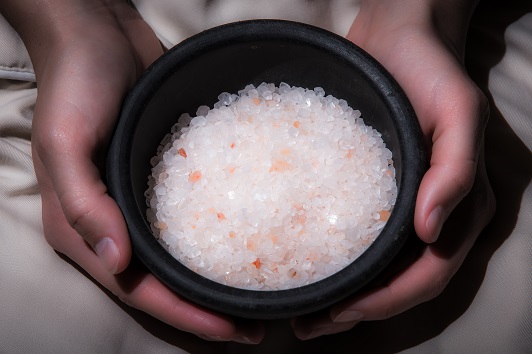 Himalayan Salts Used in Massage. Photo: Saltability
What safety precautions exist, if any?
Does the trend pose any risks for your clientele? Thoroughly research and consider any counter-indications to protect your business, your therapists and your clientele. Keep in mind that evaluating safety precautions should also include a close eye on product ingredients. Choosing safe, environmentally friendly products is a win for your clients and your spa staff.
How long has the company that you are considering been around?
When evaluating new spa products, don't be afraid of startups, but do look at the principal players' history. Does the owner have experience in the spa industry? Is he or she reputable? Who do you know who is connected to the main people involved? Look for word-of-mouth feedback on the company and the treatments and/or products you are considering offering. Also consider asking friends or mentors in the business (someone whose opinion you trust) whether they've used the product or treatment themselves. If so, do they like it? How have their clients responded?
What is your expected ROI, and how long will it take to recoup your investment?
By definition, return on investment, or ROI, is the resulting benefit to you, the investor, for an investment made in a particular product or service. It's an efficiency measurement used to compare profits to investment when determining whether an investment makes good financial sense. From a numbers standpoint, the larger the ROI, the better the investment. So when you're evaluating the benefit of a new product, always do the math. For any treatment you add to your menu, detail the cost and your anticipated revenue per room, per day, per week, per month, per year. Compare that anticipated revenue to your cost to implement and to the revenue generated by other treatments at your spa. Are the numbers favorable?
What kind of retail opportunities exist?
With any new treatment you bring to your spa, retail sales need to be an important consideration. Not only do you increase opportunities for revenue, but you also serve your clientele by helping them extend their spa experience by their visit. Retail sales are also a great way to boost a product's overall ROI, so keep this in mind when you make those calculations.
Does the trend fit your spa?
Does the trend fit in with your mission and spa environment? Not every great idea is great for your particular business, so consider what makes sense for you and authentically adds value - beyond simply being new and exciting. If you aren't able to identify a shared vision between your business and the company whose product you're considering - or at least a shared value between the product and your spa's overall mission - chances are it won't be a good fit in the long term.
Have you taken it for a test run?
Once you've done your homework to evaluate a trend, product or new treatment offering, don't make a decision before trying it out yourself. See the product or treatment in action. Evaluating new products and treatments at conferences and expos is a great way to get hands-on. Try the product or service yourself with an eye toward ease of use, added benefits and overall experience. The added bonus when it comes to personal evaluation is that it better equips you to market the product or service should you choose to invest in it. Clients come to your spa for a wellness experience - the best way to sell a new treatment is to describe what that experience will be like.
A note about brainstorming:
The spa industry thrives on innovation, which is why spa owners and managers get phone calls every day from all sorts of companies promising the next big thing. Inevitably, part of our job is evaluating whether those products deliver on their promises. Some will over-deliver; some will under-deliver. But here's an important bit of advice to keep in mind: You don't have to wait for innovation to come to you. You can seek it out or create it yourself.
Brainstorming is a powerful and often underutilized tool for innovation. You might be surprised how many amazing ideas emerge when you and your business partners, managers or trusted staff members get together to discuss what's next for your business and your industry. When my team gets together for a brainstorm session, I like to focus on three things:
What are We Doing Well? - Playing to your strengths can be an effective approach to business. If your spa is staffed by highly trained massage therapists, why not invest in continuing education for them so your massage services remain top-notch? Are you known for your facials? Consider products - both in spa and retail - that further highlight those treatments.

What are My Current Frustrations, and Where are we Falling Short? - The things that frustrate you day after day are often indicators of business needs, as is any aspect of your service that takes away from your clients' or therapists' overall wellness. Do your massage stones take too long to heat? Does the cleaner you're using contain harmful chemicals? Do you wish you had a better way of storing towels or disassembling equipment for cleaning? Seek products that address these frustrations. And if there isn't a better product available, have you considered creating one yourself?

What are My Clients Asking for? - We say it again and again in business, but it's worth repeating: Give the clients what they want. If they love a product or service, they'll be more than happy to talk about it. So ask! What are you doing that they love? What have they heard about or experienced elsewhere that they love? What trends are they most excited about?
Look for the value that new trends, products and treatments provide in keeping your spa at the cutting edge and keeping your clientele impressed with the services you offer. The best trends are the ones that are more substance than flash - and with a smart investment, your new offering may become one of your top sellers.
In the midst of managing day-to-day operations, hotel and spa owners and managers must continually look forward and evaluate how to increase efficiency and profitability. As you balance overseeing current business and forecasting for the future, you are faced with the challenge of considering what changes will bring the most benefit to your organization. For spas, keeping watch of the latest trends in the spa industry and making relevant changes to your facility, treatment menu and customer service practices are important for success. But how do you know which trends and latest innovations will bring that success and which ones might not be worth their return on investment?
Ann Brown is an industry veteran whose expertise extends from licensed cosmetologist, esthetician, nail technician and massage therapist to accomplished spa director and business manager. In 2014, she founded Saltability to answer the need for a better treatment in the spa industry and conceived a line of Himalayan salt products that benefit clients as well as their therapists. By keeping products and services chemical free and eco-friendly, Saltability offers multiple therapeutic benefits in a single treatment, helping client and practitioner alike. Today, Saltability is a spa industry partner that provides quality Himalayan salt stone treatments and products for resort, day, medical and destination spas. Ms. Brown can be contacted at 888-210-9918 or ann@saltability.com Please visit http://www.saltability.com for more information. Extended Bio...
HotelExecutive.com retains the copyright to the articles published in the Hotel Business Review. Articles cannot be republished without prior written consent by HotelExecutive.com.