Exploring the Urbanization of Resorts: Then Vs. Now
By T. Dupree Scovell, Managing Partner & Chief Investment Officer, Woodbine Development Corporation
Woodbine Development Corporation designed, developed and opened the Hyatt Regency Hill Country Resort and Spa in San Antonio in 1992, the year of MTV VJs and Arsenio Hall. At the time, my father was calling the signals and this was the first of five similar resorts throughout the Southwest that Woodbine was responsible for developing over a period of about 15 years. The formula was pretty consistent: 300+ acres, 500 guest rooms, 100,000 square feet of meeting space (or more), two or three golf courses, a water park and a few resort mascots, which have included dogs, longhorns, hawks and spray-less skunks (don't ask).
Some 25 years after the opening of Hyatt Hill Country and more than a decade since we developed our last resort, the page has turned. For better or worse, my brother and I have taken over the managing partner roles within the company. With the support of our seasoned leadership team and under the watchful eye of the ghosts of Woodbine past (many of whom are rolling over right this very minute), we embarked on designing and developing a place we believe reflects the next iteration of resorts: Mountain Shadows. This isn't our father's resort, literally or figuratively speaking. Here's what we see to be the present and future paths in the resort development space-a space that's becoming more city than country, more right-sized than rambling, more meticulously tailored than one-size-fits-all. Today's Resort Formula: zag where you used to zig.
The term "resort" tends to conjure up a sense of spacious seclusion and luxury. The latter remains true, but the former is no longer essential to the mix. Our company brought Mountain Shadows to life on a smaller 43-acre parcel within a well-established resort and residential area.
Before we go any further, let's look at what makes an urban resort project like this one appealing. When space is limited (relatively speaking), you must have a very clear idea from the outset about who the customer will be and what offerings will be essential to their ideal experience-and then fit those into the space. Oddly, these limitations allow for ample creative freedom with the benefit of more focus.
Furthermore, the urban resort is a destination within a destination, i.e., a city. This means you can design richer, more differentiated on-property amenities and then leverage the city's best offerings as extensions of your own. This spares you having to bear the operational weight that secluded, spacious resorts generally carry.
As for Mountain Shadows, the resort sits at the base of Camelback Mountain in Paradise Valley, which is home to some of the most well-known luxury destinations in Phoenix and the nation, including the JW Marriott Camelback Inn, the Sanctuary Camelback Mountain Resort and Spa, and, eventually, The Ritz-Carlton Paradise Valley.
The original design for Mountain Shadows, which came to life in the 50s, was a crescent moon surrounding an enormous pool that hosted the likes of Lucille Ball, Bob Hope, Robert Stack (remember "Unsolved Mysteries"?) and the ever-mustached Burt Reynolds. The desert escape slowly but surely lost its shine, the celebrities stopped coming and the hotel fell into disrepair, becoming a blight to the community. The original structures were demolished before Woodbine acquired the site along with our partners at Westroc Resorts and, together, we started a multi-year process of designing (and redesigning) what we hope will become a mainstay for years to come.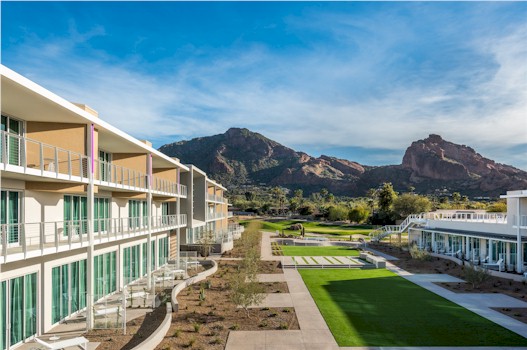 There were a few rules of thumb that we decided to follow to get to opening day in spring 2017-rules for developers and hoteliers to consider when eyeing or aspiring to tackle an urban resort project like Mountain Shadows.
1. A Destination Can't be All Things to All People and That's OK
Large resorts of the 1990s and early 2000s most commonly sought to accommodate family travel during the summer months and holidays, and then large groups would fill the rooms and the meetings spaces during the off-peak months. It's a balancing act, and sometimes the balance becomes off. When these two types of travelers converge, they tend not to mix well at all, which can create challenges in terms of the consumer experience on both ends of the spectrum. For example, the mom in a bathing suit dragging her crying toddler through the meeting space corridor just does not seem to sync well with the buttoned-up conference-goer escaping the main session to jump on a conference call. In that moment, it's likely everyone's stressed out … while relaxing and meeting at a resort.
With that fairly tenuous scenario in mind, Mountain Shadows was planned for a specific type of guest-one defined by the experiences they desire vs. their life stage and reasons for travel. We see the resort as the place a business traveler would choose because of the location, convenience and service-and perhaps wellness amenities that make it possible to stay fit on the road. We also see it as a place a business traveler's spouse might select based on plans for a weekend getaway-or a terrific leisure spot for romantic getaways, guys and girls weekends and more. Activities like Camelback hiking excursions, yoga on the lawn, cocktail camp and sunset champagne sabering (Veuve Clicquot, of course) speak to that dimension of the experience.
2. Departing From the Norm in Favor of Functional Design Can Serve You and the Customer Well
Function was the key driver for the form of Mountain Shadows. The main hotel has just 183 keys (less than half of the large format we used to subscribe to), and we only have one suite. Why? Because traditional suites are typically offered as upgrades, which ends up being more of a cost driver than a revenue producer. Instead, we decided to overbuild our standard room type to extend that upgraded luxury experience without the additional lounge that ends up underused or completely unused by the typical suite user. However, knowing there are those who desire an especially exclusive accommodation, we developed 43 condominiums adjacent to the hotel. Owners have the option to contribute their units to the resort rental pool, which provides them with an offset to carrying costs-and gives resort guests access to suites that rank well above and beyond the norm.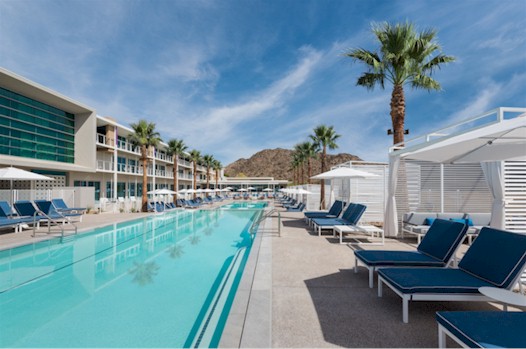 The bucking-the-norm approach also led us to develop a quarter of the indoor meeting space-and to double the amount of outdoor meeting venue space. "In Arizona?!" you say. "Doesn't it get hot there?" Yes, turns out it does. However, surprisingly and not so surprisingly, spacious outdoor event space is a rare commodity in the Valley of the Sun. In that we saw a mountain-view-filled opportunity. We abandoned the traditional line of thinking and opted for larger outdoor spaces, betting the customer would find them irresistible during the late fall, winter and early springtime. So far, so good.
Next, because our customers were ones with less time for and interest in golf (and the area has 300-some other places to play), the ole championship-style layout didn't make sense for Mountain Shadows 2.0. So we converted the existing 32-acre 18-hole golf course to a 13-acre par-3 pitch we affectionately call "The Short Course." This is a place where hair-band music is encouraged, surfboard golf carts are on hand to try (helmets please!), and you can press your luck on hole 17.5 with the Forrest Wager hole, a "par-2" betting green where the victor gets the cocktail.
Lastly, our discerning customers led us to bag the water park for two 75-foot pools that seem to be the apple of Instagram's eye (it helps when Vogue says you have one of the best new pools in America). Beyond being an amenity that requires little to no photo filter and provides a perfect backdrop to selfies, this dual-pool setup is what made the most sense for the guest. Plus, it was right-sized and right-shaped for our slender footprint.
3. Design Matters and Provides an Unforgetable Backdrop for the Guest Experience
Style matters a lot more than it used to, and the bar is especially high for independent hotels and resorts. Mountain Shadows reflects a very modern architectural design, which is rare in a sea of brown, desert-inspired hotels (one might say it almost looks like every developer and hotelier got the same Lego set). This was a considerable risk given that people don't always respond well to this style. Yet risks like this are worthwhile when properly calculated, well executed and can lead to something that differentiates your destination. The timeless modern style of Mountain Shadows meets these three criteria, and the quality of what's inside from a "fixtures, furnishings and decorative" standpoint exhibits the wow factor that a resort of this caliber demands (regardless of whether or not guests wish to emulate it in their own homes).
In addition to distinctive design, both the extras and the extraordinary versions of ordinary items are important, e.g., bathtubs and showers. For so long resorts featured tubs next to the showers to appeal to the family leisure traveler. Mountain Shadows has bathtubs, of course; however, they just happen to be surrounded by floor-to-ceiling hexagon Carrera-marble tile. They're not inside the bathroom either-rather, they sit on the opposite side of the guest room inside a window niche for soaking up (pun intended) views of Camelback Mountain. Also, our glass showers sit in the middle of the guestroom layout. This means you can admire the desert surroundings as you start your day. Or, if you're willing to curtail views for the sake of showering out of view of those in your room, you can draw a curtain to separate the sleeping and bathing spaces. Additionally, the glass showers in our queen-queen rooms have frosted glass. As we said earlier, we know we cannot be all things to all people. Likewise, we know our tubs and showers may not appeal to all people either, and that's OK.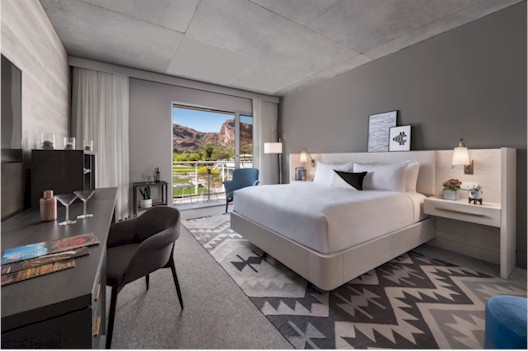 4. F&B Success is Rooted in Fewer Outlets, Better Access and Differentiated Menus
In some of the large destination resorts, you may see as many as 10 unique food and beverage outlets-that's a lot of nachos and burger baskets. Even though resorts would almost always have one signature restaurant, it was increasingly hard to draw a local crowd because the restaurant was often buried deep in the hotel and lacked a sense of place or identity. At Mountain Shadows, public access and appeal were accounted for when concepting our two restaurants, Hearth '61 and Rusty's, in part because the surrounding area is a foodie hotspot and largely because it makes good business sense.
So we have Rusty's, which is a little belly-up bar and burger joint that our not-so-formal golfers enjoy after a round on our public short course. This outlet is only open for breakfast and lunch on most days, because we want to carefully control overhead. Then we have Hearth '61, which is the star of the show. This is no hotel restaurant, but rather a community gathering spot positioned with a glass exterior and signature butterfly roof just off the side of the hotel to give it a distinctive entry and the all-important curb appeal for guests as well as those who drive by or live in the neighborhood. The restaurant is led by Chef Wylie, a local legend of sorts. He is as passionate about sourcing bread made the old-fashioned way as he is about finding the right locally sourced tomato for the best darn caprese salad you may ever have.
Time will tell if we actually catch lightning in a bottle on this one, but for Woodbine and for many like us, gone are the days of building large-scale master-planned resorts on the outskirts of town. Redevelopment opportunities abound inside the city limits, which affect what developers develop and what customers desire to experience and consume-a chicken or egg-or perhaps chicken and egg proposition. Regardless, we know that the high-paying customers expect a solid value proposition and truly memorable experience from resorts, period, something that is true in spite of space and time.
This new urban resort format does raise the stakes a little on the delivery, but my brother and I-along with others on our team and our partners across the country-think it's here to stay. My father, who stayed at Mountain Shadows and at age 70 hiked Camelback Mountain with me, says the jury is still out … to which I replied, "Then don't invite them back." Fortunately, when it comes to resorts for my dad and other travelers, there's no shortage of places to go within the city limits and well beyond them.
T. Dupree Scovell is the managing partner and chief investment officer at Woodbine Development Corporation specializing in hospitality and which recently launched the Woodbine Legacy Investments fund. Mr. Scovell started in the hotel business at 16, working as a dishwasher at Hyatt Regency Dallas. He joined Woodbine in 2011 to lead the company's West Coast operations. Based out of the Los Angeles office, he is responsible for Woodbine's acquisition platform and capital markets efforts and managing the Woodbine Hospitality Development and Investment fund, a private equity entity dedicated to the acquisition and development of upscale select-service hotels and lifestyle destinations throughout the United States. Mr. Scovell can be contacted at 214-855-6000 or dscovell@woodbinedevelopment.com Please visit http://www.woodbinedevelopment.com for more information. Extended Bio...
HotelExecutive.com retains the copyright to the articles published in the Hotel Business Review. Articles cannot be republished without prior written consent by HotelExecutive.com.