How Revenue Managers Win Using Group Data and Technology
By Jim Vandevender, Chief Marketing Officer, Knowland
Revenue Management Evolution
As hospitality revenue management began to take root, most actions were highly reactive in nature. Pricing and inventory controls, for example, were two of the more tactical approaches used to respond to existing demand. The key priority was basically to raise or lower rates. Minimum night stay requirements came into the mix as hotels realized how to maximize the room revenue potential for any given property. Predicting demand for both transient and group was a distant goal. In the early days when it was still called "yield management," the transient segment saw the most immediate gains from elementary practices, mainly due to the fact that the discipline stemmed from the work airlines had been doing in the area previous to the world of hospitality embracing these ideals.
As the process for optimizing transient demand and revenue became more complicated, the need for and development of deeper levels of data to further hone forecasts increased. Hotel management teams have become savvier at collecting and analyzing available data on guests' decisions of where and when to book a room. The tremendous data on the transient segment includes everything from web statistics as customers shop for rooms to historical data and statistics from a hotel's website, as well as input from online travel agents. There is even data on review sites and social media regarding guests' comments about particular brands or properties. There is data on booking pace that is integral now to accurate forecasting. Every change in any category affects demand for a hotel room. Revenue management sorts through that data to fill the most rooms possible and sell those rooms at the highest conceivable rate, driving higher levels of performance.
Hotel brands and management companies, as well as outside vendors, have developed and heavily invested in a wide array of refined software and revenue-management systems. These systems, however, are focused primarily on pricing; and while transient revenue management has applied and benefited from various forms of market data, group revenue management has been operating in a more opaque competitive marketplace.
The Shift Toward Proactive Group Segment Focus
Groups and meetings are a key component of revenue production for many hotels. Achieving a balance between earlier booking group demand and later booking transient demand is critical for realizing optimal revenue outcomes. Managing the group side of this equation is particularly challenging. Group demand is captured either from inbound RFPs or from outbound sales activities. Picking the right business from the torrent of RFPs coming to a hotel, and pricing that business right, requires foresight about other potential opportunities that might arrive later.
Outbound selling must also be targeted at the accounts offering the best opportunity for a hotel. Much of traditional group revenue management has been focused on accepting/rejecting as well as pricing group opportunities, usually in the context of anticipated transient demand rather than considering alternative group demand that may book later. In this respect, it has been a reactive and tactical process. To advance group revenue management toward more strategic and effective processes, hotels must apply more data, science, and technology to forecasting group demand and then align sales and revenue management to source and choose the right demand.
In order for hotels to be successful in the group arena, they must ensure the proper strategies and tools are in place. They must also have a thorough understanding of the specific characteristics of accounts within the group segment when it comes to booking pace and repeat booking potential. Revenue managers are taking a larger role to support sales departments' efforts by analyzing larger market trends and keeping a closer eye on booking patterns and buying behavior. With the amount of group data available today, there's enough transparency on the details of group market activity to analyze group behavior and build revenue-driving strategies around those trends.
For any hotel serving the group segment, attention to and effectiveness in group pricing is just as important as pricing in the transient segment. Group pricing rests on many of the same principles as transient pricing. In both cases it begins with segmentation, since different segments behave differently and offer different value. Just like transient demand, some group segments book early but are more price sensitive. Other segments offer greater value but book later. Forecasting the market opportunity in each group segment is the starting point for making the right price and availability decisions as demand presents itself.
Frequently, however, revenue managers are left with more questions than answers about the group side: Which segments should a hotel pursue? What organizations within those segments are the best targets to deploy the sales team against? Are there booking patterns that are unique to particular segments? Are there ways that historical booking data can be helpful for other areas of revenue management other than sales goals? What additional benefits result from having deeper insight into group activity that affects competitors' performance on the STR report?
Solid revenue management plans for the group side can support guidelines and create processes that allow a hotel sales team to effectively sell their products. They can also be extremely helpful in honing target pricing on the transient side when one is able to better forecast compression time periods in the market caused by group activity. If you know that a competitor will probably sell out because of a group booking in a particular week the following year, that is an opportunity to increase target rates for that week and drive higher revenue.
How do today's successful revenue managers use data on group trends and booking patterns to help ensure their hotels' successes? Here are three common scenarios, formerly mired in guesswork, in which revenue managers are using group data and technology to make a bigger impact.
1. Forecasting Group Demand
Forecasting group demand has been largely based on a hotel's past booking history. When group trends are based on a hotel's own internal historic activity and actuals, as well as their unique inbound RFP traffic and inquiries, it can be unreliable for forecasting group demand. Groups frequently "shop" multiple destinations with no real intention of considering some of the destinations included on the RFP. Other markets are only included to benchmark rates against the primary destination. This happens frequently with organizations that have strategic meeting management programs (SMMP) in place with internal rules and regulations that require a great deal of rate comparisons.
When looking at data on actualized group activity both at the property level and on the market as a whole, booking patterns emerge and present a clearer picture of actualized group activity. Many groups have distinctive booking patterns that distinguish their preferences. For example, some meet annually in the same market at the same hotel. Others change markets each year. By using years of historic actualized group data to know this, revenue managers can better forecast detailed group demand and set appropriate group target rates for that week the following year.
Knowland, a company that provides group data and technology to the hospitality industry, presented data at the July 2017 HSMAI Revenue Optimization Conference designed to fill in the missing parts of group revenue managing. The session was hosted by industry veteran Kurt Weber, who most recently worked as Regional Vice President Franchise Operations at Starwood following key leadership roles with Hilton Global Sales Operations, Brand Management, and Revenue Management.
One example presented showed an upper upscale hotel on the Boston waterfront that historically struggled with the last week of April and was frequently outperformed in occupancy and rate by its competitors. Knowland's Insight platform, a meetings search tool, was used to set up a set of that hotel's competitors. A convenient calendar view showed each hotel in the comp set for that week with day-by-day listings of the individual groups in each hotel.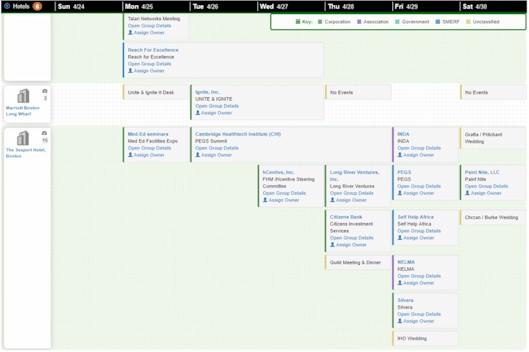 Boston: The competitors of an upper upscale waterfront hotel and which groups meet in those hotels day by day.
The STR report clearly showed that there was strong group demand in the market. Further investigation confirmed a specific competitor was sold out for the week because of a large group booking. The Insight tool showed the booking history of that group and revealed an evident booking pattern. The revenue manager was able to quickly determine that demand would most likely return to the market and that it was highly probable that the group would repeat again at that same competitor hotel. Instead of trying to find group business for that week the following year, this data led the revenue manager to reconsider target rate strategy for next year and benefit from the compression caused by the group activity that seems likely to repeat. The hotel's transient rates can be raised because of the limited room inventory resulting from the group activity.
2. Focusing on Group Business When Transient is Soft
Developing a stronger group strategy when transient demand is soft is another example of a revenue management challenge. It is also one that, in all likelihood, will be seen more often as new room inventory increases in many markets from a very active hotel construction pipeline. Many of these new hotels are smaller, focused-service properties with nominal amounts of meeting space and are aggressively going after the smaller meetings and transient market that are currently controlled by larger, established, full-service properties. How will the hotels that lose transient market share to the newcomers backfill that loss? One solution is turning to small, short-term groups. Revenue managers are becoming intricately involved in these plans by developing high-level strategies for the sales teams.
In the Nashville market, there are 121 projects in construction that will add 14,873 rooms to the area. The race to put heads in those beds is on in full force. The market, ready or not, will have to absorb the majority of this new supply. The sheer quantity of new guest room inventory will likely push occupancy downward, putting a damper on Music City's strong occupancy growth. The transient market there has been strong, with leisure travelers arriving earlier and staying longer. The group segment has been robust as well, thanks in part to the opening of the Music City Center, which has attracted large conventions that fill demand in shoulder periods. However, with numerous new hotels coming online soon and the existing hotels needing to hold onto market share, the push for short term group bookings will increase.
In situations like this, when revenue managers may need to quickly execute on a backfill strategy, they can use technology to develop specific guidelines and requests for their sales teams. Walking into the sales department armed with data and a strategic plan allows the sales team to focus their efforts instead of scrambling for short-term groups. Historically, small groups tend to have shorter-term booking cycles, making them ideal when backfilling in the year for the year. In downtown Nashville, within a select group of local competitor hotels, there are 300 potential small groups a revenue manager could highlight for the sales team that have headquarters in the Southeast and held multi-day events in Nashville in the past three years.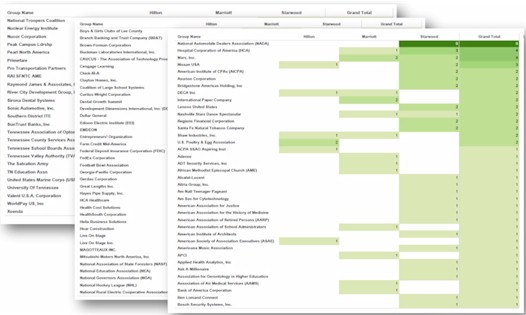 Downtown Nashville, 2015-2017: 300 small groups listed by organization, mapped to the hotels in the market that had those meetings and what their share was. Heat map color coding indicates which hotel brand or management company had the largest increase in that organization's meetings.
By producing a list of potential target accounts like that, revenue managers prepare sales teams to efficiently prospect. Sales teams can use more detailed data to quickly qualify groups by square footage of meeting space used daily and other qualifiers. Revenue managers can even use available technology to hand-deliver a customized hit list to each sales manager by sorting group results by subsets of corporate such as pharmaceutical, manufacturing, and banking/finance.
Marketing and revenue management teams work more effectively together when common sets of sales, revenue, and margin goals are aligned with this level of detail on the group market and better-qualified customer targets. Though silos still exist between the two disciplines, brands and hotel management companies can benefit from augmented revenue, profits, and operating efficiencies when they unite. New technology and data can help that union come to fruition more quickly.
3. Enlightening Conversations at the Table
Another example of how new technology can help resolve challenges faced by revenue managers is by shedding light on high-level data such as occupancy and ADR, as reported on by organizations like STR and TravelClick. These reports focus on a consolidated set of data that shows the results of overall market activity, but does not provide the answers as to who or what drove those results.
With more transparent group data, revenue managers can gain insight into which groups and subsets are driving occupancy and ADR to help sales teams sell more strategically. Many revenue managers would like to be able to tell the full story of a market. By complementing transient trends with group trends, they can shed light on the big picture of market activity for owners and senior management. Being able to determine why STR rankings are what they are and then making the best possible strategic decisions to drive revenue is one way revenue managers earn their well-deserved seat at the table. In addition, new technology allows a valuable view of what subsets are drying up in the market or showing an upswing. Such insight into geographic and industry subset trends can help determine whether or not group sales teams are appropriately deployed.
In a market like Houston, for example, when a corporate subset like oil and gas begins to ebb, being able to pivot quickly and find new sources of business is paramount. Revenue managers cannot afford to be reactionary. Planning ahead and seeing potential downturns early on in a particular segment is something all revenue managers want to do. Having early access to indicators of market trends can enable more timely contingency plans.
In Houston's Energy Corridor, within a set of local competitor hotels, actualized corporate group meeting activity from 2016-2017 YTD reveals that not all corporate sub-segments are trending down. Fashion, metals, entertainment, and insurance all showed an increase among the hotels selected for this comp set. The graph shown anonymously indicates which hotels in the comp set were getting those events and, perhaps more importantly, which ones were not.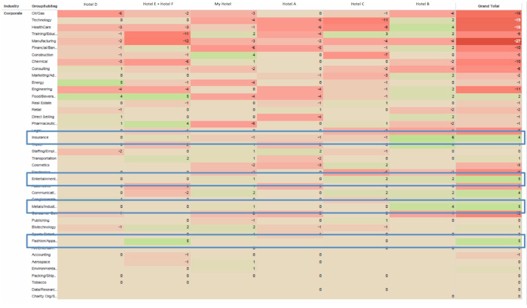 Houston Energy Corridor 2016-2017 YTD: A heat map indicates which sub-segments of the corporate market are showing gains and/or losses in each of the hotels in a local comp set.
For revenue managers at a hotel who are not getting their fair share of group business from certain segments, analyzing data like this presents an ideal opportunity to step back and evaluate several areas that may be at issue. For example, is sales deployed against those segments? How is sales deployed against those segments? Is the hotel that is not getting their fair share even being shopped by the booking organizations during the RFP process? If so, and bids are not being won, then is it time to re-evaluate pricing and the hotel's RFP response process? If the hotel is turning down this business is it time to re-evaluate the hotel's turn down policies?
In the previous Nashville example, this type of segment trend was also observed. Insurance meetings were down by 30 events in 2017 YTD compared to 2016. Houston showed an increase in that segment for the same time period. In situations like this, it could be deduced that insurance meeting planners are weary of rate increases and availability challenges in a robust market like Nashville and shop for more favorable rates and conditions in a soft market like Houston. A regional revenue manager with properties in both markets could use data such as this to piece together the puzzle of market activity more effectively.
When Revenue Management Wins, Everyone Wins
As data-based strategies continue to influence everyday decisions and increase expectations, revenue managers are being asked to answer detailed questions about group booking patterns and what they are doing to incorporate group strategies into their overall plan. Because new technology allows for a more accurate view of actualized group activity in any market, including new competitor hotels, revenue managers can expand their knowledge of the group market beyond what they see from internal data. Instead of guessing without knowing the specifics of actual market drivers as markets evolve, strong sales strategies can be backed by data on the top drivers of group activity. This welcomed group data and technology provides insight into which groups and subsets drive occupancy and ADR, bringing to life the market activity behind the numbers on STR and TravelClick reports.
When armed with group data to tell the full story of a market, revenue managers can forecast more accurately, help sales teams anticipate major shifts in the market, and build a bridge to further the cooperation between sales and revenue management for more strategic partnerships. And when that happens, it's a big win for everyone.
Jim Vandevender is Chief Marketing Officer at Knowland. Mr. Vandevender joined Knowland in 2012. He has supported various departments, including data and research and has been actively involved in supporting the development team in the redevelopment of Knowland's Insight tool and in the creation of the new Market Analytics tool. He works closely with the sales department in the areas of training and developing customer relationship skills. Currently, Mr. Vandevender manages Knowland's marketing department, including all aspects of social media, new product launches, and supporting all processes for creating, communicating, and delivering Knowland products to customers. Mr. Vandevender can be contacted at 202-351-1552 or jvandevender@knowland.com Please visit http://www.knowland.com for more information. Extended Bio...
HotelExecutive.com retains the copyright to the articles published in the Hotel Business Review. Articles cannot be republished without prior written consent by HotelExecutive.com.