Creative Meetings Through Food & Beverage
By Katie Davis, Director of Sales & Marketing, Le Meridien Chicago - Oakbrook Center
I had a bit of an "out of body" experience recently. I was attending a corporate meeting, which was held in a hotel meeting room. As usual, I was multi-tasking for most of the meeting. Doing my best to remain engaged with the meeting content, while simultaneously managing an ever-growing email inbox and "To Do" list. During a break, I was pacing outside the meeting room, on the phone with my office, when I noticed some snacks and beverages set-up adjacent to the meeting room entrance. Coffee, sodas, cookies, fruit - your basic "break". As I approached the beautifully displayed selection of caffeine and sugar, I was contemplating if I should or should not ingest my 10th legal stimulant of the day, when a moment of panic came over me. I stared at the perfectly placed apples and bananas, carafes of coffee creamer and packets of raw sugar, and froze. My feet were like cement blocks and my heart was racing. I couldn't remember where I was. Am I in Chicago? Denver? Boston? The prior evening, I enjoyed a blissful night's sleep in the hotel where my meeting was hosted, why couldn't I remember? I racked my brain... was it a Hilton? Marriott? Hyatt?
My anxiety spiked as I realized that it was official; I had lost my mind. I always knew this day would come. I pictured the terror on my colleagues faces as I stripped naked and danced like a banshee, with care not to trip over the projector cord. What would be my fate? As the professionals took me away, I imagined commentary from my teammates "I didn't know straight jackets were actually a thing" or "I always knew she was nuts". Suddenly, I was jolted back into reality by a voice on the other end of the phone "Katie? Sorry, you're breaking up". If they only knew. "I said, how's Minneapolis?". Ah Ha! Minneapolis! My fears subsided as I noticed a napkin branded with a prominent hotel logo, and everything came flooding back.
As a 20-year hospitality veteran, I have spent the majority of my career walking the halls of a hotel. I could not help but wonder, if I was susceptible to this kind of temporary lapse, how often does this affect the road warrior from other industries? But more importantly, as a hospitality community what can we do to help? The answer is simple; differentiation. It is our job to develop a differentiation strategy to create unique and memorable experiences for guests and meeting attendees. These experiences need to be genuine, and they need to be authentic. It is the only way to create an emotional connection, and what I have discovered is once these experiences become branded, once they become turn-key, it can back-fire on you. Once the experience is no longer authentic, it can be viewed as contrived or artificial, which goes against what you are trying to accomplish.
Within my organization, differentiation is part of our DNA. Our goal is to drive return to owners and investors through ADR premiums, typically $30-$40 above the competition. We do this with a three-pronged approach, or differentiation strategy. The first being guest service. Guest service as defined as driving a service culture of excellence and guest satisfaction results within the top 10% of the brand. Secondly, we differentiate by providing exceptional product design and functionality. Third (and my personal favorite) is providing unique and memorable Food and Beverage offerings. Enter "Creative Meetings". Take my experience as an example. What if I had approached a meeting break which brought the destination to life, not only through food and beverage offerings, but also with sight, sound, smell and interaction? This is an opportunity to create a memorable experience, to create an emotional connection with our guests and meeting attendees. What if we took it a step further and customized each experience to speak to the organization. An organization with strong guiding principles will be genuinely engaged in content that brings its DNA to life, creating that memorable experience and that emotional connection.
Did you know, at one time Chicago candy makers churned out one-third of all candy manufactured in the United States? In fact, the immense candy production in Chicago led to the nickname "America's Candy Capital". Picture a reinterpreted candy shop, featuring assorted Chicago candy (Snickers, Milk Duds, Tootsie Rolls and Lemon Heads, just to name a few) displayed in vintage glass candy jars. Choose to fill your "penny candy" bag personally or have the attendant, dressed in a vintage soda shop uniform, assist you. The song "Sweet Home Chicago" is playing, an homage to music legend Robert Johnson, who originally recorded the popular Blues standard in Chicago circa 1937. Lastly, the air is filled with a comforting smell of sweet cotton candy. This experience is unique and memorable, activating the senses, and bringing the destination to life.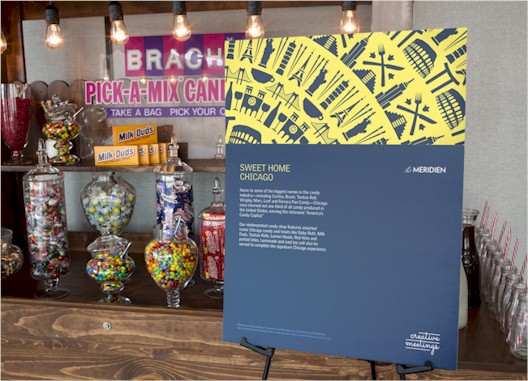 Apple is an organization with one mission, to challenge the status quo. With this mission guiding their every move, Apple has revolutionized the music industry and created a cult like group of loyal customers and associates. This loyalty is driven not because of quality or price, but because they believe what Apple believes. While customizing an experience for Apple's executive team, we needed to challenge the status quo. We needed to do something different. We needed to do something unique. Create an experience that would convey that we believe what they believe, while also following the meeting planner's guidance of "quick and healthy". Enter the "mobile" break. As the session broke, vintage "cigarette" girls swiftly entered the room in tandem, with a selection of healthy snacks and drinks, offering each attendee a choice from their tray.
iTunes top 5 hits began just as the attendants opened the doors, creating a perfectly choreographed entry. This experience made an impression on the group. It took them off guard at first, out of their comfort zone. By the time they figured out what was happening, the attendants finished their task, exited as swiftly and cohesively as they had entered, and the music stopped. A six minute "mobile" break that met all of the criteria - quick, healthy and memorable. The DNA of Apple is to step out of their comfort zone, to challenge the status quo. Customizing this experience for them showed them that we get it. Watching their faces, I saw it. We connected with them on an emotional level. We pulled it off.
As legend goes, the blistering Illinois summer caused corn in the fields to pop right off the stalks, creating the beloved snack "popcorn". Being the #1 produced crop in the state, rural Illinois boasts corn fields as far as the eye can see. As the official state snack of Illinois, the "Chicago Mix" is an addictive sweet and salty blend of caramel and cheese flavored kernels. The smell of freshly popped corn floats through the air, an homage to the 1885 invention of the popcorn machine, in Chicago. An iconic Chicago shop, "Nuts on Clark" has been serving nuts, candy and popcorn on Clark Avenue for over 30 years, 2 blocks from Wrigley Field, home of the Chicago Cubs. This creative meeting break pays homage to this piece of Chicago and its favorite snack, and is another example of a memorable experience for meeting attendees. Meeting routines are monotonous, but these experiences allow attendees to experience a piece of the destination, even if their time constraints do not allow for exploration outside of the hotel.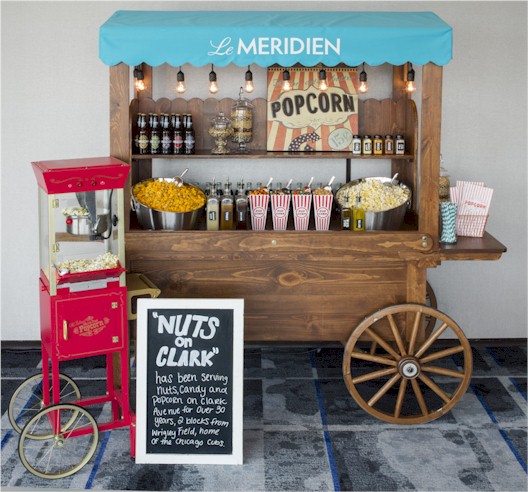 Trust me, I was apprehensive of this initiative. It was strange, it was risky, it was costly. But most importantly, it was different. Different!! Although this wasn't in my comfort zone, differentiation is a guiding principle within my organization - so we went for it. As we developed, strategized and implemented these memorable experiences, we realized that this was a game changer, and so did our owners. On average, meeting break revenue increased by over 15% portfolio wide, with the majority of that growth in average check, growing 12% or over $3. Offering creative meeting options also helped drive ADR, with portfolio growth of over 5% in hotels where creative meetings have been implemented.
Additionally, customer feedback was phenomenal. With growing event satisfaction scores and increasingly engaged attendees, planners are thrilled. Whether guests were hiking on the Appalachian Trail, experiencing Atlanta's Buford Market or making s'mores around the campfire in the north woods of Minnesota, they couldn't get enough.
Some have asked, what's next? While I cannot see the future, there is one thing I can guarantee. Whatever it is must be original. It must be authentic. And most importantly, it must be memorable. The ability to create memorable experiences and drive emotional connections with your customers is a differentiation strategy that works. While creative meetings is only one example, to remain relevant in this ever-changing industry (and any industry for that matter) it is important to uncover how to differentiate your organization from the others. And trust me, when you see customers engaging, you'll know you have succeeded.
Katie Davis, Director of Sales + Marketing, joined Le Méridien Chicago – Oakbrook Center in June 2013 in the pre-opening phase, overseeing the hotel through the $25 million transformation, which was unveiled in July 2014. Ms. Davis also started as the Regional Director of Sales & Marketing for Wischermann Partners in February 2016, a national hospitality firm focused on the operations of upper upscale and luxury hotels. Throughout her career, Ms. Davis has held multiple senior sales and marketing positions with a proven track record of revenue and business growth, goal achievement, sales operations and effective team leadership. Ms. Davis joined Le Méridien Chicago – Oakbrook Center from Hyatt Hotels, where she was responsible for the financial success of Hyatt Regency O'Hare and Hyatt Rosemont, representing $70 million annually between the two properties, as Director of Sales and Marketing. Ms. Davis can be contacted at 630-368-9900 or katie.davis@lemeridienoakbrook.com Please visit www.lemeridienoakbrook.com for more information. Extended Bio...
HotelExecutive.com retains the copyright to the articles published in the Hotel Business Review. Articles cannot be republished without prior written consent by HotelExecutive.com.