Is Personalization Travel's New Super Power?
By Pamela Whitby, Editor, EyeforTravel Ltd
For successful tech companies building a solid and loyal customer base is far less about trusting your gut than having the right data and testing and learning from it. Flattened company hierarchies are also seen as important in getting the best from teams and, as a result, building more successful customer relationships based on personal preferences. So in a turbulent and highly competitive market, should hotels should start thinking more like tech companies to take back control?
Is "Challenging Assumptions" the key to cracking customer experience? Booking.com thinks so and others do too. Love them or hate them - and yes hotels over the years have had a pretty tetchy relationship with booking.com - but few could dispute how successful a company the Amsterdam upstart has been.
After being acquired in 2005 by Priceline for $135m in cash, booking.com helped catapult its US parent from a $10m company to one worth over a billion dollars. This booking.com acquisition, along with others like Agoda, Kayak and more, was, as Priceline CEO Glenn Fogel outlined at a recent EyeforTravel conference, part of a strategic push to go global. "We found companies that knew how to sell the way people in Europe [and other parts of the world] wanted to
A decade on and in 2016, booking.com was responsible for 80% of Priceline's annual revenues. Great news for Priceline! Not such great news for hotels, which over the years have lost control of inventory and forked out commissions of anything between 15 and 30% for privilege of a presence on OTA websites.
But with eroding margins and regulatory pressure brought to bear on OTA bully boy tactics in the US and Europe, the fight back has begun. Recently, we've seen some hotels taking back control by innovating with loyalty programs, technology and more, and even entering what are perceived to be fairer deals with Google (that is another story).
Although there is still some way to go, there is a growing recognition that OTAs, if managed correctly, can play a valuable role. But as Brian Harniman, a former Priceline executive and founder of strategy advisory firm Brand New Matter, puts it hotels need to "partner wisely". Other advice includes using data to shift from cost per booking to cost-per-customer, providing real value (such as upgrades, free drinks and so on) and never ever allowing anybody to dictate RM practices.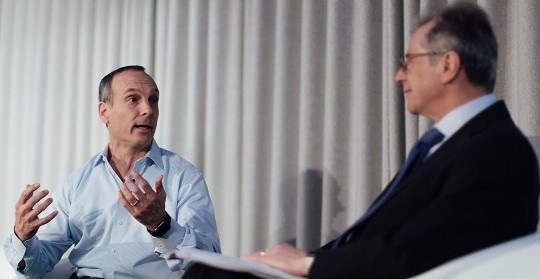 Priceline CEO Glenn Fogel Sharing his Insights Into Their Light-Touch Acquisition Strategy
Data is key here, something that booking.com understands well. Just about every decision taken here is driven by data, which are driven by a clear purpose. That purpose, Booking.com Commercial Excellence Manager Ben Bates recently told an EyeforTravel audience is, quite simply, about "keeping the customer at the centre of everything we do".
This core goal is one of the secrets of booking.com's success. Joerg Esser, a theoretical physicist and former senior Thomas Cook executive, believes that in these turbulent markets, it is Booking.com's ability to 'anchor a purpose' that has made it so successful. Anchoring purpose is the first of five simple smart 'ant colony inspired' rules that Esser has been working on since leaving a senior role at Thomas Cook last year, that will give firms a 'toolbox' to drive real change.
But what exactly does this mean in practice within the walls of booking.com and are there any lessons for hotels? Bates, who will be speaking again in Las Vegas this October, makes this point: "We hear a lot about trusting your gut [about what the customer wants] but I would like to challenge that assumption."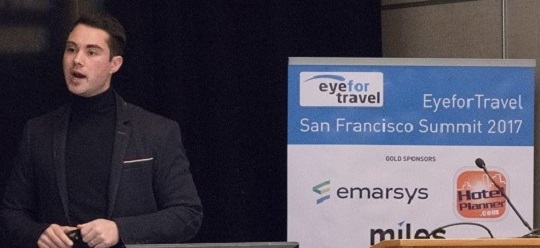 Interview with Ben Bates, Excellence Manager, Booking.com
The results from A-B testing, a practice that Booking.com is an evangelist of, proves the point. "Nine out ten A/B tests fail," Bates admits, because very often companies design a product or tool by making certain assumptions about what users want and are time and again proved wrong.
Esser agrees arguing that in competitive markets with shifting consumer behavior, you have to start from the position that everything you do is a hypothesis and not that you have an "expert gut feel"
Innovative hotels are beginning to recognize this. In a recent interview with Sagar Desai, Head of Acquisitions & Development, Viceroy Group he said: "Lot of companies today are A/B testing. Smart hotels should A/B test too. Why put up one website? Put up two and see which responds best."
Viceroy is one of those hotel organisations operating with a flattened hierarchy and in a more nimble fashion. According to Desai, who will also be speaking in Vegas, in order to survive, hotels really need to operate more like tech companies and be willing to work flexibly and rapidly test and change.
As a successful tech company there are, perhaps, lessons to be taken from booking.com. Bates sees seven data-driven themes emerging for hotels to take note of, and whatever your relationship with the Amsterdam based upstart, this is pretty compelling stuff. Drawing from Bates' recent presentation we have compiled these top tips.
Take a Long Hard Look at Your Images

Most immersive experiences start with immersive images, says Bates, with 67% of travelers seeing more value in clear images than in the room description or guest reviews. Customers scan images to define what they are interested in and what they are not interested in, so keep that in mind. Interestingly, 150% more booking.com users engaged with a property on the website when there were more than 20 images loaded. Other insights show that women are particularly keen on bathroom images, and more likely to convert for a two-night stay, or more, if there were at least three bathroom images on the front page. Going forward, 360-degree images could be a game-changer, especially with Facebook - another platform to watch - stepping into that environment and ecosystem. A top tip recommended that hotels prioritise snaps to reflect what previous guests have said they like most about the experience.

Come to Grips With What People are Saying About You on Social Media and Review your Reviews

What Bates calls "café culture social proofing," can also leads to "buyer confidence"; in other words reviews count. According to Bates, 78% of customers see reviews as a credible source information which points to a "revolution" in customer behavior that is leading customers to trust complete strangers over established institutions. Another tidbit is that online reviews today are more effective than star ratings. In fact 50% of travelers will not book today, until they have read a review. Since 66% of guests post at least once during travelling, hotels can also benefit from highlighting social activity along the lines of '20 people are viewing this property' as a definition of perceived popularity.

Differentiate Room Experiences

Not all rooms are equal, so why not display them differently? It seems this might be worth doing too, with 90% of guests complaining that rooms are not well differentiated online. For example, help the customer to understand, with images, why they are paying $30-40 dollars more for an upgraded room. Reviews and comments on comments on photos can drive engagement when the guest is still in exploration mode.

Give Your Business Travelers 'Isolated Togetherness'

People travelling on business want company while "being productive" but they might not always want to engage. This desire for 'isolated togetherness' means that 36% of millennials prefer to work in the hotel lobby. This desire to slip into a hotel without having to speak is also playing out in other areas with 56% of travelers saying they prefer automated check-in. Business travel upgrades are another opportunity as Bates says over 40% of travelers do not feel the need to - upgrade that is! So one tip is to offer single occupancy upgrades to achieve higher price point. Hotels could also offer upgrades for a longer stay, , given the trend to blurring lines between business and personal travel.

Consider Eco-Friendly Credentials

On an eco-friendly note, the data finds that 62% of customers appreciate a hotel's efforts to act in an environmentally friendly way and especially (47%) if it impacts their pocket. However, while might like to do the right thing, its worth noting is that most millennials won't pay more for an eco hotel. What is more, three-quarters say they disengage if the message is overdone.

Understand the Same-Day Browse and Stay Culture, and Multi-platform Behavior

People can make quicker decisions today, and more customers than ever are booking spontaneously within shorter windows. 'Staycations' in key cities are also on the rise. Bates says that half of bookings made on smart phones today were for the same or next day. Top tip include guaranteeing a specific room but selection at check-in, to offer inclusive meals options (a last-minute customer preference), and in markets like the US, where 80% of domestic guests travel by car, to consider publicizing parking at the right time. On the multi-platform score, 43% guests are shopping across multiple devices when planning travel, and so ensuring a consistent experience on mobile, desktop and app is absolutely crucial.

Come to Grips with Loyalty

The last theme, delivered by Bates is that brands need to rethink loyalty, as it's "very common for customers to be loyal to numerous hotel brands". In what he admits are a somewhat "controversial" stats, their data shows 47% of leisure guests booking on the brand site, and 92% through a travel agent, don't belong to any loyalty program.
Perhaps the hint is that it's a waste of time to launch a hotel branded loyalty program, something the bigger chains have been investing in to drive direct bookings! But, as Harniman says, hotels shouldn't let anybody dictate their business practices. Instead, they must take back control.
Pamela Whitby is an independent writer, editor and researcher. When Ms. Whitby isn't tracking the online travel industry for EyeforTravel.com, she is focused on business in Africa. She has completed editorial and/or research projects for organizations that include BBC Focus on Africa, BBC Online, the Daily Telegraph, the Observer, News Desk Media, Longitude Research, Investor's Chronicle and the European Commission. Ms. Whitby is an experienced 'generalist' and likes an entrepreneurial endeavor. She grew up in Africa and has lived and worked in the UK, South Africa and South Korea, where she retains strong connections, personal as well as professional. Ms. Whitby can be contacted at +44 779 189 1993 or pamela@eyefortravel.com Please visit http://eyefortravel.com for more information. Extended Bio...
HotelExecutive.com retains the copyright to the articles published in the Hotel Business Review. Articles cannot be republished without prior written consent by HotelExecutive.com.