Making it Easy for Meeting Planners to Go Green
By Jay Spurr, Market Director of Sales & Marketing, JW Marriott Austin
Meeting planners have more than enough to think about when it comes to searching for the perfect venue - and eco-consciousness is increasingly making its way top of mind for many. It is currently estimated that the average hotel guest generates 2.2 pounds of waste each night of their stay. And, with the meetings and event industry recently being deemed as the second most wasteful sector in the United States by the EPA, we at JW Marriott Austin knew we had to go above and beyond to deliver more efficient meetings and events with the lowest possible carbon footprint.
By offering an array of environmentally friendly offerings and programs, the JW Marriott Austin makes it easy for companies and planners to go green for their next meeting or event. The hotel, located in the heart of Texas' vibrant state capital and just steps from city's convention center with 370,000 square feet of meeting and exhibit space, makes the environment a priority at all times. Just by selecting the JW Marriott Austin as the venue for a meeting or event, planners are already making a green choice. It is a built in and effortless choice. With a goal to further reduce energy and water consumption by 20 percent for 2020, the JW Marriott Austin is well on its way to continuing efforts to provide meeting planners and guests the most environmentally friendly venue option for all their needs.
Upon its opening in 2015, JW Marriott Austin received a LEED (Leadership in Energy and Environmental Design) Silver certification. LEED is an internationally recognized green building certification system providing third-party verification that a building has been designed and constructed using performance-improving strategies. For example, LEED certified properties focus on resource efficiency by using less water and energy, and reduce greenhouse gas emissions. LEED certification is also the most widely used green building rating system in the world with 1.85 million square feet of construction space certifying every single day.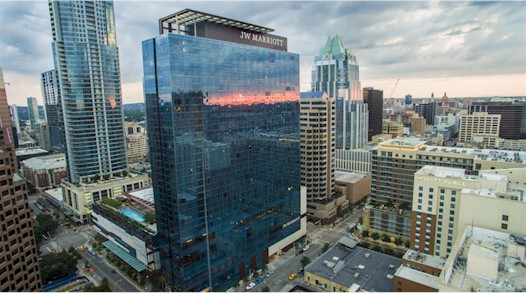 JW Marriott Austin, which features 120,000 square feet of meeting and event space on property, also received a four-star Austin Energy Green Building rating. The City of Austin created the program as the nation's first green building program in 1990, and since then it has grown to be the nation's most successful sustainable building program. Austin Energy Building ratings encourage Central Texans to design and construct more sustainable homes and buildings with the mission to lead the transformation of the building industry to a sustainable future.
Certifications like these are essential when it comes to going the extra green mile without leaving a huge footprint. But what exactly do these strategies entail when it comes to JW Marriot Austin? I'm glad you asked. JW Marriott Austin has implemented a variety of strategies to uphold its LEED Silver and Austin Green Energy Building statuses, from everything as simple as updating light fixtures with energy saving light bulbs to utilizing local Texas manufactured building materials, and beyond.
Bye-bye Parking Lot, Hello Hotel
When originally building the property, JW Marriott Austin chose to replace a typical parking lot with a parking garage - a development that is good for the environment. But why is this a better option? First, impervious surfaces keep rainwater from penetrating the ground. Parking lots also mean more cars on the streets, and they create heat islands that attract and trap heat. In Texas, one of our nation's hottest destinations, we do not need higher than usual temperatures.
Instead, the JW Marriott Austin offers guests a parking garage, as well as direct access to public bus and train transportation stations. Rainwater harvesting cisterns are located in the parking garage, which captures both storm water and condensation from the mechanical equipment. This water is then reused for irrigation, thus eliminating the need for potable water. Additionally, the parking garage houses two charging stations that both staff and guests can utilize if they have an electric vehicle.
Smarter Than Your Average Thermostat
The hotel guest rooms boast intelligent thermostats with sensors that control the heating and air-conditioning in each room, maintaining energy efficient levels throughout the property. And when guests are not in the room, the thermostats do not activate.
Additionally, design of the hotel plays an important role in the heating and cooling of the hotel. Looking down from the west-facing guest rooms, hotel visitors can see the podium roof's pixilated design. While obviously a pleasing aesthetic, this design was intentional to maintain a high level of solar reflectance in an effort to reduce the amount of heat being absorbed through the roof.
Energy Saving Measures are Firmly in Place
JW Marriott Austin's lighting, heating and air-conditioning systems are designed and installed properly, in line with LEED certification requirements. Furthermore, the hotel's maintenance personnel are trained to run the systems efficiently. This ensures that all guests are comfortable without wasting unnecessary energy.
In addition, the JW Marriott Austin recently invested $225,000 in retrofitting the lighting within the hotel. All light bulbs were replaced by with energy efficient bulbs. All meeting spaces, restaurants, public areas, and guest rooms are now lit with the most efficient lights to cut down on energy consumption all day long.
You Can Breathe Easy at JW Marriott Austin
In order to reduce concentrations of chemical contaminants that can damage air quality, human health, productivity, and the environment, JW Marriott Austin uses low-emitting materials. This includes paints, adhesives, sealants and coatings that are certified for indoor air quality.
Less Traffic Equals More Eco-friendliness
During the construction of the JW Marriott Austin, the construction team used regional materials as much as possible to cut down on delivery distance. Over 22 percent of all materials used were manufactured within the state of Texas, resulting in less congestion and air pollution for the community and reducing the overall carbon impact of the hotel. And, that dedication to reducing traffic (and the resulting negative impacts on the environment) continued well past the opening date. Having train and bus lines that run within a quarter mile of the hotel and provide public transportation throughout the city means guest do not have to rely heavily on their own vehicles. To round out the alternative transportation options, there are racks for over eighty bicycles located throughout the hotel grounds for visitors, guests, and staff to take advantage of.
Reducing Waste
During construction, at least 75 percent of the waste leaving the JW Marriott Austin site during construction was recycled. And upon opening in 2015, the hotel implemented a comprehensive recycling policy that recycles glass, plastic, cardboard, paper, and metals. Going a step further, all food waste - which is estimated to represent as much as 10 percent of all global greenhouse gas emissions, and is a main contributor to deforestation and the depletion of global water sources - is composted and repurposed into fertilized soil. Within the hotel, approximately 20 percent of all materials installed contain recycled content, which reduces the demand on virgin materials.
Water Efficiency
The EPA estimates that hotels and other lodgings use approximately 15 percent of the total water taken up by commercial and institutional facilities in the United States, which is in turn responsible for roughly 17 percent of all withdrawals from the U.S. public water system. So, JW Marriott Austin works hard to make it a priority not to waste H20. The hotel uses low-flow showerheads and toilets, a water/energy saving linen program, and selected plumbing fixtures that bring potable water consumption in the building down by 30 percent. But that is not all: the hotel's two storm water harvesting cisterns, located in the parking garage, each hold approximately 10,000 gallons of water. These tanks are filled via rainwater harvested from the site and the roof. The water is then filtered and reused to water the vegetation on site.
Meetings Turn Green
For meeting planners looking to host green meetings and events, JW Marriott provides a number of eco-conscious extras such as 100 percent recycled note pads and pens made from recycled materials. The eco-friendly water service provided helps reduces the use of plastic water bottles by guests on property. Recycling is available within the meeting rooms, and online event menus and paperless billing reduce the need for printed materials. Upon request, organic flowers are available for décor. The JW Marriott Austin has energy-efficient banquet halls and recyclable box lunch programs for meals, and donate excess food to America's Second Harvest to cut down on food waste created by meetings and events. All of this, coupled with the expert knowledge provided by the sales and service teams, ensure that meetings and events at the JW Marriott Austin are as green and efficient as possible.
The Bottom Line?
Meeting and event facilities have an obligation to provide guests with environmentally friendly initiatives and meeting options, and JW Marriott Austin's staff will do whatever it can to help groups and meeting planners minimize the environmental impact of their events and meetings. From a magnificent reception for 3,000 people in the 30,000-square-foot JW Grand Ballroom to an intimate, customized VIP gathering in one of the 42 meeting rooms, events both large and small will thrive with minimal impact on planet Earth.
JW Marriott Austin welcomed Jay Spurr back to Austin as the Market Director of Sales and Marketing in spring 2017. Mr. Spurr has nearly 30 years of hospitality experience and is responsible for leading the JW Marriott Austin sales and marketing team with expanded responsibilities supporting the new Austin Marriott Downtown, set to begin construction later this year. Mr. Spurr previously served as the Director of Sales and Marketing for JW Marriott Austin from 2011-2015. Mr. Spurr made an impact as he led his preopening sales team to secure over a half million group rooms prior to the hotel's opening. Mr. Spurr can be contacted at 512-608-4460 or jay.spurr@jwmarriottaustin.com Please visit http://www.jwmarriottaustin.com for more information. Extended Bio...
HotelExecutive.com retains the copyright to the articles published in the Hotel Business Review. Articles cannot be republished without prior written consent by HotelExecutive.com.