Virtual Walkathons: Coming to a Hotel Near You
San Francisco Hyatt Hotels Health and Fitness Challenge
By Oliver Ryan, CEO, Count.It Labs
Managers at Hyatt Regency San Francisco had a battle on their hands - in the best possible way. Determined to do something fun and healthy for their 400 person staff, they launched a challenge on a digital platform that powers fitness tracker-driven wellness programs. The first challenge was so successful, two other Bay Area Hyatts wanted in, and the Battle of the Bay was on. In the end, co-workers at all three properties rose to the occasion, but just one hotel took the gold. It also became clear which person at a major market hotel moves the most.
In the employee cafeterias of the three San Francisco Hyatt Hotels, employees are glued to the big screens - but they are not following a crosstown playoff series between the San Francisco Giants and Oakland Athletics. Instead, they're tracking a brightly colored, ever-changing leaderboard showing which hotel, and which employees, are on top on any given day. Human Resource managers at each property issue weekly email propaganda, including, in one notable case, a digitally altered hip hop dance video featuring the three hotel General Managers urging their people into the fray.
What's going on? The leaderboards in question are continuously fed by employees' fitness tracking apps and wearable devices, and people are battling to see which hotel is the fittest of them all.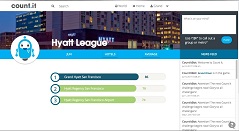 The Leaderboard #HyattLeague
Welcome to workplace wellness in the age of smartphones and wearables - and taken to new heights by hotel executives in the cradle of the tech revolution. At play are bragging rights for the most active hotel, and prizes for top individuals. For the losing hotels comes the obligation to donate hundreds to a local charity supporting the homeless. In short, the stakes are high and good, but there's another pressing question on everyone's mind: Across all the departments at a popular major market hotel, from the front desk to the back office, who moves most? Is it the boss, the bellhop, or the housekeeping worker on the late shift?
"Managers sit at their desk a lot," points out Victor Povzner, IT Director of Hyatt Regency San Francisco, and tech mastermind behind the hotel's initial fitness challenge. "But they also go to the gym, or may go running several times a week."
Right, this is San Francisco, home of competitive mountain bikers and triathletes. It might be reasonable to expect that some super fit boss would take the top prize in the company's fitness challenge. For the record, that wasn't the case.
Let's back up for a moment: How did the Bay Area Hyatt Hotels find themselves in a friendly but pitched battle, and did the program achieve its goals? More to the point, what were those goals, and is this something other hotels might want to try too?
"The project was driven by Human Resource," says Povzner. And the goal was twofold, as it often is with wellness: Do something fun, that's also healthy. The human resources team at Hyatt Regency San Francisco wanted to get people moving and talking. They wanted to spark camaraderie among co-workers and between departments. So, they began considering a hotel-wide fitness challenge.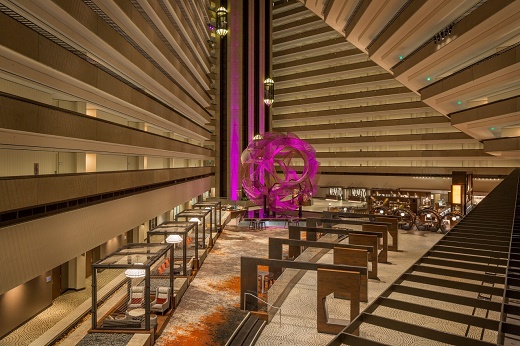 Hyatt Regency San Francisco, a Great Place to Hike!
With over 400 associates, many had different wearables brands, and/or used other fitness tracking apps on their smartphones. He began extensive research on reliable tracking systems, and soon discovered a brave new world of tracker-driven wellness platforms.
"The most important features we needed," says Povzner about his choice, "were a simple, user friendly interface."
Within weeks, activity data from a growing number of Hyatt Regency San Francisco employees was lighting up the big board in the employee cafeteria.
It's not likely to be the last virtual, inter-hotel wellness league. What's happening in San Francisco is happening all over America.
Never mind the battle over healthcare policy in DC, the country's best hope to make America healthy again may come from a different group of champions entirely: Human Resource managers tasked with wellness - including those in charge of the nearly 20 million Americans who work in the U.S. hospitality industry.
Wellness has been a growing priority for many American companies, but with health insurance premiums now eating up 8% of a typical corporate budget, and rising, the need has never been more urgent, or the market hotter. At the same time, the explosion of wearable devices and social computing is changing the game.
A new generation of web native startups is disrupting the market, bringing new technology and ideas to tired old corporate wellness programs at rock bottom prices.
Yet, despite all the new technology, the ultimate cure is as old as the hills. Literally. Take the Hyatt Regency in San Francisco, for example. It's a four story building, with offices spread across all the floors and served by banks of elevators, escalators and, yes, stairs.
"Some people never really walk much," says Povzner. "But during the challenge it was very close between the hotels. One week one hotel was in the lead, and then next another. Everyone in the competition stopped using the escalator. They used only the stairs."
And that's not all. Hyatt Regency San Francisco marathon training group surged in size and upped its frequency of group training sessions from once to three times a week. Across town, runners at Grand Hyatt San Francisco began hitting the scenic Embarcadero together for runs during off hours. In short, all people needed was a little nudge - it takes a village, or a trash talking co-worker.
"It was very exciting and created a sense of comradery with the team," says Neil Eads, Assistant Director of Operations. "I woke up every morning excited to be active and work towards winning the competition! Even on days off from work, I made sure to run on a treadmill or walk around my neighborhood to get more steps."
Experts have been arguing for years about the hard return on investment of wellness programs, but a growing body of evidence suggests the return is positive. One landmark review suggested a three-to-one return for every dollar spent on wellness. Another saw a 70% decrease in sick days for employees participating in a well structured program. In one poll, 90% of employees said they felt their wellness program had a positive impact on their lives.
To be sure, not all efforts are created equal. Many wellness initiatives fall flat. The ugly truth is that human resources departments are busy and budget constrained, and even a simple step challenge has, in the past, been a massive administrative challenge.
Thanks to technology that picture is changing, however. By 2020 some 411 million fitness trackers will be sold worldwide, and most working Americans now have smartphones and social media accounts. Indeed, the infrastructure is now in place to run effective wellness programming at a fraction of the cost of even five years ago. Equally important, users have gotten more adept and comfortable at managing their personal data, and tech applications now offer privacy controls to make social challenges at work feel safe for employees.
While it's still early days, virtual walkathons, tracker-driven activity rewards, and perhaps happier, healthier teams may well be coming to a hotel near you. Already, the word has spread around the Hyatt network, and hotels across the country are making noises about joining the Bay Area Hyatts, or starting leagues of their own.
Oliver Ryan is founder and CEO of Count.It Labs. He also co-founded Apartment Therapy Media (2004) . Immediately before founding Count.It, Mr. Ryan launched and ran SocialWorkout.com, an early fitness culture blog and interactive community. From 2009 to 2013, Social Workout hosted over 40,000 interactive fitness challenges with partners such as AOL/Huffington Post, Everyday Health, Greatist, Equinox, and Yoga Journal. The company also partnered with Whole Foods Market to develop and launch Full Spoon, a workplace wellness service launched in Norther California and successfully sold to LinkedIn and Tesla Motors. The Count.It technology, product design, and business model grew out of all of these experiences. Mr. Ryan can be contacted at 917-214-2073 or oliver@countit.com Please visit https://www.countit.com for more information. Extended Bio...
HotelExecutive.com retains the copyright to the articles published in the Hotel Business Review. Articles cannot be republished without prior written consent by HotelExecutive.com.