How to Eyeball the Competition
Hotels Understanding the Traveler's Point of View
The hospitality industry worldwide has witnessed disruptive growth over the last few years. With an explosive influx of all kinds of hotels, both big and small, competition is at an all-time high. However, this is great news for travelers as they are spoiled for choice, with a variety of options to choose from. Combine this leverage for travelers with the internet emerging as a strong search and transaction channel, and with the role of Online Travel Agencies (OTAs) getting stronger each day, hoteliers are now under immense pressure to ensure high visibility across all leading online platforms with an aim to drive a maximum number of bookings.
A recent research indicates that almost 60% travelers make their bookings through OTAs as compared to 27% of bookings are made through the hotel's own websites. There is no doubt that OTAs play an important role in the hospitality ecosystem and how your hotel is priced, ranked and rated on all these platforms, definitely needs to be tracked and monitored closely as part of your hotel's pricing strategy.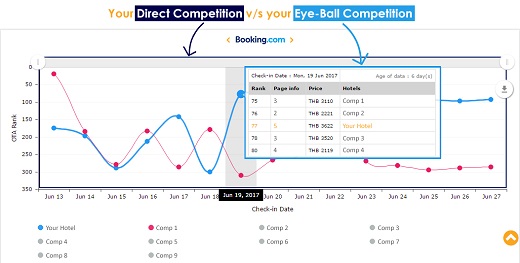 Having said that, a key challenge that most hotels face in this cut-throat competitive era is the ability to define their key competitive set correctly, which they need to monitor closely and factor it in their pricing and distribution strategy to ensure increased bookings and revenue.
"If a traveler is considering booking my hotel, which other hotels apart from mine is he most likely considering?" If you get an answer to this one, you have probably hit the nail right.
Competition monitoring should be a primary element of your hotel's pricing & distribution strategy as the need to react to market changes at a lightning speed is the key to your hotel's success. That being said, the first and foremost step in this direction is to be able to define your hotel's most relevant comp-set. Most hotels today define their comp-set based on traditional factors such as geographic proximity & star rating. This clearly shows that hotels have failed to improvise on this method for long now and are clearly ignoring other important factors such as eyeball competition. So what exactly is eyeball competition? Let us find out in the next section as we discuss the challenges in the current method and introduce you to the concept of eyeball competition:
Hoteliers Tend to Over-Emphasize on Location

One common mistake that most hotels commit is they consider only those hotels that are in their nearby vicinity as their only rivals, while silently ignoring other important attributes. It is true that analyzing price and performance of the next-door competitors is extremely vital since a traveler eyeing accommodation in any particular area would actually scan all hotels of similar category in the nearby region and pick up the best one that caters to all requirements at the lowest available price.

However, the geographical proximity is not anymore the sole deciding factor while determining competition, especially when the Internet (primarily mobile internet) has given added powers in the hands of the traveler to fidget with all information online. The educated, always on the go and alert traveler of today would seldom visit different properties himself or perhaps phone a travel agent to check the prices of nearby hotels to make a booking when all the convenience is packed with these high-tech gadgets.

Tracking Eyeball Competition is Vital -

There is enough evidence to prove that a large chunk of hotel bookings (around 148.3 million) are being made on the internet each year and online has actually emerged as the default way for the traveler of today to search for hotels. To facilitate simplified decision-making, hotels are now ranked and sorted by OTAs based on a number of factors including prices, booking popularity, location, traveler ratings, etc.
Typically, travelers would search for hotels on an OTA site, which returns a list of all available hotels. There are two things that hotels need to track, understand and factor in:
Their rank viz-a-viz their competitors ranks on multiple OTA sites. Your hotel rank on OTA sites is of paramount importance as it is directionally proportionate to the number of bookings you can get via OTAs.

Which hotels are ranked directly above and below your hotel's listing on different OTA sites. These hotels are your eyeball competition. The logic is simple, when travelers look at your hotel's listing on the OTA site, they immediately tend to compare your hotel with a couple of listing above and below your hotel. This means that a value-conscious traveler who came to an OTA site with the intention to book your hotel may end up booking another hotel because it competed directly with your hotel as it was listed near you. From a traveler sight, the listing above and below you may be cheaper or have better reviews or may be at a more favorable location.
Therefore, along with your fixed comp-set based on location, rating, segment etc.it is super important to track your dynamic competition, which would change frequently based on OTA's listing display algorithm. This dynamic comp-set is star rating or segment agnostic as from a traveler point of view; they tend to compare your listing to these neighbor listings in that moment since it is at their eyeball level. This dynamic comp-set could change based on Length of stay, the point of sale or even when the traveler applies filters.
Why Should You Track OTA Ranking and Eyeball Competition?
Let us assume an OTA is similar to Google and your guests are searching for hotels in your area on the OTA site. Where your hotels rank in the search results, defines the likelihood of your hotel being booked. As the need for Search Engine Optimization (SEO) on Google cannot be discounted, similar the need for hotels to track their OTA rank and track hotels being displayed above and below their hotel listing is super important. Hotels need to constantly try and get to the first page at a higher rank to outperform their competition. A recent Google study points out that nearly 60% of all clicks go to the first organic search result displayed. This underlines the importance of ranking in promoting a hotel. Here, competition could be identified by viewing your hotel's ranking and also of others who rank similarly.
However, unfortunately, eyeball competition is often not given due weightage by many revenue managers; because of the lack of understanding that hotels with a similar OTA ranking could pose a bigger threat to your hotel even if those hotels are not near your hotel's location or of a different star rating. Travelers looking at the OTA page will compare your hotel to a couple of hotels above and below your hotel listing irrespective of any other factors.
Very clearly, this is where the competition lies. The hotels that rank above and below your hotel listing on various OTA's are the ones that need to be regularly monitored and their prices should serve as a base for your own pricing decisions. The trick to success in any trade has always been simple - catching the pulse of the rapidly advancing consumer. Well, the consumer of today has moved online - he chooses online, books online and shares the experience online. Naturally, in such a case, the hotel competition set is also largely determined online.
Competition - A Combination of Both?
The choice of competitors greatly impacts a hotel's performance. While picking the right ones, definitely the hotels in the same surrounding can't be left out and in-depth monitoring of their pricing strategies, campaigns, promotions, etc. is a key requisite, greatly aiding in day-to-day planning. However, this is certainly not where a full stop could be drawn. It is advisable for hotels to adhere to the ranking system run by the OTA websites and analyze ranks of all hotels relevant to you. Best practices recommend that those hotels that rank closely, perhaps two ranks above or below your own rank, should be handpicked and benchmarked against. Analytics can also be used to see the root cause of specific ratings for both you and your competitors.
Ranking and rating systems provide an accurate and objective assessment of accommodations based on different metrics, and hotels must take advantage of all new technology platforms to draw a larger picture for themselves. Once the groundwork is done, competition tracking could subsequently follow to help hotels in chalking out a new strategy to increase their market share and drive higher bookings leading to revenue maximization.
Pricing and its Importance
Hotel pricing is among the top most concerns of a traveler and one of the main reasons why one hotel compares itself with another. The lowest price is what the traveler looks for and an optimal revenue-making price is what the hotelier would look for. Based on a wide array of factors, how a hotel should price itself is, therefore, an important subject matter for revenue managers. A room priced too low would certainly lose profitability, and if it were too high, potential guests would probably book elsewhere.
Therefore, observing changes in competitors' prices is utmost important and is a key input for pricing decisions in the industry. Revenue Managers have to maintain a fine balance to not loose revenue on the table by pricing very low and at the same time not increase the price so much to scare away prospect consumers.
This could be done by closely monitoring the pricing strategies of competitors across multiple OTA channels, or gaining access to reports with detailing pricing information for your hotel and competition. In fact, various leading metasearch sites also allow consumers to compare rates of different properties with ease through intelligent price tracking. In such a case, it becomes extremely important for hotels to maintain consistent pricing across all online channels and ensure that your rate does not differ too much from the competitor rate. Proper pricing strategies can drive RevPAR, both in the short-term and long-term.
Competitive pricing analysis is undoubtedly a powerful weapon for many in the industry. Knowing your competitive set's prices is the basis on which you can make sound pricing decisions that can drive your revenues dramatically. However, price optimization can sometimes be challenging in the highly competitive environment, especially when there occur variations in the competitor rates and economic climate quite frequently.
Though hoteliers make continuous efforts to differentiate their services from others, they are still faced with some or the other kind of competition at all times. Identifying the key rivals is a preliminary step in the entire strategy to excel and increase the pie of bookings. By following a comprehensive and balanced approach referring to the factors discussed above, it becomes easy to identify other participants of the same race and then compete with them to emerge victoriously.
Bhanu Chopra, CEO of RateGain is responsible for establishing the vision that guides the development of RateGain's solution offerings and delivery methodology. Mr. Chopra is a seasoned start-up entrepreneur in IT consulting. Prior to RateGain, he co-founded Riv Consulting. He began his career at Deloitte Consulting where he worked on large ERP implementations for Fortune 500 companies. Mr. Chopra earned a double Bachelor's degree in Computer Science and Finance from Indiana University, Bloomington. He is one of the founding member of iSpirit a policy think-tank for Indian Software Product companies. RateGain has become a leader in hospitality and travel technology solutions for revenue management, decision support, rate intelligence, seamless electronic distribution and brand engagement. Mr. Chopra can be contacted at bchopra@rategain.com Extended Bio...
HotelExecutive.com retains the copyright to the articles published in the Hotel Business Review. Articles cannot be republished without prior written consent by HotelExecutive.com.