Why Call Centers Are Still Effective
By Wendy Blaney, Chief Sales Officer, Atlantis Paradise Island Resort
In a world where almost everything is done digitally, it is important to remember how impactful a two-way conversation can be for consumers interested in booking travel. There is no denying that it has become easier and easier to plan trips online, and purchase products almost instantly - Yet there are still many customers who want the personal touch and assurance that they truly understand what it is that they are buying. They want someone to provide direction, answer questions, and give them "insider" information. This is especially true for a dynamic destination like Atlantis where there are an abundance of options. Our guests aren't just interested in a resort, they are seeking a coveted, catered experience.
Unless travelers are extremely familiar with the brand or location, call centers provide the peace of mind that many people require. In fact, we've estimated that 45% of our first-time guests book through our call center. Our travel specialists wear multiple hats as online "support agents" to ensure maximum interaction with consumers. Guests often do research on our website where they can chat digitally with the support agent and ask initial questions. Many of those guests subsequently call the contact center to get additional details and talk through their trip more thoroughly. By cross training our associates, website visitors are afforded high touch customer service from their first interaction, which helps convert those online questions into conversations and ultimately, reservations.
The guest's resort experience begins from the moment that their phone call starts with the reservations team. Your travel specialists are at the front line, and those personalities are leaving a first impression of your brand. Plus they have the ability to shape and mold the travel itinerary, so it requires a thoughtful approach and strong listening skills in order to take the customer's interests and needs to heart. For most, planning a vacation is a multi-layered process where multiple questions will arise. Call centers allow consumers to have all their questions answered while crafting a tailored experience.
Atlantis travel specialists ask callers: where they want to be located on-property, what they want to experience, and what their eating habits are. Understanding the needs of the customer helps us build an experience to match their vision. That is what makes us successful and that is why our conversion rate is so high. For example, if callers tell us that they are price sensitive, our travel specialists will start out pricing them in our most economical room category. Our call center staff has been interacting with travelers for the past twenty years, and our team is highly trained to ask the right probing questions to uncover client preferences and insight. Sometimes we even ask callers what other hotels they have enjoyed so we can gauge what kind of experience they are looking for.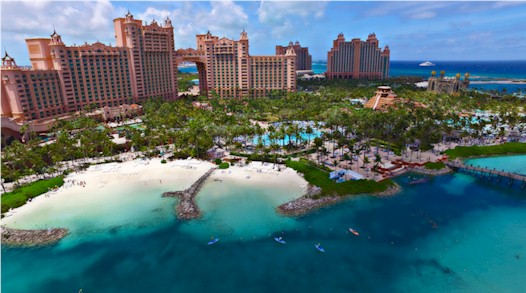 An interesting thing to consider is the emphasis on handle time. While we look at handle time recaps to gauge length of calls, we do not coach agents on handle time or set strict criteria because we never want our customers to feel rushed through the experience, but valued as a potential future guests. Additionally, our agents are not scripted - this allows them to be flexible and cater to each guest. This model does not work for every type of property; downtown business hotels certainly want to coach on talk time and creating efficiencies.
When choosing a destination that offers an abundance of activities, such as Atlantis, it is effective for guests to book as much in advance as possible so that they don't miss out on anything once in the destination. It is especially beneficial because some activities do sell out, and we want our guests to experience everything they desire in a vacation. Another reason why this works particularly well for us, is that we ensure our travel specialists have all been to the resort and used our facilities. As such, they have first-hand knowledge and can sell activities through personal experience. To that end, it's key that hotels dedicate time to training their call center staff.
Our specialists help vacation-seekers choose every aspect of their trip with a personal touch. It is critical that they are constantly updated with details of new resort programming so that they can speak intelligently about it. This year, we have been introducing totally new guest experiences to provide a meaningful connection to the ocean and Bahamian culture. We want our guests to have an authentic experience through programs that interconnect The Bahamas' rich history, art, people, food and festivities. From Junkanoo celebrations, to regularly scheduled Art Walks curated by preeminent Bahamian artist Antonius Roberts, to new educational and purposeful Dolphin Cay experiences. Our call center is armed with all of the information to create awareness and get customers excited about these lesser-known offerings.
There are several opportunities and benefits of bookings made through call centers. Here are five to consider:
Get Personal - Through the conversation, the reservationist may be able to uncover relevant personal information about the guest. Perhaps the guest will be celebrating a birthday, anniversary or babymoon during their stay. Your onsite resort team can later use that information to customize special welcome amenities or small touches to acknowledge the milestone - those personal touches are what bring guests back each year.

Set the Record Straight - Chances are, the caller has already done online searches before picking up the phone to speak to reservations. There is often conflicting information and opinions on the internet, so the travel specialist has the opportunity to correct any incorrect perception. Questions can be answered accurately, and any concerns can be acknowledged. Reservationists should be trained to be solution-oriented, so they can help problem-solve for potential guests. Along those lines, call centers can gather intel and feedback from callers that will help shed light on areas of improvement at your resort - in a way, it is like free market research that is valuable to keep your brand successful and ahead of the curve.

Call Center = Sales Team = Subject Matter Experts - The conversation provides an opportunity to upsell the resort product and generate profitability. It's not just about making a reservation. Our call center will also sell dining plans, experiences - everything from spa, to kids club, to island excursions and marine life interactions - and provide insight into room accommodation recommendations. Atlantis offers five distinct accommodation options, so it is up to our call center to be able to explain each experience in great detail. Booking activities and dining in advance of a trip, is a win-win for all - It will ensure a stress-free getaway for the traveler, because they won't have to worry about waiting until the last minute, when reservations may be booked up. And the property team will be able to plan their business, availability, staffing needs and guest experiences well in advance. A proactive approach allows for a seamless experience.

Gain Insight into Motivation - Where did this potential guest hear about your brand? What motivated them to book? Did they read an article about it in a magazine or newspaper? Did they see an ad on television or get excited about it because of a digital influencer? Call centers allow for the extraction of these important details. This is not only useful information to understand which of your marketing tactics are making the most impact and driving revenue, but also to determine which resort programs are motivating consumers to book a trip. With this insight, you can pinpoint which resort offerings should be emphasized, and which experiences may need to be elevated or spotlighted. The need for call centers goes beyond ensuring a positive guest experience, and into maintaining a successful business in an evolving landscape.

Demonstrate Destination Expertise - It is essential for your travel specialists to be experts in the region where your resort / hotel is located. That may sound obvious, but since call centers are oftentimes located in completely different regions or states, it can be frustrating for potential guests when they can't get their specific destination questions answered. To that point, our travel specialists are not only able to sell Atlantis - we sell The Bahamas. This is especially important considering that today's traveler is motivated by authentic connections to local culture, heritage, cuisine and nature. We need to be able to explain the region, from the various experiences on Nassau to other islands within The Bahamas.
Based on the above, it is easy to see how relevant, beneficial and effective call centers are in this travel landscape, especially for complex and dynamic destinations. Having online and mobile booking channels is an important tool for travel brands, and you cannot deny the ease and speed. But ultimately humans still crave and need interpersonal connections, legitimate expertise, and two-way conversations that engage them and maximize personalization. If managed strategically, your call centers can be a valuable tool for your brand by gaining customer insight, making guests feel heard and valued, driving revenue and ensuring a high touch resort experience from the first moment of interaction.
Wendy Blaney has over 25 years of experience in the sales and hospitality industry and is Chief Sales Officer for Atlantis, Paradise Island resort in The Bahamas. She served as Director, In-Market East & Atlantic City for Caesars Entertainment, managing a team of 25 regional and national sales managers. Her responsibilities included building and managing Caesars Entertainment's eastern division in-market sales efforts in Las Vegas and Atlantic City while setting goals, forecasting revenue, developing sales strategies, negotiating and closing business to achieve the company's financial goals. Prior to this she worked for Wyndham Worldwide for in Enterprise Travel Services and Strategic Development Sourcing. Ms. Blaney can be contacted at 754-399-5570 or wendy.blaney@atlantisparadise.com Please visit http://www.atlantisparadise.com for more information. Extended Bio...
HotelExecutive.com retains the copyright to the articles published in the Hotel Business Review. Articles cannot be republished without prior written consent by HotelExecutive.com.