How to Integrate Trends in Fitness with Hospitality
Functional Training & Technology
By Bryan Green, Founder & CEO, Advantage Fitness Products
Today's best hotel and resort operators know that the lines between the commercial health club offering and the hospitality based fitness center are becoming increasingly blurred. A tremendous opportunity exists today for hotels and resorts to once again raise the bar and incorporate experiences crafted around trends that are presently driving the fitness industry. Hotels have long become sensitized to the fitness requirements of travelers, and more competitive in forming truly viable facilities for guests that crave their accoutrements when away from home. Although space allocation and supervised environments remain a common constraint, the diversity in equipment and thoughtfulness required to create an inspiring place to sweat can be effected most anywhere with the right planning. In the world of fitness, two significant trends are driving the landscape by which new facilities are born, and existing spaces re-imagined:
Functional Training
Best defined as movements that involve mainly weight bearing exercises, targeted to simulate and strengthen the activities of daily life, and without injury.
Technology
Influencing the trends of nearly any emerging sector, technology is driving down the costs associated with delivering expert level guidance and world class motivation towards the needs of gym members, hotel guests, and within their very homes.
Together, these two factors are powering the emergence of socially driven exercise and virtually guided training sessions that are shaking the landscape of nearly every aspect of the fitness industry. The most notable manifestation of these trends is found in the proliferation of boutique fitness studios. These stand-alone, smaller footprint facilities, largely incorporate these influences to craft energizing fitness experiences that traditional health clubs are now desperately backpedaling to emulate. Hotel operators need pay further attention to these aspects, as they serve to create a more inclusive offering and thus are attracting a wider array of participants than ever before.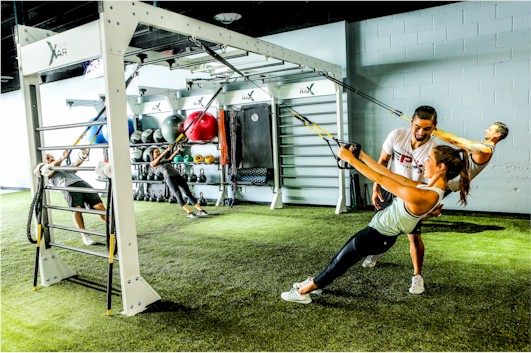 All Things 'Fun'- ctional
Incorporating functional training into the hotel fitness center isn't nearly as difficult as one might think. Largely the first step in rebalancing the fitness space is to thin the herd. Most notably, an abundance of single purpose strength training equipment crowds many of today's space-challenged fitness centers. These machines can typically be utilized by only one user at a time, and the usefulness of the exercise itself is often limited as compared to equipment or accessory designed to support the increasing demand for compound movements.
For example, a bicep curl machine will provide guests with great focus towards the training of a key muscle in one's arm. However, a rowing movement (performed today with a plethora of various and often lower cost equipment) will provide arm, shoulder, and back muscular recruitment. This approach to training more closely simulates activities that we do in everyday life. Think picking up a small child or pulling groceries out of the backseat of the car.
A skilled functional design specialist in fitness can assess your existing facility and make recommendations in line with today's requirement for exercise balance. Guests are far more knowledgeable about what makes for a reasonable attempt at a "state of the art" fitness center vs. one that is simply packed with equipment. Functional Training requires space to move. It further requires a diverse offering of small equipment accessory such as medicine balls, stretching mats, and resistance tubing. Reducing larger format strength training equipment, while at the same time incorporating space saving functional storage for accessory, is a basic but fundamentally necessary step in this direction.
Equally important considerations when implementing functional training modalities into your fitness center, are safety and inclusiveness. Functional training is broadly defined, and for many, this may also include olympic based movements that require the use of large barbells. It is important to understand that without supervision, the fitness center remains a restricted environment and thus will never be everything to everyone. Suppress the urge to integrate equipment that may please some, but intimidate others where space is shared. With strong planning, even the most serious of workout enthusiasts can be satisfied without risking the alienation of other guests.
When increasing space or supervision is a possibility, do not be afraid to consider equipment such as squat racks or kettlebells that otherwise might have been a no-no from a risk management perspective in years past. Once again, the average guest is more knowledgeable about exercise today and is increasingly seeking diversity in the equipment you offer, and the fun factor it presents.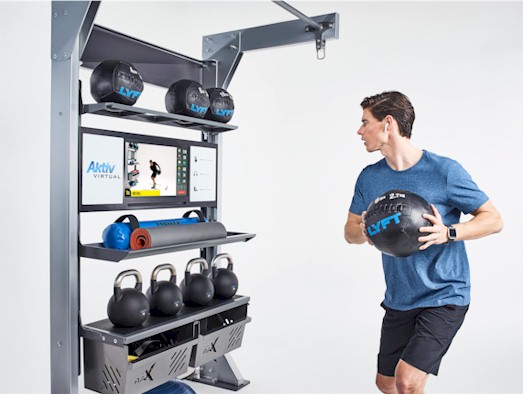 Technology Applied
Integrating technological advancement within the fitness industry is by no stretch new. Personal viewing screens have long and abundantly been added to treadmills and other cardio equipment. Many versions are now touch screen and offer web browsing, and even user account profiles that when established can be digitally transferred from venue to venue. However, for the most part, the fitness industry has significantly trailed at the rate of integrating technology readily availability to most consumers in the form of their very own smartphones. At last, the times are changing.
One of the biggest opportunities to include the value of technology in fitness comes in the form of On-Demand services providing instructional guidance - just when you need it and where you want to use it. There is no place better than the hotel environment to prove this out. Those that travel and frequent hotel fitness centers would know that the last few years have witnessed an overcrowding of exercisers trying to hold up their smart phones during workouts to gain support of content that they presumably have downloaded or stream as part of a fitness App. At home this content can more easily be mirrored onto larger displays via devices such as Apple TV or Google Chromecast. However in the hotel gym, it can become quite a burden for those trying to workout via mobile device instructors, and at times, an annoyance or intrusion for those that are not.
Various platforms have emerged that serve to solve these issues in one of two primary ways. The first, are systems that provide virtual training classes for small groups (i.e., commonly found within a small segmented studio adjacent to the fitness center space that display's virtual classes from Yoga to High Intensity Interval Training). Second, via new personal training focused stations. Here guests receive one-on-one instructional workouts with equipment and displays that further weave in data from popular wearable sensors, thus customizing the experience for each user.
These new approaches often deliver the added benefits of a lower cost structure, with a higher accommodation of guests in limited space. When designed well, these areas can be tailored so that all equipment required to perform the guided functions are in the immediate proximity of where the exercise need occur. Whether creating ways for guests to interact socially, or allowing for them to more privately exercise without creating negative impact to others, the hotel can now begin to leverage many of the more traditional outcomes driven by larger health club operators.
Where to Next?
An exciting frontier is the increasing demand around providing guests the infrastructure to exercise within the confines of their hotel room. Whether wishing to work out before troubling to put on makeup, or simply taking advantage of the privacy inherent in one's own room, hotels have noticed a considerable uptick in interest around delivering a guestroom experience in fitness.
Hilton® Hotels and other leading brands have more recently launched significant programs designed to meet guests demand for fitness where they reside most during their stay. In some cases, portable fitness "kits" can be delivered to the room upon request. For other properties, entire "fitness guest suites" have been designed to embrace the wellness lifestyle that so many guests seek today and are willing to pay a premium to inhabit. Naturally, these programs need to deliver upon the incorporation of functional training and guidance while navigating the physical confines of the guestroom, if they are to entice today's guest.
Another emerging consideration is a focus around properties that compete for conferences and corporate meetings within the confines of their business-friendly facilities. Creating space for healthy stretch breaks and implementing smartly designed "no sweat zones" are opportunities to capitalize on wellness. - Offering stretching mats, foam rollers, and similar activity related items are ways that hotels and resorts can thoroughly spread the facilitation of wellness throughout previously uncharted areas.
What remains clear is that the hospitality industry historically was one of the very first to facilitate exercise away from one's local community. A tremendous opportunity exists today for hotels and resorts to once again raise the bar and incorporate experiences crafted around trends that are presently driving the fitness industry. It is further important to recognize that an inherent variety exists today in terms of the ways that exercise enthusiasts prefer to get fit. Remaining open minded to diversifying the traditional profile of your fitness center and related spaces is key. This awareness will ultimately help prepare your staff for what will most certainly become a continuation of refreshment and future forward alteration in respect to fitness.
Bryan Green is a wellness industry entrepreneur and fitness facility design expert. He has overseen the development of training facilities for Fortune 100 companies, global hospitality flags, health clubs, specialty studios, universities, and professional sports teams. Mr. Green founded Advantage Fitness Products (AFP) in 1997 to meet the growing demand for consultative support and supply of non-traditional wellness facilities beyond the larger health club chains. Mr. Green established FitnessDesignGroup® in 2001 to serve as a specialized consultancy for early stage planning and design for commercial fitness facilities of all types. The company has since evolved to provide project management services, and today foundationally supports both AFP and the Aktiv Solution divisions towards their client facility design requirements. Mr. Green can be contacted at 310-559-9949 Ext: 110 or bgreen@afproducts.com Extended Bio...
HotelExecutive.com retains the copyright to the articles published in the Hotel Business Review. Articles cannot be republished without prior written consent by HotelExecutive.com.