Wellness & Hospitality: Frontiers of Today and Tomorrow
By Mia Kyricos , Founder and President , Kyricos & Associates, LLC
Wellness Tourism is Thriving
The Global Wellness Institute (GWI) reported in January of this year that the global wellness economy is now a $3.7 trillion dollar marketplace with wellness tourism representing $563 billion slice of that healthy pie. And given the fact that wellness tourists spend more money than their average counterparts, the economics are quite appealing (see Figure 1.0). The spend varies in considerable degree by purpose of trip; a primary tourist, for example, seeks wellness as the sole purpose of his or her trip whereas a secondary tourist attempts to fit in wellness as part of business or leisure travel. Either way, while wellness trips account for 6.5% of all tourism trips, they represent 15.6% of total tourism expenditures, which certainly indicates a thriving market for wellness-driven hospitality.
Figure 1.0: Courtesy of the Global Wellness Institute Global Wellness Economy Monitor, January 2017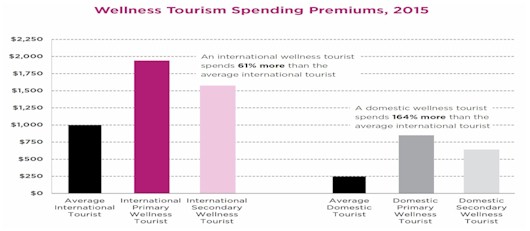 Consumer demand for all things well is clearly on the rise and spanning industry, geography and demographics. When it comes to travel, most industry analysts agree that millennials are applying the greatest amount of pressure on the hospitality industry. For example, half of millennials base their buying decisions on the quality of a fitness center (inclusive of options for on or offsite exercise) whereas less than a quarter of Baby Boomers do.(3) Yet fitness is far from the only thing influencing buying decisions when it comes to how wellness is manifested at today's hotels, and up until just a few short years ago, hoteliers still considered wellness mostly a facility-based value proposition (read: swimming pools, fitness centers and spas). The world has indeed changed.
TripAdvisor, in one of its recent TripBarometer reports, cited that nearly one third of travelers surveyed were willing to spend more on travel because "it's important to their health and wellbeing."(4) That is, consumers, independent of their preferences for hotel features, amenities and programs, see a relationship between travel and personal wellbeing. And this insight is indeed timely since consumers are not the only ones thinking differently about the relationship between travel and wellness; the industry has caught-on as well.
Hyatt kicked off 2017 by acquiring health resort brand, Miraval, with a sizeable and timely $212 million dollar investment and millions more being invested to grow the brand globally. Aside from obvious plans to expand the corporation's portfolio of stand-alone spas and destination wellness retreats, Hyatt's CEO, Mark Hoplamazian, has signaled a desire to better serve its corporate clients with more healthful meeting options to complement the ongoing investments that companies are making in the workplace wellness programs that exist within their own offices.(5)
In another interesting move, AccorHotels, upon completion of its merger with Fairmont Raffles Hotels International (FRHI), appointed Fairmont's former "Vice President of Spa & Wellness", Andrew Gibson, to "Vice President of Wellbeing" for its expanded portfolio of Luxury Brands. The broadened role now includes oversight for both programs and facilities that stand to impact consumer wellbeing, spanning the entire hotel experience beyond just fitness and spa. Other brands like Westin and Six Senses have followed similar suit by focusing on areas like food, sleep, lighting and water quality, among newer brands like EVEN Hotels by IHG, purpose-built for a health-conscious, mid-market traveler who cares about wellness on the road.
All of the above will continue to drive innovation at a brand level, and consumers - already thirsty for options to unplug, detox, cleanse, relax and restore in today's 24/7 world - will drive the rest. Some may question what unconventional hospitality brands like AirBnB or the newly launched Collective Retreats, for example, will do to address consumer wellbeing, and only time will tell. In the meantime, how else may we witness innovation in the growing courtship (dare we say, wild romance) between wellness and hospitality?
The Intersection of Hospitality, Healthcare, Wellness and Design
Over the last several months, we've witnessed the birth of multiple trends in the marketplace, and one of the most exciting is what we're calling the intersection of hospitality, healthcare, wellness and design. And as it turns out, we're not the only ones reading these tea leaves.
Cornell University recently established their Institute for Healthy Futures on campus and hosted their first symposium on the topic ("Hospitality, Health & Design: In Search of a Healthy Future") just last year. As one of the symposium's speakers, I had the opportunity to pose (two) key questions to the group, summarized below.
First, what if we started treating patients like guests? Just like a hotel, most consumers check into hospitals with the hopes that they will also be checking out. But the overall guest journey, like it or not, is not as service-oriented as it could or should be. What if some forward-thinking hotel brands approached these hospitals not only with the goal of offering extended stay options for family and friends visiting family in need as they do today, but what if they also helped to revolutionize the patient experience into one more traditionally conceived for hotel guests? This really just requires a shift in mentality by hospital administrations (and the development of some strategic partnerships) to trickle down in a truly meaningful way for all parties involved.
Second, how can we revolutionize healthcare into well-care? The rising cost of healthcare is no secret, as is the declining health of a largely stress-out, and obese population. The economic pressures are great, our lifestyle habits are poor, and complementary alternative medicine (CAM) and traditional, western medicine are not yet seasoned, or even willing, to work well together. Ideally, we would spend more time preventing hospital stays for most, thereby increasing the quality of service-driven, curative care for those who need it most. And this is where things stand to get really interesting.
In essence, we see an opportunity to bring together leaders in hospitality, western medicine, CAM, health, wellness and even architects to transform patient experiences to guest experiences. And excitingly enough, this isn't the only place where wellness and hospitality can exist outside traditional hotel environments. Another phenomenon is taking shape within residential communities.
Hospitality & Wellness Lifestyle Real Estate
Demand for health and wellness is no longer just about where we visit or retreat to, but also where we would like to call home. Wellness Lifestyle Real Estate, a rapidly growing $119 billion dollar market place, refers to homes and communities expressly designed for residents' physical, mental, social and environmental health.(6) And wellness communities, a subset of this market that that we've had the good fortune to help identify and define, include communities proactively developed with the holistic health of their residents, environment (both natural and built) and local communities in mind.(7)
Places like Lake Nona in Florida or Serenbe in Georgia are good examples of wellness communities. Serenbe in particular - also considered a prime example of new urbanism just outside of Atlanta - comprises 400 homes with plans for 1200 and multiple villages including Mado, now under constructions, which will house a boutique hotel, a 30,000 square foot spa and wellness center, medicinal gardens and residences among which people of all generations will be invited to happily "age in place" alongside one another.

Downtown at Serenbe in Georgia and a Future View Through the Courtyards at Mado
And it is in places like these where hotel brands, particularly those with wellness as part of their DNA, will soon have an opportunity to prosper. In these cases, it will no longer just be about where their spas or fitness centers exist on a hotel site, or what healthy food options exist on the menu, or if the air or lighting quality within each guest room is sound. Instead, it will be about WHERE these hotels and their wellness-related facilities and programs call home, ideally at the heart of neighborhoods and cities that are purpose built with their offerings in mind (to learn more about this growing real estate market, visit www.globalwellnessinstitute.org/wellness-communities).
Final Thought: The Playground for Wellness & Hospitality Just Got Bigger
Like it or not, wellness is absorbing more and more real estate in the minds of consumers and travelers today. The how and what may vary from generation to generation, but psychographically, the concept of health and wellness is now an omnipresent theme that's manifesting across industry, age, income and geography.
Whether considering the intersection of hospitality and healthcare or the rapidly growing sector of wellness lifestyle real estate, both fields will require partnerships with service-driven brands and management companies in order to thrive. Physical hotels along with their health and wellness-related programs and facilities are also key to these newer value propositions.
The question is: how will hotels continue to reinvent themselves to meet these growing expectations for health and wellness both at home and on the road? And will the greater hospitality industry begin to think more broadly about its important role within it? I believe the opportunity for some of the world's most respected brands in the industry (and perhaps some new ones on the horizon) has indeed expanded. In fact, the playground for wellness and hospitality just got bigger.
References:
(1) Travel & Tourism Economic Impact 2017 World Report, World Travel & Tourism Council, 2017.
(2) Global Wellness Economy Monitor, Global Wellness Institute, January 2017.
(3) Monthly Barometer: Wellness Edition April 2017, Global Wellness Institute.
(4) https://www.tripadvisor.com/TripAdvisorInsights/n2670/6-key-travel-trends-2016
* *(5) https://skift.com/2017/02/17/hyatt-cant-wait-to-expand-new-wellness-brand-miraval/
(6) Global Wellness Economy Monitor, Global Wellness Institute, January 2017.
*(7) www.globalwellnessinstitute.org/wellness-communities*
Mia Kyricos is president and founder of Kyricos & Associates LLC, a boutique advisory firm providing strategic guidance to wellness-driven hospitality, tourism and lifestyle companies. Most recently, Ms. Kyricos was Chief Brand Officer of Spafinder Wellness, Inc.®, the world's largest marketing, gifting and incentives company for the wellness industry, where she created the company's core "Wellness 365™" brand philosophy offering expertise across (8) categories of wellness (Fitness, Nutrition, Healing, Mindset, Beauty, Play, Caring and Relationships) and founded the global Wellness Travel Awards program. She also served as the company's spokesperson and oversaw marketing, advertising, strategic partnerships, communications and research, including its well-known State of Wellness Travel and Global Spa and Wellness Trend Forecasts. Ms. Kyricos can be contacted at 207-200-3683 or mia@kyricos.com Please visit http://www.kyricos.com for more information. Extended Bio...
HotelExecutive.com retains the copyright to the articles published in the Hotel Business Review. Articles cannot be republished without prior written consent by HotelExecutive.com.