Lifestyle Medicine: Friend or Foe of Hotel Development?
By Laszlo Puczko, Director of Industry Intelligence, Resources for Leisure Assets
May I start with a very bold analogy? One designer recently suggested that the hype about retro in fashion means nothing less than designers do not have any progressive forward looking ideas, with nothing else to do but recycle what was old, and claim it now to be something new, innovative and exciting.
It may not be too far-fetched to use this assumption for what we have been seeing in wellness and hospitality in the last couple of years. Clearly, wellness-everything or more like wellness-anything is a fashionable proposition or elemental component of services and developments. We have now have access to wellness-on-the-go, promotions for spa-o'clock treatments and soon we may see the 'new trend' of "wellness mobility" (translation - cycling masqueraded as something fancier and chic). If you thought that a film titled 'A Cure for Wellness' was about something nice and pleasant, well, you are mistaken: this is a thriller and as promised by the description, "the spa treatments are not what they seem".
A more realistic approach which takes into consideration the actual needs and wants of consumers and provides a more financially sound performance to owners and operators should look at the key domains of integrative healthcare and their impending impact on wellness and hospitality industries.
We can observe numerous lifestyle changes. People like to have alternatives and options, especially if such promises possess qualities that can improve their lives, improve health and increase happiness. Please note that if someone told you that there is only one wellness trend that may be applied to all parts of the world, then your hotel brand or new hospitality component may be at serious risk. It is no surprise that one of the success factors of the current "share economy" (e.g. Airbnb), boutique and lifestyle hotels, is the personalized and human experiences, which can be in stark contrast to the standardized and global brand promises.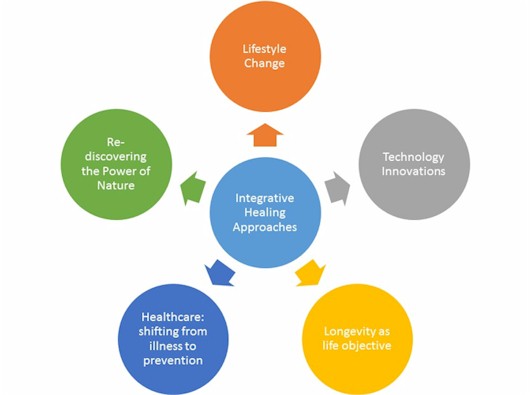 The complexities and varieties of different lifestyles create a challenge for hoteliers when they want to come-up with innovative standards that can alternatively work in more than one market and more than one segment.
Longevity can be considered the one domain which is truly a universally shared global phenomenon. As the World Economic Forum stated: "People would prefer to pass away young…But as late as possible. "This can be very powerful messaging that provides products and services that are attractive to most, if not all, for virtually every market segment. Governments and developers alike look at the life-span of people and that of developments.
It can be a more compelling and comprehensive approach to consider the health-span of societies and consider how that approach can and should be implemented in hospitality provisions. Consumers interested in taking care of their health will look for appropriate services with less and less interest in ('old') labels. What hoteliers now see as main elements of a wellness hotel soon become an entry-level provision, and the word rapidly loses its importance and differentiating capacities. It does not mean that customers do not want "wellness" - it only means they will consider this as the minimum instead of the driving motivator for their decisions.
Healthcare, especially in developed countries has gradually shifted from dependence on medical cures to the importance of prevention to promote and maintain healthy longevity. This is to be backed by policies and other instruments since the pharma industry may see prevention as a business threat. Interestingly this is one of the domains where the developed world can learn from the 'so-called', less-developed countries. Traditional healing approaches and techniques have been successfully used for centuries for ailments that range from cures for the common cold, to treatments that promote beauty and virility. The incorporation of such elements is different from the "retro" approach mentioned earlier. The rediscovery of these often-ancient approaches (e.g. Feng Shui, Chakra Balancing, Ayurveda, and even therapeutic massage) demonstrates that we can be both, modern and traditional at the same time.
This means a very different development alternative to hoteliers. Customers do not necessarily want to see but want to feel and understand the hotel (and more importantly, the spa) concept. They may appreciate and connect to the inherent flow of energy that Feng Shui can bring to the hotel more than the expensive looking aesthetics of a crystal chandelier. HKS's new healthcare (or more precisely hospital) designs and operational model can certainly be one way to move forward. The healthcare provision which is the community anchor can be integrated into all facets of everyday life, including the hospitality industry, too.
This approach suggests now is the time for hoteliers to involve, in addition to the "traditional" hotel or spa architects, a dedicated team of expert advisors who know how to define the most appropriate provision of facility design, services and guest values that will make the development successful and profitable for a wide range of targeted markets, versus single-channeled development strategies are now outdated and not profitable.
The rediscovery and integration of the healing power and modalities of nature and cultural traditions is more like fashion, which a large percentage of the world has never forgotten or dismissed such modalities. For them, these evidence-based approaches and treatments are anything but alternative (as the developed world tends to call for example Traditional Korean Medicine, Acupuncture, as well as adopting a "Food as Medicine" approaches).
As long as such treatments continue to provide similar results based on clinical trials as the pharma industry, reintroducing and familiarizing consumers with these traditional treatments can gain significant market advantage with the emphasis that they are natural, traditional and results driven.
Hoteliers can look into the local and natural alternative, which may challenge existing global standards, e.g. supplier contracts with large spa brands. There are only a handful large(r) operators, apart from family-owned businesses, which have gained sound experience in using natural elements, e.g. thermal waters in their service provision (e.g. Danubius Hotels). Such experiential opportunities will mean significant market advantages both in terms of development and operations.
Information technology, e.g. smart health and smart hospitality, may not be as far off as it may seem. The personalization of services would certainly require the extensive use of collaborative technology with an emphasis on pre, during or post visits. Such provisions are useful for prevention and the support of specific lifestyle choices. The hospitality industry can foster the development of this personalization since they can introduce new service alternatives as well as accommodate personal requirements with the intensive use of available and developing technologies (e.g. guest can share their dietary, sleeping or fitness requirements and preferences at the time of booking, even seamlessly).
This is especially important in e-health or m-health, as well as in diagnostics (e.g. second opinions provided remotely). Still, do not forget, technology is only a tool and not the purpose. We see now hotels where the USP is the lack of wifi and other connectivity alternatives. This abstinence may not be elective, but very much intentional. Copper wired rooms and buildings, anyone?
One of the likely solutions for such challenges is lifestyle medicine or lifestyle healthcare; evidence-based medical specialties that incorporate lifestyle modalities as therapeutic intervention to prevent, treat and even reverse lifestyle-related chronic disease. This sounds very medical at first. How the application of such alternatives takes place can mean the real difference to hospitality.
Lifestyle medicine and healthcare incorporate optimal nutrition (a predominantly whole food and plant-based diet), physical activity, stress management, adequate sleep and hydration, tobacco and alcohol cessation, as well as social support. This does not mean the inevitable involvement of surgical interventions in hotels will happen, but rather that non-invasive approaches may be successfully incorporated and integrated into most environments. We already know that guests who look for these solutions prefer hospitality (not hospital) environments, so this should be a good indicator and motivator for future direction.
The hospitality, spa and wellness industries, as well as their customers now have a deeper understanding that the well being, personal health and happiness of their guests can be improved in a variety of ways, regardless of the initial motivation of their stay. The convergence and integration of comprehensive wellness and medical approaches, treatments and the incorporation of technological advancements will ultimately lead to an integrated lifestyle healthcare. In this arena, the hospitality industry must re-define itself in order to satisfy the needs and desires of the consumer. Never has the 2004 book by Lee, "If Disney Ran Your Hospital" been more timely and appropriate as now!
Relevant Lifestyle Healthcare Modalities for Hospitality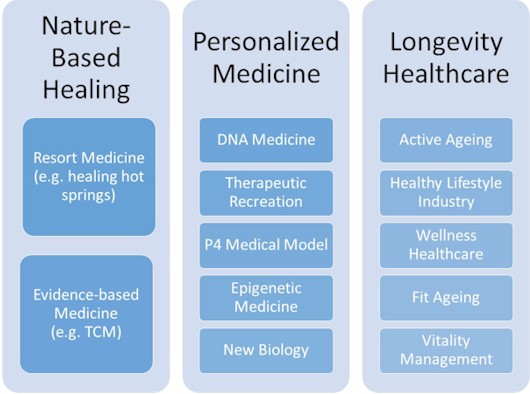 Wellness can, and does mean very different things for different people in a variety of situations, locations and circumstances. For example, when somebody offers you coffee, you may end up providing a long description of WHAT kind of coffee you want, (Extra hot soy chai latte - not water please), instead of simply offering a yes or no answer. The same is true for wellness, spa and fitness opportunities in hospitality. Fashion will bring other buzz and industry inspired words, whereas the initial demand may not change: guests want to feel better, more relaxed as well as mentally and physically invigorated, and the demand for that will not really change.
Lifestyle medicine can be a good friend for hoteliers but can also become a foe if not considered, planned and executed properly. There is a variety of technology, solutions and services that can be incorporated to accommodate and serve the needs and expectations of any hotel property. Such developments do not necessarily turn the property to a wellness, spa or medical hotel. Customers who are leading a more health-conscious lifestyle and engage in certain lifestyle healthcare modalities will prefer to have the provision of such services, solution and treatments during their travels. At or in the proximity of their accommodation.
Hoteliers need to look outside the box and consult lifestyle healthcare and well being hospitality professionals who will help them redefine spa and wellness in their very own unique business. The hotel performance, brand and operation can be improved by the application of small steps and adapting lifestyle medicine as a driving principle but not as a service component.
Laszlo Puczko is Group Managing Partner at RLA Resource for Leisure Assets. He has worked in the health, wellness, medical services and spa arena for over 20 years. Mr. Puczko founded The Tourism Observatory for Health, Wellness and Spa (2012), which serves as global intelligence for the health travel industry. Mr. Puczko was the lead for the first ever Health Tourism Study for the UN World Tourism Organization & European Travel Commission ( 2015). He was a lead consultant on a study for the Global Spa Summit. Over the past few years, Mr. Puczko has honed his expertise in product development, experience mapping and design, impact assessment and marketing. Mr. Puczko can be contacted at 43-1-7172-8445 or laszlo@resourcesforleisureassets.com Please visit www.resourcesforleisureassets.com for more information. Extended Bio...
HotelExecutive.com retains the copyright to the articles published in the Hotel Business Review. Articles cannot be republished without prior written consent by HotelExecutive.com.