h2hotel's Eco-Friendly View is All About You
By Circe Sher, Co-Founder, Piazza Hospitality
When Piazza Hospitality first started developing its h2hotel concept and design in Healdsburg in the mid 2000s, "green" properties were hardly as well-known as they are today. Architects tended to simply follow Leadership in Energy and Environmental Design (LEED) guidelines, and most consumers weren't really clear on what "eco-friendly" meant.
The idea of being earth-friendly seemed like something everyone could and should embrace, but bringing that vision into a reality consumers actually wanted could be challenging. As our Piazza team toured a variety of LEED properties including offices and hospitality spaces, we found that many of the properties felt austere, cold and impersonal. Strictly following LEED requirements seemed to dictate modest comfort level, with luxury compromised by a rigid experience.
Working with our architects, David Baker and Partners in San Francisco, we decided to take a different approach. We would be earth-friendly, but above all, we would be guest-friendly. Our Mission Statement: "an eco-friendly view that's all about you."
These days, guests are increasingly environmentally minded. An April 2013 survey of 1,300 U.S. travelers by TripAdvisor.com reported that 62 percent "often or always" consider the environment when choosing hotels. And they want the eco-information, as the same report found that 64 percent of respondents said "they rarely or never" feel informed about whether hotels are truly eco-friendly.
At the same time, a March 2015 Cornell University School of Hotel Administration survey of 120,000 hotel customers found that while guests are generally willing to participate in sustainability programs, green operations still do not factor above price, convenience and quality when selecting a hotel.
Finding Balance
From the first set of blueprints, we put critical weight on guest comfort as we considered every green aspect. Our goal was to create h2hotel as a property that fulfilled all the LEED criteria, but also delivered a rich and authentic experience for our guests. Style was also very important, to keep true to our brand known for statement hospitality projects with an eye towards contemporary form and dramatic urban flair.
While we wanted guests to be aware of our sustainability goals, we did not want them to feel like those goals came before their comfort, or that they were being force-fed green ideals. For every step of architecture, interior design, amenities and service, we asked ourselves, "How will this choice affect the guest experience?"
It took a lot of investment on our end, as we created a model room, and did extensive trial-and-error for space planning. But we wanted to make sure everything worked perfectly, and that the sustainable materials we chose also had a great aesthetic and felt comfortable and cozy. We looked at the property as a model of what people could strive for - and truly want - in their own homes.
When we opened h2hotel and Spoonbar restaurant in 2010, we marketed the green aspects, including the latest technology in energy-efficient building materials, solar panels, smart electrical systems, a living roof fed by rainwater that reduces the impact on Healdsburg's storm-drain system and neighboring Foss Creek, low-flow water fixtures, and custom furnishings using reclaimed materials.
But we were careful to celebrate the luxury and artistic beauty, too, from gorgeous and sustainable bamboo flooring, to fair-trade, chemical-free rugs by Peace Industry, and organic sheets, towels and robes. We noted that the living roof boasted beneficial insulating qualities, but it also added a showpiece look with the undulating roofline. We promoted the artisans and companies we had sought out for their sustainable and socially minded practices, but also for their one-of-a-kind design and quality. We showcased our extensive displays of locally commissioned art, to salute our region, and our theme, in an understated and entertaining way. And we sought guest feedback, as a priority.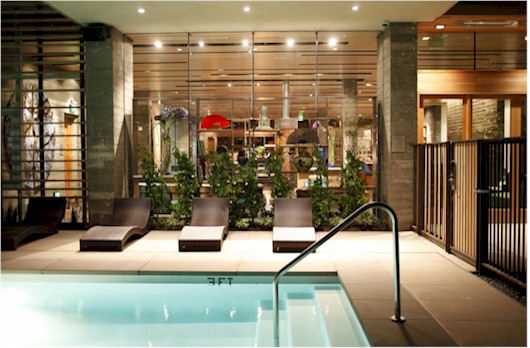 Guests First, Green Second
As one early guest wrote in a 5-Star review about h2hotel, "We appreciated their commitment to conservation, which was also not burdensome to the point where it was limiting our vacation experience."
Another guest who stayed with us in February of 2017 had this to say: "It was exactly what I had hoped for. It is clean, modern, and smartly decorated. The rooms are very spacious. Despite the modern décor, functionality was a breeze even for technophobes like me. Housekeeping, water pressure, towel thickness, and bed comfort were all excellent."
Technophobes, indeed. We highlighted sustainability in our rooms by utilizing playful graphics including an iconography that reflected both our green practices and the hotel amenities and made sure that lighting and HVAC controls were highly efficient yet simple to operate. We gave our guests a feeling of choice, rather than limitation, with details like high quality refillable bath amenities, all-natural bath products made from local and organic ingredients, plus the addition of recycling wastebaskets alongside standard trash bins.
We also included sustainable bamboo flooring, Coyuchi organic sheets, towels and robes in the hotel's guestrooms for luxury that has a gentle impact on the earth.
Surprisingly, one of the biggest hits at the beginning - and to this day - was our decision to not offer disposable plastic water bottles in rooms. Instead, we put filled glass water carafes in every room's mini-fridge and invite guests to refill them as they like at the "Waterbars" on every floor. Rather than being seen as a self-serving inconvenience, the bars have been embraced as a luxury touch, offering unlimited complimentary still and sparkling water and ice 24-hours a day.
One guest rewarded our efforts with this review: "Thoughtful Design, Comfort, Style and Green: In the heart of Healdsburg, this freshly designed, eco-friendly and stylish hotel is comfortable (beds like nests), and thoughtful (sparking or flat water in fridge for free, delicious complimentary snacks, lots of closet space, great lighting, spacious clean and modern bathroom, recycle can in room, great common space and restaurant.)"
Practical and Whimsical
Keeping the eco-spirit fun and fashionable has always been a signature for Piazza Hospitality Group. We were one of the first hotels in Wine Country to work with a local company to design a fleet of custom bikes, so our guests can reduce their carbon footprint, but also easily explore all the amenities of downtown Healdsburg via the complimentary rentals.
Guests may appreciate that the hotel's dual-flush toilets and low-flow faucets and fixtures reduce water use by 20 percent and its smart sensors automatically turn off lights, fans and air conditioners when guest rooms are empty - but they certainly enjoy unexpected luxuries like Japanese soaking tubs with separate showers even more. The hotel's solar-heated creek-side pool is also a welcoming feature for guests.
Even the playful sculpture has a purpose here - Sebastopol/Sonoma County artist Ned Kahn's Spoon Fountain at the Spoonbar restaurant entry is eye-catching with its 3,500 whimsical dancing spoons, and it provides a natural cooling effect as guests pass by.
And this creativity and sense of purpose doesn't end with décor. The executive chefs at Spoonbar, Casey and Patrick Van Voorhis, embrace creativity with their dishes but source their ingredients from local farms, ranches and producers to support the community and offer fresh produce for diners.
"This place is hip, has a fun bar downstairs and is a feng shui dream," wrote a satisfied guest in March.
Another Piazza signature is a comprehensive guest program offering authentically local experiences. Beyond just being places to stay, dine and relax, our properties strive to be cultural concierges, through activities that are specialized to each property's city or town, drawing on our close relationships with industry leaders in the culinary, wine, recreation and arts industries. H2 was designed to offer each guest a unique sense of place, celebrating the distinctive flavor of its Wine Country location.
That means we partnered with a local coffee purveyor, a baker and chocolatier to produce our guest room amenities and in turn support and promote small local businesses. We also work with local community groups to protect Foss Creek, which looks beautiful as it runs through the property, yet also restores the creek bed and riparian habitat. Always keeping the health of the surrounding land in mind, we left 60 percent of the site as open space to promote biodiversity.
In the end, do guests really care that during h2's construction, more than 85 percent of the hotel's construction debris was recycled? On the hotel's opening day, likely they didn't. But as time has gone on, and guests have embraced the property's luxury, comfort and upbeat mood, the eco-message certainly seems to be considered a bonus.
"The hotel is funky, environmentally aware and has a great vibe," wrote one guest this February, while in January, another guest lauded the property as "Great location; LEED certified."
Finding the balance between sustainability and luxury can be a challenge, but today there are many amazing choices of materials, furnishings and technologies that follow sustainable guidelines. Done correctly, the framework can lead to a very unique and memorable guest experience. One of the best things we can hear from an h2hotel guest is that they loved the hotel's design and felt well taken care of, but also appreciated our commitment to sustainability.
Circe Sher, co-founder of Piazza Hospitality oversees the marketing, public relations and promotional efforts for its properties including Hotel Healdsburg and its sister property h2hotel, as well as its associated restaurants Spoonbar, Pizzando and Charlie Palmer's Dry Creek Kitchen. Beyond marketing the final product, Ms. Sher also helps direct the conceptual development of Piazza Hospitality's contemporary properties. She played a role in the concept of the boutique luxury Hotel Healdsburg and the eco-friendly, avant-garde h2hotel, along with the concept for The Spa at Hotel Healdsburg. Three forthcoming boutique hotels will serve as environmentally-friendly chic retreats, inviting visitors to relax, recharge and play. Ms. Sher can be contacted at 707-431-8221 or info@piazzahospitality.com Please visit http://www.piazzahospitality.com for more information. Extended Bio...
HotelExecutive.com retains the copyright to the articles published in the Hotel Business Review. Articles cannot be republished without prior written consent by HotelExecutive.com.