The True Value of Sustainability Beyond Eco-Friendliness
Co-authored by Karl-Henrik Robčrt, Professor of Strategic Sustainable Development, Blekinge Institute of Technology
193 out of 196 possible countries have agreed on the UN Sustainable Development Goals (SDGs) and in 2015, 194 countries signed the Paris Agreement that includes a joint commitment to leave 80 per cent of known fossil fuel resources in the ground. These are signs of a paradigm shift that is happening right in front of our eyes.
What does this shift mean for an individual hospitality executive in May 2017? Has it, or will it perhaps change the playing field dramatically?

How can you relate to a sustainable future while at the same time guaranteeing a prosperous future for your business now and in the years ahead?

Is there perhaps even a business case for supporting a sustainable world, a competitive edge that may pay off regardless of what others are doing?
So much has happened in recent decades, and social and environmental sustainability initiatives have become part of daily agendas, from geopolitics to local business. All aspects of public and private domains have previously enjoyed the luxury of regarding sustainability as an optional extra to enhance their brand by being perceived as ethical and working for the common good.
In this article, we present evidence that suggests that we are currently moving to the next stage of sustainable development: improving business at deeper, more profound and direct, levels. Making progress at these levels is more about strategic competence than values and branding. We first present the array of positive signs of change, then we outline the forthcoming stage of Sustainable Development. The latter requires some strategic competence but in return promises rewards greater than ever.
Signs of Change
The United Nations declared 2017 as the International Year of Sustainable Tourism for Development, convinced that when the industry offers "well-designed and well-managed tourism", it supports sustainable development, job creation and trade.
This decision aligns with the international community's embrace of the new Agenda 2030 and the SDGs. Tourism is specifically included in three of the SDGs:
SDG 8: Promote sustained, inclusive and sustainable economic growth, full and productive employment and decent work for all;
SDG 12: Sustainable Consumption and Production; and
SDG 14: Conserve and sustainably use the oceans, seas and marine resources.
Tourism, however, clearly falls under all 17 SDGs.
"Travelism", (a term coined by Professor Geoffrey Lippman, describing the travel and tourism value chain and its component parts), increased four percent globally to 1.2 billion arrivals in 2016. This was the seventh consecutive year of growth for the sector, which represents 10 per cent of global GDP, and seven per cent of international trade. The World Trade Organization claims that one in every 11 jobs is created by the sector in some shape or form. The sector is a major global player, and is characterized by having the capacity to set trends and influence society at large, as well as having a considerable impact on local and global development.
A major challenge is of course transportation, and in 2016 191 countries reached an agreement at the International Civil Aviation Organization meeting in Montreal, which seeks to achieve carbon neutral growth starting in 2021. This is one of many signs that the aviation industry is trying (belatedly) to become part of the solution. The fight for limited resources of biofuel has started, and it is most likely that we will we see the first country achieving the objective of having a 100 per cent fossil-free aircraft fleet, (domestic at first), in the not too distant future. For more than two decades, the UK-based International Tourism Partnership (ITP) has gathered several of the biggest players in the hospitality industry to share best practice and create programs and facilitate collaboration in the sector.
It is a non-competitive platform for leaders to share ideas, build relationships and work together for a more sustainable tourism industry. ITP covers a wide range of topics such as human trafficking, sustainable supply chains, carbon emissions, water stewardship, youth unemployment and fair labor standards. This shows a truly holistic approach to sustainability, and ITP also contributes to co-operation for sustainability with people and organizations beyond its membership, such as industry associations, non-profit organizations, campaigners, academics and supply chains. In Sweden, the Hotel and Restaurant Association VISITA recently pledged to reduce the Swedish tourism industry's energy consumption by one fifth by 2020. This is being done, as part of the work to follow the UNWTO Code of Ethics for the private sector.
"If we want to attract future tourists, Sweden's tourism industry must be at the forefront of global sustainability efforts, involving social, economic and environmental sustainability," says Visita CEO Eva Östling. "I want the whole industry involved in efforts to secure nature, clean water, access to high quality products and offering great workplaces that attract skilled employees," concludes Visita's chairman Maud Olofsson, former Minister for Enterprise and Energy and former Deputy Prime Minister of Sweden.
Their 5,000 member companies, with nearly 7,000 businesses in the industry, will make this happen with the support of the tools VISITA offers, and of course their own skill and engagement. One of the tools recently launched in Sweden is RestTool.com, released as freemium software. It will be made available globally, and in English, following a beta test later this year.
The Forthcoming Stage of Strategic Sustainable Development
The above is all positive and worth building on, but reality now calls for something different, the next level of sustainability where we strategically plan the growth of our business within the framework of the natural world and functioning local and global societies. In fact, it has been shown theoretically as well as in real life, that insightful and strategic sustainable development is self-beneficial to individual companies, regardless of the actions of competitors or society at large.
The challenges have never been bigger, but the fact that a strategic competitive paradigm shift is upon us brightens up even one's darkest moments. So, how does it all hang together and where do I start if I want to take my business from sustainability "light" to full sustainability and safeguard our profit generation not only today but for generations to come?
The overall strategy is easy to explain: you improve your business chances if you move systematically towards a robust definition of sustainability, step-by-step, to becoming part of the solution rather than the opposite. That is a fact today. If you do it right, ROI will follow from lower opportunity costs on more and more sustainability driven markets, lower costs for resources, higher level of team-creativity, loyalty and innovations etc.
The problem is to not move too fast for ROI, nor too slow for seizing opportunities on the more and more sustainability driven markets. Exactly how to do that, by help of robust and logical methodologies, can be trained and put in practice much faster than most executives are aware of.
The methodology can best be explained by just comparing it with a traditional SWOT analysis, the only difference being that the goal is informed by robust and very concrete sustainability principles, where after today's strengths and weaknesses are analyzed in relation to the integrated sustainable business goal, followed by a similar analysis of opportunities and threats, and finally prioritizations into a step-wise plan to avoid the above escalating costs, and scoring on market opportunities that will inevitably unfold - survival issues are very convincing in the end.
The Framework for Strategic Sustainable Development (FSSD), developed by NGO the Natural Step, has been implemented by numerous corporations, organizations and communities for more than two decades.
For more details, see Journal of Cleaner Production's recently published Special Volume on Leadership towards Sustainability. You may be in particular interested in the article about FSSD, and the two articles "in tandem" in FSSD informed transports. http://www.sciencedirect.com/science/journal/09596526/140/part/P1)
Today, it is possible for an organization to apply robust sustainability principles to:
Identify the full gap to full social and ecological sustainability,

Understand the business case of designing a plan to systematically bridging the gap,

Improving economically and competitively from striking the strategic balance between investment-speed towards the sustainable goal on the one hand, and good return on investment on the other.
Using the above bullets to merge the seemingly opposed, ethics with money; the small organizations challenges with sustainability for the whole world; today with the future; the tools you need with the overall strategic plan and partners and stakeholders with each other. This possibility is not about ethics - it pays off more than not doing it. It is about competence, and this can be taught and trained.
Plan for Success
With a holistic understanding of sustainability we have the opportunity to plan for success and not being left behind as a part of the old paradigm. We can guide our organization towards a bright future instead of having to invest in costly reactive changes to misbehavior.
A sustainable world is worth longing for, and aiming toward. With a science-based definition of sustainability there is nothing stopping us as leaders, to embark on a journey that is fun, extremely rewarding and first and foremost a pre-requisite for our survival!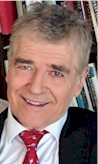 This article was co-authored by Karl-Henrik Robčrt. Dr. Robert has a long career as a cancer scientist and clinician. From 1985-1993, he headed the Division of Clinical Haematology and Oncology at the Department of Medicine at the Huddinge Hospital. Dr. Robert is now Professor of Strategic Sustainable Development at Blekinge Institute of Technology in Sweden. His research and advice on the linkage between ecology, economy and technology has given him the Green Cross Award for International Leadership, and in the year 2000 he won the Blue Planet Prize - "The Ecology Nobel" - for his creation and development of The Framework for Strategic Sustainable Development (FSSD), see below. Dr. Robert supervises PhD students on Strategic Sustainable Development, has co-founded the internationally well renowned master's program on strategic leadership towards sustainability (MSLS). During its 12-year existence, this program has hosted more than 500 students from more than 80 countries, with a great diversity also regarding age, gender, personalities, educational backgrounds and professional backgrounds. This is an utterly dedicated and competent community, spreading strategic sustainability thinking and practices around the world.
Jan Peter "JP" Bergkvist has been active in Sustainable Business in the hospitality industry as an executive lsince the early nineties. He served 15 years with Scandic with the last 9 years in an executive management position including 4 years with Hilton International in the role of Director of Environmental Sustainability. In January 2009 Mr. Bergkvist stepped back from his position as Vice President Sustainable Business at Scandic to a role of senior advisor working in his own business SleepWell AB. In 2010 he published the book Sustainability in Practice – a fast guide for business leaders. He is a member of the advisory panel of International Tourism Partnership in London, ITP. Mr. Bergkvist can be contacted at 46-766-33-6868 or janpeter.bergkvist@sleepwell.nu Extended Bio...
HotelExecutive.com retains the copyright to the articles published in the Hotel Business Review. Articles cannot be republished without prior written consent by HotelExecutive.com.