Adaptive Reuse, a Strategic and Sustainable Way to Penetrate New Markets
One of these overlooked strategies is also one of the most effective "green design" measures: the adaptive reuse of existing structures. And when we say "effective" in the context of sustainability, we mean that the strategy increases what green hospitality experts call the "triple bottom line"-that is, the notion that sustainability is good for people, the planet, and profit as well. Done strategically, adaptive reuse of older buildings-some of which may be local landmarks-contributes more fundamentally to our clients' sustainability goals and overall success than many other sustainability methods and campaigns combined.
The key word here is strategically. If, for instance, a developer decides to transform an unoccupied local landmark building into a boutique hotel, they will certainly realize some of the important benefits for the triple bottom line. By reusing the structure, they will save on the cost of steel, concrete and masonry required to build new, and leaving those resources untapped means the hotel will have a lower embodied energy as compared to a completely new structure. Of course adaptive reuse does require prudence in selecting the property to convert to the new occupancy. For example, is the fenestration of the existing building suitable for the new use? Does its infrastructure support the mechanical requirements for plumbing, electrical, and ventilation? Will the adapted structure be healthy for its occupants, both staff and patrons?
Identifying Opportunities for Reuse
Another key question is whether there will be a good market for this new business in this location. Calculating a new venue's likelihood of success is always a factor in the overall sustainability of a project, whether it focuses on adaptive reuse or not. In this way, truly sustainable hospitality development is linked closely to successful market identification and penetration. So which potential locations for adaptive reuse of existing structures have a higher likelihood of success for the long run?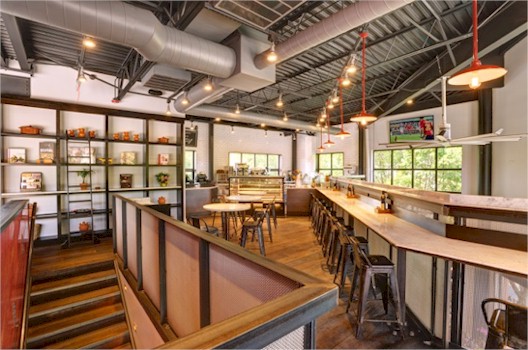 Photo by Michael Slack, courtesy JZA+D
Two well-known market trends offer possible answers to that question. The first is the continuing economic shift away from industrial and manufacturing activity toward high-tech and white collar sectors. This trend results quite naturally in the current or potential vacancy of older industrial structures in densely populated urban areas. An empty warehouse, for instance, with a rich character and robust infrastructure may present an ideal opportunity for reuse as a hotel. The same is true for many office buildings as well, whether in similar urban settings or in suburban or exurban corporate parks. In some real estate markets -- including Princeton, N.J., where JZA+D is headquartered -- entire office buildings are sitting empty following shifts in economic paradigms: perhaps the sector that the building supported has shrunk, or the tenant companies have been successful and have moved elsewhere to consolidate. Sometimes the building itself does not have the infrastructure necessary to support the needs of firms in emerging sectors, such as high-tech, or medical research. Like warehouses, office buildings may already have much of the needed infrastructure for a hotel. In addition, the required parking capacity for commercial properties is practically tailor-made for conversion to hotel usage, as are the open plans with widely-spaced columns typical of most office building floor plates.
The other trend is the movement of millennials toward these former industrial areas. Writing for Forbes, Pete Saunders crunched the numbers from U.S. Census data and concluded that educated millennials are moving to (or remain living in) core U.S. cities, representing a major shift away from the tendency of previous generations to head for the suburbs. And in many U.S. markets such as Pittsburgh, millennials of all backgrounds show a preference for housing and communities carved out of former industrial sites. Quoted in the Pittsburgh Post-Gazette, Rebecca Bagley, the University of Pittsburgh's vice chancellor for economic partnerships said, "It's kind of Rust Belt chic, having older infrastructure that has so much character."
Some hoteliers and designers recognize that what Bagley describes as "character" in real terms translates to a desire among millennials for an authentic experience. However, it's not just authenticity that millennials, who will soon account for more than half of the U.S. workforce, prefer. This group differs from previous generations in other important ways. Perhaps most important, millennials make little distinction among home, workplace, social space, worship facility, and other places in terms of their expectations of services and amenities. Millennials tend to favor and remain loyal to locations that support their lifestyle; if yoga is considered essential-along with coffee, wireless internet, etc.-they will choose the residence, the workplace, the church, the community center and especially the hospitality venue that offers those amenities.
Capture New Markets, for a Generation
To recap, there are areas in densely populated cities, towns, and suburban communities where millennials are entering the workforce in growing numbers. In these same areas are decommissioned commercial and industrial structures that not only could physically be adapted and reused to supply hospitality space and services, but also are well located to become popular hubs of social activity.
How best to seize this opportunity? The foundation for realizing this untapped potential is inventive, resourceful design. Successful adaptive reuse does not merely benefit from identifying and exploiting the available synergies: it fundamentally requires them. And creative, authentic adaptation of commercial and industrial space into inventive hospitality venues can excite and capture these growing markets for generations to come.
One such potential synergy is based on the trend of hotels embracing the notion that amenities spaces are not just for room guests. Many venues welcome the public to drop in and dine, shop, meet up, exercise, or consume entertainment, thereby capturing new revenue streams, creating brand awareness, and fostering brand loyalty. Pushing this concept further, a new hotel could introduce co-working space into its array of amenities offerings. Millennials are often mobile workers and telecommuters, and are already familiar with the concepts of shared work space. Properly developed and marketed, investment in a multi-functional ground-floor experience that includes livable co-working space could produce robust activity 24 hours a day, making the hotel lobby a social hub for an entire community. This is social sustainability, which addresses both the "people" and "profit" parts of the triple bottom line.
Consider also that most office buildings make little or no use of their roof space. (And warehouses almost never do.) Apart from housing mechanical equipment, roof space is essentially unoccupied. Adapting such a building to hospitality could offer the possibility of building a restaurant or bar on the roof, capitalizing on the space and city views-and the increasing popularity of open-air venues-to create a revenue stream that could not have been realized in the structure's original usage.
The millennials' preference for authenticity opens the door to other synergies as well. For example, millennials are not averse to an industrial aesthetic that includes exposed raw materials like brick, steel, and concrete. In individual guest rooms, exposed brick walls or steel elements could provide special character at this personal scale. This aesthetic could also be utilized in many other areas of the hotel to maintain the authenticity that millennials seek: in the entry lobby, in corridors, even in amenities such as bars, restaurants, fitness rooms and more. For restaurants and dining amenities in the hotel, this look dovetails neatly with the recent trend in restaurant design toward showcasing exposed and raw materials. Diners in all types of venues increasingly seek authentic experiences, and just as they want to taste the ingredients in the food, they also want to experience the architectural "ingredients."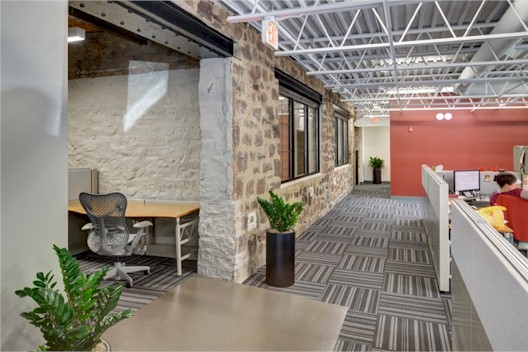 Photo by Michael Slack, courtesy JZA+D
Of course, adaptive reuse does not always dictate an industrial or "raw" design aesthetic. Regardless of style, the original structure's entry lobbies and shared corridors are typically the only areas that are designed with distinctive character, since the office spaces are neutral spaces that will be fitted out to suit the tenant group or firm. Depending on the original design and how well it has been maintained, that character can be preserved and made a part of an authentic hospitality experience.
There are certainly challenges ahead for those engaging in the redevelopment of office and industrial structures into hospitality venues. The existing structural elements need to be vetted for compatibility with the desired layout for guestrooms as well as for public spaces. In addition, older buildings often present obstacles to the delivery of good indoor environmental quality (IEQ): the presence of materials impacting occupant health such as asbestos, PCBs, or lead-based paint always needs to be investigated and if found, appropriately mitigated.
But such challenges are small when viewed in terms of the potential for adaptive reuse. In Princeton, we recently preserved and converted a 1930s-era fueling and service station, an admirable example of modernist design, into a successful pizza restaurant that capitalizes on the character of the original structure in innovative ways. As just one example, the garage bay doors remain, and open in warmer months to expand the interior dining area out onto the new patio. Thousands of closed fueling structures across North America may be ripe for just such a conversion. And there are many sturdily-constructed industrial buildings left from bygone businesses, such as a stone-and-masonry hide-tanning facility in Yardley, Pennsylvania that we recently helped convert into a distinctive and desirable office building, "The Tannery."
Of primary importance for those considering tapping new hospitality markets are the benefits of adaptive reuse for the triple bottom line. Finding a new use for something old is the most basic approach to green, sustainable design that exists. Working strategically to surmount obstacles will lead the developer beyond eco-friendly design modes and into win-win-win scenarios where construction savings from adaptive reuse can be invested elsewhere in the project. The successes that follow can tap into emerging hospitality markets and establish brand loyalty that could last for generations.
Joshua Zinder, AIA, NCARB, LEED AP BD+C, founder and principal of JZA+D received a Bachelor of Architecture from Syracuse University and a Masters of Advanced Architectural Design from Columbia University Graduate School of Architecture, Planning, and Preservation. His 20-plus years of experience working for many design firms includes six years as an Associate with Michael Graves & Associates. Mr. Zinder has worked on a diverse range of projects, such as: The Museum of the Shenandoah Valley, Wyndham Hotel Prototypes, The Bedford Central School District, Irvington Union Free Schools and many others. In 2006, he opened his practice to pursue contemporary and sustainable design. He has designed projects worldwide. Mr. Zinder, AIA can be contacted at 609-924-5004 or jzinder@joshuazinder.com Extended Bio...
HotelExecutive.com retains the copyright to the articles published in the Hotel Business Review. Articles cannot be republished without prior written consent by HotelExecutive.com.