The Wellness Trend in Hospitality
By Lawrence Adams, Principal, ForrestPerkins
Wellness in hospitality as a functional concept spans centuries. The history of the spa is testament to the long tradition of resorts and hotels that cater to health-seeking guests with facilities that promote physical and mental well-being. Following the Greco-Roman models of vast thermae, such as the Baths of Caracalla built in Rome in AD 212, Central Europe embraced the notion of balneology, the science of therapeutic bathing, in Kurorte, "cure towns," like Baden Baden, Germany, Carlsbad, Czech Republic, and Bath, England. Even before Caracalla was built, the Romans started developing Thermae Bath Spa in AD 43 around natural thermal springs in Britain, at a site that had Celtic origins for therapeutic bathing centuries before that.
The Grandhotel Pupp was built in 1701 in Carlsbad, Czech Republic, a Kurorte established in 1370 by Charles IV, King of Bohemia, and historically famous for the health-giving attributes of its mineral hot springs. Today, Carlsbad remains one of the most popular spa destinations in Central Europe. Currently the Pupp Royal Spa offers a variety of sophisticated treatments including Magnetotherapy, which includes the use of a high-frequency magnetic field to address various conditions, and Shock Wave Therapy, which involves the interaction of body tissue with high-intensity sound waves.
The first truly popular spa town in the United States was Saratoga Springs, New York. By 1815 Saratoga had two grand hotels, catering to visitors seeking the town's healthful mineral water and by 1821 had more than 500 hotel rooms. The Grand Union Hotel in Saratoga Springs became the largest hotel in the world in its heyday. By the mid-19th century the US had health resorts in 20 states, many with grand hotel accommodations such as The Greenbrier in White Sulphur Springs, West Virginia, and The Arlington in Hot Springs, Arkansas.
Spas, the oldest form of resorts, continue explosive growth and popularity along with the notion of wellness in hospitality. Today's spa resort industry is big business. The 2016 annual study by the International Spa Association highlights the "all-time high revenue of 16 billion USD and an unprecedented record number of spa visits at nearly 180 million." Luxury brands, including Four Seasons, Ritz-Carlton, Aman, Oberoi, and Mandarin Oriental, have successfully integrated spas into their resorts, winning awards along the way. Hilton, Sheraton, and other upscale hotel companies are incorporating their own in-house spa brands into their properties.
The highly acclaimed architectural firm Morphosis, led by Thom Mayne, has designed an extraordinary ultra-luxury, mirrored hotel in Vals, Switzerland, located near a thermal aquifer that dates back to the Bronze Age. The hotel will be adjacent to the Peter Zumthor-designed Therme Vals, a beautifully crafted, minimalist stone-clad spa building set in an idyllic valley in the Swiss Alps. And famed architect, Tadao Ando has designed a poetic landscaped park as part of the ensemble for the 7132 complex. This collection by three Pritzker Prize-winning architects represents a renewed importance given to the expression of wellness in architecture rarely seen since the Baths of Caracalla. Fitness centers, with their origins in Greco-Roman Gymnasia, have also existed in hotels for decades and exist mainly for relieving stress and for mitigating the negative effects of travel where guests are removed from their daily exercise routines at home and want to maintain a level of fitness and mental acuity that derives from daily or routine exercise. Wellness in hospitality today transcends spas and fitness centers, and even goes beyond more contemporary expressions of wellness such as organic menus, juice bars, and yoga classes.
The US Green Building Council (USGBC) has established metrics and a rating system for measuring how environmentally sustainable a building is through its LEED Certification program. While much of the program focuses on a building's carbon footprint by measuring energy efficiency and water conservation, the program also provides for Indoor Environmental Quality (IEQ). According to USGBC, "Indoor Environmental Quality encompasses the conditions inside a building-air quality, lighting, thermal conditions, ergonomics-and their effects on occupants or residents. Strategies for addressing IEQ include those that protect human health, improve quality of life, and reduce stress and potential injuries." Goals for achieving IEQ points include abundant daylighting, prevention of indoor pollutants such as volatile organic compounds (VOCs), air purification, ergonomics, and acoustics. It can be said that a green building is a healthy building that contributes to its occupants' wellness.
A new certification system has emerged to measure a building's wellness qualities. The International WELL Building Institute (IWBI) is a public benefit corporation established by Delos Living, LLC, a health-centric real estate development company founded by Paul Scialla in 2007. Delos created the IWBI in 2013 pursuant to the Clinton Global Initiative to improve quality of life through built environments that enhance the health and wellbeing of its occupants. IWBI created the WELL Building Standard (WELL) in 2014, a pioneering building standard grounded in medical research that focuses exclusively on the health and wellness in buildings and communities globally. WELL evaluates features of the built environment that impact human health and wellbeing through seven basic concepts as described on the IWBI website:
Air - WELL promotes strategies to reduce or minimize sources of indoor air pollution.

Water - WELL promotes high quality water and improved accessibility.

Nourishment - WELL limits the presence of unhealthy foods and can encourage better food culture.

Light - WELL promotes lighting systems designed to increase alertness, enhance experience, and promote sleep.

Fitness - WELL encourages the integration of exercise and fitness into everyday life.

Comfort - WELL creates distraction-free, productive and comfortable indoor environments.

Mind - WELL optimizes cognitive and emotional health through design, technology, and treatment strategies.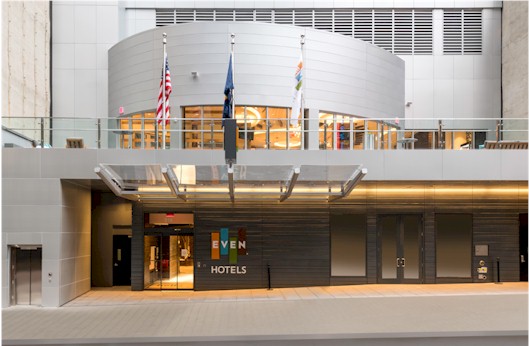 In New York City, the EVEN Midtown East Hotel focuses on wellness.
Photography: Courtesy of IHG.
In 2014, IWBI partnered with USGBC to create a program for WELL Certification that complements and works seamlessly with the LEED Certification program. Green Business Certification Inc. (GBCI) is the organization that provides third party certification for LEED projects. GBCI now also provides certification for WELL, ensuring LEED and WELL function together on mutual goals. Clearly there are areas of overlap with LEED's program for Indoor Environmental Quality that complement the WELL Standards. Through GBCI a property can be WELL Certified to Silver, Gold, and Platinum levels of wellness depending on the number of measurable preconditions and optimization that are met for the seven basic concepts of WELL. Today there are more than 13 million square feet of registered WELL projects.
Developed by Delos Hospitality LLC, Stay Well™ is a program for the hospitality industry that promotes a healthier travel experience for guests through innovative features of the indoor environment. The Stay Well Room provides features and programs that minimize the negative impacts that travel has on the human body while providing guests with better rest, fresher air, personalized lighting, and more. One of the first hotels to incorporate features of the Stay Well™ program was Marriott's The Residence Inn Orlando Lake Nona Hotel with 17 rooms in 2015. The in-room guest information card describes the Stay Well™ Room features as follows:
Air Purification - Reduces allergens, toxins, smoke, and microbes from the air

Aromatherapy - Optional use of scent creates a relaxing, mood-enhancing environment

Circadian Mood Lighting - Personalize the room light environment

Cleaning Protocol - Use of hypoallergenic products and state of the art UV wand cleaning tool, which neutralizes bacteria, viruses, and other microbes

Cleveland Clinic Wellness - Access to online programs for sleep, stress, and nutrition

Dawn Simulator - Gently awakens with gradually increasing levels of light and sound

Energizing Light - Bright white light suppresses melatonin and can help regulate circadian rhythm and reduce jet lag

Long Wave Night Lighting - Subtle lighting illuminates room for safe navigation while minimizing sleep reduction

Mattress Encasement - Encasement helps maintain a more hygienic sleep environment, in conjunction with regular cleaning strategies

Stay Well Mattress - Natural memory foam derived from plant extracts provides support and optimal comfort

Stay Well Mobile App - Interactive app highlighting in-room features, Jet Lag Tool, and Cleveland Clinic Wellness programs

Vitamin C Infused Shower - Reduces chlorine to help skin and hair stay soft and smooth
Stay Well™ Room technology is available online at the Stay Well™ Shop where you can buy the Philips Wake-up light that wakes you gradually and improves mood; components of the Stay Well™ Sleep System including ergonomic pillows, Stay Well™ Linens and Mattress Encasement; Stay Well™ Edition Rabbit Air MinusA2 Ultra Quiet Air Purifier and accents Diffuser for aromatherapy.
All of these features encourage the guest to "Stay Balanced, Stay Refreshed, and Stay Well," according to Dr. Deepak Chopra, Delos Advisory Board Member and Wellness Expert.
MGM Grand introduced the first Stay Well Meetings program designed to enhance the wellbeing of attendees to high performance meetings. The program incorporates features to "increase productivity, mental acuity, and alertness, while reducing stress and fatigue among attendees at corporate meetings." Among the unique and innovative wellness features of the design of the meeting spaces are noise cancellation technology for reducing distractions; ergonomic furniture; hydration stations with infused water to keep attendees hydrated; biophilic design elements that create a calming atmosphere; and a Wellness Station with innovative wellness tools such as the Wellness Moment Portal, guided meditation, and more to create a smarter way to meet.
In addition to Marriott and MGM, other major hotel companies are entering the fray with programs and brands embracing wellness trends in hospitality. While many are merely paying lip service to the notion of true wellness design features by only offering yoga mats in the closet and fresh fruit in their rooms, IHG has developed the EVEN Hotels brand with a primary focus on the guest Wellness experience. IHG promotes the EVEN brand as the hotel, "Where wellness is built in," and features a first class fitness experience, heathy food choices, spa-inspired bathrooms, and restful environments with clean color palettes and uncluttered spaces to cultivate inner harmony. Natural eucalyptus fiber bedding and special linens promote deeper sleep to increase guest productivity and ergonomic work stations and custom lighting enhances guests' physical well being.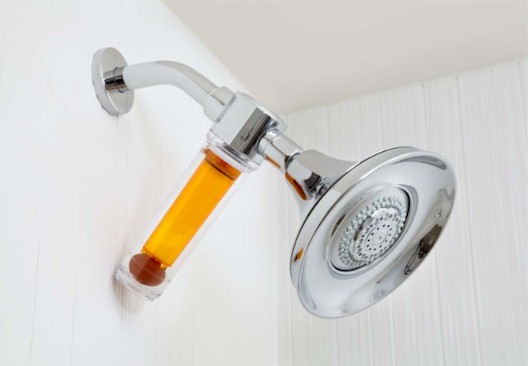 Photograph Courtesy of Marriott International.
Perhaps the most exciting new project involving sustainability and wellness is in Belize where environmentally-conscious actor Leonardo DiCaprio is partnering with Paul Scialla and Delos on an eco-resort development called Blackadore Caye, A Restorative Island. Set to open in 2018 and designed to meet the rigorous standards of the Living Building Challenge, the Triple Net Zero resort is designed to promote health and wellbeing of guests and residents through the robust wellness programs and technologies developed by Delos and its WELL Building Standards.
The resort's website states under the heading of Personal Restoration, "All of our developments will be built to promote health and well-being of guests and residents. Evidence-based wellness features will be curated by Delos and built into the architecture of the developments. These features will include amenities such as water purification systems, which ensure only the highest quality of water is consumed, advanced lighting systems that use state-of-the-art LED circadian lighting and controls to support healthy sleep cycles and advanced air filtration systems which minimize allergens and deliver purified air, among many others."
At the 2016 Global Wellness Summit in Kitzbühel, Austria, "8 Wellness Trends for 2017 - and Beyond" were identified. Among these, the most interesting trend identified might be the value of Silence as it relates to wellness. Increasingly, it is more difficult to escape the cacophony of our digital age. Spas have often aimed at being serene sanctuaries but personal digital devices are more frequently upsetting that serenity. With dominance of those devices in our daily lives coupled with the hustle and bustle of urban life, true silence is becoming a luxury offering in wellness hospitality. Medical studies confirm that beneficial silence increases awareness, sharpens concentration, kills stress, facilitates healthy sleep cycles, combats fatigue and depression, normalizes blood pressure, and boosts creativity. A 2013 Duke University study found that silent meditation can "incite significant cell development" in the hippocampus, the part of the brain responsible for memory. Emphasis on silence as a valuable and marketable wellness commodity has found its way into restaurants that offer silent eating, and airports that have eliminated loudspeakers announcing gate times, which causes passengers to take responsibility for checking announcement boards and kiosks. In hospitality, we are seeing the emergence of the "Silent Spa," such as the one at Therme Laa Hotel in Austria that advertises "only the sound of gently lapping water."
The future of wellness in hospitality is full of intriguing possibilities as explored at the Wellness Summit, including Amphitheater Saunas reinventing this ancient social venue, Art and Creativity programs for therapeutic benefit, and Mind-Body Workout routines promoting mental wellness. We can expect to see creative programs, new technology, and innovation fostering robust growth as international leaders from the travel, spa, medical, beauty, technology, fitness, nutrition, academic, economic, and architecture professions bring their respective disciplines to evolve new forms of wellness in hospitality
Lawrence Adams, AIA, Principal of ForrestPerkins, is a global authority on hotel and resort design. Mr. Adams has managed and directed the design of large-scale development projects at major architectural and planning firms for the past 35 (thirty-five) years. With a specialty in hotel design, Mr. Adams served as adjunct faculty at New York University for nine years teaching Master's Degree courses on Hotel Design and Development. His most significant projects include collaborating with I.M. Pei on the New York Four Seasons Hotel, partnering with the Rockwell Group to design the Chambers Hotel, and contributing to the RIGHA Royal Hotel (now called The London). Mr. Adams can be contacted at 214-953-2210 Ext 1115 or ladams@forrestperkins.com Please visit http://www.forrestperkins.com for more information. Extended Bio...
HotelExecutive.com retains the copyright to the articles published in the Hotel Business Review. Articles cannot be republished without prior written consent by HotelExecutive.com.