How Hotels Can Have a Positive Impact on Communities
By Gaynor Reid, Vice President , AccorHotels Asia Pacific
The tourism industry, by its very nature, leaves a significant carbon footprint, with estimates saying that tourism accounts for around 5% of all carbon emissions and that the hotel sector is responsible for approximately 20% of those. As one of the largest hotel operators in the world, AccorHotels acts like a giant city, welcoming 600,000 guests every day and providing water, energy and food to those guests. Recognizing this fact, back in 1974 the group became one of the first hospitality providers to commit to a comprehensive environmental policy to reduce its impact on the planet and its people.
Today AccorHotels recognizes that its responsibilities extend far beyond reducing its environmental footprint and the group is committed to not just reducing its negative impact but to actually positively impacting on the communities in which it operates. With Planet 21, the group's CSR commitments for 2020, they have an ambition to drive the change towards positive hospitality wherever they operate. Importantly, the group recognizes that actions cannot just be global but that it is key for each hotel to implement local programs that reduce their environmental footprint and give back to the people who live around it.
In Indonesia, the group works with A Tree For A Child (ATFAC) a community investment program created by AccorHotels and the foundation Yayasan Peduli Tunas Bangsa in 2001, which focuses on poverty alleviation through education, health, nutrition and environmental protection.
Through this program, hotels in Indonesia help to create access to education and health for children while providing an opportunity for staff to volunteer so they are engaged with the communities surrounding their properties. The group has now opened two education centers in Indonesia for underprivileged children to help develop their skills in Basic English, computer skills, gardening, cooking and other life skills by professional teachers and volunteers from the group's hotel network. An on-site clinic also offers complimentary medical check-ups as well as free nutritional meals. The program is linked to sustainable farming projects in the country so that families can not only feed themselves but also ensure their children have opportunities for a brighter future.
Ni Nyoman Sri Aningsih is a beneficiary of the project whose parents are vegetable farmers in the Bedugul area. "I want to be a teacher when I grow up so that I can teach children like myself," she says. "Going to the education centre will help me achieve that goal."
Since its first center opened in Jakarta in 2001, AccorHotels has benefitted over 200 children and their families, with several of the children actually going on to work with AccorHotels in Indonesia.
Ms Rismayanti, who works at the Mercure Jakarta Sabang in Human Resources was one of the students who went through the first education center. She says the program enriched her life and gave her a vision that life could be more than getting married at a young age and having children.
"Thanks to the program I am independent and can even afford to buy my own air ticket to travel to Bali," she said. "We believe we have a responsibility to give back to the communities that have supported us over the course of our development," said Garth Simmons, Chief Operating Officer of AccorHotels Malaysia, Indonesia and Singapore.
"AccorHotels is a leading global hotel operator with a network of over 4000 hotels in 95 countries, including over 760 hotels across Asia Pacific. The group places strong emphasis on our community and environmental programs through Planet 21. Our programs go beyond tackling carbon issues to enriching communities with new forms of livelihoods and economic opportunities," he added. "We are very proud of our commitment to assisting underprivileged children to reach their full potential."
What guests may not realize is that when they re-use their towels or linens at any AccorHotels property, the money saved goes into the group's Plant for the Planet program, which partly funds ATFAC. This means that simple action can help provide a future for underprivileged children while also reducing water and energy use.
In Thailand the group works with the Yim Kids Association, which grew out of the ATFAC program there. Today the association relies on employees working across the group's 70 hotels in Thailand to finance education and health projects for children who are victims of poverty and often don't have access to basic education or nutrition at home. Employees at the hotels help to finance the schooling of children living in the Bangkok slums at Mercy Centre, support the health care of orphans and abandoned children living with AIDS and support local projects to save the lives of people and communities in need.
A signature event of the Yim Kids project is the annual AccorHotels Race to Survive which sees hotel employees engage in a four-day event that includes swimming, mountain biking, kayaking and running, with each team raising funds as an entry fee. This is not only a wonderful way to create team bonding at the hotel level but gives staff the chance to give back in a meaningful way to help children in need.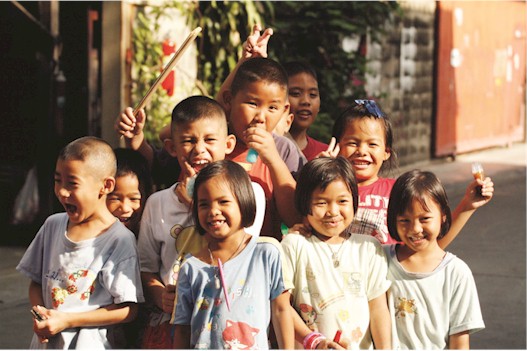 In India, the group's hotels support Nireekshana, an HIV/AIDS-focused NGO based in Hyderabad. As part of this partnership, the group established the Mallika Sewing Project in 2009 where women living with HIV/AIDS are provided with income-generating sewing skils and AccorHotels lends its extensive business network to help promote and sell the projects made.
"It is important that our staff can become actively engaged in a specific cause because this gives them ownership and allows them to get to know the communities they are helping," said Gaynor Reid, VP Communications and CSR for AccorHotels Asia Pacific. "By seeing the impact they can have through our CSR programs, our employees develop a deep sense of pride and teamwork that inspires them to stay committed.
"Supporting a local project not only deepens the hotel's attachment to its community but ensures that employees can really get involved and see results in their own country. We have found that our employees in Asia Pacific are extremely generous with their time and are always willing to get involved." In each country, AccorHotels partners with a local charity or NGO to ensure that their efforts have maximum impact.
In Australia, that partner is Mission Australia whose goal is to reduce homelessness and strengthen communities across the country. The group holds a regular AccorHotels Race to Survive which has been going for more than a decade and which has raised in excess of $2m AUD. For this event, volunteers from the group's Australian hotels raise money to compete in an Amazing Race-style mission with funds raised used to support Charcoal Lane, which provides employment opportunities to Indigenous youth and Missionbeat which helps homeless adults and children with safe accommodation, medical care, and food and clothing.
In addition to giving back to the local communities, each hotel is given set targets to reduce its energy and water consumption and reduce waste through the Planet 21 program. The group's CSR program also includes initiatives designed to protect women and children from sexual exploitation and trafficking through training of staff to look out for potential victims and report suspected incidents. In fact, AccorHotels was the first hotel group to sign with ECPAT (End Child Prostitution, Pornography and Trafficking of Children for Sexual Purposes) since 2002.
When hotels choose a program to get involved in, the most important thing to ensure is that their efforts are sustainable so that the the beneficiaries can actually help themselves in the long term. Clever CSR projects should involve employees, customers and local communities to work together to nurture a more thoughtful economy that gives back.
AccorHotels' major partner for Plant for the Planet is Pur Project, a climate-protection non-profit that supports reforestation, agroforestry and forest conservation initiatives by local communities. The group helps AccorHotels identify the best farming projects around the region and ensures that the correct crops are chosen so that projects are sustainable and that farmers can feed themselves throughout the year, sell some produce back to the hotels and form a virtuous circle that is sustainable.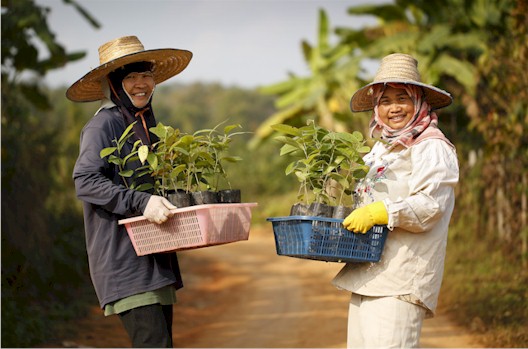 Tristan Le Comte, founder of Pur Projet says that while many hotel groups are now asking guests to re-use their linens to save energy and water costs, not many are as deeply committed to ensuring the end result creates sustainable, agroforestry projects that ultimately contribute to self-sustainability for farmers. "AccorHotels is truly committed not just to planting trees but to ensuring that the crops and trees that are planted are sustainable in each community and provide a source of food and income for the communities involved by selling some of this produce back to the hotels," he said.
Some people see planting trees for carbon offsets as green-washing but AccorHotels is working to ensure its projects actually support agroforestry within the group's supply chain. In setting has now become the new buzzword in CSR and increasingly this is the aim of major corporations. When our hotels buy back the produce from the farming communities we support, we optimize our social and environmental footprint and help ensure the continuity of the projects. We have to create viable solutions that allow communities to create income-producing businesses and more and more we are looking at how our hotels can make these communities our suppliers so that we can create a 360-degree approach to our CSR efforts.
Gaynor Reid is Vice President Communications & CSR for AccorHotels Asia Pacific, based in the company's Singapore regional head office. She has worked for Accor for 16 years, starting in the group's Sydney office as Media Relations Manager and moving to Asia in 2013. She oversees the group's communications strategy, corporate social responsibility (CSR) and crisis management to consistently articulate AccorHotels' messaging to both internal and external audiences. Prior to joining AccorHotels, Ms. Reid was Manager of Communications and Community Relations for the Sydney Organising Committee for the Olympic Games (SOCOG) and managed SOCOG's Welcome the World project to prepare Australia to welcome visitors from across the world for the Olympics. With a background in journalism, she was also a reporter and editor for ten years before moving into Public Relations and Marketing. Ms. Reid can be contacted at 65-6408-8864 or gaynor.reid@accor.com Please visit http://www.accor.com for more information. Extended Bio...
HotelExecutive.com retains the copyright to the articles published in the Hotel Business Review. Articles cannot be republished without prior written consent by HotelExecutive.com.