Hotels Getting Social to Compete With the Sharing Economy
By Simon Hudson, Endowed Chair in Tourism and Hospitality, University of South Carolina
The sharing economy is having a disruptive influence on the lodging sector, with evidence that Airbnb's entry into some markets has had a quantifiable negative impact on local hotel revenues. Can hotels compete with this new phenomenon without compromising on price? I believe they can. Recent research suggests that the sharing economy appeals to consumers not just because of price, flexibility, and ease of use. Consumers are also attracted by social benefits; guests of Airbnb for example, enjoy interacting with their hosts in an 'authentic' setting, and even gain local connections with the host's help.
There are also emotional benefits to using sharing economy platforms - research has shown that users of Airbnb have more fun than they do staying at more traditional accommodations. So hotels can beat the sharing economy at its own game by providing a more authentic, engaging, and social experience. In fact, a recent research report from Deloitte suggests that to survive, the hotel of the future will have to build more personal connections with and between guests.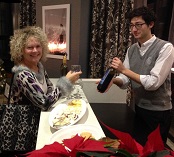 Sutton Hotel, Revelstoke, CanadaThis can be as simple as hosting a social hour for guests on arrival. Recently, I stayed at the Sutton Place Hotel at the base of the ski hill in Revelstoke, Canada, and was invited to a welcome reception to enjoy a glass of wine and a selection of locally-sourced cheeses. The key motivation behind the event, hosted every evening from 4-7pm, is to encourage guests to socialize, says concierge Marco Mahringer. "We also use it as an opportunity to provide guests with further information about the hotel and what they can do during their stay." Mahringer says that about 80% of guests come down for a drink on their first evening. "Often they are a little stressed and tired after a long journey, so it is a great way for them to relax and speak to fellow skiers or snowboarders".
Other hotel groups are completely redesigning spaces in order to encourage social interaction. The M-Beta in Charlotte, for example, Marriott's testing ground for new hotel technology and services, encourages social interaction between guests and staff in several ways. On arrival, there is no traditional front desk check-in. Guests are welcomed at the curb by associates, who guide them through check-in at tables in the lobby, similar to how Geniuses greet customers at an Apple store. In the Immersive Kitchen at Stoke restaurant, the walls between the kitchen and dining area have been removed, placing guests in the center of the action, allowing chefs to interact more closely with guests and entertain them with impromptu culinary offerings. The interactive space also encourages a sense of exploration among guests with a regular rotation of local artisan tastings and cooking classes.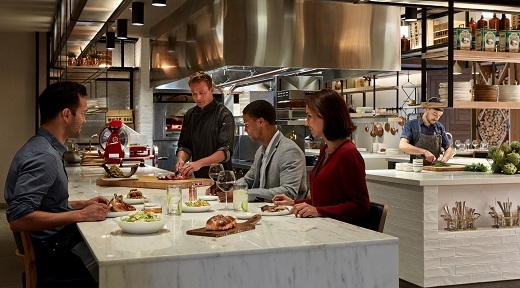 The Immersive Kitchen within Stoke restaurant at M-Beta in Charlotte, North Carolina
Meanwhile, Marriott's Element brand is piloting a bold new guest room design that will feature a communal room in the center of four guest rooms, allowing travelers to share a kitchen, dining room and lounge area. The company says that this will provide more collaborative space for groups who would like to spend time together in a more private setting. Element hotels tend to offers travelers a fresh interpretation of the traditional hotel experience with natural light, modern design, healthy options and eco-minded sensibilities. To date, there are 22 Element Hotels worldwide, with 19 in North America, two in Europe and one in Asia Pacific, with new domestic and international hotels in development.
The Bivvi Hostel in Breckenridge, Colorado, also uses space as a way of encouraging social interaction. The property describes itself on its website as 'basically a hotel with more shared space. All this shared space is the fiber for shared stories, shared experiences, and new friends!' "There wasn't a hostel in town until we opened three years ago," says General Manager Balazs Jarai. "But the concept has really taken off." Jarai said the idea behind the hostel was to provide something more affordable, but also to attract like-minded people. "In a regular hotel, you usually come back after a day's activities or after dinner and go straight to your room. Here we have common spaces like the library, bar, hot tub, fire pit - lots of social space - so guests can hang out together." Jarai says the hostel attracts different age groups from all over the world, but that they all tend to be sociable and open-minded. "We have everything from 18 year-old backpackers to 65 year-olds willing to use bunk-beds. So we see plenty of diversity and guests can guarantee to meet interesting people from around the world - in fact, we have a lot of guests who end up connecting on Facebook and staying friends for life." Jarai sees a trend in the US towards this type of accommodation. "The hostel idea is quite new to North America, but I think we will see more high-end 'boutique-style' hostels that are affordable, but cater to the demand for something a little more unique and authentic."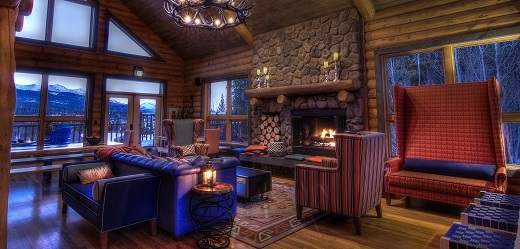 Common Area at the Bivvi Hostel,Breckenridge,Colorado
AccorHotels are also seeking to disrupt traditional notions of hotel keeping with the introduction of their new brand Jo&Jo. In fact, Accor's Chairman and CEO Sebastien Bazin doesn't call the new concept a hotel or hostel, but an 'open house' that blends the best of private rental, hostel and hotel format, and targets locals as well as visitors from afar. Different accommodation types include a modular sleeping area that guests share, and yurts, hammocks and caravans for groups of up to six people. Guests at Jo&Jo can also enjoy regular social programming, such as a concert or a yoga class, and spaces that encourage social interaction like a collaborative kitchen/stage for guests to showcase their culinary talents.
In addition to social interaction, travelers - particularly millennials - want their hotel stay to be an authentic experience. They want their hotels to represent the local neighborhood, and have a strong sense of place with links to local foods and art, for example. In order to cater to this demand, a rising number of hotels are introducing experiences and excursions that offer such a sense of place and insight into their locality. At Como's London hotels, The Halkin and The Metropolitan, guests can take a tour with a Fortnum & Mason beekeeper to the department store's rooftop beehives, where they can taste fresh London honey and take a sample home. Guests at Peninsula Hotel's Tokyo property can visit a sake brewery - drinks and designated driver included - while at their Los Angeles property, visitors can have a private 'behind-the-scenes' tour of film and television sets at the Warner Bros studio.
Technology is playing an important role for hotels in staging these social and authentic experiences. In place of a binder on a desk, for example, hotel apps provide links to the neighborhood, restaurants and night-life. Marriott have gone one stage further by creating Six Degrees, a social platform for the hotel lobby (developed by MIT's Mobile Experience Lab) that allows guests staying at the same hotel to connect and make the lobby more of a social gathering place. The platform is designed to highlight the connections that already exist between guests, while encouraging new connections to form. When a guest logs in for the first time, the app pulls in data from LinkedIn, and creates a profile based around their professional background and personal interests. Six Degrees used this information to match guests with one another based on what they have in common - whether they have worked in the same company, gone to the same school, or share similar interests.
In retrospect, hotels competing with the sharing economy need to develop a strong culture of social interaction and emotional engagement, all wrapped in an aura of authenticity - and nowhere was this more evident to me than at the Limelight Hotel in Aspen where I stayed recently. The hotel has an interesting history. Originally a rough-and-tumble bar in the middle of a rapidly-expanding paradise, the property has had several owners and numerous incarnations before becoming the Limelight of today. Senior Sales Manager Connie Power believes the hotel's social culture has developed because of this colorful history, from the time the hotel was the 'Ski and Spur Bar' with a 'wild west vibe', to the present day, where the hotel, now owned by Aspen Ski Company, is packed nearly every afternoon and evening with guests and locals all seeking a fun experience. "People like to meet their neighbors or have a drink with someone new," says Power. "So when the Aspen Ski Co. bought the hotel in 2010, they wanted to keep that energy."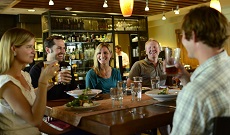 Limelight Hotel, Aspen ColoradoThe staff at the Limelight have a key role to play in perpetuating that energy. Power says that all of them go through Aspen Ski Company training, as well as hotel-specific schooling. And in addition, they take part in training sessions with partner hotel Little Nell, a 5-star luxury property in town. "We take the procedures and make it more relaxed - the staff love the fact that they can wear jeans to work and we empower them to go above and beyond to exceed customer expectations." Over 50% of Limelight's customers are repeat guests, with many coming more than once a year, and a large percentage visiting from all quarters of the world. "In January and February, half of our guests are from overseas. Our year-round occupancy is over 80% as we don't close in the shoulder season. The local hospital, for example, will have their end-of-season party here and rent 30 rooms. They just love the atmosphere." On any given night, Power says that a third of the guests in the hotel bar are locals - "so they mix with the guests, creating a more authentic experience."
Simon Hudson is a tourism aficionado, exploring the world, spreading his passion for travel, and enlightening audiences on every kind of travel research from winter sports to film tourism. He has written eight books, and over 60 research articles, many of them focused on tourism marketing. He is the Endowed Chair for the SmartState Center of Economic Excellence in Tourism and Economic Development at the University of South Carolina. Dr. Hudson can be contacted at 803-777-2705 or shudson@hrsm.sc.edu Extended Bio...
HotelExecutive.com retains the copyright to the articles published in the Hotel Business Review. Articles cannot be republished without prior written consent by HotelExecutive.com.