Tourism in Cuba - Moving Forward and Not Looking Back
By Arturo Garcia Rosa, President & Founder, SAHIC South America and SAHIC Cuba
There is a great tourism story to tell - and it's in Cuba. Why is the Cuban hotel market expanding? What are some of the key strengths in this market? What can we learn about and from Cuban hotel companies?
On December 30, 2016, Cuba reached 4,035,557 in tourist arrivals, an increase of 14.5% as compared to 2015, when arrivals reached 3,524,779. Regarding foreign exchange, tourism has become Cuba's second largest country after professional services (including medical services), reaching US $ 2.8 billion in 2016.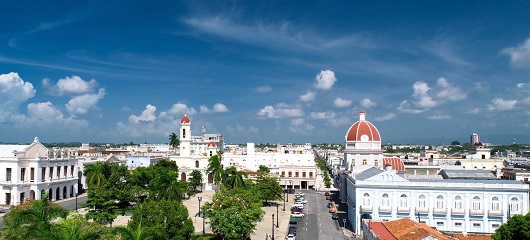 Historic Center of Cienfuegos
In spite of the restrictions still in place, the arrival of travelers coming from the United States has been growing far above the other traditional demand generators for the island nation, having reached increases of 77% per year. While the embargo established in 1952 still holds, the Obama administration has relaxed the relationship by establishing a series of measures that helped increase the number of trips taken by American citizens to the island.
The reality is that the momentum began on December 17, 2014 when Cuban President Raul Castro and U.S. President Barack Obama surprised the world announcing the beginning of the negotiation process that would allow them to advance the normalization of the bilateral relationship between both countries. Change kicked in and has begun to move the needle forward shifting from the trade, economic and financial embargo imposed by the United States on Cuba 54 years ago.
However, as demonstrated at the UN assembly last October, an historic resolution passed in favor of lifting sanctions - with a unanimous vote of 191 countries in favor and none voting against it. Let's hope 2017 continues to provide us with reasons to celebrate positive momentum.
Meanwhile, tourism continues to grow in Cuba and will continue to grow at noteworthy levels. The tourist arrival rate has grown a remarkable 34.7% since December 2014. Where else have we seen percentage growth of these kinds of numbers in a two-year period?
The pipeline of hotel growth also shows a whopping 108,000 new rooms by 2030, averaging nearly 8,000 more rooms per year for the next 14 to come. Added to that a large part of the 65,000 existing rooms will be subject to a process of necessary renovation.
A good portion of these investments are carried out by the Gaviota Group through its investment arm, the real estate company Almest, which finances all its projects.
Gaviota, the largest Cuban hotel group, currently has 26,752 rooms in operation that report an annual turnover of more than US $ 700 million.
Gaviota's pipeline anticipates 52,000 rooms in operation by 2025, or 12.8% annual growth.
For its part, the Gran Caribe, Cubanacan and Isla Azul groups also have important development projects in partnership with foreign investors.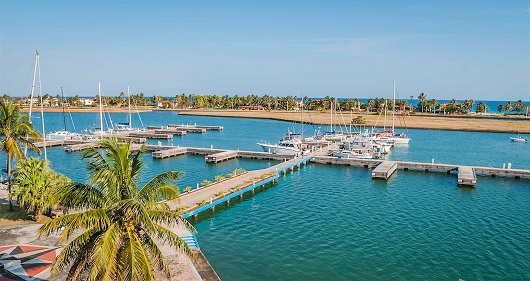 Marline Varadero
And there are also the joint ventures that Cuba Golf carries out, which will include hotels, real estate, golf courses and other amenities, in all cases with the participation of foreign investors. Among them are: a) La Carbonera in the province of Matanzas with the Brit Group in the province of Matanzasses Holdiong Limited, lmest. Gaulle in Paris. Aesthetic development Essence; B) Bellomonte, only 30 km from Havana, with the Chinese group Beijing Enterprises Holding Limited; C) Punta Colorada, in Pinar del Río, with the Spanish group La Playa Golf & Resort; And d) Rancho Luna, near Cienfuegos, with the Spanish financial group Urbas.
In all cases, these represent real estate developments with housing, hotel and golf courses. In the case of homes destined to second homes, they will be delivered in the form of leasing perpetually. The estimated investments to carry out these four projects amount to US $ 2.5 billion.
In the field of construction, the great international operator that has developed thousands of rooms on the island, and which concentrates the major works in development is the French Bouygues. The French Bouygues recently won the expansion of the José Martí International airport in Havana in conjunction with the operator of the Charles de Gaulle airport in Paris.
We cannot fail to mention the complementary investments, called by the Cuban "extra hoteliers" (restaurants, bars and entertainment in general) by the company Palmares with the participation of foreign investors. Like the development of marinas, whose management will be granted to specialized international companies.
There are so many opportunities for U.S. entrepreneurs to partake - opportunities that the rest of the world has already realized and begun to capitalize upon.
Apart from the obvious opening for the large international hotel companies, there is a tremendous base for investors, banks, investment funds, developers, architects, designers, construction companies, logistics companies, machinery and equipment and a host of other supply chain levels. For some of these companies, just 90 miles from the coast of their country, the opportunity is obvious and one for which to partake.
What is also certain is, that after more than 50 years, this country is very rich in many aspects. These aspects include an incredibly prepared human capital pool, a surprising culture, strong values, respected traditions, great natural resources and absolute safety. With much to develop and much to grow, this opens opportunities for all individuals and companies that have values to contribute to the impressive development process that Cuba will experience in the coming years.
Starwood, now part of the Marriott group of course, has agreed to operate the first hotel, the Four Points Miramar (Gaviota Group), which opened last June. Shortly before, on May 2, Carnival's first cruise arrived in Havana. Charter flights multiplied when Jet Blue, Delta and American began their direct flights. It's no secret that other hotel companies plan their footprint here soon. Will there be any who will want out of this game, where growth is inevitable?
American Airlines has plans to increase its flights to more than 60 arrivals and departures per week. In 2017, airlines like Austrian Airlines, Pegas, Virgin Atlantic, Itaca, Turkish and Eurowings, among others, are expected to begin arriving to the island during the current year.
The ADP-Paximo airports plan to increase flight traffic to the island in the summer on the eve of the 2020. ADP Group and Paris Airports, in charge of Charles de Gaulle airport operations, had reached an agreement with the government of Cuba to handle the expansion and administration of the Havana Airport, which will allow traffic of 10 million tourists per year by 2020.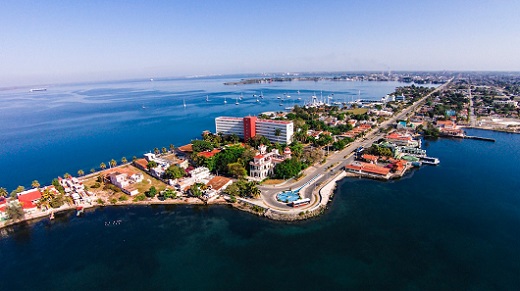 aérea-Cienfuegos
Royal Caribbean, Pearl Seas and Norwegian have announced the commencement of operations for next summer; Oceania and Regent are soon among others. On the other hand, the famous "paladares,"the restaurants run by Cubans themselves, continue to multiply with new options added to the good "old standbys." These are the entrepreneurs who have not missed the opportunity and have not lost the values that made them known to have "aggiornado." They have taken advantage of a business that does not stop growing. Impossible to access without a reservation are San Cristóbal, La Guarida, Cocinero, among many others. The food offerings of these paladares rival the restaurants of the great cities around the world - New York, Los Angeles, London, Berlin, Milan, Buenos Aires, Sao Paulo.
Although estimates by the Ministry of Tourism of Cuba near 4.2 million expected tourists in 2017 (a 4.1% increase compared to 2016), our estimates allow us to suspect that this income could reach in order of 4,469,000 arrivals. This would mean an increase of 10.5% compared to 2016. A very reasonable estimate apart from unforeseen circumstances.
The picture is very clear, the letters seem to be set and the development of tourism in Cuba, for many reasons, is in a process of growth that has no return. The opportunities are there and it would be a sin to ignore it - an injustice to oppose it. It would be like shading yourself from the sun with your hands, and the sun of Cuba is a blessing that deserves to be enjoyed.
About SAHIC
SAHIC, the premier Latin American hotel and tourism investment conference organizer promotes business and related real-estate projects in the region. The inaugural SAHIC Cuba, scheduled for May 15-16, 2017 will be the must-attend event, designed to promote the hotel, tourism and related real estate businesses in Cuba. The Conference is destined to be 'the' place to meet and network with the leading industry players in the island nation: hotel chains and groups, investors, banks, mutual funds, developers, architects, and interior designers, regional government representatives and other decision makers of the industry. For more information, visit www.sahiccuba.com The 10th anniversary edition of SAHIC South America is scheduled for September 13-14, 2017 and will be held in Buenos Aires, Argentina.
Arturo Garcia Ros is regarded as one of the leading authorities and advisors in the hotel, travel and tourism industries in Latin America. His publications, articles, and presentations reflect his passionate interest in keeping current with industry developments throughout Latin America, as well as his profound insights, vision, and in-depth knowledge of the industry. In 1995 he founded RHC Hospitality Consulting, one of the most respected consulting firms based in Latin America. In 2008, Arturo founded SAHIC – the South American Hotel & Tourism Investment Conference – the only annual event of its kind in Latin America, aimed at promoting hotel and tourism developments and related real-estate projects in the region. Mr. Garcia Rosa can be contacted at 54-9-11-4445-7646 or agrosa@sahic.com Please visit www.sahic.com for more information. Extended Bio...
HotelExecutive.com retains the copyright to the articles published in the Hotel Business Review. Articles cannot be republished without prior written consent by HotelExecutive.com.