'Velcro' Your Employees to Your Organization's Purpose
Drive Engagement, Build Loyalty and Improve Retention
By Sandy Asch, Principal, Alliance for Organizational Excellence LLC
Baby boomers, Gen Xers, and especially Millennials, who now make up more than 50 percent of the workforce, want a sense of purpose at work. It's clear that today's workforce is increasingly concerned with doing good. People are tired of just showing up every day to perform a job. They want lasting fulfillment at home and at work.
In his book, Drive, Daniel H. Pink suggests that we are in a time where individual desire to have a positive impact in the world often ranks higher than pay scale when selecting a job. Millennials, in particular, want to feel like their work has real purpose, and they want to be home for dinner.
Companies are expected to cast a vision for greater purpose that wins the hearts and minds of all stakeholders. Organizations that want to prosper will need to focus more on meaning. You can do this through a compelling mission and vision-one that offers employees a sense of pride, satisfaction and fulfillment; a sense that they are contributing to a better world.
The mission statement for San Diego Zoo Global states that it is "committed to saving species worldwide by uniting our expertise in animal care and conservation science with our dedication to inspiring passion for nature." These words permeate every aspect of the organization, from the executive team, to the researchers working in the field, the tour guides sharing information with guests, the animal care workers, and everyone in between. It is SDZG's reason for being. This vision, which some might consider audacious, unites all stakeholders in a common goal. It provides a clear sense of purpose and meaning, aligning all constituents to the fulfillment of the cause.
Connecting People to the Purpose
It's not enough just to have a clear purpose. People at every level of the organization must live and breathe its values, mission, and vision. After all, your vision and values is what you stand on, what guides your daily actions and behaviors, informs decisions and ultimately determines what you focus on. It is the lighthouse that calls every person forward and calibrates each individual. That, in turn, determines the direction your organization takes. If people aren't playing by the same rules, behaving according to the same standards, and fully bought into what's important, then they begin to navigate in different directions, resulting in inconsistency and lack of alignment results.
According to Simon Sinek, author of Start With Why, your why is "the purpose, cause, or belief that inspires you to do what you do." Sinek argues that when you start with "why" in everything that you do, you inspire action in a way that "what" doesn't. The "what" information about what you do-engages your logical mind, whereas the 'why" engages your emotions. It speaks to your heart.
Your employees are most likely less interested in revenue growth or bottom-line profits than they are in going home every day feeling fulfilled. When your organization's "why" is compelling, it becomes a driving force. It gets people out of bed in the morning with a sense of purpose and passion. It fuels performance and drives productivity. When employees' personal "why" is aligned with your organization's "why," people are on task, enthusiastic, and engaged. They are also more resilient.
Connecting people to the "why" of your organization is like locking together two pieces of Velcro®. When fully connected, the bond is strong. There is congruence and clarity. On the other hand, when an individual is disconnected from his or her personal "why," or the "why" of the organization, like two pieces of Velcro® detaching, the result is disengagement, loss of focus, and lower performance. Purpose hinges on five core beliefs. When any of these beliefs are compromised, it affects the strength of the connection.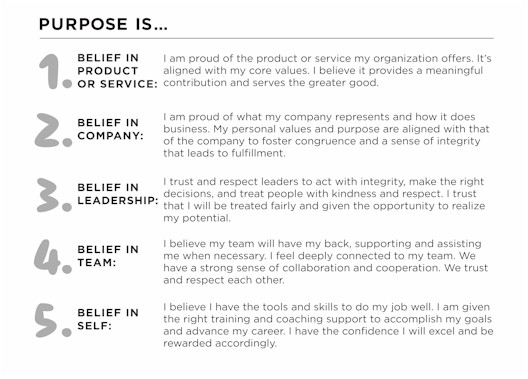 The Call has replaced The Lynx, SDZG's original strategic plan, as the Zoo reaches its 100th birthday. Its purpose is to awaken the world to the plight of wildlife, and to provide hope for the future of nature. To lead the fight against extinction, SDZG's three new strategic priorities are crucial elements to bring the vision to life.
They are:
UNITE internally and externally with a laser focus on our cause.
FIGHT against extinction for animal and plant species.
IGNITE a life-changing passion for wildlife.
For these three priorities, there are strategies that unite SDZG in building capacity and maximizing its resources. Strategies to fight or pick battles, lead the charge, and sustain the momentum. And strategies to ignite passion, recruit champions and inspire personal responsibility.
Building Resilience with Purpose
Research shows that having a purpose larger than self is a key to effectively overcoming adversity. Purpose also helps you to avoid becoming discouraged or overwhelmed when faced with a problem or hardship. It serves as a foundation for establishing priorities and decision. You are less affected by short-term setbacks and you can draw on your commitment to what really matters to sustain you during challenging times.
When resilient organizations clearly articulate their purpose and all stakeholders understand the meaning and significance of the mission and vision, as opposed to a decorative display of hollow words displayed in the main lobby area. This purpose and meaning is expressed in the culture-the guiding behaviors installed in the organization, or, as some would say, what people do when the boss isn't around. It informs decisions, policies and procedures.
When the day-to-day actions and behaviors of people in the organization are aligned with the purpose, it results in a more focused and ethical organization that produces better results. When purpose is personal, it builds engagement. It shapes a collective ambition and builds or strengthens the organizational glue.7
According to Douglas Ready, MIT Sloan School of Management, and Emily Truelove, author of Collective Genius: The Art and Practice of Leading Innovation, organizational "glue" is what reminds people why they chose to work for you, why they strive to add value and why they stay. It's a combination of a compelling vision that speaks to the hearts and minds of people that is integrated into goals, strategies, and leadership behaviors. It creates a unified culture that enables an organization to withstand adversity and rise above circumstances to thrive.
Resilience is the Backbone of Your Organization's Success
To survive and thrive, organizations must be purposeful, agile, tenacious and balanced. They must find a sustainable means to proactively protect their most valued assets and resources-their employees, to mitigate the risk of economic pressures and uncertainty and continue to innovate and thrive. "Today it's become essential for companies (and individuals) to become more agile-not just in the face of the risks we know, but in the face of the ones we won't see coming," says Andrew Zolli, the executive director and curator of PopTech and the co-author (with Ann Marie Healy) of Resilience: Why Things Bounce Back.
The key to not only surviving the events of today's world, but to prosper is resilience. While human resilience may be thought of as a personality trait, in the aggregate, groups, organizations, and even communities can learn to develop a "culture of resilience" which manifests itself as a form of "psychological immunity" to, or the ability to rebound from, the untoward effects of adversity.
Resilience is more than survival. It is the ability of the individual and the organization to endure while remaining true to closely held values. Resilient people and companies do not only rebound from challenging circumstances; they seek out meaningful ways to learn from those experiences and build capacity for the future.
Resilience Means Growing Stronger
Resilience is a hot topic in business. Some might say it's the new buzzword, especially as it relates to financial resilience. Does it matter in the workplace? Yes, probably more than intelligence, skill or ambition. Resilience is the backbone of any organization-the ability of its employees to respond effectively to the demands and pressures of the work world to meet goals and expectations while possessing perpetual fulfillment. The business world has excelled at mastering the art of achievement, yet many still hunger for fulfillment. The lack of fulfillment in the workplace may indeed be the reason so many organizations constantly struggle with recruitment and retention, and-as Gallup has proven for the past decade or more-why they have been beleaguered by concerns around declining employee engagement.
The solution to happiness and wellbeing is to cultivate resilience. Resilience is complex, subject to varied interpretations. It is perhaps one of the greatest puzzles of human nature. Resilient people possess five key characteristics: the ability to control their response; proficiency at managing time and energy; deftness at consistent authenticity; finesse at maintaining meaningful connectedness; and a prevailing perseverance.
Zoo Print for Success
Evaluate the credibility of your vision, mission and values.
Assess to what degree stakeholders are connected to your company's purpose.
Identify ways to create greater alignment and connection with your mission, vision and values.
World-Famous Leadership Questions
What is your personal "why"?
To what degree is your personal "why" aligned with the "why" of your organization?
Where are there opportunities for you to model your organization's values in a way that inspires others to rally around your firm's cause?
Roar Louder
How can you more deeply engage the hearts and minds of all stakeholders to rally around your organization's vision, thereby building resilience?
Sandy Asch is a Principal in the Alliance for Organizational Excellence LLC. She is an internationally recognized speaker, consultant and best-selling author. Ms. Asch partners with companies to create great places to work that improve bottom line results and generate value for stakeholders. More than 30,000 leaders in 350+ companies in 50 countries and 6 languages have implemented her strategies with sustainable results. Ms. Asch's presentations are high-content and high-participation, engaging CEO, HR and leadership audiences in practical discussions, interactive applications and creative exploration to ensure immediate and meaningful application. She holds a masters degree in Organizational Management and has taught graduate classes in Management, Organizational Behavior and Human Resources. Ms. Asch can be contacted at 832-491-1738 or sandy@Uexcel.com Extended Bio...
HotelExecutive.com retains the copyright to the articles published in the Hotel Business Review. Articles cannot be republished without prior written consent by HotelExecutive.com.