Running a Hotel Remotely With a Cloud-Based PMS
By Larr Gorman, Chief Technology Evangelist, SkyTouch Technology
It used to be that a General Manager was tied to the front desk in order to solve issues or keep track or manage a hotel. With a cloud-based PMS, a GM can technically run the hotel from anywhere on a phone or tablet. A 100% we-based system allows two way communication at the hotel, and management can stay informed on operations from anywhere.
The difference between cloud-based systems and server-based networks is as dramatic as the difference between an iPhone and a land-line. Traditional phones are like anchors-they're tied to a specific place, your home or office. Remember the days before wireless technology? People living in the same home all shared the same phone number, and usually the same phone, making it difficult to have private conversations. Sure, families could compensate for this by installing multiple phone jacks in the house or putting long cords on the phones for better mobility, but they were still tethered to their house. Businesses didn't have it much better, needing to install expensive telecomm equipment so individual offices and cubicles could have separate phone numbers.
Even then, if you weren't at your desk, you couldn't use the phone. The advent of cellular networks and smartphones changed all that, allowing us to communicate with whomever we need to, whenever we need to, wherever we are. Think of the capabilities smart phones provide that land-lines don't. The ability to access video, pictures, instant messaging, and social networking enhances our communication abilities more than was possible ever before. So when mobile technology entered the marketplace, it was an obvious consumer choice. And now, cloud-based application providers are developing solutions to help hoteliers streamline business operations beyond simple property management.
Server-Based Vs. Cloud-Based PMS
Today, a hotel operator has options in selecting a property management system (PMS). The first decision in this selection process is whether to install a traditional premises-based PMS or to leverage the capabilities available through cloud computing and commit to a cloud-based PMS. A legacy PMS will require the hotel to have one or more servers on-site to support the system. There are still many operators that feel comfortable housing their PMS under their own roof, but this decision comes with a significant initial investment and ongoing operating costs and responsibilities.
A legacy PMS requires a secure on-site location with limited access, in addition to significant compliance requirements. There is ongoing maintenance and life cycle replacement for this equipment. Even PMS providers that modify their service "for the cloud" keep hotel owners tied to on-site network servers, require additional licensing, and still demand equipment life cycle replacement and ongoing upgrades-all costs that come out of the property owner's pocket. Someone will need to support and monitor the equipment, such as a dedicated information technology person for larger hotels, while a smaller hotel may have to rely on contract resources to operate and maintain the equipment and assist in emergency situations.
Cloud-based property management systems alleviate many, if not all, of the issues associated with legacy PMS by shifting the burden of housing, monitoring, and maintaining equipment, data, and services from hotel owners to cloud application providers. Data security requirements haven't changed, but compliance is made easy without on-site hardware, management, and maintenance responsibilities. Through any wireless connection, hotel staff can access the application remotely, while its functions are run and supported on servers at a secure location provided by the vendor.
If you are using a cloud-based PMS, there is no sensitive data being stored at your hotel, and no computer equipment to protect. The bulk of responsibility for protecting the data shifts to your PMS vendor, allowing you to focus more on running your hotel and less on managing IT infrastructure. The top cloud-based PMS vendors take this responsibility seriously, running their systems in sophisticated data centers with advanced security systems and monitored 24/7 by highly trained IT security professionals.
Hotels are intended to be warm, inviting places where guests feel welcome. Data centers are just the opposite -- They are built like a veritable Fort Knox - security guards, cameras, fences, and other physical security measures are all in place to prevent unauthorized access. Data centers are clearly a much safer place to store sensitive data than your hotel's server closet.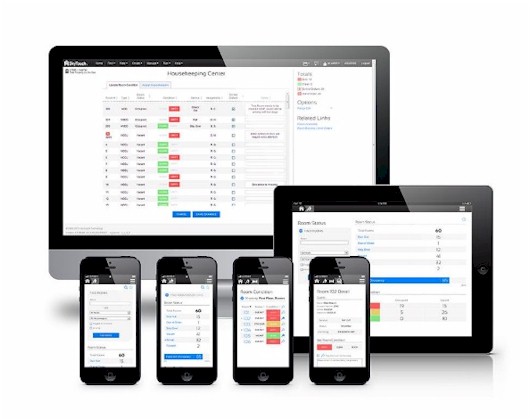 Operational Efficiency
A cloud-based property management system can provide many operational advantages to the hotel operator. For the management team, cloud-based systems provide operations information from anywhere, on any device with access to the Internet: desktops, laptops, tablets, and smart phones. This access allows managers and owners to check and manage the status of their property off-site, including making rate changes, monitoring security, and resolving issues. Cloud-based systems limit access based on user privileges; all users have unique login identities and see only the information they are approved to see. Cloud-based solutions that are natively-built on a remote network take advantage of new technologies to provide faster, more intuitive, and more reliable ways to create and deliver value.
"[You] must be cloud-based to boost own efficiency," explained Jay Shaw, owner of The Wharf Inn in San Francisco, CA. "There were things that I needed to do all the time, even when I wasn't physically at the hotel. I would have to use something like Lock Me In or Team Viewer, or one of those services. It was getting really annoying, because I would do this on my phone mainly, and I would have to pinch in, zoom in incredibly close and click a cell. It was just too much... Even the days that I'm not in the office, I'm still checking to see how things are coming along, how things are progressing."
In an industry that is all about customer service, experience, and privacy, a cloud-based PMS gives the hotel owner and operator the capability to build a custom experience for their guests, from setting up remote check-in areas to offering special services. If, for example, a large group or convention arrives at your hotel, a staff member can use the cloud to create a check-in station away from the front desk especially for the group. The group feels special and attended to because of their catered experience, while the front desk remains open to other guests. In addition, since a wireless Internet connection allows off-site access to the PMS, convention guests could be checked-in at the convention itself, with any remote changes instantly reflected at the hotel front desk.
Cloud-based systems can easily interface with other systems in use at the hotel, including point of sale (POS), key management, phone / call accounting, and entertainment rental systems. Cloud application providers are typically proficient at integrating these systems. Knowing which systems you want to integrate while exploring cloud application providers will ensure you find a provider with experience integrating multiple services.
How the Cloud Moves Forward
Cloud-based software means you no longer have to manage a costly, complex system. Cloud-based systems require no additional equipment or maintenance while providing secure service at a per room flat-rate, upgrades included. Hoteliers using a cloud-based system are always running the most current version at no additional cost, since the application provider is responsible for keeping its systems up-to-date. Online training is included to support upgrades and new features, so your staff is never left alone to figure out how to stay current.
Cloud application providers are comfortable adapting their product for an ever-changing marketplace. A responsive application provider solicits and incorporates customer feedback into updating software solutions and should tailor its improvements to address the specific, constantly changing needs of the hospitality industry. The freedom provided by lower operational costs and fewer operational requirements, not to mention the dynamic potential of web application development, gives hoteliers using a cloud-based PMS infinite expansion opportunities.
Hoteliers are looking for every advantage to keep up with the pace of change in today's business climate. Cloud-based systems offer the flexibility needed to meet the challenge of exceeding customers' expectations in constantly changing economic and environmental conditions. With more and more applications being developed in and accessible from the cloud, consumer expectations for operational efficiency have set the bar high. Now, it's up to hoteliers to reach for it. "Switching over to SkyTouch with the BAR system, the revenue-management tools you guys provide, I am able to go on my phone," explained Albert Ramos, Corporate Director of Revenue at Broughton Hotels. "I'm able to do it from anywhere I need to, to easily change my rates. Just a quick look at the calendar and seeing where I have to go and moving them up or down so that we're priced strategically and we're able to get those bookings from market competitors."
Your cloud-based property management system should provide real hotel operations solutions for the problems you face most.
Cloud-based mobility.
Easy to use and easy to learn.
Automated rate and inventory management.
24/7 technical support.
Ask more from your Hotel Property Management System and provider! Don't stay with your legacy PMS just because it is easier to stick than switch. There is a new era of PMS technology, support and responsiveness that is easy to transition, onboard, learn and use. Manage your hotel from anywhere, on any device, focus on your guests, reduce costs and maximize revenue.
Mr. Gorman is the Chief Technology Evangelist for SkyTouch Technology. He has 20 years of experience delivering technology solutions to the hospitality industry, serving in various technical and leadership roles focused on property management systems. Mr. Gorman works with hoteliers to leverage technology to grow their business, improve their operations, and enhance their guest experience. In his role at SkyTouch, Mr. Gorman focuses on business development, product vision, industry education and fostering SkyTouch's culture of focused innovation. Mr. Gorman is a member of the Vendor Advisory Council for Hospitality Technology Next Generation (HTNG), the hospitality industry's leading trade association for fostering collaboration between hoteliers and technology providers. Mr. Gorman can be contacted at 602-337-2800 or lgorman@skytouchtechnology.com Please visit http://www.skytouchtechnology.com for more information. Extended Bio...
HotelExecutive.com retains the copyright to the articles published in the Hotel Business Review. Articles cannot be republished without prior written consent by HotelExecutive.com.