Hospitality to the Rescue
By Judith Jackson, Founder, Judith Jackson, Inc.
After the first stay, does your guest remember your property as "The Hotel Rescue"? Is your guest more refreshed when leaving than upon arrival? When you planned your guest facilities and services, were they designed to be genuinely unisex? Does everything in the room work - like thermostat, wall plugs and light bulbs? Is the clock set to the correct time? Is the television remote easily located? If the answer is yes, have you checked all of them lately?
Be sure you and your management team are building your brand, occupancy and enthusing your staff by a hands-on approach to rescuing your guest from hospitality neglect and the aches, pains and fatigue they may bring with them.
When I decided to create my own spas on land and sea, I had a definite plan for providing my clients with and ESCAPE from stress and every day challenges to wellbeing. From the moment the door was opened they inhaled a calming fragrance, saw relaxing pastel shades of blue, green and coral spiked by the shimmer of silver, and heard nothing but low, soothing music.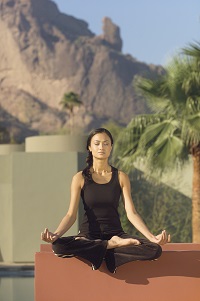 Transporting guests to a "Zen" state of mind
At the desk the client was greeted by warm and efficient check-in. In my land spa - in Westport, Connecticut -- as the guest sat down on the aqua velvet covered sofa, the view through floor-to-ceiling glass windows overlooked the Saugatuck River. A pitcher of cool, lemon/lime water and the latest women's interest magazines were on the large, round glass-topped coffee table. The only problem was that clients so cherished this experience that they would come to their appointments half an hour early just to relax in our reception area. That was a good problem to have when they browsed and bought from our retail display.
The point is, give your guest a break from a world that too often makes one feel nobody cares. My message to you, Dear Reader, is CARE! Let's face it, we all want to be loved. This approach to hospitality takes more thought and effort, but there are practical as well as emotional rewards for you and your staff - not to mention your guest.
Focus on Quality and Thoughtfulness
To make sure that I cover all "rescue" bases in the article, I want to bring my longtime friend and hotel/spa industry colleague, Mary Gendron, into this conversation. Mary and her business partner, Yvonne Middleton, have specialized in public relations and marketing for prestigious clients for more than three decades. They recently combined with the independent integrated marketing firm Eric Mower + Associates to be able to expand offerings to all marketing activities. Here are words of experience and wisdom from Mary who has traveled extensively throughout her career while representing hotel brands, independent properties and spas.
Mary Gendorn said: "When I think of my most memorable hotels stays, two things come to mind: quality and thoughtfulness. Early on, I recall my first sewing kit amenity that provided a needle already threaded (Four Seasons Hotels) - a touch that illustrated both. Later, while ironing a garment in my room at The Ritz Paris, I took note of the brand of the iron which felt so solid in my hand, smoothing wrinkles with a single stroke. I purchased that iron immediately upon my return to the United States and have been loyal to that brand ever since. That was quality.
"Thoughtful touches have included my first bookmark on a pillow (The Regent Bangkok), the Thai cotton amenity pouch in the bathroom at the Four Seasons Resort Chiang Mai, and personal notes from housekeepers that have greeted me at any number of fine hotels. In small, subtle ways, these have served as hospitality rescues.
"Today, spas lead the way in providing rescues to clients. Though it's part of spa DNA, all hotels can learn from their practices. Soothing fragrances in public spaces and the availability of chilled water, infused with cucumbers, lemons, limes, and/or ginger are among many easy ways to provide quality, thoughtful experiences for guests."
Remember that physical and psychological comfort are equally reassuring and nurturing to your guest. Few items make a guest more grateful to the hotel staff than human-head-sized pillows that provide cushy support and a mattress that does the same without feeling like there were many sleepers there before them. In season, the delight of this prone experience is magnified by a puffy duvet - complete with removable, washable cotton cover. I personally wish for elimination of the housekeeping practice of tucking in the sheets and covers so tight around the mattress that I have to remake the bed in order to get in.
More comfort should be provided to your guests by door security and a wall safe that works with a code that you don't have to be an acrobat to read and deal with the mechanism. A bolt lock and chain on the door is a must and if no chain, a double lock. Cameras in elevators and halls can also prevent injury and pilferage. Of course that requires a monitor and someone to frequently check it.
Mary mentioned amenities. Since thousands from my line are used every day in the U.S. and Canada, you might like to know there are also eight-ounce versions available of mine and many other suppliers'. These larger sizes make your suite, longer stay, celebrity, and honeymoon guests feel special because they are. I think many guests would be pleased to purchase amenities they like in the room in larger sizes in your hotel shop. This also boosts your brand and your bottom line. My office routinely receives calls from guests who tried and liked an amenity size product and attempted, without success, to purchase the eight-ounce size --finding it unavailable in the hotel, resort or B&B in which they stayed.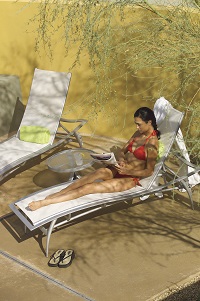 A cool glass of water offered on a warm day
Service Gone Awry - The Story of the Red Cadillac
To continue Mary's emphasis on supporting brand quality, let's discuss service. Here is a personal service gone awry story:
I was participating in a major spa association convention in a large, well appointed hotel that had an impressive atrium centered on the requisite fountain.
My rental car was valet parked. Shortly after arrival, I had to retrieve my car to pick up a company guest - my attorney and business advisor -- who'd flown in to attend the convention. I went to the valet window in the hotel driveway and gave the attendant my ticket for the car. It was a brilliant red Cadillac - not my choice, but it was what had been available at the airport.
As I drove off, I realized that a GPS voice from nowhere was giving instruction. I had not touched the GPS and dismissed it as a computer glitch. I arrived at my destination on time and picked up my guest. As we drove back toward the hotel, there was suddenly a very loud, angry voice that seemed to be coming from the sun shield of the car. It said, "Where are you?" I answered, "Returning to the hotel from the airport - Why?" My attorney is now both startled and amused. "You have taken somebody else's car. I am the hotel assistant manager. Return immediately." This was ceasing to be funny.
We arrived at hotel curbside and were greeted by a totally irate manager who asked us to get out of the car and demanded we wait while the original renter of the car came down and inspected it. Now my guest was not amused any more either. He took my valet ticket, waved it at the manager and said: "The airport must be renting more than one red Cadillac and your valet made a number mistake" - which was the case. I then recovered my calm and informed this "hospitality disaster" that I was an exhibitor at the convention, was checked into the hotel, and would now take my guest to registration for check-in as well. "But…" said Manager Rude we departed for the desk.
I suppose this was a lesson in lack of training and less-than-careful hiring of assistant manager, valet and perhaps a kaput ticketing system, but neither my attorney nor I will ever stay there again.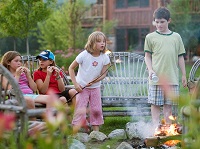 Complimentary s'mores on a summer day
Rescue Idea - The Room Escort
There is a service recommendation I like to recall that is not common but perhaps should be. My plane was late but my reservation was luckily held. First gold star. I checked in and made my way - bell person in tow - down a long corridor to my room, noticing several other corridors off the central one. I dumped my bags and hurried to a business dinner near the hotel.
It was dark as I re-entered the hotel lobby and it occurred to me that I might feel lost and somewhat insecure as I returned to my room. I asked the desk if I might be escorted to my room. Without a pause, the night manager came out and said someone would be glad to accompany me and asked if there was anything else he could do. Second gold star - and he almost got a kiss!
Out came a polite young man who looked as though he could well defend us if necessary. In addition, as I entered the lobby, the second and last night of my stay, the front desk agent saw me and asked if I would like an escort again. Delighted, I said "Yes" -- and off we went again on my room safari. I slept dreamy and safe.
Now that's service that earns a return visit and will get one. If your property has long or circuitous paths to the guest rooms, would it not be an idea to offer an escort - one that is trusted to be steady, well-mannered and that's all?!
There are many ways to earn hospitality Gold Stars by making your hotel an oasis of Guest Rescue. It's worth whatever it takes to be known for caring quality and performance. It makes you feel almost as good as your guest and deserving of recognition that will keep your property up there with the best.
Judith Jackson is author, lecturer, product and spa developer, certified aromatherapist and licensed massage therapist. She founded Judith Jackson, Inc. after discovering the profound benefits of aromatherapy 30 years ago. Ms. Jackson's prior career in fashion and beauty proved very useful to product development, marketing and communicating the benefits of Judith Jackson Aromatherapy. This phase of her career included positions as Publicity and Fashion Director for Bonwit Teller, Vice President Publicity and Feature Events Director for Bloomingdale's (all stores), Vice President and Account Supervisor U.S and Europe for Burson Marsteller, and Vice President and Brand Manager, Product Development and Branding for Revlon. Ms. Jackson can be contacted at 203-698-3011 or Judithjackson33@aol.com Please visit http://www.judithjackson.com for more information. Extended Bio...
HotelExecutive.com retains the copyright to the articles published in the Hotel Business Review. Articles cannot be republished without prior written consent by HotelExecutive.com.