What's Trending in Hotel Lobby and Public Space Designs?
By Samuel J. Cicero Sr., Founder, Cicero's Development Corporation
We have all been there. After a long day of travel, exhaustion kicks in and you can hardly wait to reach the hotel. When the front desk attendant hands over the key, you can finally take a deep breath and get set for the fun-filled days ahead. For the business traveler, whose stay is less casual and more formal, a room key means it's time to relax and prepare for the next important meeting or to celebrate a success.
Lobbies
First things first: Every traveler deserves lobbies and public spaces that warmly welcomes them and awakens their senses, something more than a passageway to the front desk for expediting check-in and check-out. Economic pressures have caused lobbies to shrink down to a fraction of what they used to be. But now the lobby is back, the bigger the better.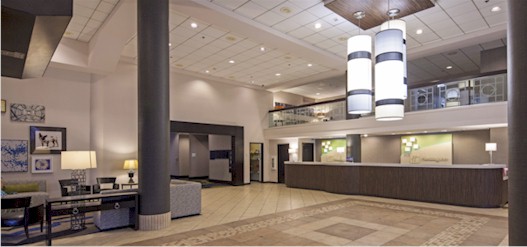 Lobbies are gradually evolving into hybrid areas, where families, young couples or friends, and business people can coexist. The multifunctional lobby of today includes diverse areas like quieter lounge spaces, full bookcases next to small coffee rooms, maybe a large piano for soft entertainment or even a kids' corner. These trends are driving the hotel industry's major brands to redefine what a "lobby" is in an all-out effort to connect with their guests on an emotional level from the moment they step inside.
Checking In
We're more connected than ever before, and the combination of mobile devices with the "always-on" mentality of today's business traveler has the hotel industry bringing the cutting edge to their lobbies. Technology is leading the charge even before we enter a hotel. We have become less accepting of standing in line, tapping our toes, and waiting our turn to check into a room. Now, with mobile apps that allow guests to check in on their smart phones that can also serve as a secure room key, the need for a fully staffed front desk is rapidly becoming obsolete. So what is happening to the long front desk we're accustomed to? Or to the staff whose job it is to get us checked in, to answer questions and to give us the key to relaxation? In some instances, the desk itself stays in place since this is where the "back of the house" is located. On the other hand, some hoteliers have redesigned their front desk altogether.
They are eliminating the long desk completely, replacing it with smaller, more personal pedestals where guests are greeted by staff carrying tablets who offer assistance to improve the guest experience. Designers have realized that having a cold, impersonal desk between hotel employees and guests creates a barrier right from the start. Doing away with a front desk is changing the feel of the hotel lobbies and promoting a "peer-to-peer" guest/hotel relationship. According to market research, 15 percent of hotels are currently using tablets for check-in, but another 50 percent plan to begin using this technology within the next year. Hotels can also personalize the lobby environment through digital signage displaying interactive content personalized for the guest currently checking in.
A big upside to this more casual approach is selling additional services to the guest. Since the guest no longer feels the pressure of having a long line of people waiting behind them, they're more likely to make in-hotel dining reservations, purchase a spa package or ask about golf tee times.
But what about guests who don't want to wait at all? These guests are used to A.T.M.s at the bank instead of tellers, checking in for airplane flights online, and they are now looking for that same efficiency when they arrive at a hotel. For those customers, self check-in kiosks are ideal. While a computerized check-in system does take guests away from that person-to-person experience initially, such technology can save money and still give off a great impression. Taking things a step further, envision a self-service concierge station with touch screen monitors giving guests instant around-the-clock access to local information and attractions, such as restaurants, entertainment and events.
Impromptu Offices
In addition to the changes to the front desk brought on by technology, hotel lobbies are now being designed to function as impromptu offices. For instance, a guest of the hotel may be holding one-on-one job interviews in the lobby with a special applicant, or making a sales presentation to potential clients. Hotels embracing this concept feature lobbies that resemble open, multi-functional shared spaces that act as social hubs and comfortable work zones. Structural walls are kept to a minimum. Individual spaces are equipped with communal tables, ergonomic seating, Wi-Fi access, flat-screen TV's, and the ever-important power station to re-charge our long list of mobile devices.
Restaurants
In a limited service, small hotel, lobby space is today designed so that guests can enjoy a free breakfast, light meals or snacks, or during limited hours, grab a cocktail. While maintaining brand integrity, the décor of a growing number of both large and small hotels reflect the surrounding community by incorporating local arts and crafts to create a more authentic stay for their guests, as well as for the "guests" of hotel guests.
In full-service and luxury hotels, focus is placed on offering signature restaurants for those guests requiring an exquisite dining experience. Few hotel restaurants still base their appeal strictly on practicality. Themes are highly recommended, pushing creativity to new heights and turning each venue into a destination in itself. Tantalizing the guests' palettes is just one of the ways luxury hoteliers are focusing their efforts to remain fresh and competitive. Depending on the hotel's design décor, restaurant designers are bringing design elements such as re-purposing furnishings, using natural materials and textures, crafting illusions of precious stones and diamonds for the more blinged-out space. Decorative lighting solutions that provide a rich and ambient dining atmosphere are also becoming more important in the overall design of the restaurant.
Rooftops
Hoteliers are also beginning to utilize the rooftop as another means of attracting guests. A rooftop bar is another revenue stream selling finger foods and handcrafted cocktails, accompanied by live music along with magnificent views. Designers are opting for such features as infinity pools and hot tubs, rooftop gardens, putting greens, fireplaces, flat-screen TV's and comfortable seating.
Workout Areas
Hotel exercise facilities are gaining more attention with the rising interest of fitness enthusiasts as well as the average person that just wants to maintain a healthy lifestyle. No longer are these areas stuck in out-of-the-way corners with no windows and dull colors. Workout areas are now being designed with window views, bright lighting and mirrors, state-of-the art work-out equipment and enough square footage to comfortably move from one area to the other.
Business Centers
Business centers in the past served as the area in the hotel where guests could print boarding passes, read and answer email, and browse the Internet. Today, since most travelers have their own devices like laptops and smart phones, these centers, although not yet obsolete, are being re-designed to adapt to today's traveler. Some hotels for instance are bringing the business center closer to the lobby area, where the seating can be as comfortable as if sitting in your own living room. Other hotels are creating business spaces in multi-functional areas of their hotel where portable furniture can be configured so that private meetings can be conducted. Connectivity remains a vital aspect to the overall positive guest experience. So charging stations, TV monitors that can be connected to smart devices, and video-conferencing capabilities will continue to play an important role in business guests' decision to stay or not. One of the challenges for owners is the expense of installing the necessary bandwidth that can support all of their guests many devices.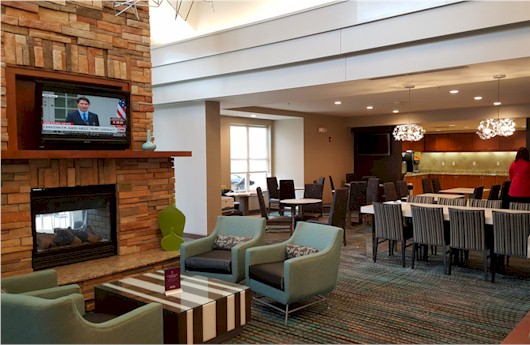 Sustaining the Environment
Because of the increased demand from consumers for hoteliers to maintain an environmentally-friendly property, more focus will continue to be placed on ways of enhancing a property's sustainability. In addition to energy-efficient lighting, designers are also looking to incorporate sustainable paint, flooring materials and eco-fabrics into their designs. Along with creating a sense of embodying the surrounding community for a positive guest experience, buying local whenever possible also reduces carbon emissions resulting from long distance transport of FF&E. Designers are also considering a product's life-cycle in determining true sustainability. Sustainability does not mean a compromise of aesthetics, so hoteliers still need to appeal to their guests' emotional senses and designers are finding ways to do just that, sensibly.
The importance of lobbies and public areas is growing, as social encounters become more and more dependent on these particular hotel areas. For today's travelers, a sofa and coffee table arrangement won't cut it. Creating memorable experiences for guests is what hoteliers must continue to do in order to stay relevant and competitive. It's not enough to do a light refresh. With times ever changing, so are guest expectations. Now, more than ever before, considerable planning, along with market research has to be conducted in order to determine what guests are looking for in their home away from home experience.
Samuel J. Cicero Sr. founded Cicero's Development Corporation in 1970 and is responsible for building its sterling reputation as one of the most sought after commercial renovation companies for the hospitality industry. Mr. Cicero Sr.'s track record of "on-time on-budget" performance is unrivaled. His understanding of the processes, materials, scheduling and client needs has propelled the company to year-over-year success. Mr. Cicero Sr. leads Cicero's marketing and new business development efforts, championing Cicero's $ensible Green and Disruption Avoidance Management programs, and creating Renovationomix, the company's best practices method and approach to systematically increasing property owner revenue through transformative renovation. Mr. Cicero Sr. can be contacted at 630-417-0927 or sjcicero@cicerosdev.com Please visit http://www.cicerosdev.com for more information. Extended Bio...
HotelExecutive.com retains the copyright to the articles published in the Hotel Business Review. Articles cannot be republished without prior written consent by HotelExecutive.com.