The Multiplying Landscape of Hotel Brands
By David Ashen, Principal and Founder, dash design
Forget the 'less is more' adage-at least when it comes to today's hotel brands. These days, the more specialized brands a hotelier offers, the better. Or so it seems.
There's no denying that in the past several years there's been a noticeable rise in hotel brands. Soft brands with distinctive features and unusual offerings have grown, especially, in popularity, perhaps because they so neatly straddle that cumbersome divide between the unusual characteristics of boutique locations and the broad-scale offerings of mega-franchises. As industry notable Stacy Shoemaker Rauen recently said during dash design's debut dashChat podcast, people are excited to see something new and different. They want to be a part of something that shakes things up and draws them in, all of which leaves full-scale hotels that don't elevate their game or have a specific point of view in a precarious position, even while an abundance of brand tiers can be confusing to some.
Confusing or not, the rising surge of tier brands implies that hoteliers are responding to their guests' penchant for specialized properties that not only offer a different take on conventional lodging, but also align with people's myriad ideals. Marriott International and Starwood Hotels & Resorts, for instance, whose new unification creates more than 30 tiered brands, have shown a shift in their focus through the joint addition of luxury, lifestyle, select service and other brands. It's conceivable that five or six of the combined brand's different tiers could dot a short stretch of city blocks, alone, in the near future.
Still, reconciling a 30-brand hotel portfolio can be tricky, especially when comparing their similarities and distinguishing their beneficial differences. For instance, with the ready availability of Marriott's comparable Residence Inn hotels and SpringHill Suites, is there a need for an equally similar Courtyard by Marriott, too? Are the demographics among them that dissimilar? Or maybe their differences are being clouded, making them hard to discern.
On the other hand, look at the Marriott's Moxy and AC brands; two urban properties with marked differences. At Moxy, high design with a focus on experience at an entry level price gives this Millennial brand a "Brooklyn" vibe. The tiny rooms, while highly functional, play up the brand's public spaces, encouraging guests to move outside their rooms and into the hotel's public spaces to work, congregate and play. Here, minimal private spaces are accepted in exchange for live experiences, a criteria trait of the Millennial generation. Furthering the brand's hyper-social culture is its absence of a check-in desk, instead having guests check-in and out at the lobby bar, the center of all of the hotel's activity.
AC Hotel, while also an urban brand, offers restrained luxury with a European quality at an affordable rate, providing a moderate option for those who want a limited-service product without sacrificing sophistication or design, including omni-present Wi-Fi, streamlined guest rooms, a work/socializing lounge and a breakfast room with Spanish and European-style dishes, along with after-hours tapas and snacks, all in an effort to attract guests seeking a simplified, refined stay.
And then there's Tru by Hilton, a mid-scale, value-oriented brand that features hi-tech connectivity throughout the hotel and a back-to-basics sensibility, including a socially driven lobby fully outfitted with work, play and eat zones. There's also a fitness center and multi-functional command center with a casual pull-up counter for checking-in, checking-out and socializing. Inside the guest rooms, quiet color palettes with playful pops of color, efficient storage and well-lit bathrooms align with the brand's focus on simplified staying. Even the hotel's exterior is sleek and streamlined in character. Good move. The brand's January 2016 launch garnered more than 100 contracts in its first week.
Clearly, the demand for specialized brands is there. But is it enough to support the industry? Consider that independent brands, whose unique and niche offerings are a draw to select clients, are known to tap mega-brands' range of exposure and loyal following-per the advantages of their points packages-by joining large booking systems like Hilton's Curio, Marriott's Autograph and even Tablet, an independent, higher-end outfit. That's a best-of-both worlds scenario, since it provides a way for independent brands to connect with a wider pool of customers and mega-brand franchises to attract that elusive but significant millennial-minded crowd.
Another point that supports a plethora of brands is that it provides people with the luxury of choice, allowing them to stay at whichever property happens to match their mood-of-the-moment, whether it's a Zen-like retreat, an entertainment-driven experience or something else. For instance, when I travel for a week or so, I often look for a place that provides the comforts of home, like Marriott's Residence Inn, where I can choose a suite with a full range of amenities, plus a kitchen for an apartment-like feel. I also like the brand's inclusion of lobbies that invite shared experiences among its guests and welcome the community in, as well as social events, such as barbecue nights. Or, in sticking with Marriott properties, both for the brand's reward points and assurance of consistency in quality, I might stay at an Autograph property, with its trendy, independently owned vibe.
Choosing where I stay depends on what the trip is about, the type of hotel that fits my needs and my ability to accrue reward points, whether it's the hip beat of 100-room property, the quaint charm of a family-run inn or the resort offerings of a Gaylord Hotel. Better even, is that I don't have to seek out small luxury hotels for their unique qualities, since today's big brands, like Marriott and Hilton, announce options for their independently owned properties right on their websites. Another plus is that I can check-in and out through an app on my cellphone. From the ease of finding the right property to remote check-out, my beginning-to-end experience is super-convenient.
Guest service is another consideration, for while superb service might be the hallmark of luxury brands, for some hotels-tier brands, especially-what that service is, differs. Perhaps, for instance, it's having a concierge on-hand to arrange for food service in hotels where room service isn't available. Or giving guests the ability to customize their suite's mini-bar. Or providing a daily laundry service to keep clothes fresh. Whatever it is, a brand's ability to meet personal preferences during their guests' stay is a clear advantage.
While many people look for unique experiences in their hotel, often at independent or boutique properties, something to keep in mind is that adding new brands isn't necessarily the answer, even while staid properties are likely to shrink in numbers.
Of course, brands whose customer base is founded on a passion or emotional connection with them are in separate category. Think of Hotel Park City, Four Seasons, Ritz Carlton, Mandarin Oriental or JW, for example, whose price point and clientele are driven by customers with a definite affinity for the brand of their choice.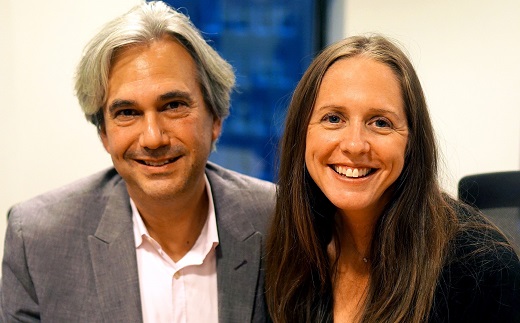 David Ashen is pictured with podcast guest, Stacy Shoemaker Rauen, Editor in Chief of Hospitality Design.
Photo: Pauline Santillan
Rauen said hotel brands need to think about what they're offering their guests and how it's different from other hotels to stay ahead. She has a point. After all, just having tiered brands doesn't ensure success. It's how they fulfill their clients' needs and wants that matters, whoever and wherever those clients might be.
David Ashen is a principal and the founder of dash design, an award-winning New York-based interior design and branding firm specializing in hospitality and retail projects. Known for his ability to tailor each project to answer clients' specific business needs, Mr. Ashen and his design team update spaces and reinvent brands. Clients include market leaders and Fortune 500 companies from all over the world including Shanghai, Hong Kong, Istanbul, Philadelphia, Cleveland, New York City and Aruba. Among dash design's recent high-profile hotel projects are: the multi-million renovation of the Lexington New York City hotel; the Renaissance Aruba Resort & Casino; and restaurants at the Mandarin Oriental in Shanghai. Mr. Ashen can be contacted at 718-383-2225 ext. 201 or dashen@dashdesign.net. Please visit http://www.dashdesign.net for more information. Extended Bio...
HotelExecutive.com retains the copyright to the articles published in the Hotel Business Review. Articles cannot be republished without prior written consent by HotelExecutive.com.