Changes in Employment Verification and Enforcement Will Impact Hospitality Employers
By Gregory A. Wald, Principal, Squire Patton Boggs (US) LLP
On July 1, 2016 several federal agencies published regulations that significantly increased, and in some instances doubled, the civil penalties that could be levied against employers for Form I-9 paperwork violations, unauthorized employment of foreign national workers and for other immigration-related violations, including immigration discrimination charges. Due to the implementation of the Federal Civil Penalties Inflation Adjustment Act Improvements Act of 2015 (Sec. 701 of Public Law 114-74) ("Inflation Adjustment Act"), higher fines and civil penalties have now gone into effect for assessments that occur on or after August 1, 2016. These higher penalties can be applied to violations that occurred after November 2, 2015, the day the President signed the Act into law. Also, the US Citizenship and Immigration Services (USCIS) finally received regulatory authority to release the updated Form I-9 which will take effect January 22, 2017. The new form is expected to contain several substantive changes and include "smart" error-checking features.
The Inflation Adjustment Act will be implemented by multiple federal agencies that have authority to assess civil penalties. The following is a summary, by federal agency, of the penalties covering violations for the unlawful employment of immigrant workers; violations related to Forms I-9; immigration-related discriminatory employment practices; and violations of the H-1B and H-2B temporary visa for foreign worker programs. The increases in many categories are substantial. The penalties for Form I-9 paperwork violations are increased by an eye-catching 96 percent.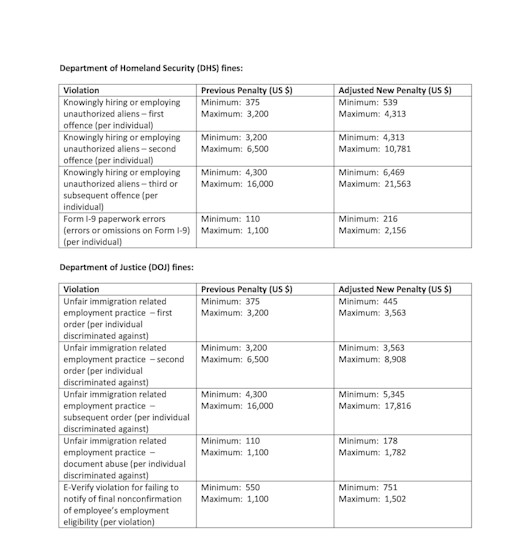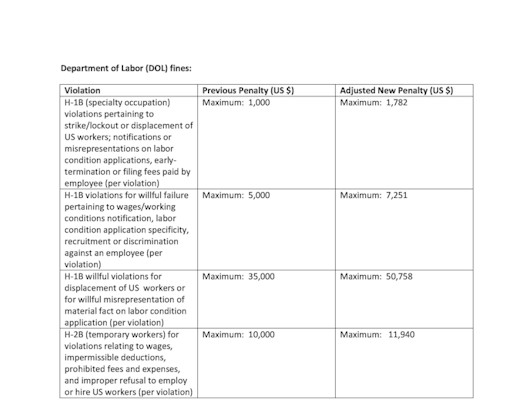 New I-9 Form Will Take Effect in January 2017
USCIS recently announced that the Office of Management and Budget (OMB) approved a revised Form I-9. The form is not yet available but USCIS has been directed to publish this revised form by Nov. 22, 2016. USCIS also clarified that employers should continue using the current version of Form I-9 with a revision date of March 8, 2013 (that actually expired on March 31, 2016) until Jan. 21, 2017. After Jan. 21, 2017, all previous versions of Form I-9 will be invalid. Based on the proposed draft of the new form published at the end of 2015, we expect the new I-9 to contain several structural changes. As referenced above, the I-9 will now include some "smart" error-checking features when completed online using an Adobe PDF viewer or application. However, this "smart" version will not be equivalent to an "electronic I-9" as defined in the DHS regulations. Employers filling out the new Form I-9 online will still need to print the form, obtain handwritten, original signatures and retain per the regulations.
In addition to the error-checking features, the new version of the Form I-9 will likely include new fields and requirements such as:
Replacing the "Other Names Used" field in section 1 with "Other Last Names Used" in order to avoid possible discrimination issues and to protect the privacy of employees.
Modifying section 1 to request that certain foreign national employees enter either their Form I-94 number OR foreign passport information (rather than both).
Employees, who provide an Alien Registration Number/USCIS number in section 1, must also indicate whether the number is in fact an A-Number or a USCIS number (even though currently these are the same).
Require employees that do not use a preparer or translator to assist in completing section 1, to check a new box labeled, "I did not use a preparer or translator." In addition, the form enables the completion of multiple preparers and translators, each of whom must complete a separate preparer and/or translator section.
Adding a new "Citizenship/Immigration Status" field at the top of section 2, where the employer is expected to write the number corresponding with the citizenship/immigration status selected by the employee in section 1. For instance, if the employee attested to being a lawful permanent resident, the employer must write the number 3 in this new field.
Section 2 has a new dedicated area to enter additional information that employers are currently required to notate in the margins of the form (examples include Temporary Protected Status (TPS) extensions, Optional Practical Training (OPT) STEM extensions, H-1B transfers, and others).
The barcode will now appear in the form of a "QR code" (once printed) and will likely be used to facilitate review by DHS auditors.
Proactive Steps for Hospitality Employers
Given the upcoming changes to the I-9 Form and the consequence of these increased fines, it is imperative that employers, whether sponsoring nonimmigrant workers or not, implement and aggressively monitor their immigration compliance programs. For hospitality employers with ongoing hiring initiatives or high turnover, the doubling penalties for I-9 paperwork violations mandate vigilance to ensure I-9s are completed timely, correctly and are periodically audited. Keep in mind; most I-9 violations are considered continuing violations until they are corrected. Here are some practical steps that HR and legal departments should implement before ICE comes knocking:
Audit and Remediate - Initiate an internal audit to inventory and check all I-9 forms for errors. While a self-audit is better than no audit, utilizing an experienced immigration attorney will assure the I-9s are corrected properly and will cloak the findings under the attorney-client privilege. If the I-9 contains errors, then correct with dated and initialed annotations in in order eliminate or reduce a potential ICE fine, leaving the initial error visible. If an I-9 is missing, then a new one must be completed but attestation dates cannot be back-dated. Check any applicable collective bargaining agreements to determine if the agreement requires advance notice to the union of any "work authorization issues" involving its membership.
Make sure there is an I-9 for each active employee hired after November 6, 1986. For terminated employees, purge I-9s once the retention period has elapsed. For terminated employees, I-9s must be retained for the longer period of 3 years after the date of hire or 1 year after the date of termination.
Establish Compliance Policies - Hospitality employers should develop and implement an employment verification compliance plan. The plan should detail the roles and accountability of the various departments and positions charged with completing and policing employment verification. If the Hotel employer is utilizing E-Verify, then the plan should detail procedures and a point of contact. The compliance plan should spell out procedures to: (1) complete and maintain I-9 forms, including calendaring reminders for re-verifying employment of employees with expiring employment authorization; (2) conduct periodic self-audits of the I-9s on a recurring basis, including periodic purges of I-9s for terminated employees that are beyond the required retention period; (3) photocopy supporting I-9 documents from Lists A, B, and/or C on a consistent basis. While photocopying supporting I-9 documentation is not required (unless subscribed to E-Verify or mandated by state law), selective photocopying of only some documents may expose a hotel employer to claims of immigration discrimination; (4) respond to any Social Security Administration or state agency "no match" notifications received by the hotel; (5) lay out a responsive plan of action to any Notice of Inspections or subpoenas received from ICE; and (6) deal with any instances where the hotel learns that any of its workers are not authorized to work in the U.S. In addition, the compliance plan should describe how and when employment verification issues should be escalated to management, in-house counsel, and outside counsel.
Train Key Staff - Once a compliance plan is in place it is important to train your HR representatives and hiring managers to assure compliance and proper completion of the I-9. The best way to mitigate against future liability is to establish an organizational mind-set that emphasizes proper and timely completion of the I-9 at the time of hire. Training should also include guidance to prevent discrimination based on citizenship or national origin in the hiring and termination process. This includes prevention of "document abuse" such as requesting too much documentation or re-verifying certain employees (e.g., lawful permanent residents) when not required. Deep within the filing cabinets of every hotel's Human Resources department hides a ticking time bomb: the Form I-9. Each of these federally-mandated, deceptively short forms holds the potential of inflicting thousands of dollars of damage on an unsuspecting employer. When the DHS Immigration and Customs Enforcement (ICE) division comes calling, as its audit numbers show it increasingly is, simple paperwork errors can be costly and criminal prosecution can follow. Learn about recent enforcement actions against the Hotel industry and advice on how to ensure your company is in full compliance.
As to immigration-related discrimination matters, make sure hiring staff and managers are well-versed on the prohibitions of relating to citizenship status and national origin discrimination in hiring, firing and unfair documentary practices ("document abuse") during the employment eligibility verification, Form I-9, process. The DOJ has recently fined hotel and other employers in the hospitality industry for treating non-citizens differently from U.S. citizens during the employment eligibility verification process upon hire and for re-verifying existing employees who were legal permanent residents.
As long as immigration compliance continues to be at the forefront of federal and state policy debates, employers should expect federal agencies like the DHS, DOJ and DOL to continue their vigorous enforcement of the employment verification and anti-discrimination laws. For hospitality employers, proactive steps to shore-up and maintain compliance will go a long way towards avoiding costly government investigations, potential fines and disruptions to operations.
Gregory A. Wald is Principal at Squire Patton Boggs (US) LLP. Mr. Wald's experience includes representing multinational and Fortune 500 companies and individual clients in all aspects of immigration . He has appeared before the US Department of Homeland Security (DHS), US Department of Labor, and the US Department of Justice Executive Office for Immigration Review and various federal courts. From 1997 to 2000 Mr. Wald was an assistant district counsel for the US Immigration and Naturalization Service (INS) in the Miami and San Francisco districts. In this role, he advised the INS on multiple aspects of immigration, naturalization, criminal and civil law. Mr. Wald can be contacted at 415-393-9828 or gregory.wald@squirepb.com Extended Bio...
HotelExecutive.com retains the copyright to the articles published in the Hotel Business Review. Articles cannot be republished without prior written consent by HotelExecutive.com.