Less is More: Streamlining Design
By David Ashen, Principal and Founder, dash design
When designing today's hospitality venues, whether they're fully outfitted resorts, boutique hotels, or beach side bungalows, hoteliers are finding ways to streamline design and simplify the guest experience. Muted colors and minimal furnishings in combination with earthy textures, expansive views of the outdoors, fresh scents and liberal doses of natural light not only foster a sense of peace but also help today's travelers set aside everyday distractions for the serenity that simplified living provides. In this article, David Ashen, partner and founder of dash design, explores how today's hoteliers are making the most of the trend to simplify.
During a recent business trip to Curacao, I stayed in 10-room boutique hotel called BijBlauw. The Dutch couple that owned the place, which included a wonderful restaurant, furnished it simply, but that's not to say it was meager. I stayed in the largest guest room; an elegantly serene suite that had a painted bed prepared with modest, yet beautiful linens. Above the bed, a section of driftwood was suspended. There were, perhaps one or two other pieces of furniture in the room along with a terrace that overlooked the impressive expanse of the Caribbean Sea's crystalline turquoise waters.
There were no hanging pictures or television sets in the room, but not because the hotel lacked the capacity for either-other rooms had both. But the owners had purposely left this room devoid of the distractions. After all, the view of the Caribbean was magnificent; a treat unrivaled by anything that a television or furnishing could provide. My focus shifted. The luxury of simplicity.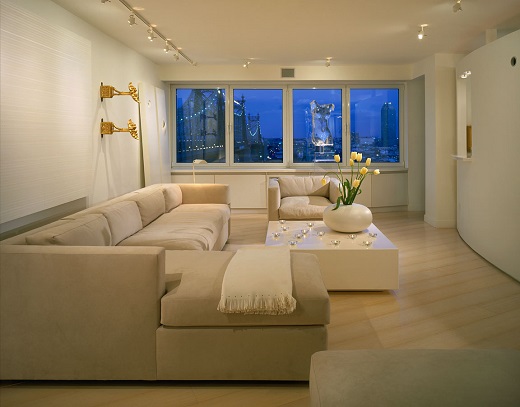 Sutton Place Apartment by dash design
As a society, we process an incredible amount of information daily. The U.K.'s The Telegraph reported in 2011 that a study found that the amount of information that people are hit with every day could fill 174 newspapers. It's no wonder that a simpler approach to life has emerged as a growing trend.
Although lavishly appointed properties provide for virtually any need, modesty certainly has its place. How businesses and hospitality venues carve out their spaces and treat sensory conditions can leave their customers feeling overwhelmed and confused or relaxed and focused. And it's not just smaller operations that are taking note of those effects. Simplifying surroundings with a subtle approach is a universal way to instill a sense of calm.
In Miami, 1 Hotel, an expansive, 400-plus-room property with four swimming pools, restaurants and other amenities, elegantly sidesteps what could be an overpowering presence by instead maintaining an elegant simplicity throughout the property, including a gentle, underlying scent of the serene North Pacific.
There's a cultured, multi-layered balance to how the hotel's design, services and atmosphere are executed that translate into a sophisticated and subtle, yet a fully sensory, experience. By embracing a real simplicity and straightforward design, guests come away with a greater connection to the materials used and how they're pulled together. It all starts as soon as guests walk in the door, when they're greeted with neutral tones that are reminiscent of the outdoors and sustainable living for an immediate sense of peace.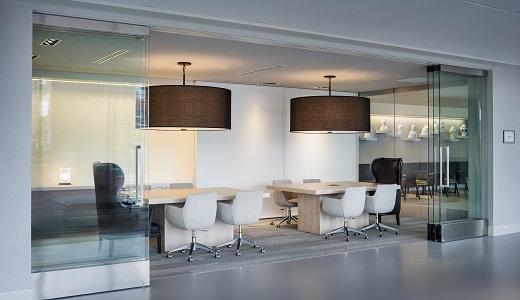 Commonwealth Meeting Room, and example of simplicity by dash design
Another hotel called Natura Cabana Boutique Hotel & Spa in the Dominican Republic consists of 10 bungalows that were built by a Chilean couple and are situated on a beach. All of the structures were constructed from local stone and have thatched roofs. None of them has a television set, radio or air conditioning. They're not needed, anyway. An open-air hut serves breakfast; another one serves dinner. I've stayed at Natura Cabana several times and plan to return. It's quiet, making it an easy place to be myself and with friends. Distractions are few and there's overriding connection to nature plus a high level of service. There's something super-luxurious about that.
Another favorite of mine, 8 al Mar, in Pichilemu, Chile, offers overnight stays in simple rooms set on rocks that overlook the Pacific Ocean. The site's eight boxy rooms on two floors each were designed with a muted palette and minimal furnishings, including a bed that floats in the middle of the room and faces its end wall, which consists of a large window pane with expansive views of the scenic Pacific.
Staying in the room is a calming experience that is focused on the view. The room's few furnishings impart the idea of space as a luxury; in essence, the freedom to allow one's body to have uncluttered space. That simplicity carries throughout the hotel where a breakfast of fresh cheese, milk, cereal and homemade bread is delivered in a woven picnic basket. As for relaxation, there are four Japanese hot tubs made of teak but without fancy jets. They sit over the ocean inviting guests in for an unfettered hot soak amid the seaside landscape. Simple.
Design can help people slow down and connect back to themselves and others. Interior designer, Clodagh, the Irish woman behind Clodagh Design in New York City, is known for her work's focus on the five elements of nature: earth, air, water, fire and metal. Her connection to body and nature are evident in all of her work, including the interior design of EAST, Miami, a hotel where the aesthetic emphasis is on the kind of luxury found in simplicity and functionality in design. Throughout the property, holistic principles of design and being permeate, as do select textures, lighting and windowed expanses, for a sense of harmony, balance and connections to earth, air and sky.
For hoteliers, the concept of simplicity as a draw follows that of luxury retail stores, which have found their customers respond well to tranquil shopping experiences where excessive stimulation and distractions are minimized.
Some people are so anxious for the peace that quiet brings that they look to isolation booths or sensory deprivation tanks for solace, an up and coming trend. One place, Lift / Next Level Floats in Brooklyn, has five floating tanks where people can float, naked, in body-temperature water with a high salt content in a dark, closed tank, preventing them from seeing anything or hearing any more than piped in music of their choice.
Similarly, the newly opened Zephyr Float in Kingston, NY, offers clients a way to destress from everyday overload by spending time floating in one of the business' closed tanks where sights and sounds are eliminated.
Properties designed with simplicity in mind are only part of the picture. There's a lifestyle that goes with it. When I stayed at BijBlauw in Curacao it wasn't only the hotel's uncomplicated approach that was so appealing. It was the lifestyle that surrounded it. There was a store that sold simply designed clothing in black and white linen. The textures were beautiful to look at, as well as tactile and soft. The place was furnished with the visual appeal of reclaimed wood and scented with its subtle aroma; a smell that amplified the store's simple visuals in a natural and calming way.
Simplified design isn't only the purview of hotels with dramatic views. It doesn't matter where a home, business or place of escape is located, whether it's an urban, suburban or remote location. Properties that are designed well aren't about their location or size of their spaces. It's the execution of the design and how it's expressed in terms of functionality, beauty and serenity that matters. Streamlining design embraces a 'less is more' philosophy for impactful, memorable and meaningful experiences.
David Ashen is a principal and the founder of dash design, an award-winning New York-based interior design and branding firm specializing in hospitality and retail projects. Known for his ability to tailor each project to answer clients' specific business needs, Mr. Ashen and his design team update spaces and reinvent brands. Clients include market leaders and Fortune 500 companies from all over the world including Shanghai, Hong Kong, Istanbul, Philadelphia, Cleveland, New York City and Aruba. Among dash design's recent high-profile hotel projects are: the multi-million renovation of the Lexington New York City hotel; the Renaissance Aruba Resort & Casino; and restaurants at the Mandarin Oriental in Shanghai. Mr. Ashen can be contacted at 718-383-2225 ext. 201 or dashen@dashdesign.net. Please visit http://www.dashdesign.net for more information. Extended Bio...
HotelExecutive.com retains the copyright to the articles published in the Hotel Business Review. Articles cannot be republished without prior written consent by HotelExecutive.com.