Authentic Experiences, Locally Produced Using Original Elements
By Jennifer Skaife, Design Director, DiLeonardo
Exploring authentic ways of infusing the hotel location based upon the Operator/Brand & Owner vision. Applying elements of brand-specific identity and responding with successful design solutions within the constraints of existing properties- i.e. interior architecture, existing zoning etc.
"It's Tuesday so I must be in Sheffield..." When I started working in hospitality design, this was one of many sayings we frequently heard and always joked about. These were the days when the road warriors back in the UK drove their Ford Taurus' from town to town, city to city, staying overnight in the local hotel flag of their or their company's choice. The picture I'm trying to paint here is how one branded hotel looked very much the same as the others in the Operator's portfolio regardless of its location. This was the familiar model we worked with until quite recently. There was little to no apparent difference from property to property regardless of where you were in the country. Prototypical standards were set from select service right up to the top star level - from the approach, the landscaping, the port cochère, the exterior architecture, the reception and so on. Prototypical to the "nth degree." The "Sense of Place" such as it was, may have been reflected as little as in the art of a lobby for the purpose of depicting some sort of local feature. Up until relatively recently, Brand Identity was the primary identity in a property and the location was of little to no importance with respect to Interior Design.
You could always pinpoint whose flag you were under, what brand was operating the property… Going back to my opening line, your destination was not at all part of the experience. This of course had its advantages, as well as being a successful model for loyal customers who had expectations of consistency throughout the interior environment. Public areas to guestrooms presented no surprises and staff and amenities were an important constant and driving factor for customer retention. A certain high bar was set to expect the level of service the Brand was accustomed to providing that precisely met the expectations of the guest. Service was key to any good hospitality experience. This still remains true to this day and should remain so in driving Brand loyalty where the Brand pillars are uncompromised, thus supporting a loyal guest base.
Now, this Brand-dominant identity interestingly enough, works exceptionally well in retail. From Tiffany's to Top Shop - wherever you visit these locations in the world, the Brand Identity remains constant. There's no indication whatsoever as to where you are, from Dubai to Dublin, Tiffany's is Tiffany's with only the merchandise indicating location.
In the past few years, as we are all emerging from the deep recession and with so many properties long overdue for renovation, we are seeing operators coming up with fresh new approaches to their Brand development and consequently the Interior Design direction and solutions. Established Brands are being totally overhauled and re-launched, where prototypical select service portfolios are giving owners and developers a much wider range from which to develop their own unique identity within the Brand standard. Inside of this, we really are seeing the location of a property expressed throughout the design - be it a new build or existing - the location and it's environ are now becoming the driving factor within the design brief. We as interior designers are being given the opportunity to design more specifically, reflecting the actual location - at both macro and micro levels within the interior.
Of course, there's always a responsibility as the designer to avoid cliché and pastiche in our inspiration and reflections of locale. To be playful with references and to infuse humor and wit throughout the design is a part of our task. Those of us who, over the years, have had the opportunity to design overseas, in China for example, know very well that we can't just count on predetermined perceptions of what we think is "Chinese" to create a design solution for a property there. Deep research is integral to exploring the location, history, art and culture, and the future vision of the city, remain critical to a sensitive, studied, witty and educated design solution reflecting that very place where we find ourselves on any given Tuesday! We no longer have to look at our itinerary to know where we are. We look around us, at our immediate surroundings from the lobby to the guestroom and feel secure in knowing where we are, based upon the unique visual cues around us.
Not only does the Interior Design of the hotel offer this but there has been a significant shift in operational aspects - where the guest experience has evolved. For example, the role of the Concierge has now taken on more of a "welcome to the neighborhood" approach by now directing people toward places and experiences that become a key part their stay, where unexpected discoveries and adventures may be had. The concierge is more of a local guide, a curator of experiences in the town or city. For example, many hotels now provide courtesy bicycles for the guest to take and have a real neighborhood street experience. Brands are asking us to bring the "outside in" in a whole new way where guests can be exposed to an authentic sense of place, with pop-up food and beverage offerings reflecting local delicacies and culinary skills. Guests can be immersed in the local art scene throughout the lobby, or even in their room. Both the public and private spaces are being given the same attention to detail with the identity of the location coming through in often subtle but alluring or surprising means. You can now become a part of a local identity, to explore, to visit destinations recommended, and even tailored, for your tastes and timeframe.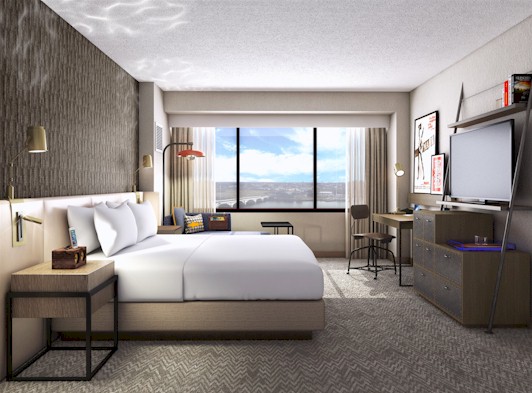 Process of thoughtful design - how do we begin? We begin with Brand Immersion as it dictates what is unique to the property. It is critical as it differentiates one vision from one another. We start to understand the specific scope of the project whether it's a new build or renovation and at the same time, we study the Architecture and the Interior Architecture. Moving through the space, we are reading the plans and reviewing adjacencies and flow - which dictate the customer experience, as well as picking up a pen and starting to visualize and understand the interior volumes. The Brand defines the approach to the design solutions and it is up to us as designers, to deepen and explore and research the location seeking unique aspects of the particular town or city that will be used to drive our design inspiration.
As travelers, when looking at your upcoming destination, there is always a list of popular, advertised things that we look to for insight to add anticipated experiences to our bucket-list. But we really want to go a bit deeper than the obvious. We might respond by producing totally different expected options to the "list." This is where we go back to the curated experience the concierge provides by looking to the locals for their unknown local hot spots, bars, entertainment and food. It's as if you are staying with a friend who lives in the town, where they share with you the best places to go and finest places to try and how to best move around the neighborhoods. The modern guest wants to experience the place as a local rather than a visitor, be it one night or several - alone or in a group. We are actually creating a new "local" destination within the hotel - rather an authentic experience so that the locals look to make it part of their own list. It then becomes part of the secret identity of the city.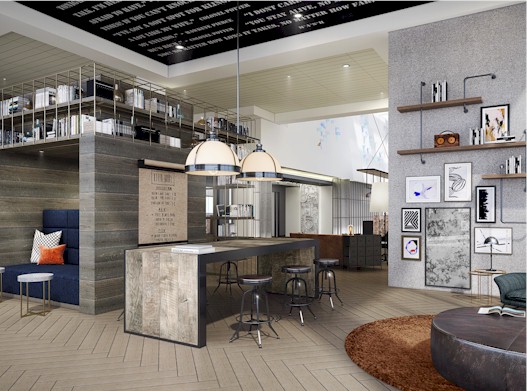 Of course the Brand pillars remain constant, excellent service is paramount to a successful hospitality experience. These crucial elements, along with the design, are the main factors that differentiate one Brand from another. As we move forward with this current approach, we seek original and innovative ways to infuse "locally grown" references throughout our design. Not only do we need to satisfy Brand criteria, but we must also understand and respond to the owner vision. For example, the challenge of renovating and instilling all of these thoughts and design ideas into an existing property within the current Architecture and Interior Architecture that already contains strong elements of a certain time period may not be an aesthetic that will be easy to disguise. This is where some our best work can happen. We create innovative solutions. I believe design is as much a problem solving exercise as anything. So to look beyond the property, discover the town, become the guest, the traveler, the local, the adventurer avoiding any preconceptions of where we are - that is what provides us with the right material we need to succeed in creating hospitality environments that provide authentic experiences.
As Design Director at DiLeonardo, Jennifer Skaife believes the process of reaching successful design solutions will be enriched by the participation of all DiLeonardo team members and encourages young talented designers to offer up ideas and concepts from the get go. Ms. Skaife studied Fine Art & Sculpture at Banbury School of Art, Oxfordshire, England and received a Bachelor of Arts (Honours) Degree in Three Dimensional Design/Interior Design from The City of Birmingham Polytechnic (now Birmingham Institute of Art & Design) in England. Ms. Skaife has also served as a guest critic at California State University Long Beach. Ms. Skaife can be contacted at 401-732-2900 or jskaife@dileonardo.com Extended Bio...
HotelExecutive.com retains the copyright to the articles published in the Hotel Business Review. Articles cannot be republished without prior written consent by HotelExecutive.com.