Adaptive Re-Use of Existing Facilities: Instant, Authentic Architectural Character
By Ken Martin, Hospitality Expert, DLR Group
Hotels have long been a piece of the urban fabric, but more often than not they keep to themselves, so to speak, through both design and programming. Aware of the locals, but inward-looking and more focused on the happiness of their guests; in the city, but not really of it. And that's been a function of the industry's decades-long branding and business model: Provide guests comfort through universal similarity no matter the location, from architecture to furniture to amenities.
Yet travelers are in search of unique and authentic experiences, moments rooted in the essence of wherever it is they're visiting. And hotel operators are learning that this desire doesn't stop at their revolving front door, that their guests respond strongly and positively to properties that absorb, understand, and reflect the local culture. As a result, hotels are learning how to be better neighbors when they move in.
And increasingly, what they're moving into is an existing building. As the hotel industry evolves to succeed in a shifting marketplace, adaptive reuse is becoming a key piece of many brands' strategies. Instead of erecting a cookie-cutter design on empty space or tearing down what already exists, hotel brands are infusing older spaces with new life and joining communities in a way they haven't previously.
Could adaptive reuse be an opportunity for your company? Here are a few things you should think about.
The Benefits
For a hotel operator, the two best aspects about adaptive reuse are things that can't be duplicated or matched: instant, authentic architectural character and that abiding real estate mantra: location, location, location.
From a branding standpoint, authenticity is something of a Holy Grail. And you don't get more real and honest than a building that's been around for years-or, even better, decades. The farther back in time you go, design-wise, the tougher it becomes to duplicate the impact and experience, because buildings simply aren't constructed the way they used to be. It's impossible to recreate a decades-old legacy with new construction. As for location, well, that speaks for itself.
And it's not just the exterior that matters in adaptive reuse, because true authenticity is comprehensive and is found throughout a building. Unless it's absolutely necessary, "facadism," or preserving only the building shell while completely undoing and redoing the interior, can sometimes be worse than starting anew. There can be many opportunities to celebrate a building's story on the inside, from preserved original details, to interior design choices, to photographs, art, and other visual elements that help tell the tale of what used to be there. Interiors are important to hotel guests, because people see past veneers pretty quickly. And, by the way, travelers are absolutely willing to pay a premium for this kind of local, authentic design experience.
For residents, adaptive reuse means the preservation, to some degree, of a neighborhood's past. Often, this can result in a kinder disposition toward an incoming hotel, a frequently divisive development proposition. Locals are far more engaged and welcoming when a hotel brand demonstrates a real understanding of what matters to the neighborhood, and they can be an invaluable resource in making sure the history and the details are right. People can be very passionate about buildings-especially "their" buildings.
Here's an example of a hospitality project for which adaptive reuse offers so many benefits: the Advance Thresher/Emerson-Newton Plow Company midrise in Minneapolis' Downtown East neighborhood, which DLR Group is helping convert into a mixed-use hotel-office property. This 1904 structure (which is actually two buildings, if you look closely enough) speaks to an incredibly rich and vital part of Minneapolis history: the city's agricultural past. Equally important, the building's brickwork and steelwork, architectural detailing, and use of limestone are elements that the client could never afford to recreate. Located just outside the historic Mill District, it's within walking distance of major tourist attractions and the Mississippi River. In short: It's an incredible development opportunity, one made possible only through adaptive reuse.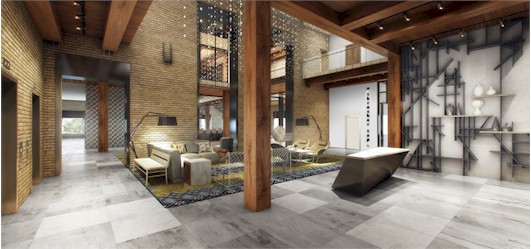 The Considerations
Existing buildings may provide that sought-after authenticity and charm, but they also come with architectural, structural, engineering, code, and planning issues that require due diligence-sometimes a lot, sometimes only a little. But there will always be something.
The two fundamental questions to ask are: Where is the existing structure in its lifespan, and how well equipped is it for what you want to create? Occasionally, the challenges are readily apparent: ADA access, for instance, additional elevator shafts, parking spaces and loading docks, or seismic and other structural upgrades. Sometimes, however, they aren't: In DLR Group's work converting an in-use, decades-old hotel in Honolulu to meet the needs of a new hospitality brand, for instance, we discovered that the building's entire piping system had to be replaced.
Also, in most cases the buildings that one might consider for adaptive reuse weren't originally constructed for a hotel's occupancy levels or amenity requirements. Instead of the tailor-made designs available through new construction, programming for an existing property frequently has to find workarounds for existing conditions. It becomes a spatial game: What are front-of-house needs vs. back-of-house needs? Where are the best adjacencies? How will you move a steady stream of guests into, out of, and around the building? Be sure to know your priorities and stick with them, because it's unlikely you'll get absolutely everything on your list.
Sometimes, though, new construction is unavoidable, often because of the occupancy level a hotel is seeking, or the need to create certain kinds of amenities (pool, gym, meeting rooms). Understand that a lot of potential adaptive-reuse structures are "captured" in dense, urban places, so building more than what already exists can prove tricky. Equally as important to consider: An original building often brings a certain kind of visual "pacing" to the landscape. Think long and hard about how to balance new-construction needs with a building's presence in its neighborhood, especially in zones with historic designations or preservation requirements. What's the vernacular, the spirit of the neighborhood? How do you respect what exists and complement it?
The fact is, adaptive reuse should never be viewed up front as a way to lower a hotel project's cost. In fact, it can even be pricier than entirely new construction. But, as I noted above, the results, when executed well, offer the kinds of rewards marketing dollars can't make up for: history, genuine enthusiasm from both guests and locals, a prime location, and much more.
The Opportunities
But don't let that last paragraph scare you off. In fact, there are a number of potential ways to offset adaptive-reuse construction costs, from historic preservation tax credits to other financial benefits a city might offer because of a project's potential to revitalize a vacant building, a down-at-heels block, or even a neighborhood on the rebound. Do the research, and you might just be surprised.
And understand that opportunities are everywhere. Any kind of structure, from office tower to warehouse to train station to old apartment building, might be a hotel. But it takes vision and a willingness to explore new and different ways of doing business, not to mention architecture and design. An openness to possibility, and to embracing the challenges, often results in a better product.
Consider blending sectors to make a project more viable, such as the Minneapolis development I noted above, which includes office space. How could incorporating other kinds of sectors (housing, retail, etc.) make a project successful in a way a hotel-only programming vision could not?
When DLR Group gets involved in an adaptive-reuse project, we do in-depth studies of the area around the potential property and ask lots of questions: What has that neighborhood been? Where is it going? Culturally, what are the drivers, and who are our local patrons going to be? What do they value? Who are the guests, why are they traveling to this city (or this neighborhood), and what are they looking for? That is to say: How do you integrate?
And adaptive-reuse projects can open up possibilities in a way new construction might not. As I mentioned before, locals are frequently favorably predisposed toward older buildings, so engaging them from the start can trigger the positive responses a hotel project might not otherwise receive. And this is true not just of locals, but especially from local businesses. Restaurateurs, art gallerists, and independent retailers also want to project authenticity; the chance to be part of a project that revitalizes an existing structure, something known and admired, can generate a lot of interest. And when a hotel property's offerings are things that arise from within a city, the locals are more likely to use those amenities-as opposed to, say, chain restaurants and retail stores. When you involve the local community, the end product is better and more sustainable, because residents, businesses, and neighborhoods feel invested in it.
In the end, whenever it is possible, adaptive reuse is the right thing to do. It makes good design sense, it makes good business sense, and it makes good brand sen
Ken Martin, Hospitality Expert with DLR Group, has 25 year experience in design, planning, and management. He provides leadership on large scale hotel projects. He combines his passion for design and a collaborative approach to all user groups and members of the project team. He enjoys integrating new technologies and guest travel trends into projects. His passion and focus have led him to be successful in developing numerous world-class experiences. Mr. Martin is DLR Group's national hospitality design expert. He is a frequent traveler, which he parlays into research for his next hotel design. This opportunity to be the end user helped shape Mr. Martin's deep knowledge of guest experience. Mr. Martin can be contacted at 913-897-7811 or kmartin@dlrgroup.com Please visit http://www.dlrgroup.com for more information. Extended Bio...
HotelExecutive.com retains the copyright to the articles published in the Hotel Business Review. Articles cannot be republished without prior written consent by HotelExecutive.com.