The Benefits of Prefabricated Construction in High-Tourism Areas
By Scott Acton, CEO & Founder, Forté Specialty Contractors
In the hospitality and tourism industries, guests' happiness reigns supreme. With ever-changing consumer demands and evolving technologies, new developments and renovations alike often cause disruptions to the normal function of businesses, impairing the public's accessibility to the venue, or adjacent venues. Hence, construction timelines become a crucial issue with projects situated in high-density tourism areas. Improved time-efficiency minimizes the disturbances in local businesses' operation and profitability. Yet, shorter timelines might come at a price of higher expenses on labor, machinery and materials.
A solution, allowing for both time- and cost-efficiency in projects where construction impacts the sustainability of tourist inflow, is the use of prefabricated (prefab) construction methods.
Prefab is a construction method which features off-site assembly of either the entire structure or parts of its interior and exterior design at a manufacturing facility, with a subsequent transportation of the ready elements to the site. Typically, prefab steel and concrete structure elements, as well as elements of the interior and exterior design, feature fast-assembly compatibility and boost project efficiency compared to traditional ground-up construction. Therefore, projects in areas whose economies are heavily reliant on tourism are a perfect fit for the use of prefab methods.
Among the two most prominent metropolitan areas featuring tourism, hospitality and the entertainment industries as a significant part of their local economies are the greater Los Angeles area and Las Vegas. Known as major tourist destinations, extracting substantial revenues from tourist inflow, these two local economies are particularly sensitive to the potential disruptions and hazards caused by traditional construction, rendering the use of prefab methods increasingly prominent.
The greater Los Angeles area is a large urban setting, accumulating wealth from a broad range of tourist activity, concentrated around Disneyland, Universal Studios, as well as the arts and entertainment of Hollywood and Santa Monica. Los Angeles attracted a historic high of 45.5 million tourists in 2015, a 2.8 percent increase compared to the previous year, and this figure is projected to grow further. According to a report by Los Angeles Mayor, Eric Garcetti, and the Los Angeles Tourism & Convention Board (LA Tourism), the leisure and hospitality industry created 25,300 jobs in LA in 2015, with one out of nine jobs in the city supported by tourism. Served by 464,600 industry employees, the sustainable influx of tourists brought some $223 million in tax revenues that year for the City of Los Angeles.
The average daily rate of LA's hotels in 2015 stood at $158.35 per night, an annualized increase of 7.4 percent, suggesting the tourism-related industry is booming. As such, construction-related disruptions and closures are highly unfavorable for the industry and tourists alike. Aside from enhancing the overall profitability of the industry, prefab methods pass positive effects of the expansion in tourism on to the local manufacturing and transportation sectors, as off-site assembly and transit of the prefab elements to the construction site have the potential to generate many market-sustainable jobs.
Las Vegas features an even greater reliance on tourism than LA given its less diversified local economy and smaller population. Roughly 42.3 million tourists visited Las Vegas in 2015, resulting in $9.6 billion in gaming revenues for Clark County, with $6.3 billion generated by the Las Vegas Strip alone, as reported by the Las Vegas Convention and Visitors Authority. Gaming revenues, although currently below 2007's historic high of $10.8 billion, have been steadily expanding since the recession of 2009, and Las Vegas' construction sector is gaining momentum. The total construction costs of projects scheduled to open in 2016 are estimated at $1.1 billion, rising to $2.6 billion in 2018 and to $7.1 billion in 2019, showcasing a steady increase in investment in Las Vegas. Similar to LA, prefab could further boost the profitability of Las Vegas' tourism industry, lessening disruptions and minimizing extended closures as much as possible as the area is attracting an ever-increasing amount of visitors each year.
Benefits of Prefab Construction
The technical upsides of prefab include higher cost-efficiency. The reduction of the amount of workforce occupied on-site allows for better labor efficiency, contributing to improved productivity. Prefab factory tools also allow for a greater precision of work, thus enhancing the project safety, providing quality guarantees at a faster pace of work.
Prefab significantly reduces the amount of potential falsework due to its assembly line-style work process. In addition, the environmental aspect, gaining prominence amid new regulations such as LEED Certification, can be addressed via the use of prefab as factory precision tools allow for lower energy consumptio, and boost the structure's sustainability via the controlled in-building air and heat flows. Prefab also greatly reduces the on-site emissions of dust, carbon dioxide and noise and allows for more efficient use of materials, less waste on-site and proper recycling.
Aside from general considerations, there are several criteria that might help a project team determine if prefabrication is a viable option for a particular project.
Considerations
One of the main considerations on the use of prefab is the size of the project. Typically, developers evaluate prefab efficiency in correlation with project scale. According to a study by the Department of Commerce's National Institute of Standards and Technology (NIST), prefab methods have demonstrated greater efficacy in terms of return on investment (ROI) among development of large-scale projects, with hotels and entertainment venues falling under this category.
Additionally, prefab's cost-efficiency results in developers with smaller projects using such methods more actively. In 2013, construction firms with average annual volume between $25 and $50 million accounted for 35 percent of all prefab users. NIST also reported that in 24 percent of cases where prefab was used, the project budget decreased by 1-5 percent; in 19 percent of cases, the decrease in budget was 6-10 percent; in 17 percent of cases, prefab saved 11-20 percent of project budget; and in 5 percent of cases, prefab allowed for more than a 20 percent decrease in overall project costs.
Prefab has also demonstrated positive effects to the construction timeline. According to FMI Corporation, in 2013, optimization of construction schedule was the main motivation behind prefab use, as reported by 21 percent of developers. Among other factors were enhanced productivity (19 percent), better ROIs (14 percent), gaining competitive edge (13 percent), improved prefab technology (10 percent) and shortage of available workforce (10 percent).
Prefab also contributes to an improved project budget. As observed by NIST, prefab allows for cost reduction, as confirmed by 65 percent of users among developers. In 41 percent of cases, prefab decreased the project budget by 6 percent or more.
Sunset Station Hotel and Casino - A Case Study
Currently, Forté Specialty Contractors is utilizing prefab methods on their renovation project at Sunset Station Hotel and Casino in Las Vegas. Focusing on modernizing the outdated interior aesthetics to meet the needs of today's guest by upgrading materials and utility infrastructure, Forté opted to employ prefab in order to minimize service disruptions at the hotel, boost the property ROI due to the improved consumer appeal, to decrease the on-site presence of the construction workforce and reduce the overall construction timeline and budget.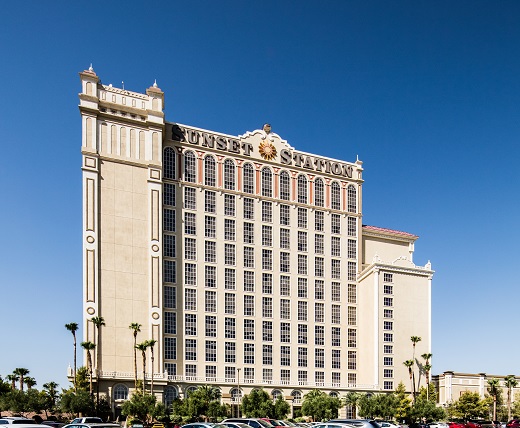 Sunset Station Hotel
As the hotel and casino has continued its normal operation throughout the renovation process, booking rooms in advance, the renovation is under tight deadlines. Forté, who is redeveloping 19 of the hotel's 21 floors, is proceeding at a pace of fully renovating one floor per week. Therefore, the venue's losses due to the construction activity are minimal while construction is underway.
Under Forté's renovation, "packages" of the prefab interior components are assembled in Forté's shop, including framing and precut drywall, and are delivered to each hotel room. Once the packages reach the room, they are assembled on-site utilizing significantly less labor than a traditional construction project as all elements necessary for completion are measured and precut to fit the dimensions of the room. The streamlined and standardized approach has resulted in Forté meeting their feasibility targets week after week.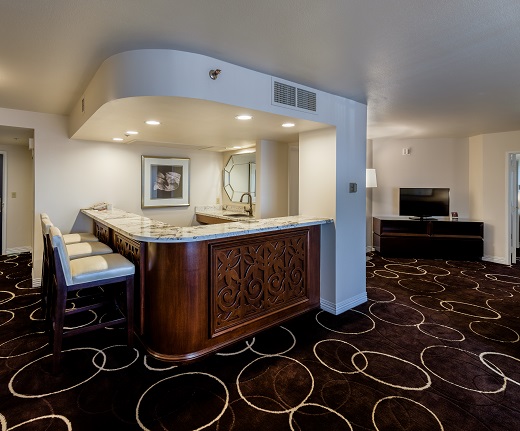 King Suite at Sunset Station Hotel
The use of prefab on the Sunset Station modernization project enhances the property's longer-term profitability at significantly lower costs of labor and materials, with a shortened construction timeline. Forté has saved time, money and peace of mind for their client, Station Casinos, by employing a simple, yet efficient construction technique
Significantly shortening project timelines and allowing for lower amounts of on-site workforce and machinery, as well as introducing innovative materials and advanced design solutions, prefab minimizes disruptions to business activity, boosts project ROI and contributes to a healthier local job market and overall sustainability of local economies. By lowering the downside risks of construction process, prefab methods have proven time- and cost-efficient, thus contributing to labor productivity, while also accelerating business activity across the broad scope of economic sectors, from construction to leisure and hospitality, to transportation and services.
Scott Acton is CEO and founder of Forté Specialty Contractors, built on three generations of creative execution of some of the globe's iconic experiential spaces. Forté Specialty Contractors in Las Vegas, is a construction firm specializing in the hospitality, restaurant, retail, nightlife and entertainment industries, Mr. Acton is known for tackling some of the most difficult and high profile construction challenges in the industry. Mr. Acton attended "Disney University" where he learned the business and leadership skills needed to build a successful career. In 2002, Mr. Acton started his own company, Trevi Manufacturing. He is a 20-year resident of Las Vegas. Mr. Acton can be contacted at 702-697-2000 or scott@fortedesignbuild.com Please visit http://fortedesignbuild.com/ for more information. Extended Bio...
HotelExecutive.com retains the copyright to the articles published in the Hotel Business Review. Articles cannot be republished without prior written consent by HotelExecutive.com.