Ritzy Riads Putting Morocco on the Map
By Simon Hudson, Endowed Chair in Tourism and Hospitality, University of South Carolina
This article was co-authored by Louise Hudson, a Freelance Travel Journalist
I have just completed an incredible round-the-world voyage teaching on Semester at Sea, a floating university campus that visits around a dozen countries, giving students a comparative study-abroad experience that is truly global. One of the countries I visited was Morocco where, seeking to understand why the country is Africa's most popular tourist destination, I interviewed two successful entrepreneurs - one French and one British - responsible for attracting tourists to this exotic destination. Both have opened up modernized riads in the beachy-chic resort of Essaouira, on the Atlantic Coast. The Moroccan riad is a traditional house or palace with an interior garden or courtyard. In centuries past, riads were the stately city homes of the wealthiest citizens such as merchants and courtiers. They were inward-focused, which allowed for family privacy and protection from the weather in Morocco. This inward focus was expressed with a centrally placed interior garden or courtyard, and the lack of large windows on the exterior walls of clay or mud brick. This design principle found support in Islamic notions of privacy and hijab for women.
The style of these riads has changed over the years, but the basic form is still used in contemporary architectural designs today. Recently there has been a surge in interest in this form of house with a wave of renovation in towns like Essaouira, where many of these often-crumbling buildings have been restored to their former glory and reinvented as hotels or restaurants. When Air France stewardess, Christine Dadda had a vision for a high quality riad in Essaouira, she did not at first appreciate the barriers she would face in terms of language, the local system of baksheesh, and a lack of general confidence in her destination choice and business savvy. "In 2000 a notary said to me "Why are you buying in Essaouira? You're going to lose your money." In the mind of Moroccans, Essaouira was just a very small village with nothing there.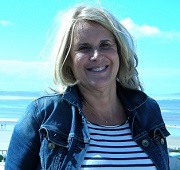 Christine Dadda, Owner of Madada Mogador
But Monaco-born, Christine was way ahead of the curve. She saw the potential for gentrification and growth in the beautifully designed medina and glorious sandy coastline. It took a visit from her family friend, the King of Monaco to speed up her acceptance by local businessmen: "Prince Albert came to stay here. He's a family friend as I'm originally from Monaco, one of the 6500 Monaco passport holders in fact. He came and gave me a good benediction and after that I had no trouble with administration. Before I was just a former Air France flight attendant who bought a house here. For two years it had been very difficult for me - until they knew I was from Monaco, that is."
She now owns the oceanfront Madada Mogador nestled behind the city ramparts and overlooking the port and beaches from its stylish rooftop lounge and dining area. Chic, high-ceilinged rooms at Madada Mogador feature oversized Moroccan ceramics and basketwork, colorful art, huge light fixtures, sumptuous bed linen all in subtle shades of mocha. Extra touches include: fresh roses in rooms; a cell phone to contact the hotel or make reservations; a morning news sheet updating news from your own particular country; top quality toiletries made from patchouli oil and orange blossom. Because of these high standards, Dadda commands a set price year round: 'My prices are based on quality-service-location-human hospitality and I have only one price the same all year because all these things are the same quality all year, too,' she explains. The weather in Essaouira helps as it is warm and sunny for most of the year.
She also runs a ritzy restaurant called La Table Madada which features haute cuisine cookery workshops (L'Atelier Madada), and an interior design concept store, Le Comptoir Oriental by Madada, which opened in April 2016. The store is intended for private showings, and is set up like a house with rooms fully furnished and decorated to give an idea of how all the items would look in situ. African and oriental antiques are juxtaposed with modern Moroccan pieces in Dadda's signature fashionable fusion.
Media has been responsible for the Madada's continued success with exposure in more than 30 glossy magazines. "Madada is on Facebook and has its own website, of course, but it has also been in over 30 magazine articles - French magazines, Japanese, Russian. They found me - I think I was in the right place at the right time. And I also advertise in the town magazine. Because of all this, I'm the one doing OK in town all year round with lots of couples, and the older demographic coming, too. I have many return clients, some of whom come back for Christmas every year and many take 15-day holidays as well."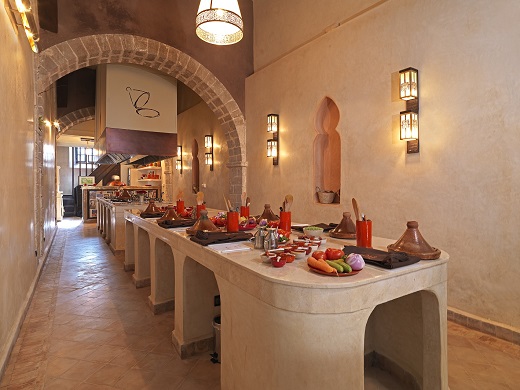 L'Atelier Madada
"The seaside retreat has attracted rich and famous celebrities over the years. Jimi Hendrix was there, Orson Welles made Othello there (and now has a hotel and public gardens named after him). Catherine DuNeuve visited, and the actors from Kingdom of Heaven were there while filming in 2016.'Also, one of the people in government, André Azoulay, the right-hand man of the King Mohammed VI of Morocco, was born here and comes back every weekend with his family and he promotes it." says Dadda.
Wander a little further into the heart of Essaouira's medina, and you will find, hidden behind an immense wooden door, the Riad Dar Maya - a tranquil haven from the retail racket of Essaouira's old town. It is run by Gareth Turpin, a Brit who fell in love with the area during a visit in 2006 when he stayed at the Madada Mogador. Bored with his suit-and-tie, Price Waterhouse lifestyle, he pooled a legacy and the proceeds of a London house sale to buy first a villa to live in and secondly the site to build his small hotel. Run as a Bed and Breakfast, it is artfully built around an open-air quad with all balconies opening onto the cool courtyard with its subtly seeping water wall and cooling tall plants. "It was just a piece of land so we built from the foundations up," says Turpin. "The one to one a half year prediction took four and a half years as we had to change builders part way." Despite this setback, the Riad Dar Maya opened in April 2013 and has been approximately 80 per cent booked ever since. 'There is some seasonal change - for example we are busier at Christmas, Easter, August and during the Gnaoua World Music Festival. But we have blue skies most of the year so it is consistent," says Turpin.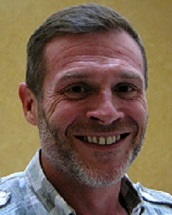 Gareth Turpin, Owner of Riad Dar Maya
His boutique B & B is always booked up in advance for Essaouira's signature music festival which runs in May or June depending on the dates of Ramadan. Covered by French TV channels, the Gnaoua Festival features a broad range of world music stars - including, in the past, Annie Lennox - over various downtown and beach stages. The rest of the year, Turpin works with different websites, including Mr and Mrs Smith which specialized originally in English boutique hotels and more recently expanded internationally. "These are very select and carefully curated," Turpin explains. He also uses Booking.com, Splendor, Tablet Hotels, Fleewinter and Tripadvisor for direct bookings. "With all these sources, our five rooms can each be occupied by different nationalities some weeks. At the moment the biggest percentage is Brits, but it was the French originally," he says. Locally, newletters such as Made in Essaouira help publicize the Riad Dar Maya which has also been featured in the Telegraph, Guardian, Times, and by Conde Nast Traveler.
One of the great advantages of setting up business in Morocco was the low cost of property and renovations: 'Prices are much lower compared to the UK, and especially compared to London,' says Turpin. "For example, you can pick up a smallish riad for 200,000 euros already renovated. Prices in Essauouira for renovations are about 6-700 euros per square meter." This meant that, with the help of a French architect, he could design a topnotch property with careful attention to details for the artsy interior décor.
Turpin provides a lavish breakfast for his guests including local breads, fruit and cooked options. He also serves drinks on the top floor lounge as well as the rooftop hot tub area. He has a long list of recommendations for highbrow restaurants and bars around the town which has gentrified its cuisine over the past few years since its more hippy beginnings in the 1960s. Another differential in Essaouira is its cosmopolitan culture which dates back to its pivotal position as a trading port, bridging Europe and Africa. This means that, unlike Marrakech, there is little hassling in the souk, no self-appointed over-insistent guides, little begging, and no monkey handlers or snake charmers demanding money for photos. The atmosphere is more laid back, multi cultural and more ecumenical when it comes to religious worship.


Louise Hudson co-authered this article. Ms. Hudson is a freelance journalist with a focus on tourism and ski travel. Her published work can be found in The Dallas Morning News, Calgary Herald, Houston Chronicle, Boston Globe, LA Times, Huntington Beach News, travelmag.co.uk, Silver Travel Advisor, Canada's More Magazine, Globe and Mail, Alberta Hospitality, ABC parent mag, and many more. She also runs a weekly blog during the winter ski season called One, Two, Ski! Based in Columbia, SC for the past seven years, she wrote the Columbia Travel Guide for USA Today Guides, published in Hilton Hotels around the world. She contributes to the South Carolina for the University of South Carolina website www.sctravelandtourism.blogspot.comand has co-written four academic tourism textbooks with Dr Simon Hudson. Always on the lookout for inspirational ideas and avenues for her writing, she can be contacted at: louise.hudson2011@gmail.com.
Simon Hudson is a tourism aficionado, exploring the world, spreading his passion for travel, and enlightening audiences on every kind of travel research from winter sports to film tourism. He has written eight books, and over 60 research articles, many of them focused on tourism marketing. He is the Endowed Chair for the SmartState Center of Economic Excellence in Tourism and Economic Development at the University of South Carolina. Dr. Hudson can be contacted at 803-777-2705 or shudson@hrsm.sc.edu Extended Bio...
HotelExecutive.com retains the copyright to the articles published in the Hotel Business Review. Articles cannot be republished without prior written consent by HotelExecutive.com.