Fast Casual Craze Creates Long Lasting Memories
By Jonathan M. Raz, Director of Food & Beverage, Waldorf Astoria Orlando
When it comes to dining at hotels, guests immediately consider their restaurant, bar and in-room dining options, but there is a new movement taking hold in the hospitality industry: fast casual dining. This trend presents hotels with an opportunity to engage with guests and staff while creating added value, providing guests with an abundance of dishes to explore without leaving the property. Internally, these menus encourage team members to experiment with new cuisine and showcase their culinary talents. Ultimately, fast casual dining allows guests to rediscover food as a social experience, where they interact with staff and other guests while sampling dishes rarely seen on sit-down menus. Hotels can take advantage of the fast casual trend in countless ways.
Create Authentic Experiences
Studies show that travelers are increasingly looking for localized programs and services - they want something they can't find back at home. This is why providing guests with innovative experiences is so important, especially when it comes to food and beverage. A good meal has the power to transport a diner back in time or evoke a favorite memory. Chefs are embracing the fast casual trend because it allows them to create simple meals with classic ingredients executed to perfection, bringing guests back to - or creating - these memorable experiences in their lives. At Waldorf Astoria Orlando and Hilton Orlando Bonnet Creek we pride ourselves in creating the ultimate guest experience, especially with culinary offerings and are embracing the fast casual trend by serving ethnic "street food" on property. Drawing inspiration from across the world, dishes include Middle Eastern chicken shawarma cooked on a spit, served with authentic naan bread prepared in a traditional Tandoori oven and assembled to order, Belgian Ham and Gruyere waffle sandwiches and Neopolitan pizza with flour imported from Italy, pad-thai noodles from Thailand, and Hungarian chimney cakes.
Today's hotel guest has a more modern global palate and experience with cuisines from various cultures, making them more apt to try ethnic dishes such as traditional street food. By offering this variety of global cuisine, we provide guests the opportunity to immerse themselves in a new culture without having to leave the hotel grounds. Leveraging food and beverage to develop authentic experiences, hotels can create a conversation surrounding food, inspiring guests to chat about where they're from, what makes them feel most at home and what makes their culture special. With respect to the quality and integrity of the ingredients, food and beverage teams can create distinctive fast casual moments that are rich in both tradition and taste. These delectable food and beverage experiences not only make their stay more memorable, but keep guests coming back year after year, inevitably driving revenue back to the property.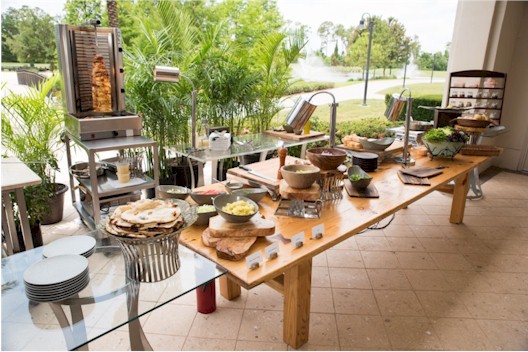 Interactive chicken shawarma station
Social Dining
The social interactions that take place between guests and staff members play an integral role in the overall dining experience. Diners aren't simply gathering to enjoy great food, they are also looking to spend time in one another's company. Hotel teams should strive to make guests feel at home through both their food and their service. Fast casual dining encourages the social experience because it's typically conducted in a relaxed environment, which allows guests to unwind, mingle and savor the food, flavors and conversation. Unlike at a sit-down establishment, where a chef is typically concealed behind a kitchen door, fast casual dining encourages the culinary team to be front and center with the guests - we have our chefs cooking, carving, and building the fast casual menu offerings right in front of our guests, bringing the kitchen directly to the customers and providing an added element of personalization to the overall dining experience. To foster social dining in an organic way, hotels can provide guests with culinary offerings in the common areas of the hotel.
At Waldorf Astoria Orlando and Hilton Orlando Bonnet Creek, our "Weird Science" ice cream social (where ice cream is made right in front of guests using liquid nitrogen) and decadent Bar du Chocolat, (a selection of chocolate creations hand-made by the world-class Waldorf Astoria Orlando pastry team) are held in the hotel lobby. Our other social hotspot, the pool complex, offers poolside tapas al fresco. To also utilize the fast casual concept for large groups, we have created an edible herb wall, where guests can interact with one another as they choose herbs off a living wall to add to their lunchtime salads.
These innovative menus and creative culinary offerings provide guests with a chance to enjoy food in new ways, with different venues, through smaller bites and more interactive experiences. With natural ingredients, bold flavors and more opportunities for guests to interact directly with team members and one another, hotels can provide exceptional fast casual dining experiences that are creative, delicious and culturally-inspired.
Customization
Customizing orders for fast casual diners is a great way to increase engagement between staff and guests - it gives food and beverage teams the opportunity to open up a dialogue with guests about their craft and the integrity of the ingredients they use in their dishes. Guests typically love having the option to customize a meal. It's incredibly important to have alternative suggestions available for guests who aren't adventurous eaters, who may have allergies or dietary restrictions and for those who simply want to create personalized culinary experiences. Fast casual menus give our staff a chance to show their expertise in using simple, seasonal ingredients in new ways to meet a guest's preference and continually elevate the guest experience.
We find that guests are typically more inclined to customize a fast casual meal because they are under the impression that it is less trouble to modify the food, when in fact, the process is just as intense for fast casual dining as it is for sit-down dining. This is something food and beverage teams should keep in mind when designing fast casual menus. Customization of fast casual meals at our dining outlets helps spark a conversation between the guest and the staff and creates customer loyalty, as the team is always looking to cater to the specific needs of every diner - whether they are ordering a Chicago hot dog or a tomahawk ribeye steak.
The Health Factor
Consumers so often hear the words "fast casual" and think of processed and unhealthy meals. In fact, fast casual should not be mistaken for fast food, as healthy ingredients are a key component of the fast casual dining experience. At Waldorf Astoria Orlando and Hilton Orlando Bonnet Creek we've created a number of fast casual menu items that are just as healthy as they are delicious, including avocado toast, open black grouper fish sandwiches and Shakshouka - a dish of eggs poached in a sauce of tomatoes, chili peppers, and onions often spiced with cumin. We consciously make an effort to use only the best ingredients in our cooking, from natural chicken, local honey and cage-free eggs to chia seeds, gluten-free grains and heirloom tomatoes.
Fast casual is about providing guests with the best ingredients for their health and keeping those ingredients close to their natural form, adding herbs and spices and using techniques like marinating or pickling to emphasize flavors. Marrying guests' increased desire for healthy fare with the fast casual dining trend gives hotel culinary teams an opportunity to elevate simple dishes into delicious and innovative meals by experimenting with flavors, textures and seasonal ingredients.
Playing with Pop-Ups
Pop-up concepts are a fantastic way for food and beverage teams to experiment with new recipes they have been testing in order to see how guests respond to them. With fewer rules and restrictions on menu options, chefs can hone in on one specific dish, region or flavor profile in their pop-up. Waldorf Astoria Orlando created a speakeasy-style pop-up bar that was incredibly well-received by guests and allowed our mixology team to develop innovative cocktails not typically seen on our standard bar menus. Pop-ups add an extra layer of mystique to the fast casual dining experience because of their limited-time-only availability and exclusivity.
A wonderful way to encourage guests to get involved in the fast casual pop-up experience is through more informal methods of communication, including word of mouth or via social media. Loyal customers who interact with the property online will be one of the first ones to know about the latest pop-up concept, while new guests can hear about the concept from the concierge or a restaurant waiter, further developing the relationship between the hotel team and guests. When it comes to selecting a location, pop-up restaurants and bars do well in areas that are generally less accessible to guests (such as the roof or grand ballroom) increasing the feeling of exclusivity for guests. Our pop-up speakeasy bar, for example, was set up as an island in the middle of our ballroom.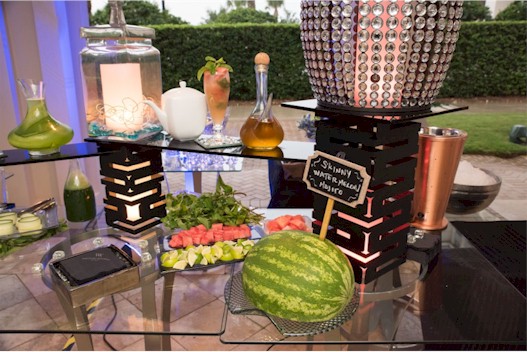 Mixology Station
Bottom Line
The fast casual dining trend is popular right now because it's providing consumers with what they want most from their dining experience: fresh, seasonal ingredients from the local area, served in traditional dishes that are produced with passion - with little to no wait time. Today's modern diner is conscious about where menu ingredients are coming from, and wants to indulge in dishes that feature high-quality ingredients. Unlike sit-down establishments, which may feature fancy sides, indulgent sauces, tableside service and intricate plating presentation, the focus of fast-causal dishes remains solely on the quality of the cuisine. By developing various fast casual dining options, food and beverage teams are able to feature distinct flavors and ethnic dishes that allow guests to explore new tastes, rich flavors and interesting ingredients without having to create a full-scale destination restaurant. In addition to serving high-quality, creative menu options rooted in simple, ingredients, fast casual dining is increasing in popularity because of the interactions it fosters amongst guests and team members - and even on social media.
Guests aren't restricted to a single table, but can mingle in the lobby and lounge areas or sit at larger, community tables when dining. These exchanges between guests from different cities, countries and ethnicities helps bring visitors together and create connections inspired by food, often resulting in new friendships and increased customer loyalty to the property. As more guests look to share their travel experiences on social media, carefully crafted fast-casual offerings are more likely to show up on Instagram and Facebook feeds than traditional sit-down meals, bringing new, curious customers to the property to experience dishes for themselves. By embracing innovative, healthy cuisine and authentic experiences, hotel food and beverage teams can take advantage of the fast casual dining trend and provide guests with an assortment of unforgettable foodie experiences directly on property, increasing customer loyalty, driving revenue to the hotel and ultimately building deeper and more meaningful relationships with staff and guests through exceptional and distinctive food and beverage experiences..
Jonathan M. Raz brings a passion for innovative cuisine to his position as director of food and beverage at Waldorf Astoria Orlando and Hilton Orlando Bonnet Creek. Mr. Raz manages the F&B operations of the hotel complex, including 12 dining outlets, in-room dining service for 1,500 guest rooms and an extensive banquet facility. Offering over eight years of experience as director of food and beverage under the Hilton umbrella, Mr. Raz works with more than 150 chefs to develop delectable dining experiences and creative group catering menus that continue to earn top honors in food and beverage excellence. Mr. Raz can be contacted at 407-597-5500 or jonathan.raz@hilton.com Please visit http://www.hilton.com for more information. Extended Bio...
HotelExecutive.com retains the copyright to the articles published in the Hotel Business Review. Articles cannot be republished without prior written consent by HotelExecutive.com.