How to Create an Effective Hotel Web Design to Boost Direct Bookings
By Katarina Puckett, Vice President of Marketing, Travel Tech Strategies
In today's highly competitive hospitality market, hotel owners need to make use of every possible resource that can give them a marketing advantage. A hotel website certainly falls into that category -correctly formatted, it can be the most effective marketing resource that hotel owners have at their disposal.
Hotel marketing strategies have evolved in recent years, moving from offline promotion methods such as print ads and television spots to focus primarily on online marketing methods. This has served to increase the importance of effective hotel website design, as a hotel's website serves as the heart and foundation of its online marketing strategies.
Hotel owners are no longer just competing against each other for bookings. They now face stiff competition from the large OTAs (online travel agencies) such as Expedia, Travelocity, Priceline, etc. These massive aggregators are wielding their marketing might to give them the advantage in the bookings war - and their efforts are paying off.
OTAs now capture a large percentage of the bookings that used to go directly to hotels. Google's landmark Travelers' Road to Decision report revealed that on average, one in three leisure travelers and one in two business travelers book their travel reservations through an OTA.
This puts hotel owners in a delicate position, as the OTAs may generate some reservations that the hotel would not have otherwise have booked. Also, by not listing their hotel on the OTA site, some owners feel they are essentially sending a whole pool of potential guests to book a stay with their competitors.
However, since these online travel agencies typically charge hotels anywhere from 12% to 18% or even more for every reservation, having OTAs intercept hotel bookings is a serious threat that can severely damage a hotel's bottom line. After weighing the options, most hotel owners make the decision to work with OTAs.
Some of the reasons travelers give for choosing to book through an OTA include lower prices/better deals, higher position in search results, and better tools/options on the site.
Each of these issues can be successfully overcome with a few changes to your hotel web design. Hotel web design can be broken down to three elements: design (how your website looks), functionality (what functions and performance elements it provides), and reservations (how it encourages and books reservations). In order to create an effective hotel website, you need to successfully deliver each of these elements.
Design
Attract attention with full screen, HD photo backgrounds

Instead of cluttering up your hotel's Home page with a distracting array of images, grab visitors' attention with a full-screen HD photo that maximizes the visual impact of your hotel.

Standard photos tend to look blurred and out of focus when viewed at the higher resolutions that today's monitors and flat screens boast, so it's worth the effort to obtain HD (high definition) photos of your hotel for your website. They capture the details of your establishment with a crisp clarity that looks great even when viewed on high resolution screens. If you wish to showcase more than one view of your hotel, you can incorporate a slideshow so prospective guests can rotate through several views of your establishment and amenities. Make sure you leave auto-scroll off, however, as many visitors find the changing images distracting rather than enticing.

Greeting website visitors with a gorgeous full screen photo background does more than just make a great impression, however; research shows that this trending website design improvement can actually increase sales. A revealing web design case study by the Daily Egg looked at the sales numbers from four websites that switched to a mega image on their Home page, only to discover that all of the companies experienced an upswing in desired responses. Even though the companies involved were in vastly different sectors, they all generated a more positive response, gaining significantly more clicks, leads, signups, and sales. You could actually generate a higher booking rate for your hotel simply by updating your website with this fabulous look.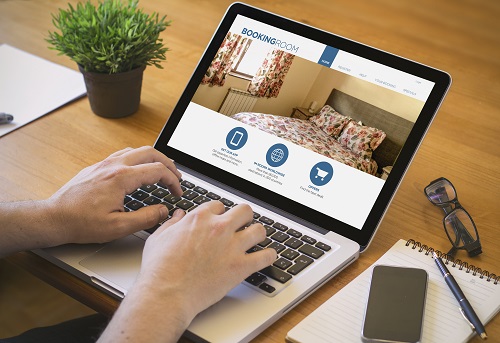 Hold guest interest with long, scrolling pages

The latest hotel web design trends feature long scrolling pages that work well on mobile devices. Instead of confronting guests with a plethora of pages that they have to navigate through and wait to load, you can offer a more inviting experience with longer, information rich pages that offer all-in-one convenience. This format allows you to provide prospective guests with a complete picture of what your hotel has to offer in a more intuitive fashion, using long pages with easy to access blocks of information.
Functionality
Choose responsive hotel web design for flawless performance

Travelers have become accustomed to using a variety of devices to perform travel-related research during their trip planning process. Google reports that 75% of leisure travelers switch between smartphones, tablets, and laptop while they plan and book their trip; 87% of business travelers do the same. Responsive hotel web design is the most reliable way to ensure your guests will enjoy the same perfect performance no matter how they access your website. Responsive web designs automatically adjust navigation features, typography, and viewports to provide the best experience on each device. Your guests will be able to easily move throughout your website without having to scroll from side to side or struggle with navigation buttons that are too small to access with thumbs. You will even save ongoing updating costs, because responsive web designs don't have to be updated every time a new smartphone or mobile device becomes popular.

Use SEO strategies to gain top search positions

Search engines are among the most popular online planning sources for travelers, particularly among leisure travelers. That's good news for hoteliers - or it would be if not for the interference of the OTAs. The OTAs have not only captured the top spots in search results for most of the most popular keywords related to the hotel industry, they also inhabit the top results on Google and the other search engines for many branded hotel names. That means that guests who are trying to reach your hotel's website so they can directly book a room may end up being diverted onto an OTA's site instead.

Hotels need to make an exceptionally strong showing in search to capture the attention of travelers. To help you regain a high search position for your website, you will need to apply the best search engine optimization (SEO) practices throughout your site. This includes researching relevant keywords and using them in the correct density throughout your site. Be sure to include the long tail keyword phrases commonly used in verbal searches through smartphones.

Add a weekly blog to remain relevant

Including a weekly or bi-weekly hotel blog on your website is the best way to keep updating your website with the fresh, relevant content that Google looks for when assigning positions in search results. An interesting blog gives prospective guests a reason to keep coming to your site and generates links from social media fans who share your blogs. And it does all this while giving you the perfect vehicle for adding in the latest trending keywords so your site is always current. Apply analytics to refine your efforts

Hotel web analytics can help you turn your website into a highly effective marketing tool. Every time prospective guests interact with your website, they leave clues that you can use to make your marketing strategies work better. You'll be able to see which strategies are the most effective, what content works, what doesn't, and where there are possible needs that you can fill. Using this timely information, you can adjust your website content to refine your marketing strategies so they target guests more accurately, which will increase bookings.
Reservations
Boost bookings with a versatile reservation engine

It's not surprising that when asked what factors they felt were most important for the success of their business, 91% of hotel owners listed increasing direct booking as a top priority for 2016, according to Trip Advisor's 2015 Travel Trends Report. That makes adding a versatile, feature rich booking engine to your website and mobile app an absolute necessity. To deliver a superior booking experience that will have guests choosing to book direct, you need to start with a versatile booking engine that has a powerful room search feature. It should be designed with easy booking features, so guests can easily move through the reservation process without delay.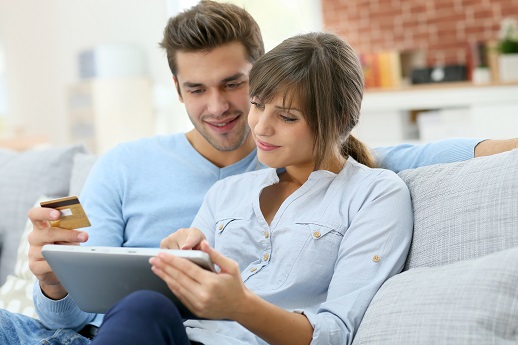 Drive direct bookings with exclusive extras

Guests should never have to hunt through your site to make a reservation. Include a prominent link to your booking engine on every page of your website, and make it sticky so it travels with visitors and remains onscreen as they scroll through your pages. As soon as visitors begin the booking process, they should be delivered to a dedicated reservation page that includes full contact information as well as a link to a Google map so guests can get directions without having to leave your website.

Build in capabilities that allow guests to request specific room extras, such as balconies, views, and more. Include a list of exclusive special preferences that are reserved solely for your guests who book directly. To avoid disappointing your guests, it is important to make clear that while you will do your best to accommodate guest requests, you cannot guarantee your ability to meet all special requests.

Incentivize with pricing strategies

While the OTAs tend to write some serious pricing restrictions into their contracts, you should still have some latitude when it comes to the pricing you offer on your own website. To encourage prospective guests to directly book their stay thorough your branded hotel website, you will need to include a low price guarantee. You can do this and still remain in compliance with the agreements you've signed if you include a notice of rate exclusions that explains that your low price guarantee does not cover promotional package or group rates, senior discounts, auction site rates, etc.

Keep guests on your site to convert

The first rule of web marketing is to keep prospective guests on your site so they can convert. Unfortunately, we've seen too many hotels ignore this advice and essentially chase leads off their site before they can book their stay and convert to guests. The villain in this case is the little promo code fields on the checkout screens. Many hotel owners adopt this design feature in the mistaken belief that since the online travel agency sites use this strategy, it will generate more reservations for them from frugal travelers.

Actually, this practice ends up costing hotels guests who were ready to book a reservation.

Instead of completing their reservation, prospective guests end up leaving your site to search for promo codes on other sites. If these travelers come across a more intriguing offer or description, they may end up booking their stay at your competitor's hotel. If you feel that you must include a promo code field, include a pop-up that auto-fills in a small discount reward for guests. You can easily make sure everyone qualifies for this "bonus". Offer a code to new guests for booking their first stay through your site, provide another as a reward for returning guests in appreciation of their loyalty, and so on. Just as long as you make sure that every guest who begins to book a stay through your website has a powerful incentive to stay and convert, instead of giving them a reason to leave.
It's no secret that hotels are facing tougher marketing challenges than ever before. In order to succeed, hotel owners need to find ways to attract more prospective guests to their hotel websites and increase the number of direct bookings, so they can begin to regain their market share.
Creating an effective hotel website with the marketing might to increase direct bookings is not easy. Your website will need to incorporate the latest hotel website design trends and marketing strategies such as responsive web design, search engine optimization, and analytics. It will need to include a versatile booking engine with features and incentives to drive bookings. By working with a hotel web design agency that has the experience and skill to incorporate all these necessary features, hotel owners can gain a powerful hotel website that has all the marketing features they need to meet their revenue and booking goals.
Katarina Puckett, Vice President of Marketing, for Travel Tech Strategies helps local and national hotels and travel industry companies develop an effective online presence. Enjoying a nice balance of analytical and creative thinking, Ms. Puckett finds working in the digital marketing world to be the perfect fit for her. As the Vice President of Marketing at Travel Tech Strategies, Ms. Puckett is able to work with clients to ensure their ongoing digital marketing objectives are accomplished. From assisting hotels (and the like) strategize their online marketing tactics to managing the implantation of these marketing strategies, Katarina Puckett is very hands on with her client relationships. Ms. Puckett can be contacted at 954-779-2801 ext 306 or Kat@traveltechstrategies.com Please visit https://traveltechstrategies.com for more information. Extended Bio...
HotelExecutive.com retains the copyright to the articles published in the Hotel Business Review. Articles cannot be republished without prior written consent by HotelExecutive.com.