Disruption in Hospitality: The Target - Customer Experience Measurement
By Janet Gerhard, Founder, Hospitality Gal, LLC
The hospitality industry is constantly under attack. New technologies, new entrants, new regulations, and changing customer demands require hoteliers to be relentlessly vigilant. It is not merely a matter of loyalty. Today's fight is about relevance. In a world of digital transformation, no industry is immune. With every discussion on digital transformation orbiting around customer experience, is there an opportunity to disrupt how the hospitality industry measures customer experience?
A week in April with 250 global leaders from a major technology firm gave me new perspective on the uncertainty of digital transformation. The organization is midstream in its own digital transformation while rapidly positioning to enable its customers to embark on a similar journey. The undercurrent of the technology firm's two-day global leaders' event on digital transformation centered on the changing needs of its customers and the value it delivers through experiences --- a focus that is undoubtedly critical for today's hospitality companies.
Mobile check-in, wearables, artificial intelligence and predictive analytics are indicative of the digital transformation underway in the hospitality industry. EY, Accenture, and many others want to advise you on how to re-engineer the experience to better serve your customers. In truth, the digital transformation agenda is all about avoiding "digital Darwinism," a term that is often cited by Brian Solis, principal analyst at Altimeter Group. The hotel industry is being disrupted, and improving the customer experience isn't simply about loyalty; it is about survival.
In its recent report, The Six Stages of Digital Transformation, Altimeter's findings are not dissimilar to numerous other recent articles and white papers on the topic:
"Technology has empowered consumers to become more mobile, social, and connected than ever. This has changed how they interact with each other and with products, services and businesses. Digital transformation is your organization's internal equivalent of external consumer evolution. It opens the door to new opportunities for innovation in how to design, integrate, and manage customer (and employee) experiences."
Every discussion on digital transformation orbits around customer experience. My passion and work over the last 20 years has been on changing behavior - driving customer loyalty and improving employee engagement. I believe an argument can be made that digital transformation is applicable to how we measure customer experience. The question is where will this disruption come from? The sources I'll explore in this article are the hotel brands, their vendors and a few existing technologies that if applied in new ways could be disruptive.
Hotel Brands as Sources of Disruption in Customer Experience Measurement
The hotel industry has always relied on customer feedback. Years ago, it was a one-to-one relationship in which you had an opportunity to interact with customers. Over time, more process and rigor was created around customer experience measurement. Mail surveys went online. Quality assurance departments were created. Social media emerged. Brand monitoring suddenly became extremely complex. And, the debate on the value of traditional customer experience measurement systems got more heated.
With soaring distribution costs, it became critical that hotel brands actively work to improve the customer experience via their websites. The websites have taken on new looks and many now include user-generated content. The differences in their approaches to gathering and displaying user-generated content are worth noting as you weigh the pros and cons from a customer experience perspective.
The branded hotel websites are an obvious option for capturing customer feedback, but this presents some challenges. Given that survey results are a key component of a hotel's performance evaluation by the brands, being able to track the survey back to an actual guest is a priority. But, in order to get that level of detail you have few options. Hilton's website is a prime example of the limitations.
While Hilton is one of few brands that promote gathering recent stay feedback on its website, the instrument is cumbersome. The webpage requires the customer to input the usual guest information plus stay data. From there, it moves into a lengthy dropdown menu of categories (I lost count at 50) to catalogue up to 3 areas/items of feedback. This approach is about making it easy for Hilton to disseminate the information ---- not about creating an intentional customer feedback mechanism to encourage gathering it. As such, I'd venture to guess Hilton doesn't receive a ton of feedback from this vehicle since there are so many easier channels available.
What about the branded apps? Similar problems persist. For example, Marriott allows for feedback, but it is restricted to the app. The mechanism to track and channel feedback for the hotels and brands to use is available but without a system to support it the quality or volume doesn't warrant the investment yet.
I couldn't find an option for customer feedback on the Hilton app but it may not be too far behind. Hilton's app includes an interesting display within the upcoming stays section. Once accessed, it features a prominent check-in tab with "my stay", "forecast", "share", and "call" buttons across the bottom. Adding a quick "feedback" button to your mobile check-in seems like a natural progression. Perhaps it is time for the hotel brands to take a page from the technology companies, i.e. Uber, wreaking havoc on the traditional players for a good example of creating an easy review feature.
Brand assets like Facebook pages and Twitter feeds provide an open opportunity for garnering customer feedback. To my knowledge, complaints or compliments posted on these social media platforms are not treated cumulatively for evaluation or measurement purposes. Instead, they are forwarded on to customer service teams for resolution. "Even though there is some earnest effort extended, the majority of resources remain focused on negative comments and resolving customer complaints. While that is always important, the 'gold' is in extending the conversation with posters who make neutral and positive comments. The brands who figure out how to develop and sustain meaningful human relationships in digital channels will have a significant advantage." Michelle Lapierre, Chief Customer Officer, CapstoneCX.
Disruption From the Hospitality Industry's Customer Experience Measurement Partners
If you look across the hospitality landscape today, there is a single provider of customer experience measurement via guest surveys which dominates. Fifteen years ago, Medallia arrived on the scene promoting itself as an enterprise feedback management (EFM) system. Back then, it was huge disruptor decimating the well-established marketing research companies that had been the hotel brands' customer experience measurement. With few exceptions, Medallia is the mechanism the majority of the hotel brands use to measure customer experience.
When social media emerged, new players flocked to the hospitality industry promising to disrupt the more traditional means of customer experience measurement. Of the initial handful of vendors scrambling for market share, most of the hotel brands have settled on one of two offerings -- Revinate or Medallia. Disruption in customer experience measurement came in the form of Wyndham electing to get rid of its post stay survey to rely solely on online reviews through a partnership with Revinate. It's surprising more haven't followed suit considering the original construct of quality assurance and creating conformity in customer experience is out-of-date.
There is little to no differentiation in how the hotel brands measure customer experience. With deeper issues of relevancy taking center stage, it's destined that any disruption in customer experience measurement won't be coming from them or their vendors any time soon. In fact, the only true difference is not in how the customer experience is measured but how the feedback is displayed.
How Customer Experience Measurement is Consumed Matters
According to its Q1 2016 log files, TripAdvisor is reaching 340 million unique monthly visitors making it the largest travel community in the world. TripAdvisor and the online travel agencies (OTAs) collectively gave customers an inside look at customer experience for the first time. There was a time when customer feedback was internal facing and sequestered to the backroom; but, TripAdvisor, DealerRater, Rate My Professor, etc. have permanently changed the way we buy.
A decade ago or more, the German automotive industry was my first known instance of a brand publically displaying customer feedback from its post-sales or post-service surveys. It allowed car shoppers to compare dealers on experience metrics like service and staff. This was pretty radical thinking back then. Not so today. Checking reviews before a purchase is now standard operating procedure for 95% of travelers according to a February 2015 study by Donna Quadri-Felitti, Academic Chair and Clinical Associate Professor at NYU, School of Professional Studies Tisch Center for Hospitality and Tourism in conjunction with TrustYou.
A confluence of factors from customer experience to search engine optimization and spiraling distribution costs has made it necessary for hotels to add user-generated content to their branded websites. How they have chosen to do so differs slightly. For example, Marriott has incorporated the same approach as the German automaker with its hotel listings including information from "Verified Guest Reviews." What I find most notable in Marriott's approach is that it does not appear to manipulate how reviews are highlighted. Marriott has made the decision to list its customer feedback by completion date with the most recent featured. It showcases measures for cleanliness, location, dining, amenities, service and value for price from its guest experience survey. The scale used is 1 to 5 which can be easily filtered. The next evolution here would be searchable "best for family" or other decision criteria.
Comparatively, Hilton's approach to displaying customer feedback is to rely on the user-generated feedback available from TripAdvisor. Hilton's website pulls in the overall TripAdvisor score by hotel and then highlights the written comments of a single review. Not terribly surprising in this approach - every prominently displayed review I could find in my cursory view of hotels in Philadelphia showcased all "5" ratings. In some instances, the featured review was several weeks old and nearly a dozen more recent posts existed on TripAdvisor but they were not as complimentary. Two different sources of customer feedback presented in two different ways. Does it matter? And how would you measure it? Bookings? Reputation? The research on improvements in sales and revenue when managers respond to reviews is well documented. Results from the Cornell Center for Hospitality Research report, Hotel Performance Impact of Socially Engaging With Customers, by Chris Andersen and Saram Han, concurs - up to a point. According to their findings, too many responses is worse than offering no response at all in terms of TripAdvisor ratings and revenue. Clearly these and many other elements went in to the respective brand's decisions, but I haven't seen any research on the impacts of their differing approaches.
Applying New Technologies or Established Ones in Innovative Ways to Create Disruption
Disruption in customer experience measurement is going to come from outside the hotel industry. My prediction is it won't be new technologies per se, but rather existing ones that are applied in new ways that will be the first to create disruption.
Online surveys are getting more and more interactive. After a recent business trip, I received two surveys, one from American Airlines and one from Hilton. I completed the American one first. It was optimized for my mobile device and moved (Prezi-like) from section to section with no need to scroll down. The fluidity of the survey was what struck me. In the Hilton survey, numerous questions persist. The scaling left to right appears dated and requires the user to scroll down for completion. In truth, I abandoned the survey because it was simply not as engaging. Optimizing an existing survey isn't disruption though. Where change is happening is in the mediums being used.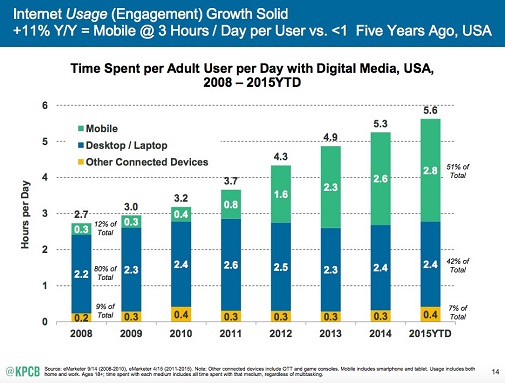 With the overwhelming majority of the traveling public being device driven, I find it interesting most hotels are still shying away from text indicating it is "inconsistent" with the brand experience. With customer preferences changing so rapidly, email is quickly becoming obsolete. According to recent numbers from Statista, the number of mobile phone users is forecast to reach 4.77 billion by 2017. One of the key findings from the latest KPCB mobile technology trends by Mary Meeker is that the average US adult spends 5.6 hours on digital media every day with more than half of it (2.8 hours) is on a mobile device.
The hospitality industry has long recognized the need to be mobile-enabled but customer experience measurement needs to evolve from brand-centric to effortless for the customer. Add to that the growing research on the power of emotions in making decisions and driving customer loyalty. How that plays out in customer experience measurement so far has been surveys that ask scale questions like: rate on a scale of 1 to 5 "This is a hotel brand for me." What's on the horizon? One firm that is actively promoting its disruption to customer experience measurement is Speetra, capturing customer emotion through voice. Pawan Jaggi, founder of Speetra, describes the company's PulseM offering as giving clients a more trusted understanding of the voice-based emotions expressed by their customers. He sees the offering a re-defining customer experience measurement because it allows you to truly hear the voice of customer. It is initiated with a text-based survey and allows customers to text or simply record their feedback.
In the case study he shared with me recently, his client is a local Dallas business where its technicians are called into a customer's home. The client uses PulseM not simply for the feedback mechanism post-visit but also as a way to immediately engage the customer. In advance of the technician's arrival, the customer receives a text from PulseM which includes the technician's picture and bio, license number and reviews from prior assignments. The Dallas business owner reports positive impact in customer experience as well as reduced costs on customer service/care calls. Knowing who is arriving to perform the job and holding his team more accountable for their work onsite has been a win-win.
Applications in the hotel industry seem numerous. If my dentist is confirming appointments via text now, I don't see that we're too far from a day when the hotel's welcome message arrives via text instead of email. Like the example provided, could you inset a picture of the front desk agent that assisted with your check-in into an on-stay inquiry about the experience?
What interests me most in the Speetra offering is the option to have the voice-enabled feedback. Instead of requiring the customer to type feedback (which is shorter on mobile versus PC), the hotel brands could truly capture the voice of their customers. It's been largely proven that where the ratings matter to TripAdvisor rankings, the richer insight comes from the comments. Voice-enabled technology would allow for an easier mechanism to collect customer feedback - speaking into your device and having the recording available for mining not just the words vocalized but hearing the associated emotions with it. With technology at a place where emotions can be measured without transcribing the spoken word, this may prove to be truly disruptive.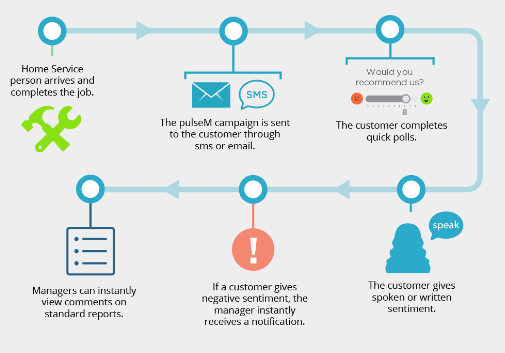 Speetra - Home Services Case Study
Another firm targeting the hospitality industry today is Infinite Convergence Solutions. It promotes its ability to allow hotels to "send guests mobile messages in a secure, reliable and cost effective way." Many resorts are already leveraging text for room readiness notification, butler services, etc. When text becomes mainstream for the hospitality industry, customer experience measurement may start to look like an AT&T service follow-up. Instead of, "Janet, thanks for calling AT&T. We'll text you shortly for some feedback about your wireless call experience. Survey texts are free." it will be, "Janet, thank you for staying at HOTEL. Please provide your feedback on the experience."
Hotel Customer Experience Measurement Tools Must Adapt or Face Obsolescence
Digital Darwinism is a time when technology and society are evolving faster than the ability of many organizations to adapt. In paraphrasing Charles Darwin's, On the Origin of the Species, Leon C. Megginson, former professor at LSU and author of numerous management books, said, "It is not the strongest of the species that survives, nor the most intelligent that survives. It is the one that is most adaptable to change."
The business of customer experience measurement was borne out of the brand's desire for consistency in the guest experience. Though we have moved from paper to online, the basic customer experience measurement tools, i.e. surveys have never been quick to embrace change. Increasingly, customers want to know their feedback matters and the experience with your measurement tool must evolve with changing customer expectations. Digital disruption in the hospitality industry has customer experience at its core, but the areas of focus are frequently automation across back-of-house systems to on-property experiences. How customer experience is measured is often overlooked. How you measure your customer experience should be intentionally designed. It is another customer experience reflecting your hotel brand. Instead of the sea of sameness, disrupt it.
Janet Gerhard has extensive experience transforming the way organizations understand and manage the customer experience. By analyzing and strategically changing how organizations interact with their customers, she helps clients redefine their growth strategy and customer experience ecosystem thereby driving top-line growth and bottom line results. Ms. Gerhard consults globally with automotive, business services, healthcare, hospitality logistics, manufacturing, pharmaceutical, retail, technology and telecommunication companies. In 2013, she was honored as one of HSMAI's Top 25 Most Extraordinary Minds in Sales & Marketing. Ms. Gerhard has a Bachelor of Science degree in Hotel Administration from Cornell University. Ms. Gerhard can be contacted at 215-518-2425 or janet@hospitality-gal.com Extended Bio...
HotelExecutive.com retains the copyright to the articles published in the Hotel Business Review. Articles cannot be republished without prior written consent by HotelExecutive.com.