How to Maximize Bandwidth to Support Your Meetings Business
By John D. Robinson, Director of Sales, North America, Aptilo Networks
Hotels and chains are looking to meet the rising demand for more bandwidth as they ramp up their hotel group meetings business. Throughout the industry, hotels are upgrading (or have recently upgraded) their Wi-Fi to serve in-room guests. Now that these properties are growing their group meetings business, they're finding that their existing bandwidth is no longer sufficient.
Problems can arise when your Wi-Fi service becomes stretched too thin. This can diminish your competitive advantage and even lose business. On a broader level, it can also damage your branding because, let's face it, few things are more frustrating that attending a conference with spotty, unreliable Wi-Fi.
This article will address how Wi-Fi can help you grow your group meetings business, and best practices in deploying. How can hotels maximize bandwidth while minimizing costs, perhaps even while preserving current infrastructure investments?
Why Wi-Fi?
Wi-Fi has been a boon to the lodgings part of the hotel business. This growth can be attributed to the increasing number of smartphones and other devices that are Wi-Fi-enabled. Most if not every guest has a Wi-Fi device, and the majority of these users have more than one device. Think of it: a typical business guest has a smartphone with Wi-Fi, a laptop with Wi-Fi, perhaps a tablet computer such as an iPad (with Wi-Fi), and now with the growth of the Internet of Things (IoT) trend there are smartwatches with Wi-Fi and other devices not traditionally associated with wireless connectivity. The result has been an increased reliance on these devices as guests manage their stay.
This is a great thing. Guests can check in on their own using, for example, their smartphone, making what were once stopping points in the guest experience a breeze. Wi-Fi has decreased user friction, a term that describes the amount of friction, or work, that a user needs to deal with in order to complete a task. Hotels have been using technology to decrease user friction for a long time - I remember the first time I checked out using the hotel channel on the television, and I thought, wow, this is a great idea. It saved me time. It also saved the hotel time and money. In that way, hotels have been a test bed for technology as a means of streamlining user process for years.
When was the last time you stayed at a hotel that didn't offer some type of Wi-Fi? Better yet: would you choose to stay at a hotel that didn't have Wi-Fi? Similar to the way Wi-Fi for in-room guests generates significant revenue for hotels, Wi-Fi has become a must-have for group meetings. Whether we're talking about offering Wi-Fi to business customers in the catering halls, or extending Wi-Fi to the convention center adjacent to a property, Wi-Fi is a necessity that customers have come to expect. This draws customers to your property.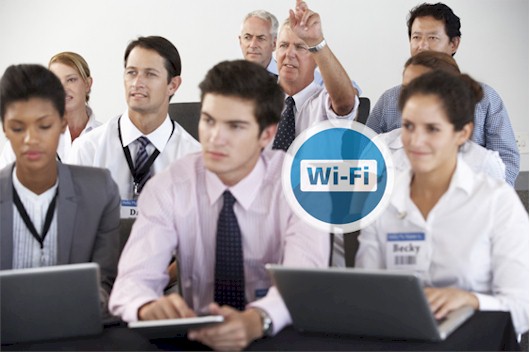 It also engenders loyalty. We've found with our Wi-Fi deployments with carriers, where competition for subscribers is fierce, customer retention has become a key factor in overall revenue. Wi-Fi, for them, drives this customer retention. Hotels are seeing the same trend. Guests will flock to properties with Wi-Fi. Many will choose their destination based on the availability of good Wi-Fi.
However, in the meetings business, "good Wi-Fi" isn't good enough. Meetings require an enormous amount of Internet bandwidth, from presenters pulling in web-based content to internet-based videoconferences. Your bandwidth needs to have enough capacity to handle all of this traffic PLUS Wi-Fi traffic.
Having enough bandwidth to meet the needs of conferences and conference-goers is crucial. Attendees are typically power users of Wi-Fi. Peek into a business conference and you'll find a sea of open laptops, with users typing notes, responding to emails etc. Business users depend on the availability of Wi-Fi. Not having it is simply a non-starter. Carrier-class Wi-Fi, with the fast Wi-Fi speeds customers many times are spoiled with in their homes, is a must-have amenity for the groups meetings business.
Wi-Fi From the Ground Up
Ideally, hotels have group meetings business in mind when they initially deploy their Wi-Fi solution. The keys to a successful implementation are ensuring the quality of the Wi-Fi service, and building in for scalability.
Carrier-class Wi-Fi adds a whole new level of quality to your Wi-Fi service. It's the difference between spotty Wi-Fi you'd find at your local coffee shop and the kind of high speed, reliable Wi-Fi that most users have in their home. Guests have come to expect this kind of high speed, high reliability, always-available Wi-Fi at their hotels. Meetings customers expect this as well.
Quality Wi-Fi isn't just a "nice-to-have," either. Now more than ever guests are relying on Wi-Fi Calling, an application that allows users to make phone calls using the Wi-Fi network instead of over cellular, which not only improves coverage but also delivers calls with better voice quality. Not too long ago users had begrudgingly accepted the fact that, when indoors, they were pretty much unreachable by cell phone as cell phone signals didn't particularly reach into the bowels of, say, a convention hall. Now, with Wi-Fi Calling, indoor coverage is no longer a problem as phone calls are pushed to Wi-Fi, seamlessly using the native dialer in the handset.
If you're indoor Wi-Fi isn't carrier-class, those phone calls won't reliably go through. And if they do, the quality of the calls will be exceptionally poor. For power users in meetings, most of whom depend on being accessible and connected 24/7, this is unacceptable. Make sure your meetings Wi-Fi is carrier-class.
Know what you're getting into when you select Wi-Fi infrastructure solutions providers. A solutions provider will assess your current needs and architect a network infrastructure for you, complete with all of the hardware and software you'll need to deploy. Many will work with you to understand your needs today and look ahead to the future to prepare for your business growth and likely expansion into the groups meetings business. Planning for this scalability is key. Don't lock yourself out of the potential for growth.
Also, ask about the possibility of being locked-in to vendors. Solutions providers will select the hardware and software for your network. It is important to use vendor-agnostic solutions when at all possible. Select a service management platform - the part of the Wi-Fi solution that manages access, bandwidth prioritization (QoS), billing and all user services - that can work with any gateway or with any brand of access points. By doing so, you can select the best-of-breed equipment for every situation and increase the competition among the different Wi-Fi equipment manufacturers.
Leveraging Existing Wi-Fi Infrastructure
If your property offers Wi-Fi to room guests, it seems natural enough to extend that Wi-Fi service to group meetings customers. But what if your internet capacity is limited or if you've already deployed a hardware-software solution that doesn't have enough capacity to handle meetings, events and conventions?
One solution is to manage that bandwidth effectively. When a hotel property is hosting a trade show, meetings or other events where bandwidth needs to be allocated, it is a simple matter to provide maximum bandwidth availability where it is needed - for example, to the conference center in the day, and then to shift it back to guest rooms in the evening. The best solutions will allow on-site teams to "move" this bandwidth around very easily utilizing a common pool of internet access. Measurement tools can help managers track usage to help them plan to have availability where it is needed most, and when.
Many hotel properties outsource the management of the group meetings Wi-Fi to a hosted solution. This takes the burden of purchasing the right equipment and keeping it up to date off of the property and off of your IT team.
Hosted solutions are also ideal for hotel chains. Say a chain is looking to "test" Wi-Fi in one property for revenue-generating potential. Or perhaps a major chain knows that their hotel in the middle of Manhattan will attract significant group meetings business, but their property in a smaller locale won't need that kind of Wi-Fi capability. With a hosted or cloud-based service, it is easy to deploy at one or a few locations, then roll it out to additional properties as needed.
Meeting Wi-Fi Best Practices
In addition to scalability and quality of service, a key best practice for successful Wi-Fi to grow your meetings business is to ensure seamless login to the network. Recently a major US carrier customer stated that a simplified login to their Wi-Fi network resulted in a significantly increased use of their network. Requiring users to login multiple times can, in fact, be a deterrent.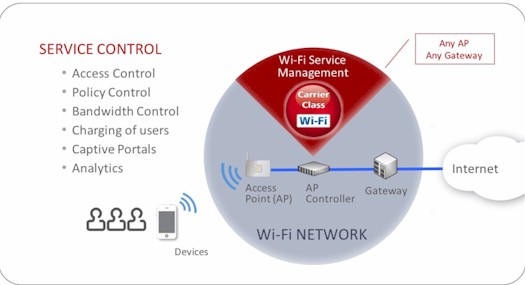 The Wi-Fi service management platform can "remember" users after their initial login. One login can equal access for the day, or throughout the span of a conference.
This single sign-on capability can also be tied into guest rooms. It can be offered as an amenity to attendees who also stay overnight at the property. Additionally, it can be remembered across your hotel chain: login once at a hotel in Bermuda, be remembered two months later when you arrive at the same chain in Boston. That kind of recognition and ease-of-use builds brand loyalty.
John D. Robinson is Director of Sales, North America at Aptilo Networks. He is responsible for sales of Aptilo technology and services to mobile carriers, cable operators, operator service partners and enterprise customers. He works closely with the healthcare and hospitality industry to provide Wi-Fi solutions for large properties. Mr. Robinson takes a holistic approach to bringing value to customers, emphasizing collaboration with the end customers and their service partners to deliver scalable solutions for their Wi-Fi networks. He has helped to evolve the Aptilo selling process to address customers' needs with relevant solutions. His team has led the development of a cloud-based offering to better address the needs of enterprise customers. Mr. Robinson can be contacted at 917-414-9262 or john.robinson@aptilo.com Please visit http://www.aptilo.com for more information. Extended Bio...
HotelExecutive.com retains the copyright to the articles published in the Hotel Business Review. Articles cannot be republished without prior written consent by HotelExecutive.com.