The Danger of Trying Too Hard to be Hip With Millennials
Every generation and demographic has seen its share of gimmicky marketing and cringe-worthy advertising. Millennials are no different. With all the attention millennials have received as the current 'it' demographic, hotel brands are being challenged to come up with brilliant campaigns that they can relate to.
In this push for creativity, some brands go overboard by jumping on the latest slang, trend, social media platform, or celebrity du jour, with the brand coming off as desperate as a result. While we can all admire a brand that will bend over backwards to sell to the world's largest consumer group, they can end up doing the one thing that Gen Y hates the most: Trying too hard.
Hotels and companies across the globe are clamoring for the hearts and wallets of millennial travelers.
And, who can blame us?
Millennials apparently make up the world's largest demographic, with about $200 billion in annual buying power in North America. As they come of age, millennials enter life cycles that require major spending, like education, children and real estate.
And they especially give hotel marketers a reason to celebrate with their affinity for remarkable travel experiences and their love for bragging about them on social media.
Plus, they carry influence over their parents' purchasing behaviors, whose buying power is also on the rise.
Because of millennials' influence over brands' success nowadays, companies are bombarding them with marketing messages, doing what they can to stand out and win favor with Gen Y spenders. In fact, marketers have spent 500 percent more on campaigns targeting millennials than any other generation. Yes, 500 percent!
Millennials are probably the most ad-targeted generation in marketing history. A Google search for "Marketing to Millennials" yields over 17 million search results, more than twice the results for "Marketing to Baby Boomers" (8 mil. search results) and nearly 9 times more than the same search for "marketing to moms"(2 mil. results).
Yet, as a recent article in The Huffington Post eloquently details: "despite this abundance of information and research data, or more likely because of it, most marketers still struggle to successfully market to Millennials. In fact, while all this research may be informative and interesting (everyone knows something about Millennials) most of it is also full of stereotypes and generalizations and therefore not helpful or actionable when trying to develop effective Millennial-focused positioning platforms and communication programs."
Always a Step Ahead
Millennial marketing now means storytelling, showcasing the travel experience, running campaigns for a good cause, moving quicker and implementing technology in new and interactive ways to delight and empower millennial spenders. But, this demographic is always a step and a trend ahead.
So, it's little wonder that brands feel the pressure when it comes to communicating and engaging with them.
In their ploy to get closer to these consumers, companies have dipped into creative marketing techniques they think resonate the most with millennials, using Gen Y language, like hashtags, emojis, and abbreviated texts. The results have been mixed at best. While some marketing campaigns have been applauded and labeled as brilliant, other attempts at wooing the hashtag generation can just as easily be rewarded with scorn, eye rolling, or even instant Twitter backlash. Millennials have likened some of these efforts to their parents trying to 'get hip with them.' And, it can feel inauthentic and superficial.
To find out which campaigns millennials thought were going overboard in their efforts to seduce them, we turned to the reddit thread, FellowKids, where users share millennial ads they found the most amusing and in some cases "ridiculous."
In their description, FellowKids is made up of "Ads/media where 'the man' tries to appeal to young people using their vernacular, either in a lame, pandering way or a knowing, tongue-in-cheek way."
As a marketer myself, I understand the thinking behind some of these examples. And, I admire the risk these companies took in engaging and attracting such a coveted audience. So let these marketing campaigns - again, crowd sourced from millennials themselves - be an example to all us and hopefully help us to avoid the danger of trying to look too hip.
Here are some examples of marketing campaigns that made millennials cringe among MIllenials on FellowKids:
Chevrolet's Emoji Press Release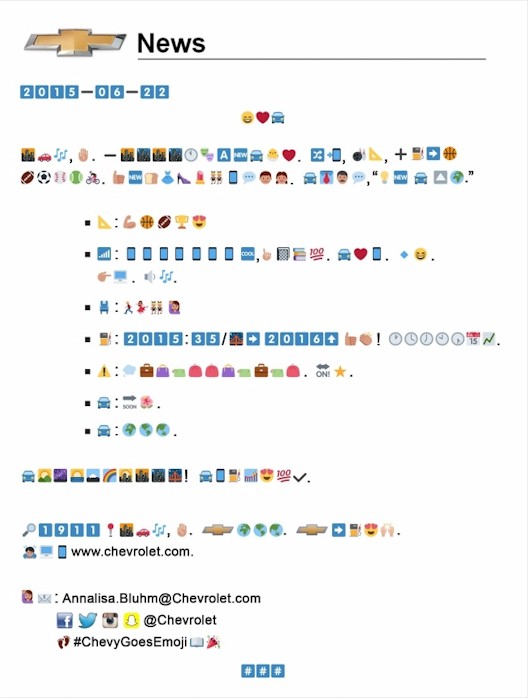 To tease the launch of the all-new 2016 Cruze, Chevrolet dispersed a press release written entirely in emojis. Although the press release was accompanied by a YouTube video of comedian Norm Macdonald going to Emoji Academy to decode the press release, it still left people - millennials included - scratching their heads.
TXT Cellar Wines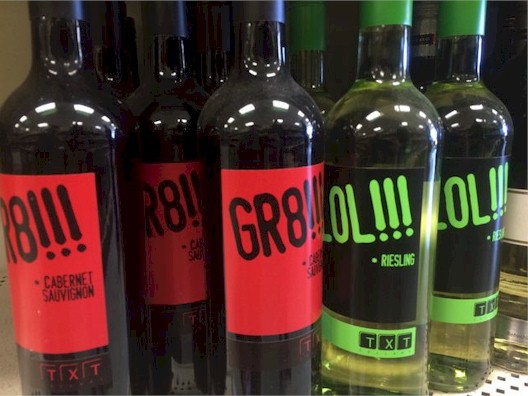 Another reddit user cringed over TXT Cellar wine bottles. The company sells a wine line with Gen Y-inspired names, like LMAO!!!Pinot Grigio, OMG!!!Chardonnay, and LOL!!!Reisling featuring fruit flavors for beginner palates.
MTV Comment Box

While it is already commonplace to comment on social media posts or online content with a 'like' or a thumbs up or a thumbs down, MTV decided to 'go millennial' with their reaction options to their online content. The result is a list of back-to-back assumed Gen Y slang, from 'adorbs' (short for adorable) or 'feel that' (I agree).
How to Avoid Going Overboard With Millennial Marketing
As soon as a millennials feels like they're being manipulated or coerced to buy something, they tend to be turned off. The generation is immune to advertising and marketing that traditionally have worked in the past and when you are obviously trying too hard to win their favor, it can have a negative impact for your hotel's long-term success.
Now that we've seen what type of marketing attempts millennials snicker at, here's what to stay away from and how to avoid looking foolish in front of the very same audience that we are trying to connect with.
Emoji Overload
Don't blindly hop on this trend by erasing all of your marketing copy and replacing each word with an emoji. One of the reasons why emojis work so well is that they attract a global audience. Everyone can relate to a teary face, or a heart, no matter what country you hail from. But, emojis can also confuse and aggravate people who don't have the time nor patience to decipher each character. Go ahead and organically throw in a few travel emojis into your hotel's marketing pieces, such as an emoji of a snowcapped mountain or a beach in your email subject line. But, only when it makes sense for your brand, your audience, and your product - not just because millennials use them.
Hashtags Everywhere
At its core, hashtags are a visionary concept. They've done wonders for driving viral campaigns, for allowing millions of social media users to collectively curate content on a single subject, and for helping brands summarize a marketing campaign into one short, succinct and on-the-point message. However, it also has invited a slew of abuse and annoying posts when unaware social media users and yes - even companies - flood their messages with #hashtag after #hashtag. You've probably rolled your eyes at some hotels' social media posts that resemble this: #SummerIsHere #Beachlife #SoCalBeach #TimeforVacay #SunandSand #SeizeTheSun #LookatMyTan #Sunkissed4Life
All of this, all in one post. Just like emojis, use hashtags sparingly and only when it makes sense. By all means, don't pack in too many hashtags in one sentence. It only makes your hotel brand look silly and trying too hard to be cool, which will only make millennials' eyes roll even more.
Silly Slang
By the time most hoteliers jump on the latest trend or cultural reference in an effort to appear "with it," millennials have already moved on to the next thing. And, the hotel is left behind looking foolish for trying. Another reddit user posted an ad by GameStop, a retailer of video games and consumer electronics, that replaced commonsense language and grammar for what they assumed was millennial-speak: 'GameStop Be Like Which Bundle Do You Want For $7.50?' in an advertisement for their curated video game packages. In response the reddit user posted, 'Gamestop, please stop.'
Beware of taking it too far to make your hotel look contemporary and fun. It can come off as overly cutesy and poking fun at millennials' intelligence.
Tone Deafness
It can be painfully clear to millennials when a brand makes an assumption about them, without truly getting to know their lives, concerns, and passions.
They also have no tolerance for companies that approach with the wrong message and tone. For example, recall FAFSA's 2014 Twitter snafu. The largest provider of student aid posted a photo meme taken from the comedy movie, Bridesmaids, showing a drunken Kristen Wiig imploring airplane staff, "Help me. I'm poor." FAFSA accompanied the meme with the message: "If this is you, then you better fill out your FAFSA." As soon as FAFSA hit the post button, it was hit with a flurry of negative and disappointed tweets accusing them of not being sensitive to the very young college-bound audience they were supposed to serve, while also poking fun at low-income students needing financial assistance. FAFSA immediately deleted the Tweet and issued a public apology.
Generalizing the Demographic
Upon closer inspection, these marketing blunders are rooted in sweeping generalizations about millennials and their traits and behaviors. Such as, they all live on Twitter. Or, that they all LOL when something is funny or use OMG multiple times in a conversation.
The truth is that Gen Y is a diverse group of digitally savvy consumers who simply can't be marketed to if they're treated as a stereotype. Just like any other demographic, they have various degrees of income, religion, education, ethnicity, etc that all play major roles in influencing and shaping their behavior and purchase decisions.
Instead of leaning on narrow-minded stereotypes, create authentic and reliable personas of the millennials who already book rooms at your hotel, not the millennials you wish to have as guests. Invest time in research and draw on true data to keep your guest personas up-to-date and fresh. Ö or better yet, get out into the lobby and TALK TO YOUR YOUNG GUESTS!
You'll have much more success attracting and keeping millennial guests this way, than you would if you continue making canned assumptions.
Conclusion
Marketing to millennials doesn't have to be a complicated or frustrating experience.
We've whipped ourselves into a frenzy, believing that millennials are here to forever change the face of marketing as we know it. While it is true that the traditional marketing methods we've leaned on in the past decades don't hold much sway over Gen Y, there's no need to completely ditch our brand image and marketing principles for undecipherable emoji messages, goofy memes, or references to LOL, YOLO and FOMO.
There is plenty more coming from brands as they continue to try new avenues and methods to woo millennial travelers and consumers.
Anheuser-Busch has been purchasing craft breweries in the past couple of years. Kellogg is turning some of their cereals to snack foods for on-the-go millennials. Pepsi is introducing a can decorated with emojis later this summer. And, Absolut Vodka is now turning more of its focus to social responsibility.
Time will tell if these ideas result in improved customer sentiment, a more loyal millennial following and ultimately, more profits.
In the meantime, go with what you know is the most authentic way to reach your audience: Strike up conversations, ask plenty of questions, listen closely, then respond quickly; and have the bravado to consistently use your own voice - no matter what fad or new demographic enters the marketplace. This is the best cure for contrived and gimmicky marketing.
Dave Spector is a Partner at Tambourine, a marketing technology company specializing in helping hotels and tourism organizations increase revenue. Prior to Tambourine, Mr. Spector was a member of the start-up team at two ventures that grew rapidly and eventually went public. He specializes in fixing broken marketing tactics and believes marketing teams, like their sales counterparts, should be held accountable for revenue production. Mr. Spector joined Tambourine is 2011 as a Partner and has been instrumental in the firmís rapid growth. Mr. Spector is a frequent public speaker at HSMAI, industry and university events. Mr. Spector can be contacted at 561-278-4898 or dave@tambourine.com Please visit http://www.tambourine.com for more information. Extended Bio...
HotelExecutive.com retains the copyright to the articles published in the Hotel Business Review. Articles cannot be republished without prior written consent by HotelExecutive.com.