Are Guests Looking for Sustainable Hotels?
By Gaynor Reid, Vice President , AccorHotels Asia Pacific
Do you change your bath towels and bed linen every day at home? Most people don't. Today, it has also become normal for guests to reuse them for two to three days when staying at a hotel. More than half of guests are in favour of reusing their towels, especially if some of the money saved in doing so is reinvested in planting trees for the benefit of the local community. This is according to a survey carried out by AccorHotels aimed at measuring changes in guest habits, current awareness of sustainability issues and their expectations of hotels in terms of sustainable development.
Reusing towels and bed linens is not a new concept for hotels. However, AccorHotels takes it one step further than most by reinvesting 50% of its laundry savings in reforestation projects as part of its PLANET 21 sustainability program. Since the program was launched, AccorHotels has saved 13 million euros in laundry savings, half of which has been invested in planting trees and assisting local communities across the world to farm sustainably and alleviate poverty. Over that period the Group has also cut water consumption by 9% across its global network, reduced energy consumption by 5.3% and cut carbon emissions by 6.2%.
AccorHotels partners with Pur Projet, a French collective based on a network of 50 organisations working together to support small-scale farmers. Pur Projet advocates insetting (instead of offsetting), which according to Plan Vivo Foundation, a registered Scottish charity, is essentially a platform for companies to support local communities and supply chains while mitigating Greenhouse Gas (GHG) emissions.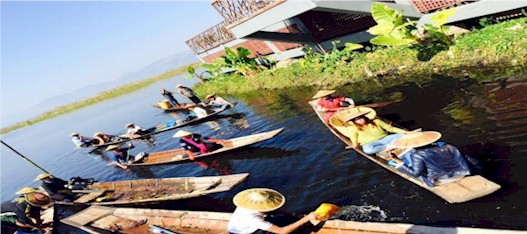 A monthly Inle lake, Myanmar cleaning campaign led by Novotel Inle Lake Myat Min that involves its team members and the local community and educates them to keep the environment clean
The hotel industry is very water-intensive with food and beverage being a crucial part of the business. It is a perfect match for hotels to support local projects committed to sustainable water and agriculture and integrate it into their business strategy as part of their sustainability program.
For example, AccorHotels helped set up an olive oil business in Morocco for women who have trouble finding work in that area. AccorHotels provides funding for the women to take care of the trees and transform the olives into olive oil. Some of the olive oil produced is then sold back to AccorHotels' hotels, completing a cycle that begins again with more money invested into the olive oil farms.
Another example is the Group's partnership with Greening Australia. AccorHotels has committed funds for 2016 and beyond to a Great Barrier Reef project to protect one of the country's most important natural assets. The Great Barrier Reef project strives to restore critical wetland habitats and repair eroded gullies and river banks to reduce sediment and agricultural pollutants entering the reef. With recent research showing that global warming has impacted 93% of the Great Barrier Reef with a bleaching effect, this work is crucial in protecting this spectacular tourism asset for future generations.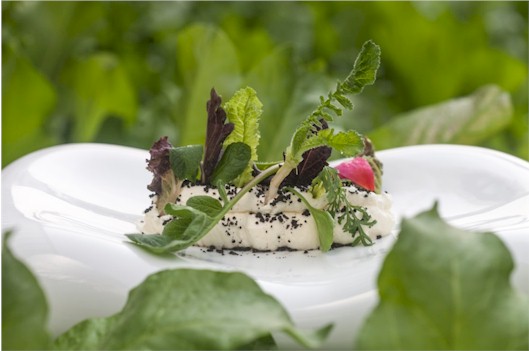 Pluck, an avant garde restaurant at Pullman and Novotel New Delhi Aerocity, India serves farm-to-table food. Its in-house farm produces organically grown vegetables for Pluck and everything on the menu is decided by seasonal availability of local products.
AccorHotels recently announced its sustainability results for 2011 - 2015. Its Asia Pacific results showed that 97% of its hotels use eco-labelled products, 99% ban endangered seafood, and 96% of its hotels purchase and promote locally-sourced products. The Group has planted over 4.5 million trees in 25 countries globally since 2009. There is strong support from its hotels for programs that directly benefit the communities in which they operate. By involving and educating staff, partners and guests, AccorHotels helps to showcase how everyone can contribute on a daily basis to sustainability.
Is This Really What Guests Want?
As part of a policy of progress and transparency, AccorHotels asked its customers for their views on sustainability issues, updated its environmental footprint and assessed its socio-economic footprint to construct its next five-year plan under PLANET 21. The program for 2020 reinforces some of the Group's fundamental commitments, such as curbing its environmental footprint, and identifies new objectives including reducing food waste by 30% to 2020, planting 1000 urban vegetable gardens at its hotels and committing to 100% of its new buildings and renovations of its owned and leased hotels to have a low carbon footprint.
More Than 7,000 Hotel Guests in Seven Countries Surveyed
Guests play a crucial role in the success of any sustainability program and this survey was carried out to understand their ideals and expectations and deliver attainable guidelines and goals.
The survey was completed by more than 7,000 AccorHotels' guests in seven countries including Australia, Indonesia, Brazil, Germany, the United States, France, and the United Kingdom.
Guests from different cultures, varied levels of economic development, and with unequal engagements with environmental realities indicated that differences were linked to the country of origin. No significant differences were observed based on the class of hotels visited. A summary of the results from each of the seven countries showed that:
Respondents in Australia are the least likely to purchase organic food with only 11% of respondents saying they would purchase it when it is not more expensive than conventional food compared to an average of 19%. However, they are more likely than the average to purchase local products, with 19% saying they would compared to an average of 14%.

In Indonesia people are more likely to take sustainable development into account when they choose a hotel, but are least likely to reuse their towel over several days. 37% said that they always take sustainable development into account when choosing a hotel, compared to an average of 13%. On the other hand, 41% believe that it is not a problem for them to use the same towels and sheets for two or three days, compared to an average of 57%.

In Brazil people are concerned about food wastage and purchasing energy efficient appliances with 62% of respondents saying they always avoid wasting food at home compared to an average of 48%. However, 18% more likely never donate to humanitarian and environmental charities, compared to an average of 13%.

Respondents in Germany are the most optimistic and diligent when it comes to sustainable development, with 74% of the respondents saying they sort their waste compared to an average of 60%.

In the United States people are the least concerned about limiting food waste with only 35% of respondents saying that they always avoid food wastage at home compared to an average of 48%. However, they are the most generous with 36% donating to environmental or humanitarian charities compared to an average of 29%.

In France people are the most likely to never switch off their electrical appliances rather than leaving them on standby, with 7% saying they never switch off their electrical appliances compared to an average of 5%.

In the United Kingdom respondents were not very concerned with purchasing local products, but were concerned about sorting waste. 73% said that they would sort their waste compared to an average of 60%, while 6% always purchase products that are manufactured locally or in their country, compared to an average of 14%.
Guests are Aware of the Need for Action on a Daily Basis
Globally, eight out of ten hotel guests declare they are sensitive to sustainable development. Even if the degree of involvement varies according to culture, age, and gender, sustainable development is definitively present in guests' daily lives in the form of concrete and eco-responsible actions. Two thirds of hotel guests completely agree that future generations will be threatened if nothing is done today to protect the planet. However, less than half of guests think that individual actions have a real positive impact on environmental protection.
Hotel guests are generally inclined to better manage their waste; reduce their energy consumption; and consume local, wholesome products. Just like at home, guests are ready to continue the eco-responsible actions that are part of their daily lives when they are at a hotel.
While the study reveals that guests do not always consider sustainable development as a determining factor when reserving a hotel room, they voluntarily continue the eco-responsible actions that are already part of their daily life. They are ready to pay more, but guests want hotels to show commitment to concrete, daily aspects of sustainable development such as water, energy, wastes and child protection.
One out of three guests considers that citizens are first and foremost responsible in terms of sustainable development. Hotel guests seem aware of their impact in terms of social, corporate and environmental responsibility. Governments and companies are also considered to play a critical role.
However, as the hotel industry is built on pleasure and comfort, guests are not ready to sacrifice the comfort level of their stay just to have more eco-responsible hotels, according to the survey. Less than 10% of respondents are ready to stay in an eco-responsible hotel at an inferior location or that provides a reduced level of comfort. However, two in three guests say that they are ready to pay slightly higher rates if the hotel promotes eco-responsible actions such as offering organic or green products, or if the hotel has received low waste or low carbon emissions labels.
Eco-responsible hotel management is a collective concern. As an industry, the entire hotel sector needs to act together to create a real positive impact, by pooling together its expertise and resources.
Hotel guests declare they are ready to act and change their behavior. Virtually unknown 20 years ago, sustainable development is now often taken into consideration by one in two guests when choosing a hotel. This criterion still has a significant growth rate but should progress considerably due to guests' evolving expectations and the sector's increasingly numerous initiatives.
Gaynor Reid is Vice President Communications & CSR for AccorHotels Asia Pacific, based in the company's Singapore regional head office. She has worked for Accor for 16 years, starting in the group's Sydney office as Media Relations Manager and moving to Asia in 2013. She oversees the group's communications strategy, corporate social responsibility (CSR) and crisis management to consistently articulate AccorHotels' messaging to both internal and external audiences. Prior to joining AccorHotels, Ms. Reid was Manager of Communications and Community Relations for the Sydney Organising Committee for the Olympic Games (SOCOG) and managed SOCOG's Welcome the World project to prepare Australia to welcome visitors from across the world for the Olympics. With a background in journalism, she was also a reporter and editor for ten years before moving into Public Relations and Marketing. Ms. Reid can be contacted at 65-6408-8864 or gaynor.reid@accor.com Please visit http://www.accor.com for more information. Extended Bio...
HotelExecutive.com retains the copyright to the articles published in the Hotel Business Review. Articles cannot be republished without prior written consent by HotelExecutive.com.