Recycling Textiles
By Patricia Griffin, President & Founder, Green Hotels Association
I attended the Re-Think Waste Massachusetts recycling meeting, and was absolutely blown away by a session on textile recycling. I'm sharing with you what I learned, and hope you too will consider making textile recycling as important as we all make paper, aluminum, plastic and glass recycling.
Fleece, flannel, corduroy, cotton, nylon, denim, wool and linen. What can you do with these fibers when you're finished wearing them, sleeping on them or draping them over your windows? One way to benefit both your community and the environment is to donate used textiles to charitable organizations. Most recovered household textiles end up at these organizations. The remainder go to either a textile recovery facility or the landfill.
Textile recycling seems to be forgotten among its more strongly recycled cousins-paper, aluminum, plastic, glass, etc. Yet textiles are at least 95% recyclable. Currently, only about 15% of textiles are being recycled, so we have a lot of work to do in informing the public and businesses (especially hotels) about recycling textiles. First of all, textiles are any fabric-so that means clothing, accessories, outer wear, underwear, rugs, draperies, bed and bath linens, table linens, placemats, rugs, purses, belts, hats, gloves, boots, shoes, scarves, etc. The tiny percentage of textile materials that are disposed of as trash by repurposers are either wet, mildewed or contaminated with oil, paint or another hazardous material.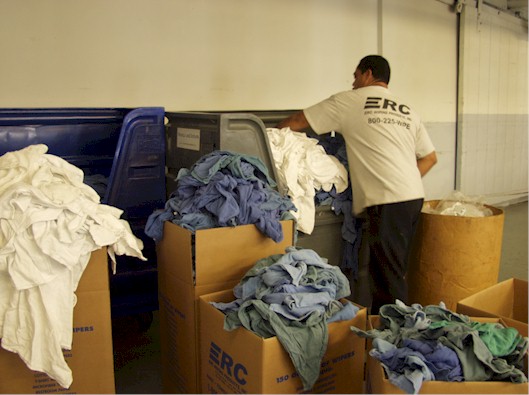 "Lightly Worn": We all know that term, but we all need to forget it because all textiles can be repurposed. The textile repurposing company will sort items into about 300 categories. The second most important and most valuable of these categories will be clothing to be offered for sale in other countries. So, these are then separated according to categories beginning with gender, age, type of clothing, type of fabric and season. Each group of these items will be baled and sold by the bale to vendors around the world. These vendors often have special requests for the textile items they want to offer their customers, and so place specific orders. Some of the most coveted clothing sought are bras and underwear! Who knew? They also desperately want belts, purses, shoes, hats, etc.-and all clothing accessories.
Post-Consumer Textile Recycling is one of the oldest, most efficient recycling industries in existence. Clothing recyclers add tremendous value through the labor-intensive sorting, separating and recycling of secondhand clothing into 3 main categories: fibers, reclaimed wipers and used clothing.
The Secondary Materials and Recycled Textiles Association is working to increase the amount of textile waste that can be recovered while developing new uses, products and markets for products derived from pre-consumer and postconsumer textile waste. Key in your zip code at smartasn.org to learn where you can recycle textiles. Also, you can use earth911.com to determine where in your zip code you can recycle anything.
Textile recovery facilities separate overly worn or stained clothing into a variety of categories. Based on data from the Council for Textile Recycling, it was estimated that 1.3 million tons of clothing textiles were recovered for recycling in 2009. Some recovered textiles become wiping and polishing cloths. Cotton can be made into rags or form a component for new high-quality paper. Knitted or woven woolens and similar materials are "pulled" into a fibrous state for reuse by the textile industry in low-grade applications, such as car insulation or seat stuffing. Other types of fabric can be reprocessed into fibers for upholstery, insulation and even building materials. Buttons and zippers are stripped off for reuse. Very little is left over at the end of the recycling process. The remaining natural materials, such as various grades of cotton, can be composted.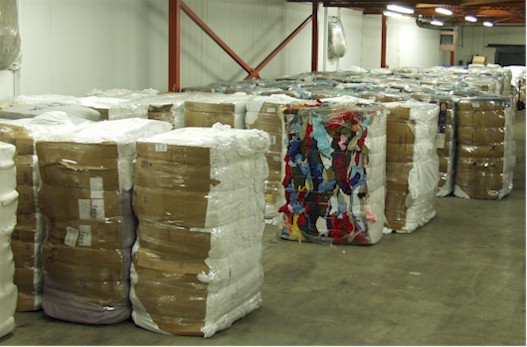 The US wholesale recyclers dealing with used textiles are generally buying and selling textiles that are available after charities or resale clothing shops have made an effort to sell the items in the US. These wholesalers are divided pretty clearly into two groups: 1. Used clothing and related items and 2. Wiping cloths and rags. The wholesale companies are generally purchasing massive one-ton bales of mixed fabrics from the charities and paying by the pound. The price will depend upon whether the items have been picked through or are untouched. The charities all expect to be paid when the bales are picked up.
Used clothing is sorted into about 300 categories, baled and sold overseas by the pound where it will all be resold. The recycled textile companies in Africa or Korea, for instance, may contact a US company and order a bale (generally 70 or 100 lbs.) each of men's shirts, women's dresses, baby clothing, etc.
When a US wholesale recycling company receives a one-ton bale of mixed clothing items from a charity, the bale must be sorted carefully "using eyes and hands," as they say. The sorting can be semi-automatic or automatic, but can only be done using eyes and hands. The semi-automatic version means the large bales are opened and the items are moved by conveyor belt through a group of employees. Each employee has an assignment of several categories (i.e., men's shirts, men's pants, men's underwear) of items they should pull into their barrels or bins. Every item is always checked twice to confirm it is in the correct category and is not blemished with oil, paint, etc.
The automatic systems begin in the same way, but when each employee determines the category of the item, computer buttons are pressed as the item is dropped on a second conveyor belt which has many large bins or cages along its 100'+ length. When the categorized items move along the conveyor belt and reach the bin of choice, a blast of air pushes the item off into the correct bin. When a bin is full and orders have been received for that type of item, the bin is moved to the baling area where bales are compressed and prepared for shipment. Once all the bales for a particular order are prepared, they are moved to a container going to that area of the world and then trucked to a port for shipment. The shipment will arrive in 30-60 days, after which the wholesaler will be paid. As you can see, the business requires many employees, huge warehouses (30-100,000+ square feet of covered, un-air-conditioned space), expensive equipment and lots of cash to accomplish their work.
Wiping cloths or rags are cut from clothing deemed not wearable, and made from absorbent fabrics or cotton such as T-shirts, sweatshirts, flannel pajamas, terry towels, etc. They are sold almost exclusively to US manufacturing and service businesses as cleaning and polishing cloths. There are about 70 categories of wiping cloths or rags based on the type and weight of the fabric.
For the first time ever, clothing brands, retailers, consumers, municipalities, charitable organizations, academics, hotels and recyclers are joining forces to promote the recycling of clothing and textiles. The Council for Textile Recycling (CTR) (weardonaterecycle.org) recently released its new website aimed at educating the public on the importance of recycling all clothing and textiles, not just those that are "gently worn."
In the US, the EPA estimates more than 25 billion pounds of clothing and textiles including clothing, linens, belts and shoes are generated annually. The agency also reports more than 21 billion pounds of post-consumer textile waste ends up in landfills every year.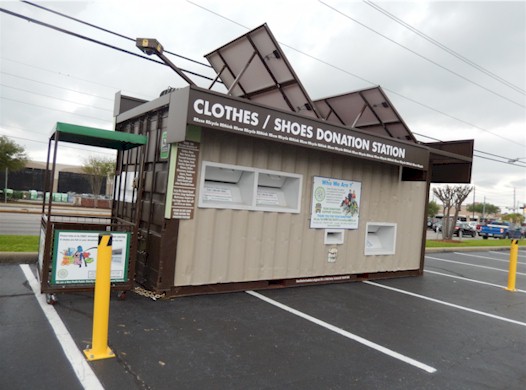 The most important thing for hoteliers to learn about textile recycling is that many companies want to acquire or purchase your hotels' retired bed and bath linens as well as unclaimed lost-and-found items. The company will handle the logistics and cost of shipping the textiles. To find a company to purchase or accept your retired linens, go to greenhotels.com/appvvend.php and look at the LINENS, RECYCLING category. Another choice is smartasn.org
Q&A
Q If clothing has a stain, a rip, a missing button or broken zipper, I can't donate it, can I?
A: Yes, absolutely, you can donate any fabric or textile piece, including shoes, belts, hats, stuffed toys and accessories of any kind. Absolutely everything wearable will all be repurposed or recycled. The only fabric or textile that should go into the landfill are those that are wet, moldy or exceptionally dirty items.
Q: How do I decide whether or not I can donate clothing?
A: Don't try to decide. Just donate it if it's dry, not moldy, mildewy or exceptionally dirty. It's best if the item is dry and clean. It doesn't matter is it's stained or has paint spots.
Q: I can't decide if I should leave my clothing in a box for the Red Cross or another group?
A: First of all, don't try to decide where your item is going. Don't think, "Oh, someone is Haiti would really like this item, so I'll give it to the Red Cross and they'll send it to some devastated area." It would not be unusual for a for-profit company to pay the Red Cross or any other charitable entity to use their logo and brand. The company that owns the box will recycle the materials and will probably pay the Red Cross a fee or percentage.
Q: How do I decide to which group to give my clothing and textiles?
A: Remember that what the charity wants is the money earned from selling the items. Of course, they also want to help the community they're assisting. So just choose the charity you want to help most-just as you would decide which group deserves your money. You can look at charitywatch.com or charitynavigator.com for evaluations of charities.
Q: Where will my good used clothing end up?
A: All wearable clothing will first be offered for resale in a second-hand store, perhaps a Goodwill store. If it's not sold there, Goodwill, for instance, has outlet stores, where the price is reduced considerably. If it's not sold there, it'll probably be sold to a textile recycling entity where it will be graded and sorted into one of 75 categories according to the type of fabric, quality and seasonality, and then sold by the ton.
Also, US apparel and accessories are very desired all over the world. They desperately want our used clothing, and textile dealers all over the world order items by the bale (70 lb, 100 lb, etc.) from US textile recyclers. Items they especially want are underwear (yes, underwear-especially bras), belts, hats, bathing suits, shoes of any kind (even singles). There's even a brarecycling.com company! (Bras are extremely important to young girls around the world.) Drapes, curtains, rugs, shower curtains, towels and bed linens are also recyclable textile products.
From there, for instance, blue jean fabric items are chopped up and all hardware is removed, then ground up to take the materials back to its fiber form and possibly made into insulation for homes. Textiles not useful otherwise may be made into wiping or polishing cloths for commercial and industrial applications. Some are chopped and/or ground up and are made into carpet padding. The main thing to remember is that there's little reason for any textile to end up in the landfill because there are so many ways it can be repurposed.
Q: What about the fact that we're always told to donate "gently worn" clothing?
A: Ignore it. "Gently worn" clothing will probably be offered for sale as second-hand clothing, but so will many other items that are "well worn." All other textile items will be recycled in one form or another. So, donate any dry, hopefully clean clothing or accessories or anything made of textiles. It will be recycled and repurposed. Recycling textiles will help and be useful to people all over the world. Recycling textiles will maintain and create jobs. Recycling textiles will keep thousands of tons of textiles out of our landfills.
Q: What should hotels do with retired bed and bath linens? What about clothing items in their Lost and Found?
A: Though locale may be the difference because of the cost of shipping, hotels can sell retired linens directly to textile reprocessors, i.e., wiping cloth companies (see smartasn.org) or they can donate linens and clothing to one or more local charities which accept textiles.
Footnote
Two college students decided that the US was abusing Africa by sending all our old t-shirts there, and set off on a mission to repatriate 500 t-shirts. You can see what they learned in an interesting video related to textile recycling at projectrepat.org/pages/movies, Watch the second video, "I didn't dance my ass off at Josh's Bar Mitzvah." It's a meaningfull 17+ minutes. You'll love the story, and you'll love the results.
References
weardonaterecycle.org/
http://news.yahoo.com/council-textile-recycling-launches-education- initiative-prmoting-clothing-120022479.html, December 31, 2011
http://www.mass.gov/dep/public/press/1111reda.htm
http://pods.dasnr.okstate.edu/docushare/dsweb/Get/Document-7411/T-4318web.pdf
Patricia Griffin is an avid traveler and a self-appointed cheerleader for all "green" hotels. She has worked for a Howard Johnson Hotel in the back office, and for a Hilton Hotel at the front desk. She is enthusiastic about protecting our environment through practicing simple, good methods. She is interested in encouraging the greening of the hospitality industry by informing not only hoteliers, but also travel agents, meeting planners, tour guides, business and pleasure travelers, and government agencies. Ms. Griffin, a native Texan owns a farm in Central Texas. She is a graduate of The University of Texas at Austin with a Business degree. Ms. Griffin can be contacted at 713-789-8889 or green@greenhotels.com Extended Bio...
HotelExecutive.com retains the copyright to the articles published in the Hotel Business Review. Articles cannot be republished without prior written consent by HotelExecutive.com.