Sustainable Practices of Major Hotel Companies
By Lawrence Adams, Principal, ForrestPerkins
Major hotel companies realize the enormous benefits that come with environmental and socially sustainable practices. In addition to increasing profits from energy and water conservation, hotels are boosting profits due to an expanding segment of environmentally-concerned travelers and corporations, who make lodging choices based on hotels' green credentials. As they embrace environmental and social sustainability, many of the major hotel companies have mission statements expounding on their environmental stewardship. In this article, we will look at five major hospitality companies and their approaches, practices and policies in achieving sustainable goals for their hotels and resorts.
Marriott International
Marriott International has long been a strong leader among hotel companies in endorsing and practicing ecologically-sound principles for the hospitality industry. In 2001, The Marriott Inn & Conference Center at the University of Maryland in College Park, Maryland, became the first hotel to apply for Leadership in Energy and Environmental Design (LEED) certification from the U.S. Green Building Council (USGBC) and was the first hotel to be LEED certified in 2005.
Through partnerships with global non-profit organizations dedicated to saving our planet, Marriott International has been in the forefront in advancing a wide range of environmentally-sustainable goals for the hospitality industry. The World Environment Center (WEC), whose members include IBM, Starbucks, Disney, Dow, General Motors, Coca-Cola, Boeing and Marriott as the sole hospitality member, formed the Innovations in Environmental Sustainability Council to find solutions to major global sustainability challenges. Marriott leads the council's efforts in developing innovative technical and operational solutions to environmental issues affecting and affected by the hospitality industry.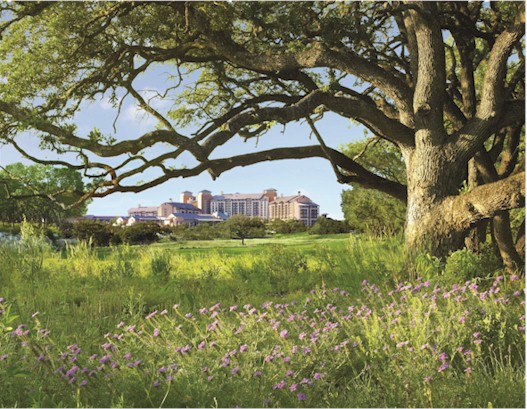 Designed by HKS Hill Glazier Studio and ForrestPerkins the JW Marriott San Antonio Hill
Country Resort & Spa, earned LEED Certification under the USGBC for New Construction
(LEED-NC)
Photography by Barbara Kraft
As an active councilmember, Marriott supports and endorses The World Travel & Tourism Council's (WTTC) Action Agenda with detailed policies for addressing the council's 10 action items for advancing efforts to address climate change. Marriott has had a strong role in many of the WTTC's environmental initiatives including the development of The Hotel Carbon Measurement Initiative (HCMI), which together with the International Tourism Partnership and 22 other international hotel companies, was developed as a uniform methodology to measure, compare and report carbon emissions of hotels and resorts.
WTTC established five categories for climate change policies and commitments:
Accountability and Responsibility
Local Community Sustainable Growth and Capacity Building
Educating Customers and Stakeholders
Greening Supply Chains
Innovations, Capital Investment and Infrastructure
In 2007, Marriott formed the Executive Green Council to establish environmental goals and initiatives for its hotels. The Council meets quarterly to review sustainable policies, objectives, challenges and achievements in the design and operations of its hotels. The Council's progress and recommendations for implementation are reported annually to Marriott's President, CEO and senior executives.
The stated goals of Marriott's Executive Green Council parallel those of WTTC:
Reducing Consumption - To reduce energy and water consumption 20% by 2020 using 2007 as the baseline.
Developing Green Hotels - Marriott has 106 LEED-registered hotels and 31 LEED-certified hotels.
Collaborating with Suppliers - As a founding member of Hospitality Sustainable Purchasing Consortium (HSPC), Marriott, with its multi-billion dollar supply chain, is a strong force in this arena.
Inspiring Associates & Guests - Marriott associates and guests take part in Environmental Awareness month each April and support Earth Hour each March by turning off all non-essential lighting for 60 minutes.
Supporting Conservation Globally - Marriott's Spirit to Preserve Award recognizes groups with the highest level of environmental practices. Several of its global partnerships are aimed at preserving rainforest, freshwater conservation and protection of endangered wildlife.
Starwood Hotels & Resorts
In 2009, Starwood established the Global Citizenship strategy to address human rights, climate change, conservation and community development. Starwood's environmental policies are expressed through its Global Citizenship program which outlines Seven Sustainability Critical Areas of Focus:
Emissions - Moving to alternative and renewable energy sources with the goal to reduce greenhouse gas emissions 30% by 2020.
Energy - First global hotel company with metric to reduce energy usage per built hotel room. Goal to reduce 30% consumption per built hotel room by 2020.
Food & Beverage - To integrate sustainable principles into core food and beverage operations.
Indoor Environmental Quality (IEQ) - Use sustainable and nontoxic materials and healthy technology.
Supply Chain - Integrate social and environmental considerations into supplier choices.
Waste - Implement local policies for recycling, composting and reuse.
Water - Implement water reduction methods that do not affect guest experience. Goal to reduce 20% consumption per built hotel room by 2020.
Also Global Citizenship promotes Four Sustainability Programs and Initiatives:
Hotel of the Future - Explore, adapt and utilize the latest technological and design innovations in order to enhance guest experience while reducing environmental footprint.
Make a Green Choice (MAGC) - Invite guests to participate in Starwood's sustainability program by foregoing housekeeping for up to three days in a row. By participating, guests are rewarded with Starpoints and Food & Beverage (F&B) vouchers. From 2009 to 2014 six million guests participated saving 283 million gallons of water and over 1 million kilowatt hours of electricity.
Sustainable F&B - Reduce the social and environmental impact of F&B operations by supporting locally-sourced ingredients and buying from farmers who practice organic and sustainable farming.
Sustainable Meeting Practices (SMP) - Starwood's Meeting Impact Report (MIR) calculates the carbon footprint of meetings using the Hotel Carbon Measurement Initiative (HCMI) that was developed by WTTC.
The Global Citizenship Intranet is provided to Starwood Associates (staff) as a resource to learn about sustainable F&B practices, carbon footprint of meetings, LEED and green building roadmaps and waste minimization programs such as Clean the World, a soap recycling program that benefits impoverished communities around the world.
Element, Starwood's new eco-friendly brand, is the first hotel brand to mandate that every property be LEED certified. The brand requires the use of sustainable materials, carpets with recycled content, energy-efficient lighting, low-flow plumbing and low volatile organic compounds (VOC) paints to improve indoor air quality. Element also promotes wellness through healthy F&B choices and workout opportunities with 24-hour fitness centers featuring state-of-the-art Life Fitness cardio and strength-training equipment. With the recent merger of two international hospitality giants, Starwood and Marriott, we expect to see their combined resources emerge as a true powerhouse of global environmental advocacy with potential to spread well beyond the hospitality industry.
Fairmont Hotels & Resorts
Fairmont Hotels & Resorts realized one of the earliest programs for sustainability in the hospitality industry. Fairmont's core values are founded on a strong connection to the land and to the communities they build in. From 1990 to 2013, Fairmont's robust environmental initiatives were implemented under their Green Partnership Program aimed at minimizing their hotels' impact on the planet and employing sustainable technology and practices. Under that program they published a guidebook on sustainable best practices in the lodging industry. In 2013, they expanded that program to include social and economic issues in addition to environmental matters with the Sustainability Partnership Program.
The Sustainability Partnership program aims at more than minimizing the impact of hotel and resort operations on the environment. It also strives to protect local ecosystems, cultural heritage and traditions while sharing the benefits of tourism with the community. Fairmont is an active member of the World Heritage Alliance for Sustainable Tourism, an initiative produced by the United Nations Foundation and Expedia, Inc. to promote conservation, sustainable tourism and economic development.
Under the Green Partnership Program, The Eco-Innovation Signature Projects Program was formed to develop projects that offer unique travel experiences and encourage interaction and learning. Under this program, travelers participate in projects ranging from coral reef protection to efforts to reduce deforestation to conservation of endangered species. That program later evolved to the Fairmont CAREs (Community Assistance and Responsibility to the Environment) initiative.
Fairmont boasts over 50 eco-friendly hotels and resorts around the globe. In order to ensure that each of these hotels execute the initiatives contained in the Sustainability Partnership Program, each property has its own Sustainability Team, which is responsible for raising awareness and incorporating sustainable practices in all departmental operations.
In support of one of its wildlife preservation initiatives, a number of Fairmont hotels have built and maintain honeybee apiaries to help combat Colony Collapse Disorder. Beginning in 2008, onsite honeybee programming was implemented in Fairmont hotels and now provides for over 20 honeybee apiaries and eight pollinator "Bee Hotels" located on hotel rooftop gardens around the world. The added benefit to having these honeybee hives is that hotel chefs can offer delicious, sustainable honey in their restaurants and bars. To encourage others to get involved in the protection of this species the Fairmont website contains instructions for Do it Yourself Bee Hotels.
Accor Hotels
Accor Hotels' practices one of the clearest and best-organized programs of any of the major hotel companies. As an official partner of COP21, the 21st United Nations Climate Conference in Paris, Accor Hotels took advantage of the opportunity to reassert its commitment to combat climate change, through its Planet 21 program. At its core, the program aims to "spread hospitality of the heart." Planet 21 promotes 21 commitments for sustainable development described within seven pillars or categories of action. Accor Hotels' website includes the following illustrative outline:
I. HEALTH

1. Ensure healthy interiors
2. Promote responsible eating
3. Prevent diseases
II. NATURE

4. Reduce water use
5. Expand waste recycling
6. Protect biodiversity
III. CARBON

7. Reduce energy use
8. Reduce CO2 emissions
9. Increase use of renewable energy
IV. INNOVATION

10. Encourage eco-design
11. Promote sustainable building
12. Introduce sustainable offers and technologies
V. LOCAL

13. Protect children from abuse
14. Support responsible purchasing practices
15. Protect ecosystems
VI. EMPLOYMENT

16. Support employee growth and skills
17. Make diversity an asset
18. Improve quality of work life
VII. DIALOGUE

19. Conduct our business openly and transparently
20. Engage our franchised and managed hotels
21. Share our commitment with suppliers
Before Blackstone acquired the Motel 6 brand from Accor Hotels, the Motel 6 "Phoenix" prototype in Northlake, Texas became the first economy hotel in the U.S. to become LEED certified. The Phoenix prototype, named after the mythical bird that symbolizes rebirth and renewal, was developed with the goal of reinventing the Motel 6 brand and reclaiming its position as the leading brand in the economy hotel segment. The prototype design by PriestmanGoode, a London-based product design firm, had to include eco-friendly initiatives in keeping with Accor Hotels' Planet 21 program. Blackstone has stated its intention to continue the development of the Phoenix prototype.
Intercontinental Hotel Group
The IHG Green Engage system is a group-wide online sustainability certification program designed to measure the carbon footprint and utility consumption of individual IHG hotels and to recommend over 200 Green Solutions to reduce environmental impact. The system measures four levels of certification in concert with several other international certification programs including TripAdvisor's Green Leaders, Green Globe, Green Tourism Certification and Green Key Global. IHG, whose brands include InterContinental Hotels and Resorts, Holiday Inn, Kimpton Hotels, Indigo and Crown Plaza, mandated that all IHG hotels must achieve a minimum of Level 1 certification by December 31, 2015.
Through its in-house sustainability rating system, Green Engage, in 2011 IHG became the first hotel group to be awarded Volume Precertification for LEED by the USGBC. Volume Precertification provides a streamlined path to LEED certification based on a preapproved prototype process to a large number of hotels.
IHG's corporate responsibility agenda includes two pillars: Environmental Sustainability and Sustainable Communities. Sustainable Communities priorities include the IHG Shelter in a Storm program to ensure that IHG hotels are prepared for disaster and are able to respond expeditiously and efficiently to help local communities when needed. The program also promotes the IHG Academy which is designed to provide local people the opportunity to develop skills and improve their employability within IHG companies.
In 2008, based on the Green Engage system, IHG launched a prototype for future hotels utilizing state-of-the-art green technologies called Innovation Hotel. Innovation Hotel is an online site that demonstrates how future hotels might benefit by using sustainable systems and technologies. It includes real-life hotel case studies showing how existing IHG properties like the InterContinental San Francisco, are implementing sustainable technology. The interactive program provides a vehicle for guests, stakeholders and employees to share ideas about creating and operating hotels sustainably.
For the sake of brevity we limited this article to the five hotel companies described above. However many more hotel companies have substantial and aggressive programs addressing their hotels' environmental and social impact on the planet. Other major hotel sustainable programs include Hilton Worldwide's LifeStay, Hyatt's 2020 Vision, Omni's Environmental Stewardship, Kimpton's EarthCare, Wyndham's Green Scorecard, Loews' Good Neighbor, Kempinski's Kreen, Choice Hotels' Room to be Green and ITG's Responsible Luxury, that all attest to the substantial commitment hotel companies are making to protect and sustain the fragile ecology of Earth.
Lawrence Adams, AIA, Principal of ForrestPerkins, is a global authority on hotel and resort design. Mr. Adams has managed and directed the design of large-scale development projects at major architectural and planning firms for the past 35 (thirty-five) years. With a specialty in hotel design, Mr. Adams served as adjunct faculty at New York University for nine years teaching Master's Degree courses on Hotel Design and Development. His most significant projects include collaborating with I.M. Pei on the New York Four Seasons Hotel, partnering with the Rockwell Group to design the Chambers Hotel, and contributing to the RIGHA Royal Hotel (now called The London). Mr. Adams can be contacted at 214-953-2210 Ext 1115 or ladams@forrestperkins.com Please visit http://www.forrestperkins.com for more information. Extended Bio...
HotelExecutive.com retains the copyright to the articles published in the Hotel Business Review. Articles cannot be republished without prior written consent by HotelExecutive.com.