Marriott Takes Social Media Listening to a New Level
By Simon Hudson, Endowed Chair in Tourism and Hospitality, University of South Carolina
"If it's not on social media, it didn't happen" says Vanessa Saw, Digital Executive for Marriott's Creative & Content Marketing department. I was in Marriott's Hong Kong regional office to take a close-up look at 'M Live APAC', the company's new Asia Pacific state-of-the-art marketing and brand newsroom Command Center, which has become Marriott's epicenter of real-time marketing to customers in the region.
Social media has come a long way in a relatively short period of time. Social media spending is currently about 13% of marketing budgets, but this is expected to rise to over 20% in five years. A recent study by McKinsey found that the impact of social media on buying decisions is greater than previously estimated and growing fast, with 50 to 60% of customers looking to social media recommendations for products like travel. They also found that online articles written by journalists prompt consumers to seek out social media to further inform purchase (and that public relations' spending to generate such articles are a worthwhile investment). A large percentage of consumers read reviews of hotels, attractions and restaurants prior to vacation, and whilst on vacation over 70% post photos on a social network or update their Facebook status.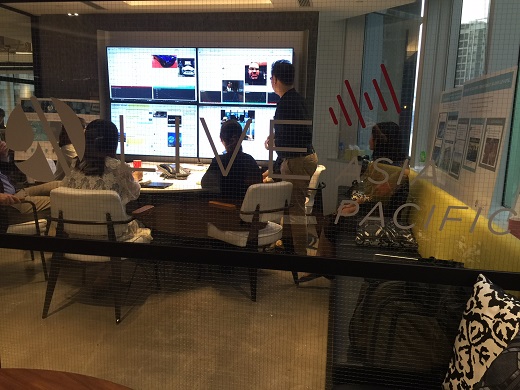 M Live APAC Command Center in Hong Kong
So, forward-thinking companies like Marriott have embraced social media because of its potential for engagement and collaboration with these networked consumers. Through social media, they can gain rich, unmediated consumer insights, faster than ever before. Marriott first unveiled the Marriott ('M') Live concept at its U.S. headquarters in Bethesda, Maryland early in 2015. The concept brings together all marketing disciplines to track conversations, trends, global performance, marketing campaign performance and brand reputation on social media, while also proactively creating original content based on what is trending, or anticipated to trend, on social media. With full-time staff able to monitor data displayed on multiple screens within the M Live APAC real-time marketing and brand newsroom Command Center, Marriott authentically engages customers as relevant social conversations trend.
Says Vanessa Saw: "The region-specific goals at M Live APAC are to help identify online trending stories that our brands can leverage as marketing opportunities, identify breaking news - i.e. local news and if our properties are affected by it - and customer stories - i.e. influencers and brand mentions our properties can amplify - since real customer experiences are the new 'word of mouth' on social." In addition to responding to social conversations, M Live APAC has created a calendar of topics expected to trend, such as Chinese New Year, the Seoul Marathon, the Rugby Sevens in Hong Kong, and the India Premier Cricket League. By anticipating what will trend, M Live is able to plan strategically its creative and content strategy with the other marketing and brand disciplines within Marriott International. "The changing consumer is at the center of everything we do at Marriott," says Anka Twum-Baah, Vice President, Customer Loyalty & Content, Asia Pacific at Marriott International. "M Live is another example of how we are putting our marketing in the context of next generation travelers' lives that is immediate, relevant and authentic. With the opening of the Hong Kong M Live studio and the building out of a network, M Live will help make our new approach to marketing become truly global."
M Live allows Marriott not only to seize more chances to engage with consumers quickly, but also to identify opportunities by brand, by discipline, by market and by channel to create memorable and shareable experiences. Tony Chow, Director of Creative & Content marketing for Asia Pacific, is heading up the M Live initiative in Hong Kong. "We are the first brand in Asia Pacific to have a real time listening platform for social media. In today's very fast evolving marketplace you can't talk so much but you have to listen more. That is the philosophy behind M Live. Sysomos built the system for us called 'heartbeat', to pull data and information across social channels using key words. Marriott-related keywords have been built into heartbeat to allow us to monitor across social media - Twitter, Instagram, Youtube and Facebook. Such social media platforms are expanding rapidly across Asia. Indonesians for example, are heavy users of Twitter, sending out a minimum of five million tweets a day."
Chow acknowledges that they can't get access to WeChat in China as access to personal information is not allowed, but they will soon be monitoring Weibo, the 'Facebook of China'. By analyzing the four real-time screens at the Hong Kong command center, Chow's team can react to social media conversations immediately. For example, the team will track key influencers - those with more than a half million followers - and if they talk about their experiences with Marriott (good or bad) they will act. "We contact the hotel", says Chow, "to make sure that their experience can be amplified. We give the General Manager a call and ask if they have seen what has been posted and we see how we can engage with the influencer - not in a bribery way - but answer back to their very positive comments. We know the faster we react to something, the better you keep your customers." The team will also track celebrity conversations. "In India, a lot of the Bollywood actors stay in JW Marriott properties, so we track them".
The team will look for comments like 'I love that', or 'I will think of staying there next time.' "We then leap on it and try to nurture that sale," says Chow. "Building trust and creating a relationship". Chow believes traditional advertising has lost its impact. "The first call of a lot of conversation is online. We call it word of mouth advertising. That is the kind of reality and we want to be there". One of the screens at the command center is dedicated to pop-culture in Asia Pacific - food, fashion, clubs etc. "People take pictures or videos of the food they are eating all the time," says Chow". "It's catching on so quickly in Asia - in the Philippines nobody touches their food until they have posted their photo on Facebook. And in Japan and Korea people will watch live videos of our customers eating. If you watch them eating, you experience it with them."
The team will also work with individual properties to create videos to post on social media. In a recent initiative, drones were used in the Mekong Delta to fly over and film the new rooftop Liquid Sky Bar at the Renaissance Riverside Hotel in Vietnam. The promotional video will be uploaded to YouTube, and M Live will monitor the reaction. "Social media is now the hot ticket item for us," says Blair Fowler, General Manager at the Ho Chi Minh City property. "Many of our hotels are moving away from printed collateral towards digital. We are trying to get as much exposure as we can for the new bar through digital, and this video will help to do that. Making content of special events that engage our guests and business partners not only provides an event review, it also acts as a great branding tool, too… and with a new outlet, such as the Liquid Sky Bar, we need to create as much awareness and engagement in the market as we can."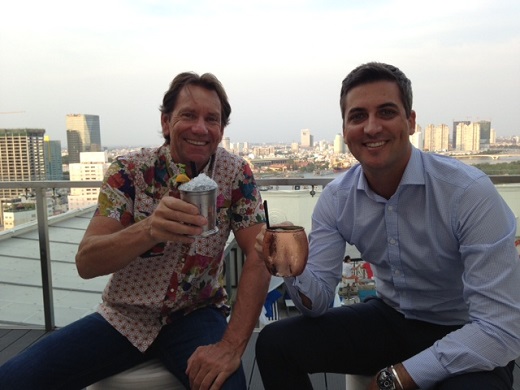 Blair Fowler (right), General Manager, Renaissance Riverside Hotel in Vietnam with the author, Simon Hudson (left)
To date, M Live in Asia has created a number of successful real-time marketing efforts. One recent piece of news, published in the South China Morning Post but trending across Asia on Instagram and Facebook, was the most expensive apartment sold in Hong Kong - about US$65 million. Said Chow: "When we saw that trending topic we thought there was something we could do. I thought that the view from that apartment was similar to something we had from one of our properties - so we found picture of a room in our Renaissance Harbor View hotel with a view, and put it side by side with most expensive property sold." The pictures were posted and linked to the South China Morning Post, suggesting that you could live like a millionaire by staying in this Marriott property. "Exposure amplified immediately, and within an hour we had around 700 likes and many positive comments. Everyone started asking for that room with the view, showing that you can actually drive transactions by leveraging social media," said Chow.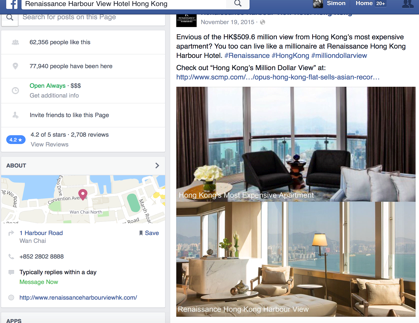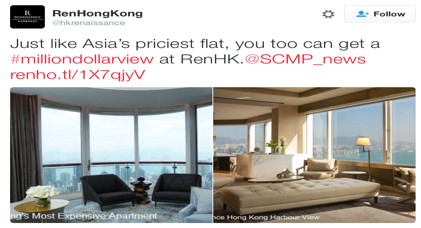 M Live APAC Initiative on Facebook and Twitter
I asked Chow how Marriott measures the influence M Live's initiatives, since most of them are not linked to bookings like the previous example. "It is really down to whether it has resulted in brand awareness," he says. "At the end of the day, we are seeking to amplify the presence of our properties on social media - how much conversation has been made on line about them, and how many people liked the posts - these are real numbers. Then we use that as a platform to engage followers and then later convert conversations to sales. That's why we have invested a lot in this system. Our ultimate goal is to drive customer engagement - this is now possible in unprecedented ways as we can listen and respond to our customers in real-time to turn trust into transaction."
The M Live Asia Pacific is the first to come on board outside the U.S., but M Live Europe, Middle East & Africa, and Caribbean and Latin America all have planned launches in 2016. Marriott chose Asia Pacific as the second location because Asia, with 4.4 billion people and approximately 500 million in the emerging middle classes, will provide substantial opportunities for tourism growth. And the region's next generation travelers are among the fastest growing customer segment within the hospitality industry.
Simon Hudson is a tourism aficionado, exploring the world, spreading his passion for travel, and enlightening audiences on every kind of travel research from winter sports to film tourism. He has written eight books, and over 60 research articles, many of them focused on tourism marketing. He is the Endowed Chair for the SmartState Center of Economic Excellence in Tourism and Economic Development at the University of South Carolina. Dr. Hudson can be contacted at 803-777-2705 or shudson@hrsm.sc.edu Extended Bio...
HotelExecutive.com retains the copyright to the articles published in the Hotel Business Review. Articles cannot be republished without prior written consent by HotelExecutive.com.