Strategies to Improve and Enhance Customer Experience
By Adrian Kurre, Global Head, Homewood Suites & Home2 Suites by Hilton
When it comes to an exceptional customer experience, it's not just what you offer, but how, when and why you offer it. Employed thoughtfully and effectively, efforts to drive customer service to new levels become infectious throughout a hotel organization, down to each individual property and team member.
Easy to say, harder to execute. To stay on the forefront of providing the ultimate experience for business and leisure travelers takes continuous innovation. Integrating new technology, continuously improving team member training, and striving for targeted and personalized customer interactions remain essential to success now and going forward.
Unique to the hospitality industry is also the ongoing need to refresh properties with little or no disruption to guests. Strategic planning, well-orchestrated execution and a result that will 'wow' travelers all contribute to a great and seamless guest experience. Renovation is also an excellent opportunity to incorporate customer preferences and technologic advances throughout a hotel system.
Strategically Embrace New Technology
We have amazing technology in the hospitality industry today - allowing us and our guests to enjoy capabilities we might not have imagined even 5 or 10 years ago. Innovations with great potential emerge all the time, but in a practical sense it's important to strategically select the right technology for your hotel business.
I learned an effective strategy from futurist Daniel Burrus, with whom I worked for many years. Instead of casting a wide net, Daniel advises keeping the "hard trends" in mind when choosing technology for the future. This approach increases the likelihood of incorporating an innovation in your business that customers will embrace and enjoy for many years to come. Daniel told me he uses this strategy, and he has not made a wrong projection in 30-plus years.
Expanding smartphone technology is a prime example of a hard trend that will not change. No one expects us all to discard the phones in our pockets or purses and return to a time of land lines and answering machines. Everything is getting smarter - automobiles, televisions and thermostats - and this technology revolution will continue to touch and enhance our day-to-day lives.
At Hilton, we recognize that travelers will continue to do more and more with their smartphones. This hard trend, in fact, drives many of the innovations we choose for Homewood Suites, Home2 Suites and other Hilton hotels. Feedback from customers tells us that they like the ease and convenience of using our Digital Check-In and Digital Key services on a mobile device through our Hilton HHonors app. With its immediate popularity, we anticipate this technology will permeate the hotel industry.
Another technological innovation is the ability for travelers to choose their exact room through a digital floor plan. Now at all of our Hilton hotels, this concept started with Homewood's Suite Selection program which allows guests to personalize their stay. Some people will select a first floor room, others may want to stay near family they're traveling with, and there are guests who want to be further from an elevator if possible. Again, it goes back to embracing latest technology to give customers more options for flexibility and personalization. We plan to continue searching for the best innovations and initiatives on an ongoing basis.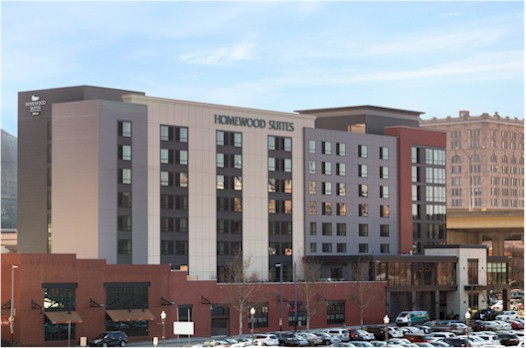 Champion Team Member Training Innovation
Technology not only improves the guest experience, it also facilitates effective and engaging training of our hotel executives and associates. Adopting this kind of innovation is not only about convenience - it's also a recognition of how we can create a more relevant and memorable experience for training the people who represent Homewood Suites by Hilton and home2 by Hilton every day. Essentially, we recognize that ongoing and optimal team member training provides another important strategy to enhance the quality of our guest experience when they choose to stay at one of our more than 375 Homewood Suites by Hilton hotels or more than 75 Home2 Suites by Hilton.
Designing team member training modules for the smartphone or tablet is the future, but it's not the full picture. Interactive and engaging content is more likely to appeal to, engage and retain millennial team members. Clearly the days of gathering team members in a room for a day of back-to-back corporate training lectures are numbered. Instead, TED Talk-style presentations limited to 15 or 20 minutes each increase the chances team members will retain and champion what they learn.
We're embracing these digital advances at Hilton, and incorporating these strategies to enhance our existing team member training programs for general managers, director of sales executives and suitekeepers. The goal remains greater team member satisfaction, which in turn translates into taking the guest experience to a higher level.
Target and Personalize Customer Interactions
Hotel brands that delight guests through a truly personalized experience will have the upper hand in business. Generic, one-size-fits-all customer outreach and advertising will continue to fade as the more agile and inventive hotel brands excel at making the story personal for each traveler.
This can be more challenging to execute, but when delivered effectively, these personalized experiences make all the difference to our customers. Collecting feedback from clients in real-time is a true advantage of this information age. What you do with this "big data" from your hotel guests is even more important. At Hilton, we continuously monitor comments posted on social media to keep up-to-date and to ensure we can follow up on comments as appropriate. The immediacy of social media allows us to find out what our customers like or don't like. Once we understand there is a problem in one of our hotels, we resolve it quickly and professionally. This makes us stand out as being problem resolvers rather than problem avoiders.
Homewood Suites also conducts biannual surveys of business travelers to gather insights on their likes and dislikes; aspects of the hotel and services of most value to them; and how they utilize hotels when they travel. Importantly, we also ask which factors drive their choice of accommodations when they're away from home.
Hotels can also optimize their customer feedback system by making it more streamlined and more targeted. Brand-specific and property-specific questions allow hotel executives to gauge in advance the likely success of a new incentive or amenity before large-scale rollout. At Homewood Suites and Home2 Suites, our ability to gather feedback down to the property level provides more specific and useful detail, and now we're receiving it in a shorter and shorter amount of time.
Revitalize Your Properties Successfully
One of our most recent surveys found that our guests were spending more time out of the room and utilizing public spaces. These findings influenced the creation of Homewood's Take Flight program, launched in tandem with our 25th anniversary to revitalize older properties and create a more interactive ambiance within hotel common areas. This involved smaller changes like reconfiguring our lobby/lodge to create defined zones for dining, congregating and working, as well as larger investments including the addition of front porches, outdoor kitchens and seating for our sport courts.
For the Take Flight initiative, we relied on our team of experts, led by our Vice President of Brand Performance Support, Rick Colling, to make sure revitalization was cost effective and designed so the owners or management company would get a solid return on their investment. Whether it is our experts in Design and Construction, Procurement, Product Innovation, Brand Performance or Sales - everybody gets involved in revitalization with the end goal of driving efficiency and effectiveness.
All plans are well communicated years in advance. We have great relationships with our partners and ownership groups, and we solicit a lot of input and advice from them.
Making sure the preparation, execution and post-revitalization period go smoothly requires both our people and objective data. For Take Flight, we created benchmark performance criteria looking at the loyalty score and the age of each asset for more than 380 hotels. We also performed a statistical evaluation; if an asset scores below our minimum and is 25 years or older, revitalization is a greater priority. If the loyalty score is high and an asset is only 3 or 4 years old, we generally will not revitalize until a later date.
The process is well organized; we created a Renovation Pathway tool with about 300 critical items that need to happen pre-, during and post-renovation. Once the revitalization is complete, our Brand Performance team works with eCommerce, Brand Marketing and Brand Sales to help reintroduce a property into the marketplace. Interestingly, on the hotel level, satisfaction scores from customers actually increase during renovations, because there's a higher focus on delivering expectations during a time that can be somewhat tumultuous.
Commit to Continuous Improvement
All this behind-the-scenes strategy, work and commitment go toward producing an amazing experience that appears natural and effortless to our guests. Delivering these kinds of guest experiences remains an essential goal, even if it seems a moving target at times with all the revolutionary changes underway in the hotel industry. Staying on the forefront with new technology, engaging and innovative team member training, and providing truly personalized customer interactions make it more feasible to embrace these changes as real opportunities going forward.
Adrian Kurre serves as the global head for Homewood Suites by Hilton and Home2 Suites by Hilton; the award-winning brands that are part of Hilton Worldwide's "All Suites" category. Mr. Kurre is responsible for the overall strategy for both brands with his primary objectives to diversify and increase revenue, drive brand growth and development, increase consumer loyalty, as well as maintain collaborative relationships with hotel owners and management company representatives to position both Homewood Suites and Home2 Suites as innovators in the All-Suites category. He also continues to build on the commitment of the brands award winning customer satisfaction culture. Mr. Kurre can be contacted at 703-883-1000 or adrian.kurre@hilton.com Please visit http://www.hilton.com for more information. Extended Bio...
HotelExecutive.com retains the copyright to the articles published in the Hotel Business Review. Articles cannot be republished without prior written consent by HotelExecutive.com.