Electric Cars Are Coming to Hotels Near You - Are You Ready?
By Rauni Kew, Public Relations & Green Program Manager, Inn by the Sea
The transition from gas powered, combustion engine cars to electric vehicles (EV's), and even hybrids, has been relatively slow. However, later this year, new models with lower price tags, sleeker styling and improved batteries with more range are expected. Couple EV improvements and expanding infra structure with looming emissions regulation, the transition from combustion engine to EV is positioned to accelerate in the near future.
"We as a country are poised over the next very few years to embark upon a new path in transportation and energy," said Barry Woods, Director and Founder of Electric Mobility(1) "There really shouldn't be confusion about electric vehicles. The only real question is not 'Will it happen?' but 'How long will we take to let it happen?'
Is Your Hotel Ready with EV SOP's?
EV sales are expected to make up to 15% of all car sales by 2020, and, if you are operating a luxury hotel, in 2015 the Tesla Model S was the #1 best selling large luxury car in the US. (re Tesla Motor Clubs forum) According to the Center for Solar Energy and Hydrogen Research in 2015 there were 740,000 EV's globally, and the US saw a growth rate of 69% with EV's totally 290,000. That means 1 in 3 of the world's EV's were on US roads.
As EV ranges extend with battery improvements, they will evolve and transition to primary household vehicles instead of secondary or novelty cars. As a hotel or resort wanting to make your property an attractive destination for visitors and locals, management needs to be prepared with both infra structure and policies to seamlessly handle the needs of multiple guests driving EV's and hybrids, all arriving at your hotel, at the same time, in the very near future.
According to Barry Woods, a Director at Plug in America, there are several SOP's hotels should think through in order to ensure a good customer service experience for EV drivers.
All policies around charging should be clear and in writing. Guests and staff should be educated on the policies.

Create a plan for handling convenience vs. necessity charging to avoid confrontation and misunderstandings. While many hotels have recently installed level 2 charging, what will you do when multiple EV guests arrive at the same time and a waiting line forms for a charge ?- do guests with battery EV's take precedence over guests with hybrids, ( e.g., Chevy Volt or Prius, who technically could make it home on some form of gas back up?)

Does the hotel have the ability (purchase long electric chords, at least 25 feet) and permissions to plug or unplug electric chords in guest cars, or move guest cars in and out of charging stations, while guests dine or sleep?

Will there be a cost for guests or staff for a charge? If a hotel plans to charge, Woods suggests offering local market electrical rates- EV drivers are often in tune with electrical costs and a perception of 'gauging' will create ill will.

Should hotels have a reservation system in place, similar to booking a tennis court, or spa service for guests, with reservations for a charge made at time of booking?

Signage that specifies "Electric Vehicle Only" parking spaces, and properly designate spaces that are strictly for use by plug-in vehicles, actively charging or awaiting charging. They are not to be used by other types of vehicles or even by EV drivers solely for convenience of parking location.
If hotels are planning on adding a charging station, Woods suggests over building capacity for future needs rather than having to rip up parking lots multiple times as the need for chargers evolves.
Why Should Hospitality Care About This 'Disruptive Technology'?
"One of the world's largest economic sectors, tourism is especially well-placed to promote environmental sustainability, green growth and our struggle against climate change through its relationship with energy." UN Secretary of State Ban Ki-Moon.
Multiple market studies and surveys have documented the ongoing interest from both leisure and business travelers in hotels and tourism services that protect the environment. From the 2013 Tripadvisor survey which stated that 71% of their 1300 respondents considered the environment when choosing a hotel, to Deloitte's 2015 Hospitality study which stated that 95% of business travelers surveyed believe the hotel industry should be undertaking 'green initiatives.'
Finding ways to preserve and protect our destinations so they remain viable and appealing to travelers just makes economic sense. Climate change has ramifications that impact everything from weather, to flooding, to coastal erosion to wildlife and certainly will have an impact on tourism. Lowering the impact of travel becomes even more important as we see current travel trends encouraging visitors seeking authentic, unique experiences, to push further and further into eco sensitive destinations.
33% of CO2 emissions in the US come from transportation, so supporting the transition to a more sustainable technology will help slow human induced climate change. Offering electric car charging will be an enticement for your hotel, especially if charging is free, and broaden appeal, while adding to your green story.
EV's are not only zero emission vehicles, but can also be powered with purely renewable energy. A hotel that offers charging and also purchases renewable energy, such as wind or solar, is also creating a good marketing strategy with a good green story.
Slow Start.
Electric vehicles fueled by batteries have lower operating costs than traditional combustion engine cars. Apart from lower fuel costs, EV's have fewer moving parts so cost less to maintain- no spark plugs, oil or transmission fluid changes, no clutches, starters or mufflers to replace. Couple savings in cost and maintenance downtime with a smooth, quiet ride and reductions in carbon emissions, does beg the question: 'why aren't more people already driving Ev's?'
Until now several barriers to ownership have kept even environmentally conscious drivers away from purchasing EV's. The perceived high cost of limited vehicle models and getting your mind around range limitations over shadowed benefits. Developing corridors for EV charging, especially stemming from urban areas to popular tourism destinations, remains one of the largest challenges facing large-scale EV adoption.
Disinformation on dirty energy sources for both manufacturing and powering EV's was persuasive. And while many dealerships have had EV's on their selling floor for years for the relatively few greenies who insisted on them, they seemed to have shied away from promoting them. One can only imagine they believed that comparing a quiet, environmentally friendly vehicle with low maintenance and fuel costs as an alternative to all the other cars on their lots would not have helped boost sales or support their service departments. And to be fair, the limited range of most EV's, with the exception of Teslas, may have been non starter for many consumers.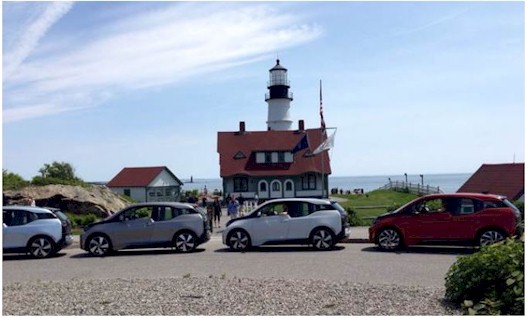 Why Now?
New models with lower price tags, better functionality and more range will continue to stimulate sales. All major car manufacturers are now producing EV cars with large expenditures on battery R&D. At least three manufacturers are currently competing to deliver a 200 mile range EV by the end of this year or early 2017.
The GM Bolt, promising a 200 mile range, will be sold in all 50 states and is supposed to come in at $37,500, bringing the cost down to $30,000 after the federal incentive of $7,500. Nissan Leaf is promising a 249 mile range, and a Tesla Model 3 with a low price tag (for Tesla) is expected to sell at $40,000.
EV's range is increasing along with Infra structure, especially on the east and west coasts, with an estimated 10,000 charging stations across the US.
This is all great news for hospitality. As major tourism corridors become electrified and more EV's travel further afield, stopping to spend the night in a hotel will allow travelers to power up.
The Inn by the Sea, a luxury beach destination, located just 7 miles south of Portland and 100 miles from Boston, has both Tesla and universal charging stations.
"Being 100 miles from Boston means that 'range anxiety' kept most EVs, except Tesla owners, from making the easy 2 hour getaway to the beach, and to the Inn. Newer models with better range will eliminate that barrier, and we look forward to an influx of EV car owners making their way from Boston to the Inn very soon," said Jessica Stowell, Inn by the Sea's sales manager.
Article 177 of the Clean Air Act is another driver for EV sales. Article 177 allows states to adopt California's tougher air quality standards instead of the federal standards for clean air. Ten states, representing 30% of the US automotive market have signed on, resulting in a push for more efficient passenger cars and trucks.
Attitudes may also have been changed around the ability of car manufacturers to meet future strict emissions regulations after Volkswagen admitted 11 million of its vehicles were equipped with software designed to cheat on emissions reporting. Recognizing that German engineering, with almost unlimited funds, was not able to meet emission standards without cheating, was a wake-up call, and may have signaled the beginning of the end for diesel and combustion engines.
And finally, as communities bear the brunt of repeated 100 year storms, loss of coastal shoreline, or witness, first hand, disappearing fisheries due to warming waters, there is a growing interest in technologies that slow manmade climate change.
The transition to EV's is well on it's way- drivers will choose destinations where they can eat in a restaurant, spend the night, or be entertained while charging. Be an early adapter and attract new business to your hotel.
Reference
(1) http://www.electricmobilityne.com
Rauni Kew's background is in marketing and public relations. Currently working in hospitality, she manages Public Relations & Green Programs for Maineís luxurious Inn by the Sea, and Public Relations for The Maine Innkeepers Association. Ms. Kew served on the Maine Tourism Commission, has been a board and executive member of the Greater Portland CVB for 7 years and was the immediate past Chair, and is the Greater Portland Regional Representative for the Maine Office of Tourism. She frequently has published articles on sustainable hospitality in industry journals. Previously Ms. Kew was Marketing Director for a Chemical Process manufacturer. Ms. Kew can be contacted at 207-799-3134 or rkew@innbythesea.com Please visit http://www.innbythesea.com for more information. Extended Bio...
HotelExecutive.com retains the copyright to the articles published in the Hotel Business Review. Articles cannot be republished without prior written consent by HotelExecutive.com.