Hotels That Don't Miss a Beat
By Simon Hudson, Endowed Chair in Tourism and Hospitality, University of South Carolina
Interest in boutique hotels continues to rise. Hotel guests are increasingly seeking a unique experience as opposed to a commoditized product, and are more sensitive to design, levels of service and quality of food. Even corporate travelers are starting to favor such establishments over the standard hotel experience. Boutique hotels (generally considered to have less than 100 rooms) are better placed to react to these demands as their limited capacity enables them to enhance the quality of service and customize the visit for guests. Such hotels are constantly searching for the perfect formula to provide visitors with an addictive experience, and music-themed hotels have become very popular, particularly in big cities.
A perfect example is the Aria Hotel in Prague, Czech Republic, a city known for its musical history. The five-star luxury property hosts regular live concerts, and even has an on-site musicologist who will advise on which Rudolfinim seats have the finest acoustics and who's the hottest Prague Philharmonic conductor. Musical virtuosos and their fans can immerse themselves in music with the very first step they take on the property. From the Italian mosaic formed from a Gregorian chant, to the surround-sound features in each room, every detail of the hotel is inspired by music.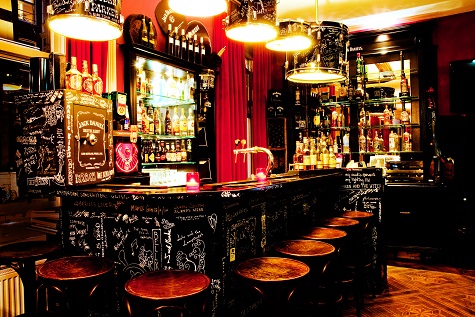 Further west in Europe, the Backstage Hotel in Amsterdam is similarly decorated with a music theme, designed to resemble an off-stage hangout for rock bands. The hotel is decked out with saxophones and guitars and the bar's piano is graffitied with the signatures of performers who have visited. Over the border, the Nhow Hotel in Berlin, Germany goes one step further by providing services and facilities for musicians. Situated on the banks of the Spree, Nhow not only has its own recording studio with panoramic views of the city, it also offers a music-themed room service, whereby guitars and keyboards can be delivered to guests at any time. The recording studio features two control rooms plus a recording booth equipped with the latest audio equipment. Sessions start at 150 euros for a half-day studio session. The property also hosts a monthly open mike night.
Mexico is home to another hotel with a recording studio, the Hotel El Ganzo in Los Cabos, a trendy designer property that doubles up as an arts and culture center. Beneath a trapdoor in the lobby lounge lies 'The Underground', a 1,700-square-foot, state-of-the-art recording studio where musicians from around the world come to create, perform and record their work. Guests and locals can attend El Ganzo Sessions, a free ongoing series of live music performances, and anyone can view the entire catalog of performances on the Hotel El Ganzo YouTube channel. Each month the hotel hosts various visual artists, filmmakers, and musicians as part of its Artist In Residence (AIR) program. The boutique hotel's white walls double as a blank canvas, beckoning artists-in-residence to leave their colorful mark.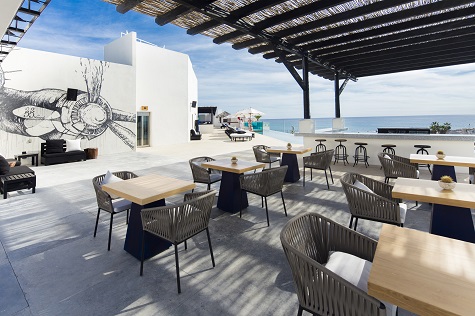 The Hotel da Música in Porto, Portugal, also holds weekly concerts and performances in order enhance the hotel's music motif. In addition, vintage violins adorn the front desk, music stands act as menu holders, and the bedrooms have treble clef lamps and sheet music painted on the walls above the bed. The Evelyn in New York, (formerly known as the Gershwin), similarly has music-themed bedrooms. The chandeliers are shaped like trombones and the bathroom tiles are decorated with musical notes and famous song lyrics. Rooms also come equipped with hi-tech gramophones that guests can sync up with their smartphones. The hotel is not far from Manhattan's Tin Pan Alley, which was once the center of the American pop music industry.
Hotel BPM in Brooklyn, New York, has an even narrower focus, targeting budding DJs. Conceived by local hip-hop DJ, DJ Bijal, Hotel BPM is a minimalist-style 75-room hotel. The name refers to "beats per minute" or the tempo of a song. Each month the hotel features a playlist of tunes curated by DJ Bijal which streams throughout the property, including different artists such as Jay Z and Baauer. For aspiring DJs, the property is known to team up with local Scratch DJ Academy to offer free DJ lessons. For those who prefer to sit back and listen, the location is a quick cab ride to Barclays Center, where the summer 2015 concert lineup included Iggy Azalea, The Who and Imagine Dragons.
Some music-themed hotels are inspired by one particular artist or band. The Beatles-themed Hard Days Night Hotel, for example, in Liverpool England, is named after the band's film, album and song 'A Hard Day's Night'. The hotel opened four years after initial conception in February 2008 during Liverpool's reign as European Capital of Culture. It has some 110 rooms, including the famed McCartney and Lennon suites as well as numerous bars and restaurants. The hotel is situated adjacent to the world famous Cavern Club from where the Beatles rose to fame.
Another hotel in England, the Hotel Pelirocco in Brighton, has been inspired by local pop-culture, and touts itself as Brighton's original rock n roll boutique hotel - with 19 individually themed bedrooms. One of them - the Modrophenia room - is a cheery allusion to the fact that Brighton is still pulling in visitors fascinated by the skirmishes between Mods and Rockers that took place on its seafront over the Whitsun Bank Holiday weekend in May 1964, and which spread to several other seaside resorts throughout that summer. The Mod room even has a shiny red Lambretta coming out of the bedroom wall. The scooter's front half is the left-hand bedside table, its back half the right. The bedspread is parka-colored with a Royal Air Force roundel in the middle, and the melamine breakfast table is flanked by molded bucket seats in orange plastic. The room is complete with Vespa-style bedside tables and pop art images of original Mod, Keith Moon.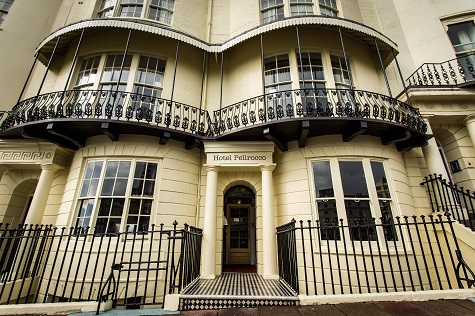 So what explains the popularity of music-themed hotels? For Zuzana Šelová, Sales & Marketing Executive at the Aria Hotel in Prague, differentiation is the reason. "There are so many hotels nowadays, it is a concept that gives the added value to the property. The music concept makes the story and people love stories." Aria caters mainly to baby boomers who expect the best, so for Šelová, knowledgeable employees who deliver excellent personal service are the hotel's biggest asset. The Aria does tend to attract celebrities, and that in turn adds to the cachet of the place. "Gérard Depardieu once stayed here for two months and had a suite featuring a view into the Vrtba Garden. As the windows are quite low people were stopping and wondering if it's really him sitting on the window sill reading a book."
Hans Spuijbroek, from the Backstage Hotel in Amsterdam also believes that differentiating with a music motif enables a hotel to stand out from the pack. "Standard hotels are not the future of the global hotel industry", he says. "The more individual the people get, the different the demand is going to be." However, Spuijbroek suggests that success for new entrants into this space is not guaranteed: "The problem is that a lot of big hotel chains start new branded hotels with a music theme without having a clue what they are focusing on. There are a lot of 'Hard Rock' kind of hotels popping up where you can rent a guitar." For Spuijbroek, authenticity is critical. "We know what our guests want because we're experienced and passionate about the added value we're supporting. The whole look and feel is real. The staff is real, no dressed up and over trained robots. It's BackStage. You get it or you don't." Although the hotel attracts visitors from all walks of life (kids love it says Spuijbroek) Backstage specializes in hosting bands, artists and crews. But privacy is king according to Spuijbroek. "What happens BackStage… stays BackStage!"
When asked why music-themed hotels are so popular today, Hotel El Ganzo's General Manager, Ella Messerli says: "They say 'music feeds the soul'. That being said, travel now has become a larger experience selection and music definitely adds another dimension to the experience of visiting any part of the world." Messerli says that his cultural-centric hotel goes beyond music with art interventions within the hotel. "Music has become a integral part of the El Ganzo experience and makes the hotel unique since these musicians are brought in through our Artist in Residence program," he says. "Only at El Ganzo can you experience an under the stars concert of these carefully curated live concerts. Also our Music Director who also runs our professional recording studio carefully selects musicians who offer a high quality of delivery with their genre."
El Ganzo attracts people from all over the world, Messerli adds: "We have successfully defined a new experiential offering for a resort with Art, Music in a more natural surrounding of Los Cabos. Our location on the Marina, with our private swimmable beach gives guests an opportunity to enjoy a relaxing day in the sun or a fun day of paddle boarding, kayaking or fishing. This has attracted many age groups as well as weddings for clients who seek a very private place with activities and a cultural offering that is unique as well as enriching. It is also so enjoyable to meet artists and musicians who discover our corner of Los Cabos for the first time, and hear from them how our natural setting stimulates their creative minds."
Messerli's advice for hotel owners or managers around the world who are considering having a music theme is to keep it simple. "But most importantly do it only if you get professionals to help you, and offer only quality. Any experiential offer in a hotel has to be of the utmost quality for it to real and unique, which is what guests are looking for."
Simon Hudson is a tourism aficionado, exploring the world, spreading his passion for travel, and enlightening audiences on every kind of travel research from winter sports to film tourism. He has written eight books, and over 60 research articles, many of them focused on tourism marketing. He is the Endowed Chair for the SmartState Center of Economic Excellence in Tourism and Economic Development at the University of South Carolina. Dr. Hudson can be contacted at 803-777-2705 or shudson@hrsm.sc.edu Extended Bio...
HotelExecutive.com retains the copyright to the articles published in the Hotel Business Review. Articles cannot be republished without prior written consent by HotelExecutive.com.