Distribution Partners are Critical to a Successful Renovation
By Bob Cerrone, Director of National Accounts - Hospitality, Ferguson
According to the U.S. Travel Association, spending by U.S. residents on domestic travel has rebounded to around $928 billion from a recession-low of $700 billion in 2009. Furthermore, hotel occupancy rates have steadily trended up since the recession, going from 54.6 percent in 2009 to 64.4 percent in 2014. Price Waterhouse Coopers projects hotel occupancy rates to be 65.8 percent by 2016 as consumer confidence continues to grow.
The resurgence of the economy has prompted hotel groups to move forward with planned renovations that were previously stalled. Some of these renovations are necessary to comply with brand property improvement plans (PIPs), and some are to keep up with the demands of savvy travelers looking for clean, updated accommodations.
There's a reason hotels delay hard renovations to just every 10 or more years; rooms under construction are rooms that are unavailable. Every day a room is unavailable is a chance that a potential guest will choose to stay at a competing property. When the time comes to update plumbing, fixtures, lighting and HVAC units, hotel owners turn to their designers, procurement firms and contractors to make renovations seamless and within budget.
Hard renovations can take anywhere from 12 to 18 months to complete. Within this timeframe, several crucial steps involving many different players must take place: purchasing, demolition, delivery, installation and clean-up. Any missteps or hang-ups during the process can cost the hotel time and money - both of which are required to come within budget or else the property begins to experience unplanned revenue loss.
While some complications are unforeseeable and unpreventable, there are steps hotel owners and procurement firms can take to greatly reduce costly errors. Those steps involve an important partner in the renovation process: the distributor. Take advantage of the distributor's knowledge and capabilities to avoid some common, yet avoidable, costly complications:
Complication #1: The Products Specified in the Design Plans are Impractical.
Designers are tasked with planning a functional renovation within a specified budget. Once a design has been approved, the procurement firm or project manager will move forward with purchasing the products specified for the job. What happens when the product arrives - or even worse, has begun to be installed - only for a contractor to find the items purchased aren't practical for the application? The process of returning a truck load of bath tubs or vanities is both costly and a huge waste of valuable time and resources.
Case Study: Years ago there was an upscale property in the middle of bathroom renovations. When it was time to install the new faucets that had already been delivered, the contractors discovered the arc and height of the planned faucets would create significant splashing. The faucets were delivered, unloaded and prepared for installation before the error was discovered. The crew had to work many extra hours to gather the wrong product to return to the distributor and the procurement firm had to scramble to secure hundreds of new faucets from multiple distributors that were better suited for the application.
Solution: Share design plans with your distributor early on. A distributor with significant product knowledge and manufacturer relationships knows if the specified products are going to fit the needs of the renovation. If the designer specified a product that won't work, a distributor with strong industry knowledge can make a recommendation on another brand that works better for the application within the set budget. Sharing design plans before purchases are made will eliminate the chances of the wrong product being installed.
Complication #2: There Isn't Enough Inventory to Fulfill the Order
Room renovations require purchasing hundreds of the same product all at once. What happens when the order is placed with a set delivery date, only for the hotel owner or procurement firm to learn that the order cannot be fulfilled as-is? Whether the lack of inventory is due to the distributor or the manufacturer, not having enough product to fully supply the renovation will stall the project.
Case Study: A major property put out a bid request on a large-scale renovation. They chose a distributor mainly based on price with little regard to the distributor's full capabilities. When it was time to install the plumbing fixtures they had ordered, they found out their distributor couldn't deliver the entire order on time. At the last minute, the procurement firm had to scramble to find another distributor that could complete the order at once.
Solution: Choose a distributor with vast inventory availability and give them a heads-up on the order. Set your distributor up for success by giving them a heads-up on a big order that's about to come down the pipe. This allows them the time to check their own inventory and to possibly even contact the manufacturer to ensure the order can be completely filled by the time the product is needed. Or better yet, choose a distributor with vast inventory and national distribution. You're far less likely to run into an inventory issue when your distributor has a strong logistics network with the ability to quickly deliver product.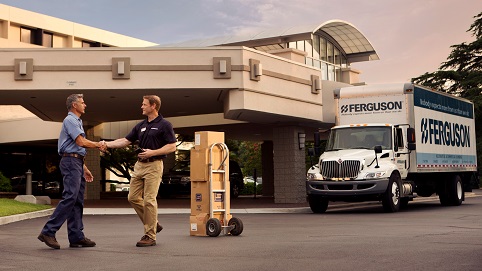 Complication #3: Too Many Cooks
Renovation projects require managing many different key players. Procurement firms and contractors often are required to work with multiple suppliers out of necessity. This means multiple company contacts, multiple purchase orders and multiple service and delivery terms, which can quickly get out of hand.
Case Study: A hard renovation included replacing several major items on the property. From the lighting to the plumbing fixtures and HVAC units, the renovation was going to require several key players to complete. The project manager had chosen other suppliers for the many other elements that were affected. While the renovation as a whole went smoothly, they later shared that managing the project from start to finish - including working with several companies with several different sets of business practices and several purchase orders - was a nightmare. They hadn't considered how time and cost effective it would have been to consolidate many of these purchases through one distributor.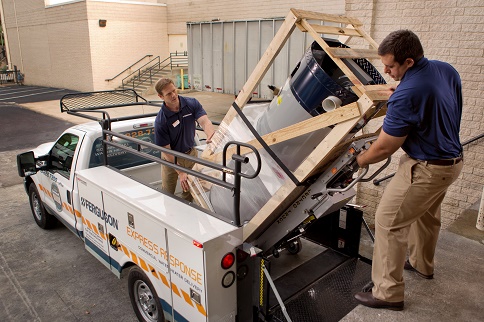 Solution: Choose a single-source supplier with knowledgeable associates. Look for distributors with highly-trained associates that can spot your needs across multiple product categories. Distributors with knowledgeable associates who understand the products and process of a hotel renovation will know how they can add value, especially when they carry a wide breadth of product. Take advantage of suppliers who will allow you to consolidate your purchases into one single point of contact, one single order and one set of business policies.
In today's world where social media gives guests a public forum to share their experience, hotels can't afford to give anything other than first-class service and accommodations. The consequences for not completing a renovation on-time means more than the immediate loss of heads in beds and subsequent revenue. It also means risking one-star reviews due to noise, construction debris, or broken promises in regards to room availability and guest experience. Those reviews don't go away when the project is finally complete; they live on and have an effect on consumer perception and choices long after.
Not every renovation hiccup can be avoided and some projects will go past deadline despite perfect planning, but choosing the right distributor that can act as a trusted partner is one crucial step in the hotel renovation process that could prevent unnecessary loss in valuable time and money. Look far beyond price to determine which distributor is right for the job.
Some important questions to ask when choosing a distributor:
Does the distributor carry multiple product categories involved in the renovation that can be consolidated into a single order?

Are their branches or warehouses close enough to ensure quick delivery?

Can the distributor guarantee 100% fulfillment by the designated delivery date?

Do they have the financial strength to handle the job from start to finish?

Does the sales associate have the industry knowledge needed to make sure the supplied product matches specifications or

Does the distributor have strong manufacturer relationships?
Completing a hotel renovation on time doesn't have to be due to luck. Get to know your distributors, make them a part of the renovation process early on and utilize their capabilities to the maximum. We guarantee an improved renovation experience that will result in a strong, long-lasting business relationship.
Bob Cerrone, Ferguson's Director of National Accounts – Hospitality, is responsible for leading Ferguson's Hospitality strategy and discovering and implementing new opportunities within the segment. Mr. Cerrone, a nearly 40-year veteran of the plumbing industry, launched Ferguson's Hospitality division in 2006. Under his leadership, Ferguson Hospitality has grown into a talented group of more than 100 associates comprised of national account managers and the Hospitality Renovations Team. Mr. Cerrone can be contacted at 954-520-5965 or bob.cerrone@ferguson.com Extended Bio...
HotelExecutive.com retains the copyright to the articles published in the Hotel Business Review. Articles cannot be republished without prior written consent by HotelExecutive.com.