Planning Your Fall Landscaping
By planning in advance, and working with your contractor before fall begins, hoteliers can ensure a healthy landscape and smooth transition into the fall season.
Fertilization
Your landscape undergoes a tremendous amount of stress during the summer. Whether you're located in a region that experiences extreme heat, dryness, rainfall, or a combination of all three, the effects from summer can leave your landscape looking dull and unhealthy.
This is where the significance of fall landscaping comes into play-with fertilization being one of the most important tasks to complete. Making sure your landscape is properly nourished is important, not only for promoting growth during fall and winter seasons, but also because it replenishes the nutrients the soil has lost during summer. Fertilizer also helps plants and grass develop tolerance against pests including: weeds, insects, and various diseases.
Because various fertilizers and pest control elements can be toxic to plants, animals, and people, hiring a professional to carry out this process is imperative. Typically, your landscaping company has a pest control service that will come out and spray, but in the off chance that they don't, it's important to choose a localized professional, as they're familiar with your region's topography, soil conditions, soil temperatures, and the products applied in specific areas.
Before the pest control starts the fertilization process, however, you should sit down and discuss which fertilizer or other chemicals they're planning on using to treat your hotel's landscape. With the amount of foot traffic hotels experience, choosing a fertilizer that's not only safe for the environment but also people is crucial.
Organic Vs. Inorganic Fertilizer
It's no surprise that organic fertilizers are better for the soil but there are also many other advantages of going natural. From an environmental perspective, organic fertilizers release nutrients at a slower and more regular rate, which makes it easier for the plants to consume. Also, organic fertilizers don't burn the vegetation, won't cause harmful residue or run-off, and builds stronger plants and grass. Economically speaking, using organic fertilizer requires fewer applications, as it's long lasting.
That being said there are a few pitfalls of using organic fertilizers that urge hoteliers to go the inorganic route. For example, while organic fertilizers now come in easy to spread forms (which wasn't always the case) the problem now is, is that you have to spread much larger quantities since the nutrients are less in percentage. Odor can also be an objectionable issue. From cost perspective, chemical fertilizers are less expensive, readily available, and fast acting, compared to that of organic fertilizers.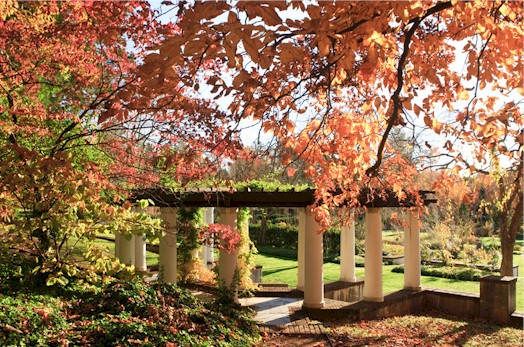 Fall Cleanup
Most hoteliers have consistent year-round landscaping programs, so by the time fall hits, there's not an unusual amount of work to be done. Throughout the year, your landscaping professional should be routinely pruning shrubs, freshening up the mulch, and removing debris from the landscape.
One of the most important cleanup tasks that are unique to fall cleanup is leaf removal. Hotel owners and property managers should talk to their landscaping contractors to ensure they have a maintenance schedule that's conducive to their property's leaf removal needs. Not only is leaf removal extremely important for the health of the grass but also for the survival of other vegetation. Unfortunately, when leaves are left on the ground for too long (or trapped under snow) they can contract diseases that kill your foliage. Hoteliers also need to make sure that the leaves are removed from storm drains and other drains around the property, as it can lead to clogging and flooding.
Winterizing Irrigation Systems
Winterizing your property's irrigation systems is a vital part of maintaining a properly running sprinkler system, especially for hotels located in seasonal markets. The number of steps you will need to take to winterize your system is dependent on how often your location freezes, and for how long. But, regardless of how many extra steps you will have to take, all hoteliers in seasonal markets need to turn off the water, shut down the controller, and drain the pipes.
If you're working with a landscaping company for the first time, you will need to show them where the water's main valve is located, so they can accurately turn it off. Once the main valve is turned off, you can then move on to the second step, which is shutting down the sprinkler's control system. While turning off the water is a fairly simple step, shutting down the sprinkler's controller is a bit more complicated, so it's critical that they do it correctly.
After the sprinkler system is taken care of, the most important step in the winterization process is draining the pipes. Working with a professional to complete this task is highly recommended. In the event that you reach freezing temperatures, and there's water left in your lines, the pipes will expand and burst. This is an easy situation to prevent, but an expensive one to deal with.
Creating a Maintenance Schedule
Once the temperatures drop, and the transition into winter has begun your fall landscaping maintenance will start to back off. With the exception of landscaping crews still performing off-season tasks, like picking up litter, or policing the grounds for potential issues, the frequency of service your property receives will decline.
Other To Do's
As previously stated, fall preparation should happen before the property experiences its first chill. But, aside from collecting leaves, and fertilization, there are other actions that must be completed before winter hits. For example, this is the time when your landscaping professionals will want to plant new shrubs and other vegetation, cut back perennials, trim dead limbs, and aerate the lawn. However, aeration is a case-by-case basis and isn't required for landscapes that are composed of sandy soils (i.e. Florida) so if your contractor proposes this step, you might want to get a second opinion.
Non-Seasonal Markets
For those who are located in non-seasonal markets (i.e. Florida, Georgia, California, Texas, etc.) fall is the perfect time to plant annuals and perennials that wouldn't normally survive in the hot summer months. Hoteliers can work with their landscaping professional to create summer displays around the hotel. Planting new flowers and other shrubbery around the hotel, is an easy way to give the property a boost of energy, without the fear of your vegetation wilting or dying. For instance, impatiens, a flower that cannot tolerate freezing or hot conditions, thrives in the south from September to December.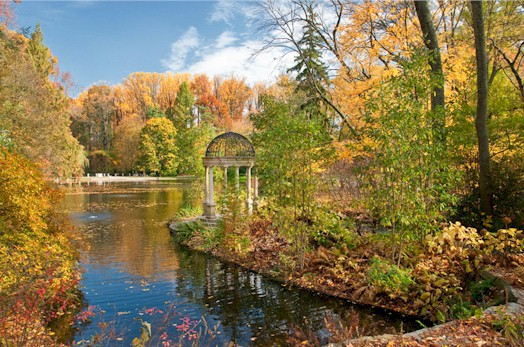 Planning for 2016
The end of fall is also the time when hoteliers should start planning for winter and the first few months of the new-year. It's important for hotel owners and managers who are located in markets that receive snow in the early part of November or even in late October, to establish a snow removal plan now to keep guests safe. Working with your contractor to ensure that all walkways and parking lots are treated prior to a storm, and after, will help decrease the risk of potential falls.
Hotel owners and managers should also take this time to take a deep breath and evaluate the work of their landscape professional. Are you happy with the service they've provided thus far? If not, is it time to have a conversation with them, or is it time to switch? By taking a few minutes to think about the answers to these questions, you will help ensure that your property is set up for success for the following year.
Likewise, hoteliers need to start planning their landscape budget for 2016. The most effective way to do this is by working with your contractor to identify routine maintenance costs, and non-routine costs. Hotel owners and managers will also need to ask their contractors if they need to make any landscape renovations or improvements. Just like structures, the landscape can grow tired overtime, and need refreshing.
While it might seem like preparing for fall can be a lot of work, with the right maintenance plan, and the right landscaping professional, you can be sure your property remains healthy and aesthetically pleasing throughout the upcoming seasons.
Ken Hutcheson is President of U.S. Lawns. He joined the company in 1995 and has grown the organization from a regional 18-franchise network to a national network of over 250-franchises in all 48 contiguous states. U.S. Lawns is nourished by the values and passion of family-owned and operated franchise businesses. Mr. Hutcheson champions an entrepreneurial spirit and a teamwork culture. He's skilled at developing employee, franchisee and customer bases that are anchored on a commitment to long-term relationships. His focus on the company's Franchise Development and Support is central to the company's steady national expansion and consistently high rankings on industry lists. Mr. Hutcheson can be contacted at 407-246-1630 or khutcheson@uslawns.com Please visit https://uslawns.com/ for more information. Extended Bio...
HotelExecutive.com retains the copyright to the articles published in the Hotel Business Review. Articles cannot be republished without prior written consent by HotelExecutive.com.