Food for Thought: Food Waste Reduction
By Rauni Kew, Public Relations & Green Program Manager, Inn by the Sea
The growing counterculture to food waste is so wide spread the Association's annual What's Hot List placed food waste reduction right behind hyper-local sourcing in their Top Twenty Trends.
Food waste is a global problem, but 40% of the food produced right here in the US goes uneaten according to a 2012 National Resources Defense Council (NRDC) report. Waste has been on a steady rise since 1970 when the US wasted about 50% less food. So why did so many restaurant chefs choose to draw attention to food waste now?
Chefs have always focused on using up product. Running an efficient kitchen just makes economic sense, and since food is the second largest cost after labor, wasting food greatly impacts restaurants' bottom lines. However, the 2015 Chef trends recognized this moment in time where locavores rule, trash fish dinners and root to stalk menus are the new chic, and where diners are as acutely interested in taste as they are with their health and the health of the planet. Couple timing with growing foodie tourism and consumer interest in novel culinary experiences, with the important economic and emotional role food service plays in hotels, Chefs now see value in finding creative solutions around reducing food waste.
Lasting Impressions Through Hotel F&B
Captivating hotel cuisine can be just that - captivating your guests with a positive perception of the hotel and creating a favorable and lasting impression through great F&B operations. F&B can be a properties' most powerful marketing tool. Resorts, boutique and luxury hotels in particular can tailor menus and ambiance to capture a sense of place, add substance to PR and marketing platforms, and sustain and grow a brand narrative. Hotel menus can easily adapt to culinary trends, seasonality and keep pace with changing guest expectations without requiring huge capital expenditure. Restaurants are profit centers, with F&B being the second largest revenue source after room sales for full service hotels. As the cost of sales for rooms escalates due to marketing and OTA charges, F&B operations have become even more important as profit centers.
This ability for a hotel's F&B to easily adapt and keep up with travel and consumer trends may be one of a hotel's strongest marketing tools. But should F&B be concerned with food waste issues? Surveys show hotel guests overwhelmingly feel properties should take care of the environment. In the Conde Nast Traveler 2011 survey 93% stated travel companies should be responsible for protecting the environment, while 90% of travelers surveyed by TravelZoo in 2010 would choose a "green' or environmentally conscious hotel if price and amenities were comparable to a non green hotel.
The Problem
Getting food to the table, according to NRDC, uses up 10% of the entire US energy budget, and 80% of all freshwater consumed, yet 40% of US food produced is never eaten. Americans are wasting 165 billion (NRDC 2012) at a time when, according to the USDA, 49 million of our neighbors live in food insecure households. Food waste means enormous US resources have also been squandered - water, fertilizer, transport and the labor it took to grow the food. The majority of rotting food ends in landfills and contributes to harmful methane gas emissions, 10 times more damaging than carbon dioxide.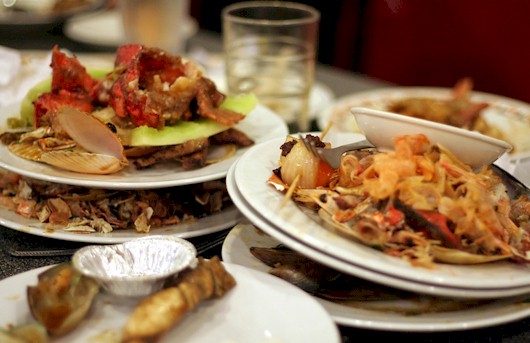 Keep an eye on what comes back from the kitchen; maybe your portions are too large
According to a USDA study 4 to 10% of full service restaurant food purchases go to waste before being served, and another 17% is left on the plate by the consumer, while 55% of leftovers are not taken home. According to a 2005 University of Arizona study 49,296,540 lbs in full service restaurants, and 85,063,390 lbs in fast food restaurants of waste is generated daily.
Trash to Table
Solutions to food waste are showing up in the trendiest of eateries, generating interest, great PR, earned media and good will. Chefs are boasting tip to tail and root to stalk menus with a waste not want not philosophy. Creativity and innovation abound adding interest and new flavors to menus. Chefs are educating guests on the value of baking bread today and serving bread pudding tomorrow as the wisdom of their grandparents is being revisited, and compelling restaurant narratives emerge.
With a fresh look at waste reduction, Chefs are asserting the value of culinary gems found in what was formerly sent to the compost bin utilizing orange rinds for zest, carrot tops for salsa, watermelon rinds for pickling, and celebrating bolted produce for pungent flavors.
Chef Dan Barber nailed the message that much of what we toss is good eating at his pop up Wast(ed) restaurant Blue Hill in Greenwich Village. He invited a lineup of celebrity chefs to create gourmet menus from ingredients traditionally accepted as trash. Menu items included butter substitutes made of fat and rosemary, fish fins, fried crisps made from skate wing cartilage, fish heads, and cactus. The sold out pop up caught the imagination of both diners and journalists who were open to Barber's message of reducing waste while broadening our ideas of what's edible and delectable.
Media attention and wait list for Barber's trash to table menu shows there is a climate of change amongst diners open to experimentation and interested in solutions.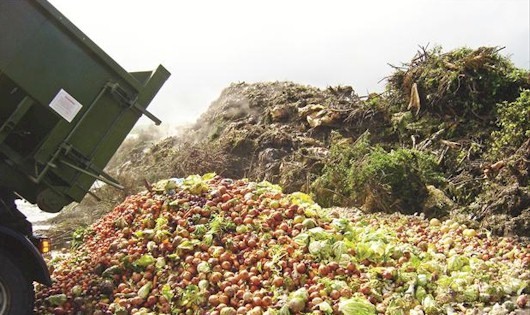 Darn... could have made a ton of Apple Pie out of that load!
Dirt from the Farm
Farmers and chefs have a responsibility to educate consumers on what's actually edible to reduce waste according to Penney Jordan of Jordan Farm in Cape Elizabeth. www.jordansfarms.com "Consumers and chefs are now so discerning about produce they won't go near a crooked carrot, a short corn cob or a twisted cucumber- yet they are all farm fresh and perfectly delicious. Farmers are leaving produce in the fields because there's no market for what's perceived as imperfect crops," said Jordan.
Jordan invites gleaners to hand pick what has been missed after a harvest to cut field waste. She has developed a discount program for chefs for imperfect produce- there's consumer produce which appears perfect, and then discounted cooking produce- still farm fresh and delectable but bruised, scarred or crooked. Jordan feels chefs and consumers need to better appreciate and make use of full growing cycles for produce. She notes spinach is still nutritious, tasty and fine to eat just before it bolts, but consumers have decided there is a narrow growth cycle window that is acceptable. "For unknown reasons we've determined green beans are only edible with small seeds- in other countries the presence of larger seeds in a more mature bean is perfectly acceptable. We need to broaden our perception of what is acceptable to reduce unnecessary waste."
Waste Not, Want Not
At Inn by the Sea, www.innbythesea.com a luxury boutique hotel on the coast of Maine whose green credentials include both a Maine DEP Environmental Leader and LEED ģ Silver certifications, Executive Chef Steve Sicinski recycles cooking oil into bio fuel and composts organic waste with the help of local farmer, John Tibbetts.
"I rely on the hard work and skill of producers and appreciate the great product they create," said Sicinski. "I respect the effort that goes into producing food whether farmed, crafted or caught far too much to waste it."
In the hotel's intimate Sea Glass restaurant, which seats only 42, the chef doesn't feel tip to tail is the best option. Instead, he manages waste through offering a manageable menu, purchasing and source reduction. The Chef carefully selects only the cuts he can sell in a timely manner. Unrequested sides, often starches are the most likely to end in compost bins. The chef manages plate waste with menu options, usually plating only protein and vegetables, then offering starches and sides separately.
"We use up everything we purchase," said Sicinski. One of Sea Glass's menu items is Crisp Duck Breast. The cabbage spring rolls served with the breast make use of the rest of the duck meat, while bones are used for stock.
"One of the challenges for a restaurant is to promote value but serve appropriate portions. You don't want waste, but you do want to exceed expectations" said Sicinski. "Finding that balance for your restaurant is key."
Utilizing Culinary Gems from the Compost Bin
Hotel's F&B operations are one of the most cost effective ways to connect the guest to place and create an emotional and lasting impression of the property, as well as nail the brand's story. In this age of foodie tourism, culinary experimentation, and interest in green hospitality guests are open to new flavors and expect tourism operators to respect the environment. This is the perfect moment for chefs to address the problem of food waste with creative solutions that add value to guest stays and brand narratives.
Rauni Kew's background is in marketing and public relations. Currently working in hospitality, she manages Public Relations & Green Programs for Maineís luxurious Inn by the Sea, and Public Relations for The Maine Innkeepers Association. Ms. Kew served on the Maine Tourism Commission, has been a board and executive member of the Greater Portland CVB for 7 years and was the immediate past Chair, and is the Greater Portland Regional Representative for the Maine Office of Tourism. She frequently has published articles on sustainable hospitality in industry journals. Previously Ms. Kew was Marketing Director for a Chemical Process manufacturer. Ms. Kew can be contacted at 207-799-3134 or rkew@innbythesea.com Please visit http://www.innbythesea.com for more information. Extended Bio...
HotelExecutive.com retains the copyright to the articles published in the Hotel Business Review. Articles cannot be republished without prior written consent by HotelExecutive.com.