Building a Spa Brand Around Teens
By Lucia Rodriguez Amasio, Laniwai Spa Director, Aulani, A Disney Resort & Spa, Hawaii
Today's travelers not only seek wellness in their escape, but also have come to expect it. As a result, hotels and resorts-having recognized the demand for expanded and unique wellness programs-may need to take a closer look at their branding. It is critical to ensure the offerings are properly positioned in consumer-facing marketing and communications, as well as accurately reflected in the spa's design, staff, food options and treatment offerings.
At Laniwai Spa located at Aulani, a Disney Resort & Spa in Hawai'i, branding around the concept of family wellness has been at the forefront since our resort's inception. At our spa, we believe it is important to creatively offer experiences for the entire family in an environment that embraces the Hawaiian connection to nature.
Our spa is aptly named Laniwai (pronounced lah-nee-vai), meaning "freshwater heaven," to emphasize the cultural importance of water. Laniwai is an 18,000-square-foot full-service spa and wellness center with 15 treatment rooms, a fitness center and a full-service salon for hair, makeup and nail services. In addition, Laniwai is home to the Kula Wai, a 5,000-square-foot outdoor hydrotherapy garden for guests to enjoy before or after their spa treatments. The Kula Wai houses herbal pools, six unique "rain showers," hot and cold whirlpools and plenty of outdoor relaxation areas with a menu of healthy foods and beverages. The state-of-the-art, 2,000-square-foot health club features Life Fitness cardiovascular and strength training equipment, a Kinesis machine, free weights and a stretching area.
Capitalizing on the niche of family wellness, Laniwai Spa offers a variety of family wellness programming to ensure each and every member of the family has a chance to immerse themselves in the magic that is Aulani. An example is the family massage, The 'Ohana. Designed for three to six family members, this experience utilizes the healing touches of lomilomi in a family treatment suite.
Taking the family wellness concept one step further and diving deeper into the niche teen-specific wellness is where our concept of Painted Sky-the islands' only teen spa-was born.
Seeing the Need: A Spa Just for Teens
Spas have traditionally been for grownups, but over the past decade, children have been experiencing a higher exposure to what spas have to offer-perhaps through parent's engagement and the media. Wellness for the young adult has become more critical, so we carefully created Painted Sky. Our teen spa is less about indulgence, and more about our dedication to families and their teenagers. We focus on providing approachable expertise in the areas most important for teens: exercise, nutrition, and overall skin and body care.
To respect the integrity and privacy for adults, Painted Sky is a separate, 1,500-square-foot retreat that offers age-specific spa treatments and wellness activities exclusive for teens ages 13 to 17.
Specifically trained cast members (our employees) working at Painted Sky range from spa specialists that execute massage therapies and spa-specific treatments, to physiological trainers who host complimentary exercise classes and one-on-one training sessions for teens. Having this range of cast members has ensured each young guest can receive exactly what they need from Painted Sky. The spa staff truly educates youth by beginning a life-long journey to physical and mental wellness, healthy eating, as well as proper skin and body care. And teens are provided with an environment of their own where they feel comfortable to seek out expertise and fully dedicate themselves to wellness.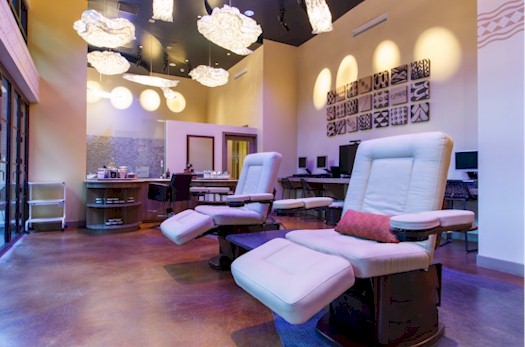 Teens Gravitating Toward Wellness
In today's society, teens are predisposed to have an interest in spa and wellness offerings. At this stage in their life, many teenagers, both male and female, find their appearance and grooming to be of utmost importance. A lot of female teens are looking for skin care, hair care, makeup tips, manicures and pedicures, in addition to fitness, plus relaxation and massage treatments. Teen males are often looking for the same thing; they are just as conscientious about their appearance and have interests in skin care, hair care, grooming and fitness.
Building on the interest Painted Sky has seen from teens, we teach teens how best to care for their skin. While many teens regularly wash their face, our spa specialists help them understand the importance of proper daily skin care tips, which play a major role in results. During this vital process, it's important to teach teens a basic skin care regimen to help them see both immediate and long-term results. With busy schedules, hormonal changes and more, many teenagers do not care for their skin properly. To help teens combat breakouts and acne, Painted Sky cast members take the time to get them to the next step once they leave the spa: to properly cleanse and moisturize day and night. Our team regularly sees highly acne-prone teens at our spa, and we provide specific treatments that target acne and deliver immediate results. For example, Painted Sky's Clarity Facial deeply cleanses the skin to improve the appearance of the skin so teens can feel an instant boost of self-esteem.
Teens are also very interested in the physiological aspect of wellness with both the active population that is already involved in sports, and those looking to introduce exercise into their daily regimen. From a sports approach, teens are looking for better performance; they prefer strength training and conditioning, circuit workouts and cardio vascular improvements. Whether a teen is an athlete looking to improve their performance, or just looking to learn the daily basis to maintain their health, teens have an opportunity to work with an expert at Painted Sky who can guide them. Our on-staff trainers provide valuable exposure to teen-specific workouts through individual coaching.
In and out of treatments, Painted Sky furthers its concept of health and wellness through our culinary menu items. While at the spa, guests can custom order açaí bowls (a smoothie-like parfait loaded with the Brazilian super fruit açaí) and Greek yogurt topped with their choice of fresh fruit, granola and more. Again, teens are encouraged to hang out and socialize in the spa's patio, or explore the many details of Painted Sky.
Spa Treatments for Teens
We've developed a lengthy list of customizable teen treatments at Painted Sky, providing adolescents with many of the same opportunities adults have. The spa offers a variety of massages such as the Teen Hana Pōhaku (stone) Lomilomi Massage and Sports Massage, in addition to a number of organic facials, manicures, pedicures, makeup consultation, inhalation therapy and more.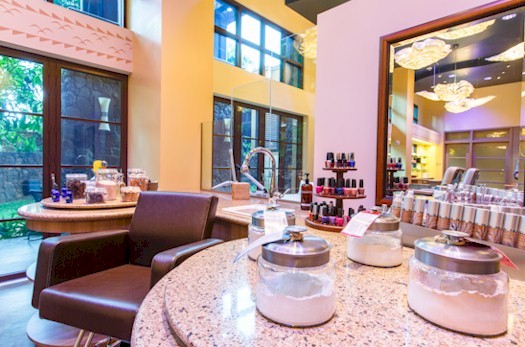 In order to make spa products more approachable for teens, we created the "Iliahi" Bar, a mixology station. The bar enables guests to custom-design their own skin exfoliations based on type of exfoliant (e.g., sugar or salt), herbs and essential oils. Additionally, Painted Sky offers a variety of face and body products with an emphasis in skin care for teens. We work with our teen guests to share the importance of skin care, paving the way for them to take a stronger interest in high quality skin care management, which can help to eliminate acne and other skin conditions many teens encounter. Additional retail products such as bath and body products, spa gifts, apparel and Disney's line of beauty products are tools for teens to engage in wellness and further emphasizes the importance of branding within the spa.
Connection to the Destination
The spa's design explores the cultural and even spiritual significance of "anuenue" or rainbows. By combining elegantly reflected light, brilliant color, and healing water features, Disney's Imagineering team created a mystical aura. At Laniwai, our guests are pampered in ways that enhance connections to nature and sets guests on a path to personal enlightenment.
In addition to the treatments and retail products available at Painted Sky, the facility itself features a number of elements that bring to life the Hawaiian culture and support our Aulani brand. Painted Sky features an architectural ceiling with overlapping waveforms; the wave pattern is echoed in a concrete and pebble-embedded floor that resembles orange and brown hues of lava rock to mimic the lava rock outdoor courtyard of the Kula Wai. Playful white-metallic light fixtures overhead evoke clouds and volcanic plumes. The mixology station which enables guests to custom-design their own lotions and fragrances is inspired by "'iliahi," or fragrant sandalwood that once flourished in Hawai'i forests.
Painted Sky also incorporates a subtle artistic experience for our young guests. At the center of the spa lies an artistic centerpiece photo-collage assembled by local photographer, Natalie Jensen, featuring the kākau (tattoos) of various builders and workers who participated in the construction of Aulani. And to take this tattoo motif one step further, Native Hawaiian kākau practitioner Keone Nunes created the pattern that subtly adorns one curving wall of Painted Sky.
There is an opportunity for spas to develop offerings and create environments that cater to the interests of their audience. Our spa concepts, both Laniwai and Painted Sky, emphasize our focus on wellness for everyone in the family. Teens can enjoy an experience created just for them, and there is a suite just for families. We've created a place where everyone feels special.
Lucia Amasio is the Director of Spa and Merchandise at Aulani, a Disney Resort and Spa, Ko Olina, Hawaii. She oversees all aspects of the 23,000-square-foot Laniwai, including the Painted Sky teen spa, fitness center and retail operation. Ms. Amasio has been in the health and spa industry for more than 20 years. A 17-year resident of Hawaii, she has opened and operated luxury spas in the Hawaiian Islands and the mainland U.S. Ms. Rodriguez Amasio can be contacted at 866-814-3569 or lucia.amasio@disney.com Extended Bio...
HotelExecutive.com retains the copyright to the articles published in the Hotel Business Review. Articles cannot be republished without prior written consent by HotelExecutive.com.