Accessible Hotels, Nordic Style
By Simon Hudson, Endowed Chair in Tourism and Hospitality, University of South Carolina
Millions of people around the world with a disability have the means and desire to travel, yet they chose stay at home because of the lack of accessible facilities. The potential size of the accessible tourism market is estimated at between 600 and 900 million people worldwide, suggesting that roughly 10 per cent of the population is looking for barrier-free or accessible travel. With an ageing population this percentage will continue to grow and there is an increasing recognition that this is no longer a niche market. According to a study conducted by Open Doors, a well-recognized training firm in the U.S., people with a disability take 31.7 million trips per year spending $13.6 billion on travel. Furthermore, people with a disability tend not to travel alone and are often accompanied by carers, family or friends. If their expenditure is factored in too, this increases the 'klout' of accessible tourism considerably in the overall tourism market.
The number of people traveling with a disability could rise significantly if accessibility enhancements were made within the travel industry. In Germany, for example, a recent study showed that about 37 per cent of travelers with a disability have decided not to travel in the past due to a lack of accessible facilities. Yet 48 per cent would travel more frequently if these facilities were available, and 60 per cent would be willing to pay higher travel costs for improved accessibility.
However, in order to nurture an accessible tourism market, a cultural shift needs to occur along with facility and service advancements in the travel industry. Some destinations have recognized this need to change, and have introduced initiatives to position themselves as 'accessible tourism-friendly'. Examples are: the Accessible Tourism for All program in the U.K.; the Freedom without Barriers project in San Marino; Hospitality for All in Germany; IMSERSO programs in Spain; the Accessible San Diego initiative; Peru's Tourism for All program; the Barrier-Free Thailand project; and Belgium's Accessible Tourism Destination Certification Program.
In the accommodation sector, hotels too are improving the services they offer to people with a disability. Just this year, the World Responsible Tourism Awards introduced a 'Best Accommodation for Disability Access' category for places to stay that set the standard for accessible tourism practices and serve as an example to the tourism industry. A Gold award went to Campo and Parque dos Sonhos Hotel and Adventure Park in Brazil. A decade ago, disabled people in Brazil hardly left their homes until a new law enforced basic criteria which enabled people with disabilities to have access to public places within the ensuing four years. At that time, local entrepreneur Fernandes Franco, who created Campo and Parque dos Sonhos, was already taking steps that went way beyond his legal obligations. Not only did he make bedrooms, bathrooms, restaurants, swimming pools, and all of the common areas accessible with the usual ramps and hand bars, but he introduced tactile floors, tactile maps and menus for the visually impaired, a reservation center for the deaf, and kennels for guide dogs. The hotel also ensures that people with disabilities can be just as active as fully able visitors, adapting adventure equipment, creating new operational procedures, and providing free motorized wheelchairs. Consequently, they now offer accessible zip-lining, canopy tours, carriage rides, hiking trails and accessible bicycles.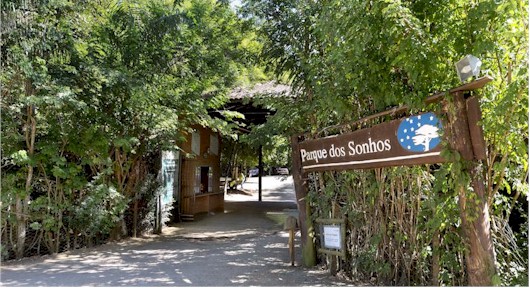 A Silver award for accessibility went to the NATIVE Charming Hotels, an alliance of Madrid hotels which promote local accessibility across all venues, focusing on excellent communication methods so that people of all disabilities can become easily informed about hotel facilities. The alliance has created an easy booking system, and then signage and hotel information leaflets are all in Braille, as are the toilets, bath taps and so on. Using smart technology, Native Hotels gives guests a magnetic room key, which includes a BiDi code containing all the information a guest might need. This information can be converted to vocal text by using a smartphone.
But perhaps the most proactive hotel group in terms of providing accessibility is Scandic, the Nordic region's leading hotel chain with 230 hotels across Europe. The policies dedicated to accessibility were initiated by Magnus Berglund, who was originally a cook with Scandic. Due to a muscle disease, Berglund was on sick leave for five years. When he was able to start work again, he contacted his former employer with his ideas on how the hotel chain could increase accessibility and use it to gain competitive advantage. In 2003, Berglund, who walks with the help of a special cane and travels with a rehab dog, was appointed Accessibility Director for Scandic, reporting directly to the Group Executive Committee. "Guests with special needs are a growing market due to the population getting older," says Berglund. "This will continue as disabilities are no longer seen as a hindrance that stops people from traveling. At Scandic we work hard to make all our hotels more accessible. It is not always about investing in the building - many times it is the smallest things that make a difference. "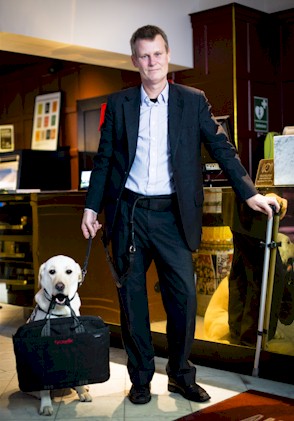 Scandic has an accessibility standard that was drawn up in 2003 as a platform for all accessibility work at Scandic. This standard works as a checklist and template for the hotels and, in particular, when Scandic opens a new hotel or renovates an existing hotel. The standard has grown over the years and today it contains 110 check points to follow. Eighty one of these points are mandatory for all hotels and for new hotels all points must be considered. Scandic's accessibility standards can be found here.
Special features in the hotels include alarm clocks that vibrate or shine a blue light for the hard of hearing, braille hotel fact sheets, accessible rooms, elevator and other controls at two heights, and a can-do attitude towards accommodating disabilities. A lowered reception desk for wheelchair users, a guest computer in the lobby at a comfortable height for a wheelchair and an ordinary chair, and a hearing loop in conference facilities and reception, are other examples of a high level of accessibility. "On every hotel page our guests can see what kind of service we offer regarding special needs," says Berglund. An example can be found here.
Berglund believes that providing accessibility makes good business sense. "Since there is a growing market for travelers with special needs we do see that the work we do gives us competitive advantage. We are probably the first hotel chain in the world that has undertaken so many activities when it comes to accessibility. When we started with this work in 2003 we didn't have any contracts with handicap organizations. Today we have contracts with over 100 different handicap organizations and we think that says a lot about the kind of effect our work has. There are also more and more conferences where organizers are asking about accessibility before they book."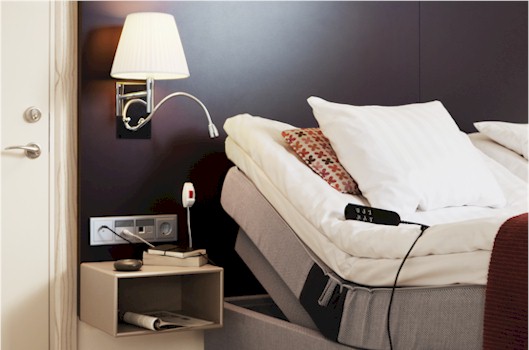 Training of course is critical, and Berglund educates all the hotels on how to accommodate disabilities. As part of this training, he asks hotel executives to navigate their hotels in wheelchairs, to familiarize them with the challenges facing those with disabilities. Scandic also has an excellent interactive online e-learning course on accessibility that is available for both staff and anyone outside of the chain. Participants can navigate in three different 3D panoramic environments - a reception and lobby, a hotel room, and a hotel restaurant. The course is available on Scandic's website.
Certainly, the Scandic example suggests that hotels should be seeking the business of the disabled traveler, rather than simply ensuring they are meeting legal requirements. Scandic and the other hotels profiled in this article are taking a proactive approach to making their facilities accessible, comfortable and pleasant for these customers. Research suggests that once disabled travelers have found accommodation that suits their needs, they can be loyal customers returning year on year. Given that approximately 20 per cent of North Americans and Europeans are living with a disability, it is a market that cannot be ignored by the hotel sector.
Simon Hudson is a tourism aficionado, exploring the world, spreading his passion for travel, and enlightening audiences on every kind of travel research from winter sports to film tourism. He has written eight books, and over 60 research articles, many of them focused on tourism marketing. He is the Endowed Chair for the SmartState Center of Economic Excellence in Tourism and Economic Development at the University of South Carolina. Dr. Hudson can be contacted at 803-777-2705 or shudson@hrsm.sc.edu Extended Bio...
HotelExecutive.com retains the copyright to the articles published in the Hotel Business Review. Articles cannot be republished without prior written consent by HotelExecutive.com.