From Farm to Fork: Success in Sourcing Locally
By Shawn McGowan, Senior Director Food & Beverage Brand Initiatives & Programs, Hilton Worldwide
Iconic restaurateur and chef, Alice Waters, couldn't have foreseen that she would be a driving force in the way we source our food when she first opened Chez Panisse in 1971. Her decision to source foods locally and work directly with the farmers and purveyors caused a major shift in the way we approach the plate - both from a nutritional perspective and a sustainable one. What was once a regional trend, held in high esteem by food critics and gastronomes alike, has since permeated every aspect of our lives - from the abundance of farmers markets to the restaurateurs and chefs who continue to design their menus with notes and annotations of local farms and artisan purveyors.
However, the way that this evolving food sensibility translates for hotels is an entirely different proposition. There are a number of variables that need to be considered when beginning to rethink your food and beverage infrastructure including cost, supply chain, and quality assurance. Sourcing locally is well worth the time and investment, as hotels who embrace local sourcing attract more diners, gain more visibility for their food and beverage program and increase revenues for their outlets.
At Hilton, we're committed to incorporating local and hand-crafted ingredients into our food and beverage operations and have seen great success at properties that have been running locally sourced programs for years. We even have properties that produce their own artisanal products in-house - from charcuterie to pickling and even harvesting bees for honey. I've learned that there's a lot that goes into sourcing locally and successfully transitioning food and beverage operations internally, as the degree of implementation of local sourcing will vary and the adaptation of local sourcing will be equal to the resources within any given hotel.
Recipe for Success: A Pinch of Imagination and Dash of Ingenuity
The following are suggestions for modifying your food and beverage strategy. There are some straightforward, easy-to-execute ideas, such as rethinking your purveyors, to some larger ideas, such as developing an onsite garden to supplement your needs. All of these suggestions are scalable and will grow as your program develops.
Sourcing Local Purveyors
While local purveyors are typically thrilled at the idea of having a new partner to sell to, there can sometimes be hesitation. Many local producers are not used to supplying at the scale a hotel usually needs, and may be unsure how such a partnership might work.
For instance, Todd Kelly, the executive chef at the Hilton Cincinnati Netherland Plaza, faced many challenges when he decided to undergo a shift in his purveyors. A pioneer and leader in the local movement, Kelly made it his mission to find local suppliers soon after arriving in Cincinnati in 2007.But the initial reception he received from local growers wasn't encouraging; they just couldn't see how it could work on the needed scale, so he was slow to lock in any new partnerships.
He didn't give up, though, and over time he discovered Doug Maze and the Maze Family Farm, an organic grower in Mariemont, a planned community village about 10 miles from Cincinnati. He fell in love with the quality of the farm's produce and forged a relationship with them, committing to purchase everything they produced. The Maze Family Farm, in turn, was able to benefit from the relationship and the guaranteed, built-in sales stream, a safe proposition compared to the fluctuating sales at the farmers market.
Once Kelly had an established relationship with the Maze Family Farm, it became easier to facilitate opportunities with other local purveyors and artisans. In addition to the produce he sources from Maze, Kelly now buys Red Wattle pigs selected to his standards from Dean Family Farm in Georgetown, Ohio, and pastured lamb from Elysian Fields Farm in Pennsylvania, among others.
Seeking out local purveyors and food producers can seem daunting, but it can definitely pay off as it did at the Hilton Cincinnati Netherland Plaza. An easy way to get the ball rolling is to talk to the farmers at the markets in your region and begin the dialogue.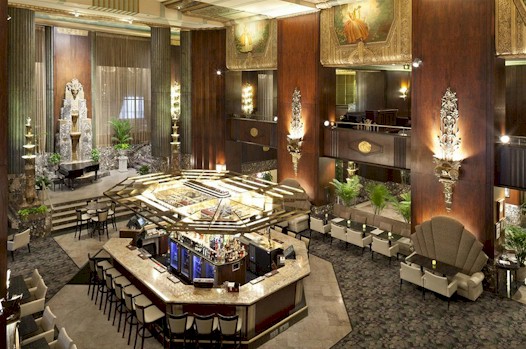 The spectacular dining hall at Hilton Cincinnati Netherland Plaza
Bringing it In-House: Hotel Gardens
A common challenge when shifting operations and bringing programs in-house is space, or for many of us, lack of space. For a hotel in an urban environment, it's difficult to imagine having garden-fresh vegetables because the environment is not conducive. However, hotel chefs are getting creative and finding unique spaces to develop their in-house endeavors. Hotel rooftops are increasingly popular for vegetable gardens (usually 300-to-400 square feet in size), as well as for harvesting bees for honey.
For example, at Hilton McLean Tysons Corner in Virginia, the food and beverage team source honey from the four beehives located on the hotel's terrace, which is used in many of the hotel's signature dishes, including its bacon jam. Executive Chef Luc Dendievel also houses an herb garden on the terrace. In addition to honey, the hotel's cultivation of bees help pollinate the herb garden, as well as nearby farms from which Dendievel buys much of the produce he and his team use.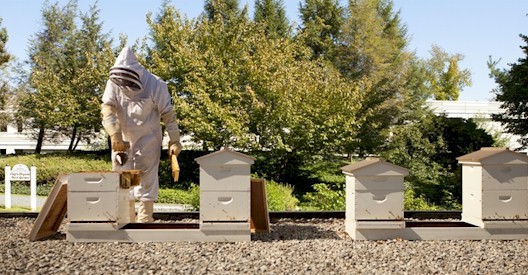 The beehives at Hilton McLean Tysons Corner
At Hilton Chicago, Executive Chef Mario Garcia created a garden on the hotel's rooftop. The garden consists of 84 planters in which he grows herbs, tomatoes and peppers. Plans are currently in motion to double this to 160 planters during the next year. Guests can engage in the experience, as the garden is open for tours in the good weather.
We're also working with many of our chefs to rearrange their kitchens and outdoor areas to create space for smokers and cheese making. For example, at Pointe Hilton Squaw Peak Resort, the food and beverage team smokes much of the meat in-house using locally sourced mesquite and hickory woods.
We've even begun reconfiguring the front-of-house at some of our properties and including viewing panes or windows into the kitchens so that guests can watch our chefs as they hand-craft these specialty, artisan products.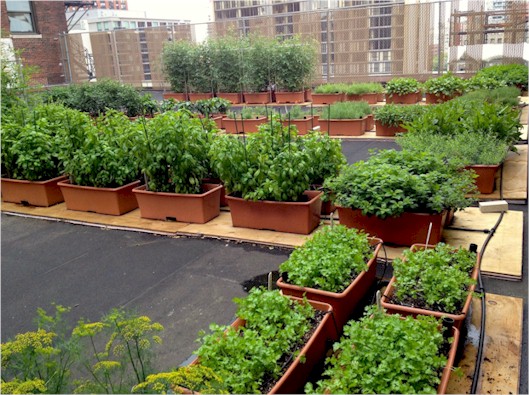 Hilton Chicago Rooftop Vegetable Garden
Seasonality Rules
Without a doubt, seasonality plays a major role in local sourcing, especially for hotels located in geographies with harsh winters. But cold weather shouldn't deter chefs from going local. In fact, it provides a unique opportunity for culinary creativity, as it forces chefs to utilize new ingredients throughout the year.
It also helps ground guests' dining experience by offering ingredients that reflect the time and place. Diners today are more sophisticated than ever before and they expect a restaurant's menu to reflect the local season and incorporate local ingredients. It's our job as culinary professionals to ensure that the food and beverage offerings available to guests meet their growing expectations, and going local is an easy way to do just that.
For example, this year, we are launching Canopy by Hilton and will begin to open locations across the country. Each property is designed as a natural extension of its neighborhood. Menus will feature favorite native dishes and locally sourced ingredients, and will change regularly based on the season. These offerings will help guests better experience the flavors, personality and culture of their destination.
Exploring New Trends
In the process of going local and bringing programs in-house, many chefs also discover new pursuits that further enhance their food and beverage offerings and help shape their food philosophy. Pickling, fermenting, canning, smoking, and curing are all examples of ways that chefs can bring the artisanal food experience into their kitchens - and onto their diners' plates.
Pickled items - from cauliflower to watermelon radishes - continue to be at the top of the most notable culinary trends. Another trend that hasn't lost traction is small plates and charcuterie. At the Hilton Cincinnati Netherland Plaza, Chef Kelly and his team handle charcuterie in-house, producing prosciutto-like porchetta, pancetta, smoked ham hocks for soup stock, homemade sausage and chorizo.
Going local and in-house provides chefs with a unique opportunity to elevate their food and beverage offerings, try out new ideas and give guests a taste of the latest culinary trends.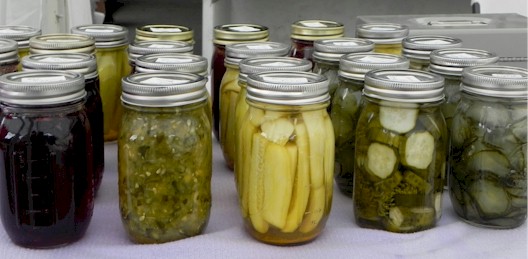 Homemade pickles are easy and inexpensive to produce
The Question of Cost
A common misconception is that going local and bringing production in-house comes with a high price tag. While getting started can take time and resources, these initiatives have notable pay-off and can even help bring down food costs.
Locally sourced ingredients have less distance to travel, so shipping costs are reduced or even eliminated in some cases. Local suppliers typically see the benefits of having a regular customer, so often will be flexible on price as a way to help establish a long-term relationship. Bringing operations in-house can also benefit the bottom line by reducing overhead costs and providing greater control over the quality of ingredients.
Developing locally sourced programs are evolving practices that are growing at a rapid pace and becoming standard for food and beverage across the country.
Hilton properties around the world have been going local and in-house for a while, and we're eager to continue and expand these efforts. We've found that guests respond incredibly well to local sourcing and in-house initiatives. And, of course, providing what guests favor and desire makes all the difference.
Shawn McGowan is the Senior Director Global Brand Food and Beverage Services at Hilton. He is responsible for managing the development and implementation of all 14 of Hilton branded hotels, positioning their food and beverage long-term and strategic brand initiatives. Working in conjunction with Hilton F&B Ops, Hilton Supply Management, Brand Marketing teams and numerous franchise management companies, Mr. McGowan identifies and participates in developing food and beverage specifications and marketing program support. He also develops and administers key standards and training programs for Hilton Team Members around the world. Mr. McGowan s an active participant in the Hotel F&B Magazine Corporate Editorial Advisory board. Mr. McGowan can be contacted at 703-883-5210 or shawn.mcgowan@hilton.com Please visit http://www.hilton.com for more information. Extended Bio...
HotelExecutive.com retains the copyright to the articles published in the Hotel Business Review. Articles cannot be republished without prior written consent by HotelExecutive.com.