Spa Branding With a Focus on Holistic Wellness and an Infusion of the Local Culture
By Jay Heidenreich, Director of Sales & Marketing, Ritz Carlton Kapalua
Authenticity and unique experiences continue to be important criteria to most travelers when making travel destination decisions. Along with this trend, we've seen guests also looking to maintain healthy lifestyles while on vacation. As the focus on holistic wellness and authentic travel experiences continues to grow, it is important that we as hoteliers keep these ideas front of mind as we develop new concepts for our hotel offerings. Infusing authenticity, health and wellness into all aspects of a hotel from spa to food and beverage and guest activities, is something we are very dedicated to at The Ritz-Carlton, Kapalua. We are consistently planning and evaluating our hotel amenities to ensure that our guests have the opportunity to create lasting memories through unique experiences they would not be able to find elsewhere.
When landing on any of the Hawaiian Islands whether it be for the first time or the hundredth time, discerning travelers want to feel as though they have been transported. They are seeking one-of-a-kind experiences that they would not find at home. The Ritz-Carlton recognized this emerging trend and innovated to create experiences with an authentic sense of place. As part of this brand innovation, The Ritz-Carlton, Kapalua, located on the northwestern corner of Maui, underwent a major $180 million renovation in 2008 and reemerged with a renewed sense of place. Prior to the renovation our hotel, including our spa, had the same look and feel as other Ritz-Carlton hotels and our spa was branded in the same manner as Ritz-Carlton spas around the world. An integral part of this transformation included the rebranding of our signature spa. What was unveiled in 2008, and is still in practice today, was a refreshed sanctuary infused with the spirit of Aloha and deeply rooted in Hawaiian healing.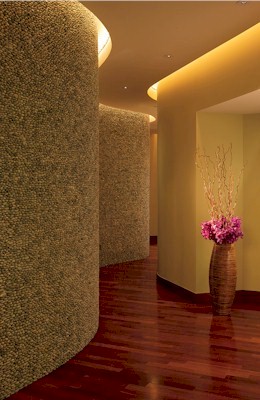 When planning for the renovation began, designers and architects partnered with Public Relations Manager and Maui native, Clifford Nae'ole, to ensure concepts for the reimagined hotel, including the signature spa, had a relevance and significance to the Hawaiian culture. The theme of the spa was to be designed with Hawaiian healing and wellness in mind and the concept would be carried through to all aspects of the décor, design, flow, staff training and inspiration for its treatments. Mr. Nae'ole, who soon after the hotel reopened from renovation would be named its full time Cultural Advisor, strategized with stakeholders and proposed the spa be branded around the concept of Waihua, water that ancient Hawaiians believed was in its purest form and had healing capabilities. As Mr. Nae'ole says"Mai ka po'o, ia ka piko me kou wawae…e ola e… 'from the crown of the head to the soles of the feet …long life."
As the Hawaiians saw it, the gift of ua (rain) enlivens the senses and instills well-being, to nurture, cleanse, refresh and purify. Blessed with a keen sense of observation and spirituality, the native Hawaiians of ancient times gave many names and personalities to various rainfalls, one such name was Waihua. The large leaves of the taro plant caught and stored this special water until gathered by the kahuna (expert, healer, prophet) for use in potions, medicine, ceremony and protocol. Waihua represents water that has not touched the dirt of the earth and thus was a treasured resource that helped na kanaka maoli (Hawaiian people) rejuvenate and invigorate their bodies and spirits, creating pono (balance) in one's life. The Spa at The Ritz-Carlton, Kapalua represents the concept of Waihua in both its design and its inspiration for the treatments offered.
The spa design incorporates the natural colors of the landscape from the mountains to the sea and its soothing ambiance evokes the healing waters of Waihua. The concept is evident from the moment of arrival, with wood panels carved with images of taro leaves, to the dry stone river bed design on the floor. The walls throughout the spa are curved representing water movement, and guests walk through groves of tall bamboo, creating a sense of being in a secluded forest. Raw natural ingredients found in the spa treatments are placed in various alcoves. Before entering the relaxation lounges, guests go through a compressed space representative of a canyon, to help them transcend and leave behind any stress from the outside world. In addition, the design of the full service Salon within the spa incorporates wood floors and wall coverings with embossing of water droplets.
The 17,500 square foot spa boasts 15 treatment rooms, including two outdoor couples' cabanas, and steam rooms, saunas and whirlpools with lava stone walls, and private as well as co-ed relaxation areas with Basalt stone floors and rain showers, overlooking a taro patch garden. Most of the treatment rooms open to private outdoor shower gardens, while water walls and Hawaiian artwork are a unique presence throughout the public corridors.
The healing powers of Waihua are presented in various treatments from the ancient Hawaiian art of Lomilomi to therapies incorporating Hawaii's natural remedies. Many of the spa treatments also incorporate natural ingredients in the spa products such as pineapple, papaya, kukui oil, coconut, pumpkin and blueberry. Utilizing ingredients of nature and philosophies of ancient Hawai'i, the new Ritz-Carlton Spa, Kapalua transports its guests through a portal in time to alleviate present ailments. Stress and tension are relieved, aches and pains dissolved, the aura restored and the spirit rekindled. Such specialized treatments include:
Waihua's Lomilomi Massage - Based on the Hawaiian concepts of working with the body, mind and spirit, this treatment incorporates hands-on healing that is powerful yet gentle, giving immediate and long-term results. Lomilomi symbolically means "to communicate energetically deep within the bones of the individual, thus the soul of the person."
Lomi 'ili 'ili (Hot Stone Massage) - A Lomilomi massage incorporating heated smooth river stones strategically on the body. The combination of heat and rhythmic pressure stimulates circulation, promoting the release of tension and restoring balance. Feel tired and tense muscles instantly unravel beneath the heat of gliding warm stones.
Couples traveling on a romantic getaway for two can take the journey of wellness together in our spa through a variety ways. We offer two outdoor couples hales as well as a co-ed relaxation areas. These amenities ensure that couples wanting to share the experience can remain together before, during and after their chosen treatments.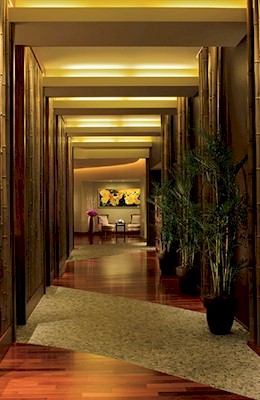 The Hawaiian host culture is also a focal point in our spa, as the ladies and gentlemen have undergone training in the Hawaiian language, to share with our guests. Outside each treatment room is a Koa wood bowl with several Hawaiian words and their translations. Upon completion of a massage, facial or scrub, our guest reaches into the bowl and randomly selects a word. This word is meant as an inspiration and to serve as a reminder of what they should put in to practice as they continue their journey beyond the spa.
As a supplement to the Hawaiian-inspired healing that can be found within the spa, our resort also features a 24-hour fitness center with daily fitness classes ranging from TaiChi and Yoga to Pilates and hiking. The Ritz-Carlton, Kapalua realizes the importance of a healthy mind, a sound body and a fruitful lifestyle. We offer an outstanding group of experienced and talented specialists who are committed to promoting lifelong healthy behaviors. The Ritz-Carlton, Kapalua is proud to offer superb wellness classes, great for adding some variety and inspiration into our guests' daily workout. Whether you are an avid yoga or Pilates practitioner, or a first-timer looking for something new, we have a class that is sure to enhance your journey to holistic wellness.
As an annual nod to this commitment to Hawaiian inspired health and wellness, The Ritz-Carlton Spa®, Kapalua will host a Wellness Event, E Malama Kou Kino. This year, the tentative dates set for the event are October 9 - 12, 2015. Guests can explore all facets of health and wellness spanning from the ancient Hawaiian techniques to modern day, mainstream practices. Past workout classes and interactive sessions have included everything from Yoga and T'ai Chi to nutrition and de-stressing techniques. Morning workouts are followed by afternoon interactive sessions led by the award-winning practitioners. During this one-of-a-kind event, guests can experience as many as of the sessions they like, sip skinny cocktails, indulge in select farm-to-table menu items featuring ingredients from our onsite organic garden or simply contemplate the waves under a canopy of palm trees. Most sessions are complimentary for overnight guests of The Ritz-Carlton, Kapalua. Further detail on this event can be found at www.riztcarlton.com/kapaluawellness.
Through all of these efforts, we hope to inspire our guests with unique offerings that will transport them to a place they have not yet been before. The memories they create on this journey should be one they never forget. As we look ahead, we will continue to evaluate our hotel offerings and ensure that authenticity and holistic wellness are infused into all aspects of our hotel experience.
Jay Heidenreich has been appointed Director of Sales & Marketing of the 463-room AAA Five-Diamond Ritz-Carlton, Kapalua located on the northwest shore of Maui. With more than eighteen years of hospitality experience, Heidenreich will be responsible for the leadership of all sales and marketing for the luxury hotel in the exclusive enclave of Kapalua. Prior to his new role, he most recently served over four years as Director of Sales and Marketing at The Ritz-Carlton, Half Moon Bay in Northern California. Prior to joining The Ritz-Carlton Hotel Company, L.L.C., Heidenreich was a Sales Manager on the opening team of the Hyatt Regency Tamaya Resort and Spa in New Mexico. In 2002 he joined Princeville Resort, a luxury Kauai hotel on Hanalei Beach as Senior Sales Manager. After two years with the property, Heidenreich was promoted to Director of Sales & Marketing, where he served for three years. During his tenure at Princeville Resort, he was part of 2004's Sales Team of the Year and the top producer for the Western United States in 2005 within Starwood Hotels and Resorts. Prior to joining The Ritz-Carlton in 2009, Heidenreich also served as Director of Sales and Marketing at the Kauai Marriott Resort & Beach Club. Originally from San Mateo, Calif., Heidenreich earned his bachelor's degree from Cornell University's School of Hotel Administration. During his studies, he held various operational positions in housekeeping and stewarding, as well as assistant restaurant manager and front desk agent, for several San Francisco Bay area properties. For more information about The Ritz-Carlton, Kapalua call the hotel directly at (808) 669-6200 or visit www.ritzcarlton.com/kapalua. Mr. Heidenreich can be contacted at 808-669-6200 or jay.heidenreich@ritzcarlton.com Please visit www.ritzcarlton.com/kapalua for more information. Extended Bio...
HotelExecutive.com retains the copyright to the articles published in the Hotel Business Review. Articles cannot be republished without prior written consent by HotelExecutive.com.