Keeping Your Employees Safe and Productive
By Barry J. Vogt, Senior Vice President, Chief Claims Officer , EMPLOYERS
Retaining talent is a universal business concern. It is especially important in the leisure and hospitality industry, which has the highest workforce turnover rate among private sector industries, according to the Bureau of Labor Statistics.(1)
When employees become injured or seriously ill as a result of their job it can affect temporary or long-term staffing in the workplace. For reference, the Bureau of Labor Statistics also reports that the hospitality and leisure industry experienced over 90,000 nonfatal occupational injuries and illnesses involving days away from work in 2013 - fully ten percent of all recorded private industry incidents that year.(2)
When employees get injured on the job, not only are they unable to perform their duties, but business operations and employee morale can also be negatively impacted.
An important step hotel managers can take to prevent and control work-related injuries or illnesses is to create a culture of safety in the workplace. This goes beyond taking precautions to prevent injuries from occurring, but also knowing how to respond quickly and appropriately in the event someone gets injured or becomes ill. It involves ensuring that employees receive the appropriate care they need to get well and also having plans in place to facilitate the employee's transition back to work.
Many hotel business managers may not be prepared to handle situations involving work-related injuries, where acting quickly is critical. But by following these recommendations, they will have a better understanding of the role workplace safety plays in retaining staff and maintaining productivity.
What to Do Before a Workplace Injury or Illness Occurs
There are four critical steps management should take before a work-place injury or illness occurs. They include:
Post all appropriate posters and signage - Every state has its own laws about what information employers must post and distribute about workplace accidents and workers' compensation. Materials must be accessible to all employees and posted in a common area in a language employees understand. Check with an insurance agent or carrier for specific state requirements.

Develop an effective workplace safety program - The best defense is a good offense. Employers should take a proactive approach to employee safety by creating and implementing a workplace safety Injury and Illness Prevention Program (IIPP). Employees also need routine safety training so protocols remain top of mind. By developing and communicating a workplace safety program, management can help reduce the chances that an on-the-job injury or illness will occur.

Create a return-to-work or transitional modified job program - Employers who make transitional or modified jobs available to injured workers can reduce the financial and emotional impacts of an injured worker's injury or illness.

Pre-arrange a medical care facility - Establish relationships with designated medical providers before incidents occur. By having these partners in place, managers will be able to guide injured employees quickly to the proper care. Physicians will also have an opportunity to understand the type of work these employees perform, the types of potential injuries they are exposed to, and the potential opportunities there may be for them to have transitional or modified duties. All of these considerations can be factored into a treatment plan focused on helping the injured employee return to work.
What to Do After an On-The-Job Injury or Illness Occurs
Even with proper preparation, the truth is that sometimes accidents happen. When an on-the-job injury or illness occurs, hotel managers need to know what to do.
Getting an injured employee treatment quickly is critical. In the case of an emergency, call 911 immediately. In a non-emergency situation, the injured or ill worker should be transported to a medical care facility. Hotel managers should consult the medical provider provided by their workers' compensation insurance carrier or the walk-in clinic closest to the accident site.
The scene of any serious accident needs to be secured as quickly as possible for investigative purposes. This includes securing and saving any equipment or materials that were involved in the incident. An accident investigation report also should be completed quickly. Any claims need to be reported to the workers' compensation insurance carrier within 24 hours of the incident. As a matter of protocol and to limit the employers' liability, it is always a good idea to order a post-accident drug test for the injured employee, as well.
Some workers' compensation insurance carriers offer programs to guide their clients in these situations. Ask your carrier or insurance agent about such available resources. For instance, to help its Florida policyholders better manage work-related injuries and illnesses, EMPLOYERS recently launched Coventry/NT24, a toll-free, 24-hour hotline staffed by registered nurses who are specially trained to provide medical guidance in multiple languages for non-life threatening work-related injuries or illnesses.(3)
Facilitating Employees' Return-to-Work
Many injuries, including even minor sprains and strains, can result in weeks or months off the job. The longer injured workers remain away from work, the more difficult it often is for them to return to gainful employment. In fact, research from the New York State Workers' Compensation Board has shown that there is only a 50 percent chance that an injured employee will return to work after a six-month absence. This declines to a 25 percent chance following a one-year absence and a 1 percent chance after a two-year absence."(4)
The primary goal of a return-to-work program is simple - help injured or ill employees become productive again as quickly and safely as possible. These programs help keep workers off of long-term disability and can potentially lower employers' experience modification rating by reducing lost workdays, which are factored into workers' compensation insurance premium costs.
Many businesses offer transitional or modified jobs as part of their return-to-work programs. There can be a lot of flexibility in these arrangements and they are well-suited to employees who are medically cleared to work by a physician, but are unable to perform their previous job duties. Transitional modified jobs do not have to be in the same role or department, for the same number of hours, or at the prior compensation level. These programs offer many other potential benefits for both the employer and the employee, such as: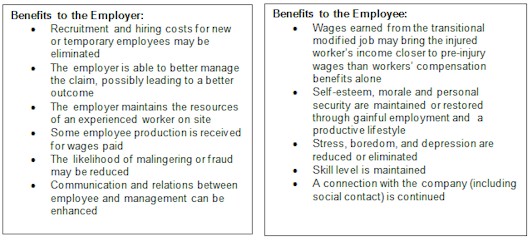 Commitment to Caring
Employers have the ability to control or influence many of the factors that contribute to worker's satisfaction levels, return-to-work outcomes, and claim costs.
Showing injured workers that their employer genuinely cares about them and their recovery can go a long way. Management should keep the lines of communication open with injured employees. Typically, employers who maintain compassionate contact with their injured employees during the recovery period tend to have better return-to-work results.(5)
Taking the time and effort to identify and establish a relationship with a medical provider as well as to plan for transitional modified jobs or alternate duty opportunities can facilitate speedier return-to-work and improve morale.
By committing to making safety a priority, and being prepared for potential work-related injuries or illnesses, hotel managers can set themselves - and their employees - up for success.
References:
(1) U.S. Bureau of Labor Statistics, U.S. Department of Labor, Bureau of Labor Statistics' Job Openings and Labor Turnover (JOLTS), October 2014. December 9, 2014.
(2) U.S. Bureau of Labor Statistics, U.S. Department of Labor, Number of nonfatal occupational injuries and illnesses involving days away from work by selected worker occupation and industry sector, 2013. December 16, 2014.
(3) EMPLOYERS, "EMPLOYERS Launches Coventry/NT24 Hotline to Help Florida Small Businesses Manage Work-Related Injuries and Illnesses," September 10, 2014.
(4) New York State Workers' Compensation Board, Return to Work Program.
(5) Texas Department of Insurance, Research and Oversight Council on Workers' Compensation, "Return-to-Work Related Communications: Employer, Health Care Provider, and Insurance Carrier Perspectives," July 2003.

Barry J. Vogt is an insurance industry expert with more than 29 years of experience. In his role as senior vice president and chief claims officer for specialty workers' compensation insurance carrier EMPLOYERS®, Mr. Vogt leads the organization's claim operations group and is responsible for claims strategy, medical management/managed care strategy, catastrophic claim management, fraud investigations, claim controls, regulatory compliance and subrogation effectiveness. He has helped many hotels and other small businesses with effective claims management. Mr. Vogt can be contacted at 888-682-6671 or BVogt@employers.com Extended Bio...
HotelExecutive.com retains the copyright to the articles published in the Hotel Business Review. Articles cannot be republished without prior written consent by HotelExecutive.com.